This printable unicorn bingo is so much fun at a unicorn party! It's low-prep, easy to play, and sure to create lots of laughs and squeals of delight. Picture bingo is fun for all ages so the whole family can play along.
I love creating free printable bingo boards and I'm on a unicorn kick thanks to my daughter. The time felt right to create free printable unicorn bingo boards to share with you. I hope you enjoy!
How to play unicorn bingo
This post may include affiliate links which means I may earn a commission on qualifying purchases at no additional cost to you.
Playing unicorn picture bingo is fun and easy! It's the perfect unicorn party game or a great way to enjoy screen-free time with your kids.
First, download your unicorn bingo game boards. Download links are located in the section below.
Next, print your bingo boards. Unlike many picture bingo games, these unicorn bingo boards have a white background to help you save precious ink!
For the nicest looking boards you can use time and again, print them on presentation paper and laminate them or place the boards in dry erase pockets.
Presentation paper is a heavyweight paper with a special coating for crisp, vibrant images. If I'm going to use my colored ink, I want the result to look as fabulous as possible!
Sale
You can't see the differences as well in this photo as in real life, but the mermaid bingo on the left was printed on presentation paper. The board on the right was printed on white cardstock. The cardstock card looks fuzzy and washed out by comparison because the ink soaks into the paper instead of resting on the specialized coating.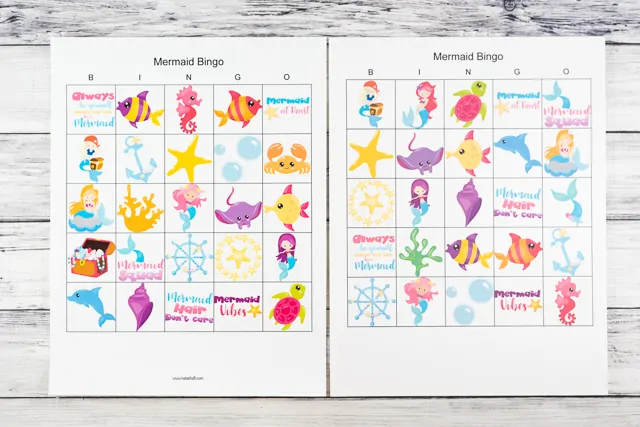 I love having an at-home laminator. It helps me make the most of my printables without a trip to the office supply store with a toddler in tow.
You can also use dry erase pockets, which are basically super strength page protectors, to protect your bingo boards. Using dry erase pockets or laminating the pages is perfect for repeated use at home or if you want to make a classroom set of bingo boards.
If you don't want to laminate or use dry erase pockets, I recommend printing the boards on cardstock for durability. The images won't look quite as nice as on presentation paper, but the boards will be more durable.
When you print your boards, make sure to print the two pages of calling cards at the back. You'll need to print the call cards because there's a large image pool. Each card does not have every single possible image.
Cut the call cards into tiles and place them in a bowl.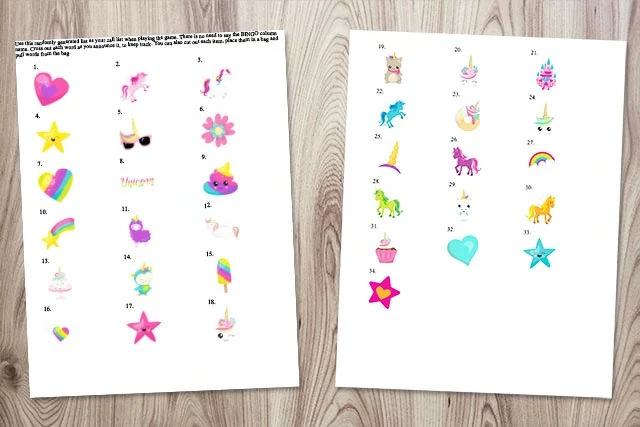 Draw the call cards one at a time and have players mark off the image if it's on their card.
Because it's picture bingo, it's helpful to show the picture, not just describe it. Some images are fairly similar (different colors of stars, for example). This helps your child practice their visual discrimination skills and attention to detail!
In addition to "classic" bingo, you can also have players play until they create an "x" on the card, cover all four corners, or create some other pattern you decide on.
For extra fun, use something like Skittles or Starburst as bingo markers and make sure to give out unicorn-themed prizes at the end!
Planning a unicorn party? Check out this free printable unicorn birthday banner!
Unicorn Bingo Printables
Okay, let's get to the printables!
First, please note that these printables are for personal (non-commercial) use and classroom use. This includes use with scout troops, community centers, etc. as long as you are personally involved with organizing the activity and people are not being charged to play.
Please do not redistribute the digital files or printed boards to others for activities they're organizing – just send them to this page so they can download their own copies!
There are four different sets of unicorn bingo cards available. The cards are unique, so you can combine multiple sets. The smaller sets of 10 and 4 bingo cards are free!
Set of 50 unicorn bingo boards for a crowd
I've had requests for larger numbers of bingo boards for a group, so I'm excited to share this set of 50 unicorn bingo cards with you!
This set of 50 cards is perfect for large groups and parties. Need even more cards? You can combine this set with the other sets.
Set of 25 unicorn bingo boards (classroom set)
The set of 25 bingo card printables is the most popular. It's the perfect size for most classrooms and scout troops. If you just need a couple more, grab one of the free sets below! Get your set of 25 unicorn bingo cards for one very low price.
Related freebie: Free printable Pin the Horn on the Unicorn
Free printable set of 10 unicorn bingo games
The set of 10 unicorn bingo cards is available for free – just let me know where to send them using the box below the preview image. This set is ideal for larger families, and smaller parties, scout troops, and even homeschool co-ops.
You will also receive an invitation to join The Artisan Life weekly-ish broadcast with the latest updates and freebies. (I give printables away to subscribers almost every week. It's pretty awesome.)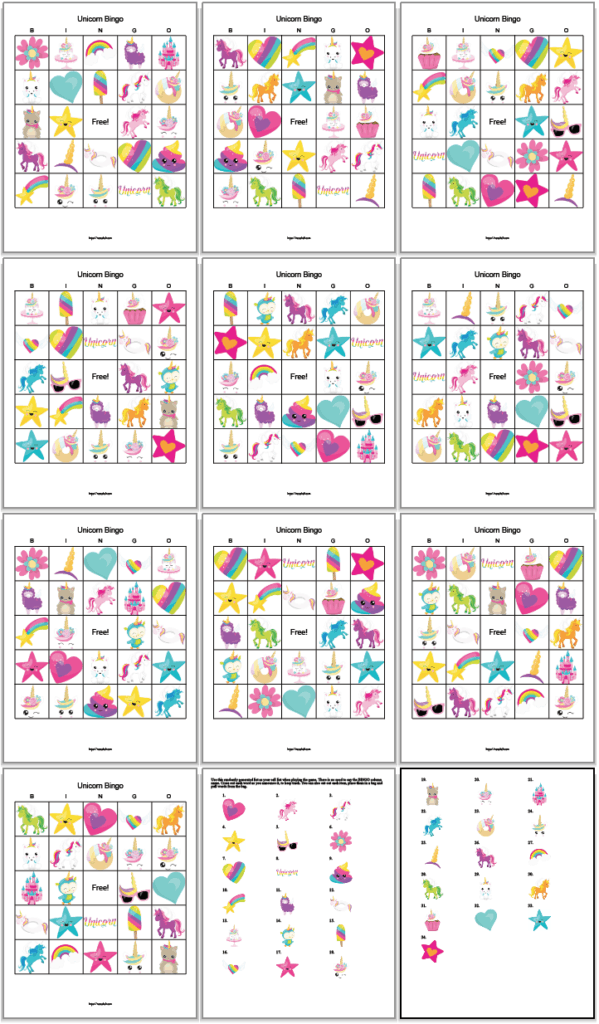 Four free unicorn bingo card printables
And, last but not least, we have four completely free unicorn bingo cards available for download. No email address required, no strings attached. The download link is highlighted in grey beneath the preview image.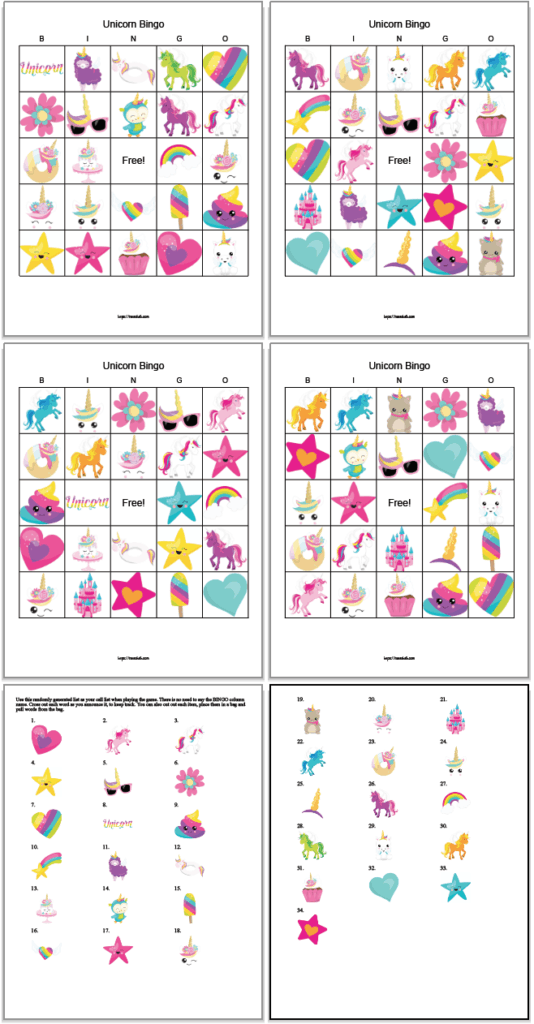 Download four free unicorn bingo cards here
I hope you have a much fun playing with these unicorn bingo boards as I did creating them! If you're planning a unicorn party, or have a unicorn-lover at home like I do, be sure to keep scrolling for more unicorn printables and activities!
Unicorn printables & DIY projects
These free unciorn printables and DIY unicorn projects are pefect for the unicorn-lover in your life!