This set of free printable one more one less worksheets is a fun way to improve number sense and provide fine motor practice. They have a fun apple theme that's perfect for a fall unit. I hope you enjoy!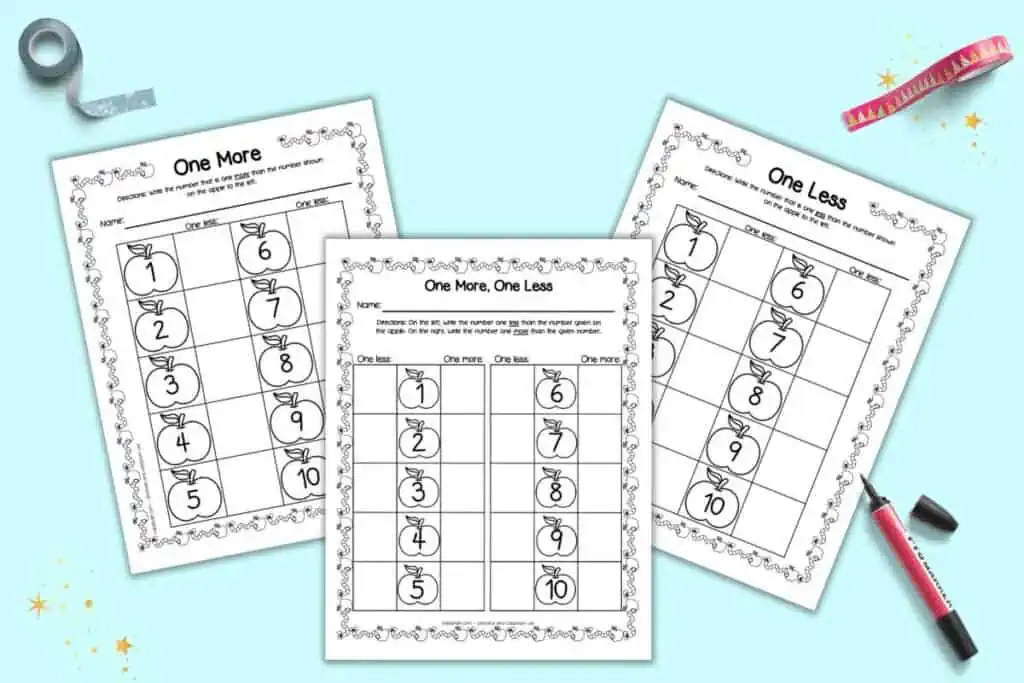 This post may include affiliate links which means I may earn a commission on qualifying purchases at no additional cost to you.
If you're planning an apple theme or a fall theme, be sure to grab these free printable apple theme missing number worksheets and these apple themed count and clip cards.
There are three different worksheets to pick from so you can differentiate instruction. 
Chose from individual worksheets for one less up to 10, one more up to 10, or a combined one more and one less together. Each of the three options is a fun, interactive worksheet that can be used in a small group, math centers, morning work, or independent practice.
One more, one less worksheets are a simple way to practice simple addition and subtraction by one. On each worksheet, the student records the number that is one more and/or one less than the given number. The numbers are in order, not scrambled, which makes them perfect for teaching the one more, one less math concept.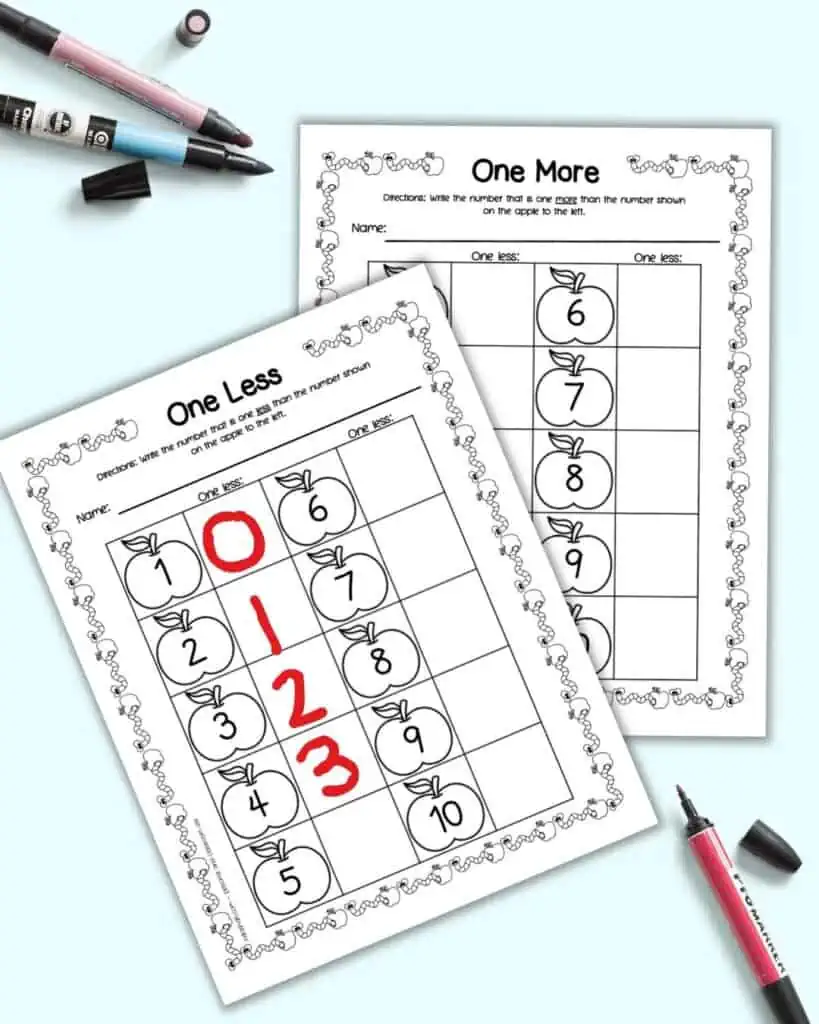 Because these worksheets have numbers 0-11, they are best suited to the kindergarten level. First grade students who need extra practice could also benefit from them.
To quickly and easily make the worksheets reusable, slide each page into a sheet protector. I prefer heavy duty "secure" page protectors because they're easy to organize in a 3 ring binder. Dry erase pockets are even more sturdy for classroom use.
Sale
Avery 76000 Secure Top Sheet Protectors, Super Heavy Gauge, Letter, Diamond...
Keep contents secure in the protective sleeve with convenient top flap; perfect for holding nonstandard size papers and important items
Get a crisp, clear view of the contents of your documents with diamond clear page protectors featuring a polished finish for high clarity
Ensure your documents stay protected with long-lasting super heavyweight sheet protectors for all of your frequently referenced items
Your students may benefit from using a number chart or a number line to help them complete the worksheet. 
If your students are new to this type of activity, you may want to provide them with physical objects to assist with addition and subtraction. This allows the child count out the starting number, take a counter away or add one, and count the new number of objects. Apple themed mini erasers are cute an inexpensive math counters for this activity.
Mini Apple Erasers Assortment for Welcome Back to School Gifts Classroom...
Easy to Carry: these apple mini erasers are designed for kids in different sizes and shapes, small size and light weight, they won't take up too much...
Multiple Functions: apple shaped erasers are practical, not only can be applied to remove the wrong child, but also can be applied for a mathematical...
Large Quantity: you will receive 60 pieces of apple erasers, the sufficient quantity and rich designs can satisfy your various daily needs and...
These worksheets were designed with written numerals in mind, but you could also instruct your students to use tally marks, make dots, or record their answer in some other way.
​Don't worry – your worksheet border will look better than mine. I have a really cheap laser printer at home and it's almost out of toner so it's struggling!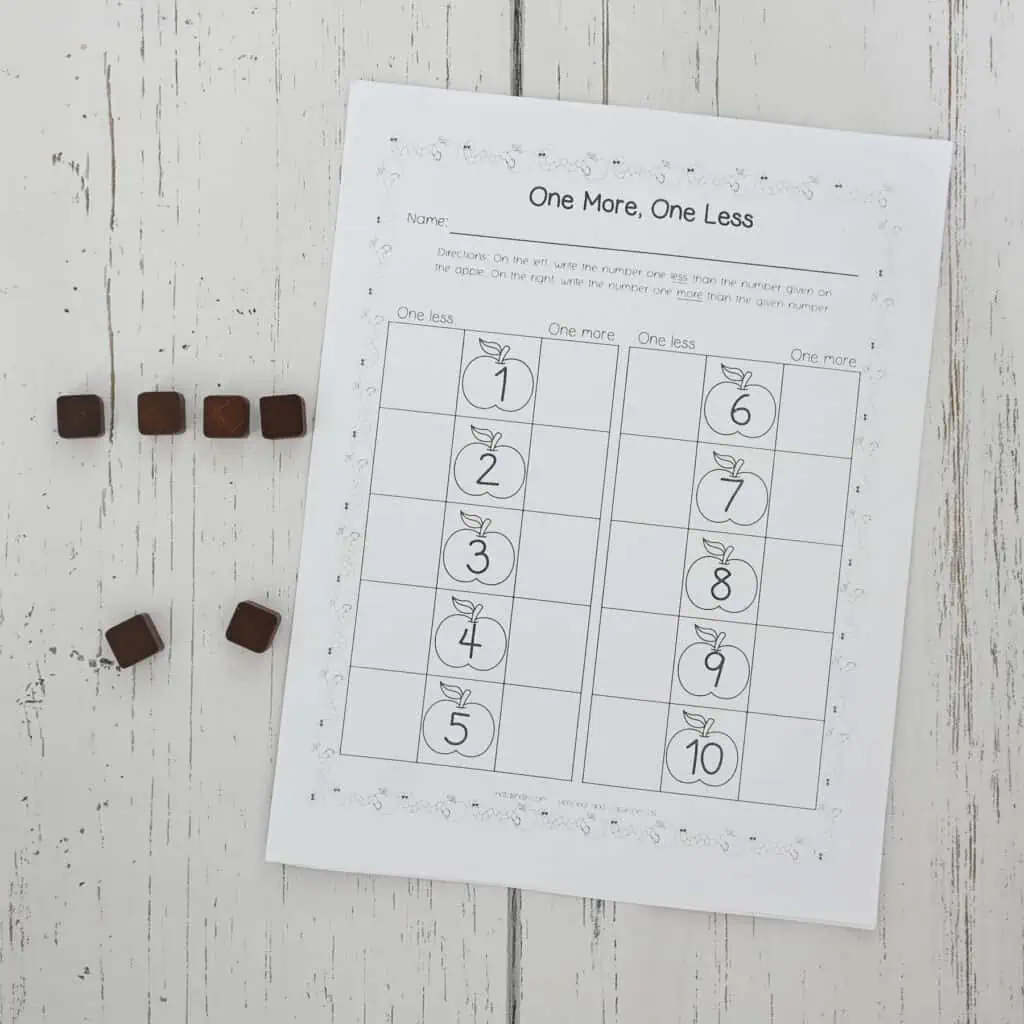 Apple theme one more, one less math worksheet download area
This set of printable worksheets is licensed for personal and classroom use. This includes use with library activities and therapy clients.
You are not licensed to sell or redistribute the files or print outs to other adults for use with their children or students. Please refer friends and colleagues to this post so they can download their own copy.
Looking for more free printables to help young learners with math concepts? Check out the printables listed below:
Early Education Math Resources