This free printable Valentine's Day cut and paste worksheet is a fun way for pre-k and Kindergarten students to practice their numbers 1-20 and their fine motor skills. I hope your little learner enjoys it!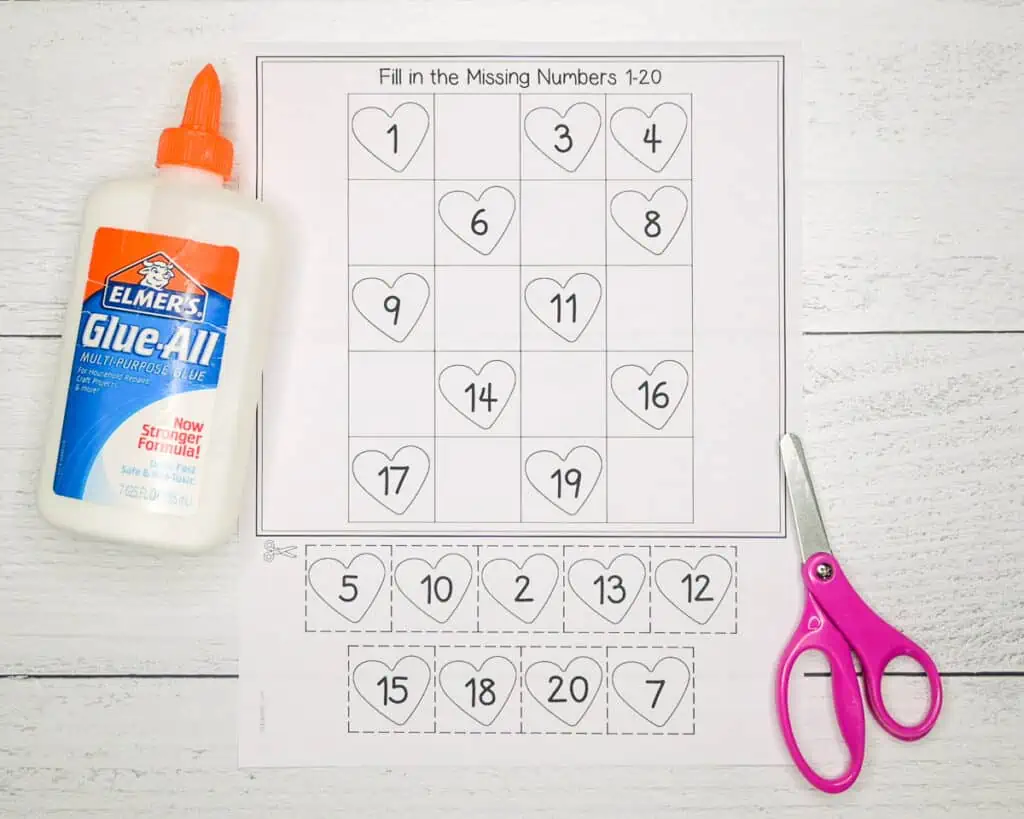 This post includes affiliate links, which means I may earn a commission on purchases made through links at no additional cost to you.
If your child or students need a reference to help, be sure to grab this free printable heart themed number chart 1-20. For additional fine motor practice, be sure to get this cute Valentines unicorn number tracing 1-10 worksheet.
Materials needed for Valentine's numbers 1-20 cut and paste
You don't need much for this printable fine motor activity. All you need is:
Your free printable PDF (look for the row of purple arrows lower down in the post)
Printer access and paper
Glue, tape, poster putty, or play doh
You can make this page reusable by laminating the sheet and placing a hook and loop dot (such as Velcro brand dots) on the back of each tile and corresponding square. You can also stick the tiles in place with poster putty or play dough.
We use these blunt-tipped Fiskars scissors. Instead of a glue stick, I prefer to prepare a small cup of glue with a paint brush. It provides wonderful fine motor practice and bottles of white glue are generally less expensive than glue sticks. (Plus glue sticks get gummed up and don't always work well).
Sale
To use the worksheet, your child cuts out the number tiles with dotted lines and pastes them in the correct order to complete the number 1-20 chart. As mentioned above, you can use poster putty or play dough for a reusable worksheet or center activity.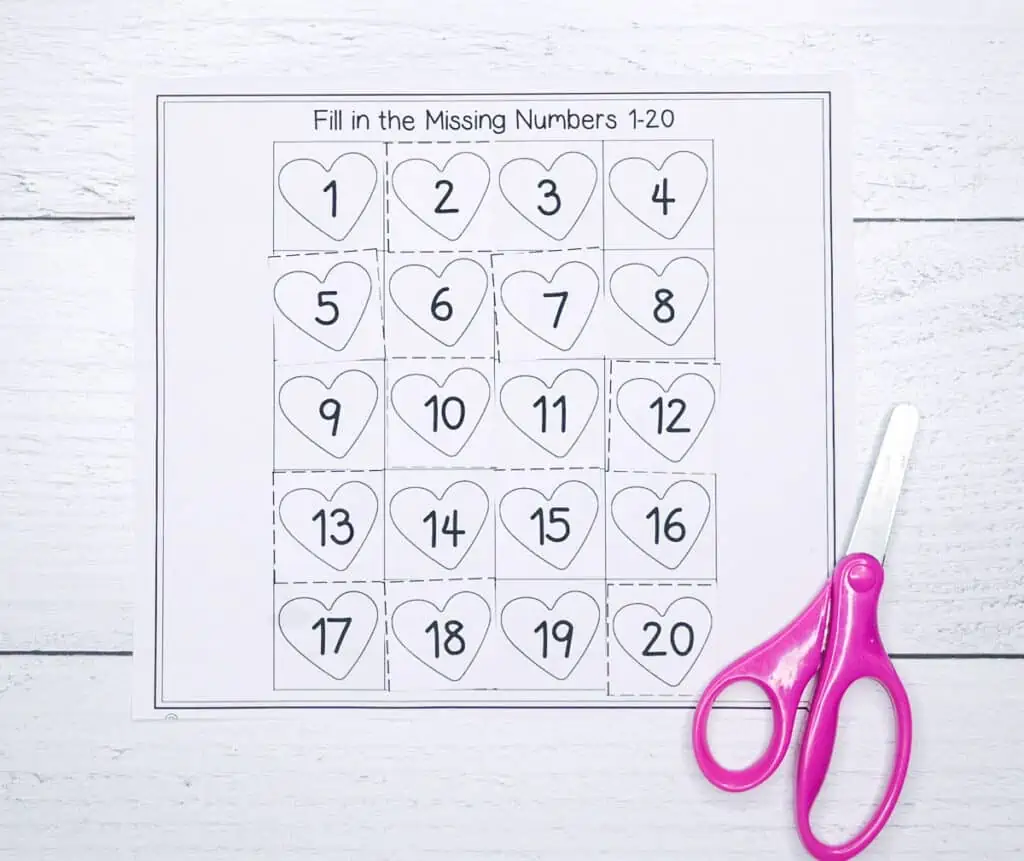 Valentine's numbers 1-20 cut and paste worksheet PDF download
This free printable is licensed for personal and single classroom use. You are not licensed to sell or redistribute the printable to other adults for use with their children or students. (Other commercial uses, such as POD platforms like KDP, are also strictly prohibited.) Instead, please refer friends and colleagues to this post to download their own copy.
I hope your children or students enjoy this cut and paste fill in the missing numbers worksheet for February! Be sure to check out these additional free printables for February and Valentine's Day while you're here:
Stop scrolling Pinterest for Valentine's Day printables and crafts - check out these Valentine's posts right here on The Artisan Life!