This free fall counting book is a fun and easy way to help your preschooler or kindergartner practice their numbers, counting, and sight words. The pages are fall themed with a tiny bit of Halloween (Jack-o'-lanterns) and Thanksgiving (turkeys) so you can use it all season long.
This free printable fall emergent reader features printer-friendly black and white graphics and ten pages of counting fun. In addition to ten "I see ___" coloring pages, the book also has a page with numerals and written numbers 1-10 in a dotted font to trace. I hope your little learner enjoys as much as mine does!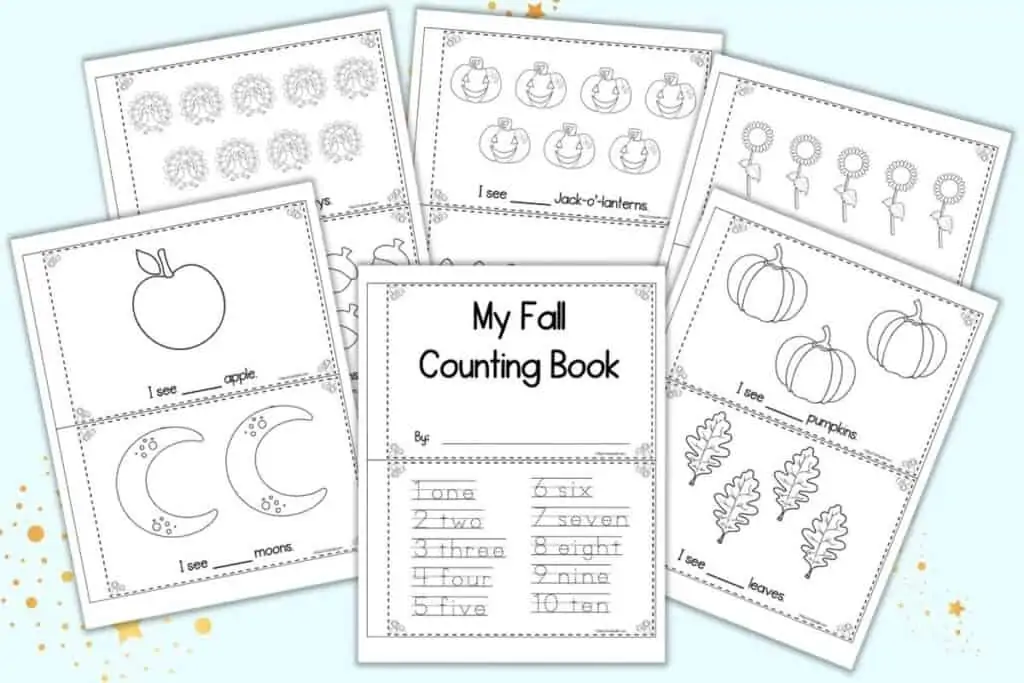 This post may include affiliate links which means I may earn a commission on qualifying purchases at no additional cost to you.
Materials needed
You don't need much to print your own emergent reader book: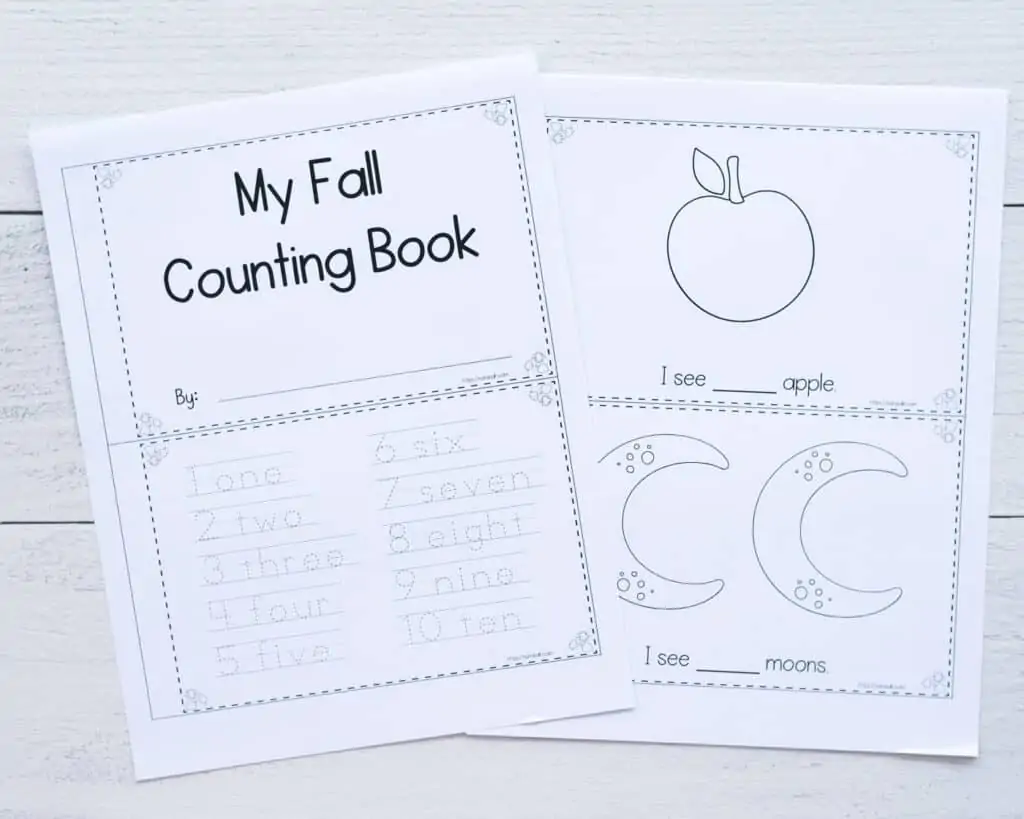 How to print and prepare your fall counting book
First, grab your download from lower down in the post. Look for the row of purple arrows.
Next, print the pages you want. If you don't want to use every sheet, that's fine.
Laminate the pages, if you want to make the counting book reusable. I do not show laminated pages in this post because lamination makes photographing the pages more difficult.
Cut out the pages. A paper trimmer or paper cutter is fastest, but scissors can work, too. Make sure to cut around the entire outer rectangle, not just the inner decorative box. There is a margin on the left-hand side of each page for stapling or hole punching.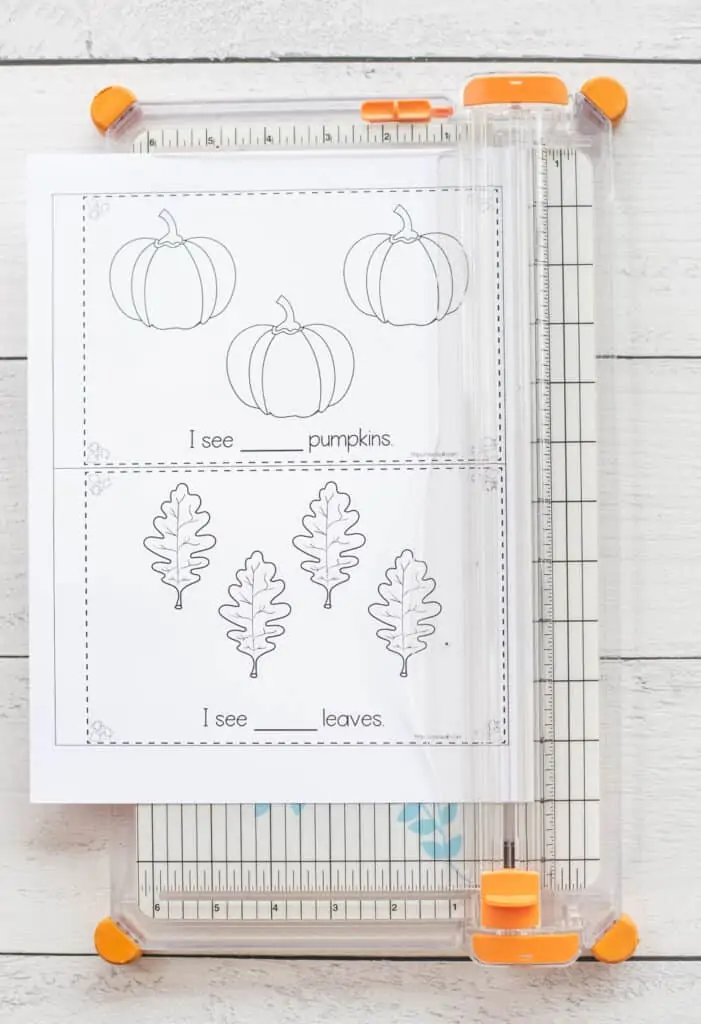 Staple the pages or hole punch to make a flip book with binder rings. Any full sized stapler should work fine, but a mini stapler won't make it through all ten sheets.
My daughter didn't want this fall counting book stapled, so I'm including photos of this free printable letter a book with a stapled binding. I printed this book on my favorite 32 lb bright white printer paper, which is heavier than standard printer paper. I knew my heavy duty Swingline could handle 10 pages, so I tested the book with my inexpensive, slightly smaller, Amazon Basics stapler. It worked fine.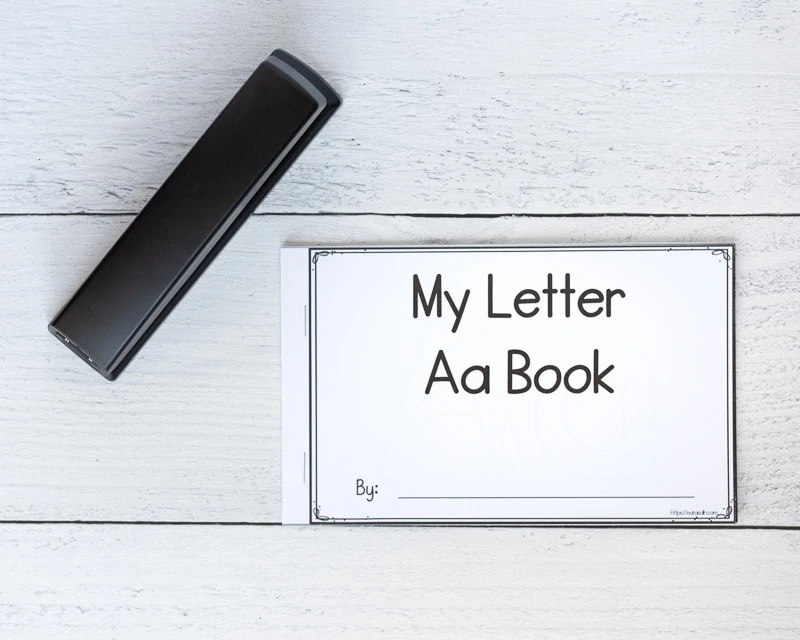 When I made this spring counting book for preschoolers last spring, I hole punched the laminated pages and use binder rings to demonstrate making a reusable counting book. Simply punch two or three holes in the left margin, then slip binder rings through the holes. You could also tie the pages together with colorful yarn or twine. We use these binder rings. The storage box is a little flimsy and small for the quantity, but the rings hold very well. (These pages are laminated, which is why the photo has a weird glare.)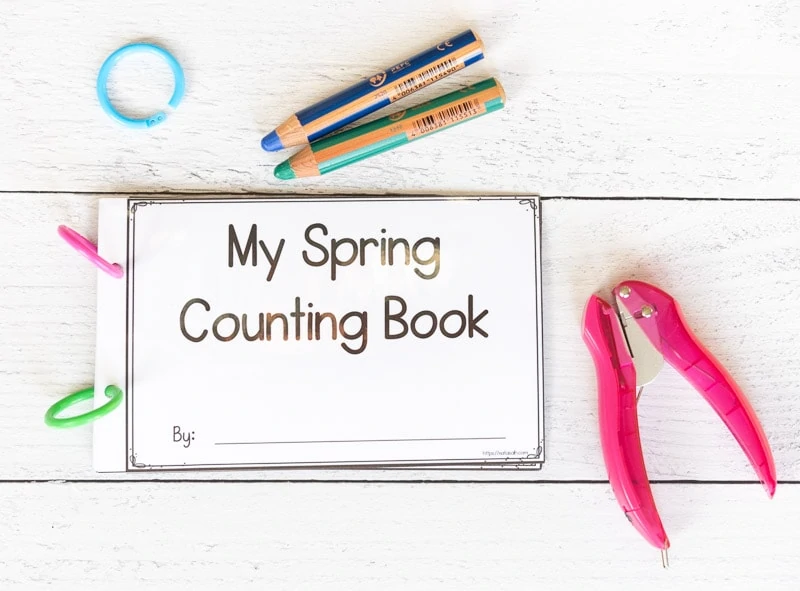 Or, of course, you can not bind the pages, like my daughter wanted this time. We've been flipping through the pages and using them with manipulatives.
Finally, use with your little learner and enjoy! There are many ways to use this printable counting book. Here are a few ideas:
Have your child trace the number tracing page at the beginning with a finger first, then with a marker or pencil.
Help your child practice one to one correspondence by covering each image with a manipulative or counter as they count. (See the photo below with acorns.)
Write the number for your child after they count, if they're still working on number formation.
Read the book aloud to reinforce vocabulary.

You may want to point to each word to reinforce left to right reading order and promote sight word recognition.

Have your child work on independent reading with this simple reader. They may find pointing to each word helpful.
Let your child color the pages.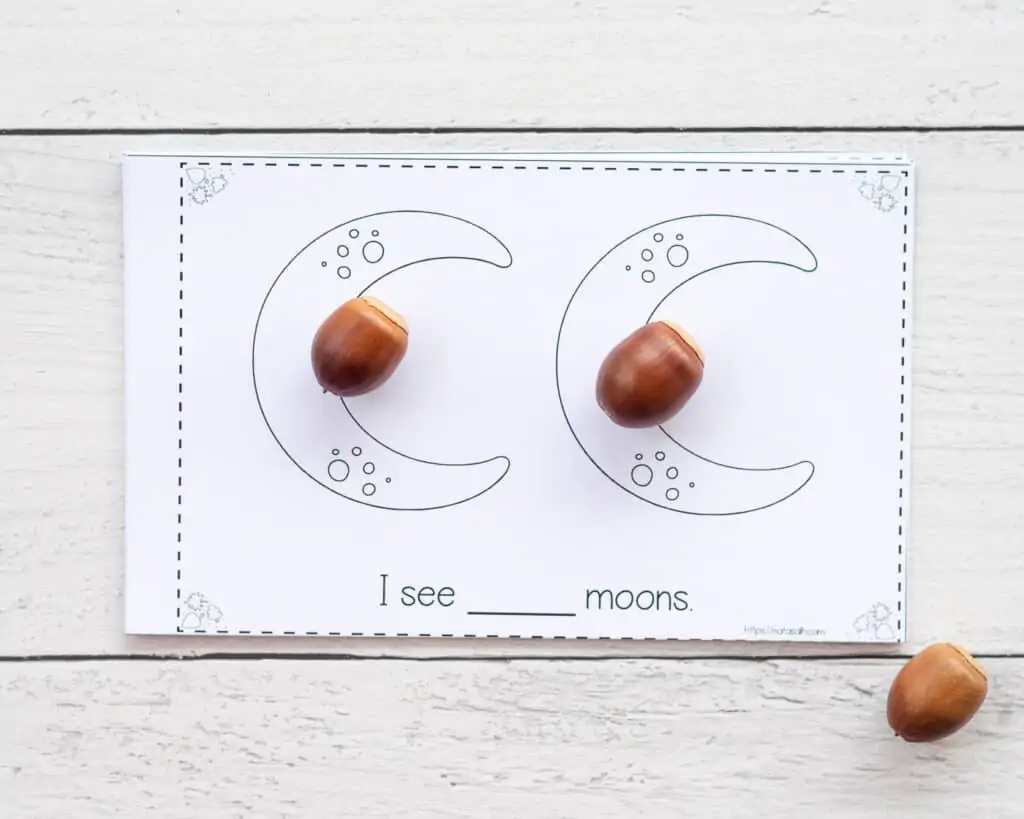 However you decide to use this printable book with your child or students, I hope they enjoy.
Free printable fall counting emergent reader book download
Like all free printables on The Artisan Life, this book is licensed for personal and single classroom use. You are welcome to print and use it with your own children, students, therapy clients, homeschool co-op group, etc.
You are not licensed to redistribute the files or printouts to others adults for use with their children or students. You are not licensed to sell these in any way on any platform. Please refer your friends and coworkers to this post so they can download their own copies.
If you agree to this license, click below:

I hope you enjoy! Discover additional printable books for preschool and kindergarten below:
Free Printable Literacy Resources
If you want to encourage your child's love of reading, you've come to the right place! Discover the ever-expanding collection of printable emergent readers, alphabet worksheets, sight word worksheets, bookmarks, and more.