These free printable "change contacts" reminder stickers for Happy Planner are perfect for finally remembering to change your contacts on time. These stickers will fit Erin Condren planners and any other planner or calendar with 1.5″ wide boxes. You can also scale them down to fit smaller-sized planner or calendar boxes.
I've worn contacts for about 20 (!) years, but I still constantly forget to change my contacts after two weeks. Luckily I stopped sleeping in them in my teens (Yikes! That was a poor habit that didn't help my eyes), but I still wear the same, old pair until they bother my eyes simply becuase I don't remember when I put the new pair in.
If this story sounds familiar, these free printable contacts stickers are here to help! Now you can place a "change contacts" sticker on your planner or calendar to remind you when it's time for a change. I personally find that putting the reminder on the future date, not the day I change my contacts, helps me stay on track.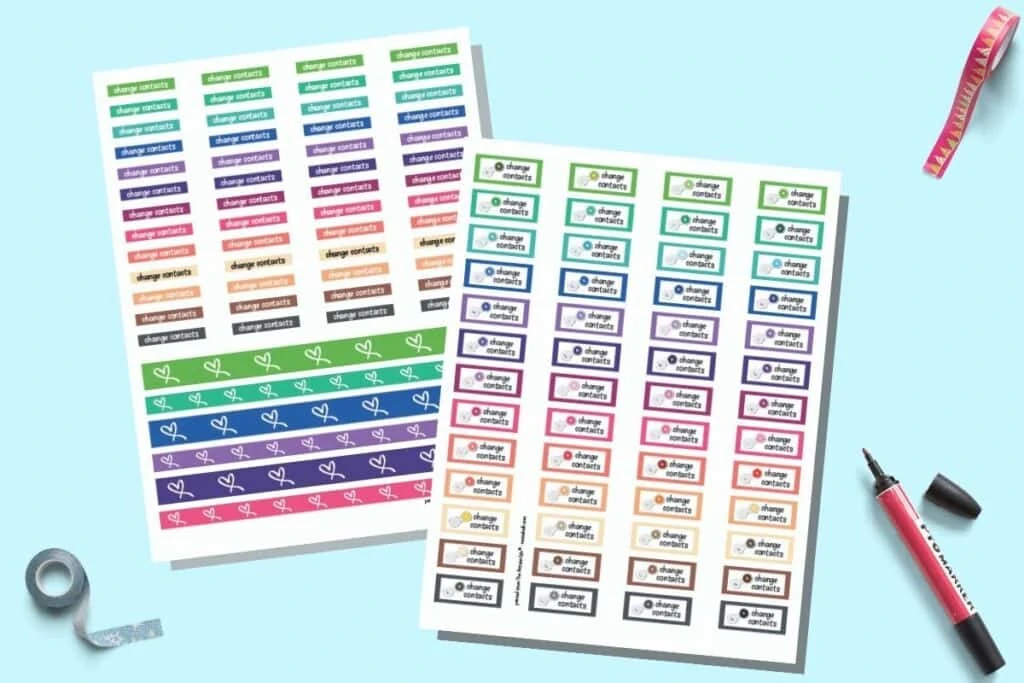 There are both header-style change contacts sticker and 1/4 box stickers (based on Happy Planner Classic size – they're more like 1/3 of a box in EC) with cute contact lens clipart. There are also half a dozen washi tapes in matching colors because I'm a washi addict. As you'll see in the post images, I personally use these exact stickers in my planner. I hope you enjoy them as much as I do!
This post may include affiliate links which means I may earn a commission on qualifying purchases at no additional cost to you.
How to print and use planner stickers
Printing your own planner stickers is easy, especially since these note paper stickers are rectangles. You don't need to plug in your cutting machine (or wish you had space in your budget for one). A paper trimmer, or even a pair of scissors, is all you need to cut these stickers out.
Not sure what functional planner stickers are? Stop by this guide to printable planner sticker benefits with an explanation of various planner sticker types.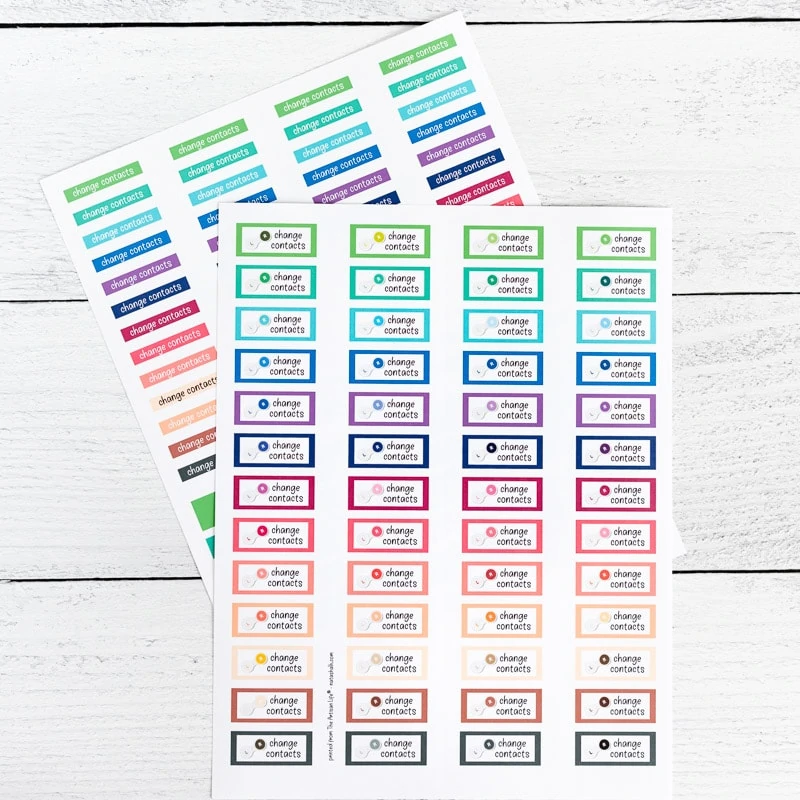 Materials needed:
Free printable full box note stickers file (download link is lower down in the post. Look for the big blue rectangle with "click here to download.")
Print on your paper of choice. Sticker paper is ideal, but you can also use regular printer paper. I recommend 32 lb HP bright white paper for best results if you go with non-sticker paper.
Cut your stickers out. You can use:
Use your new stickers and enjoy!
To print and cut your planner stickers:
Grab your free printable files from lower down in the post
Print your desired files/pages
Cut and use!
These stickers are perfect for cutting with a paper trimmer: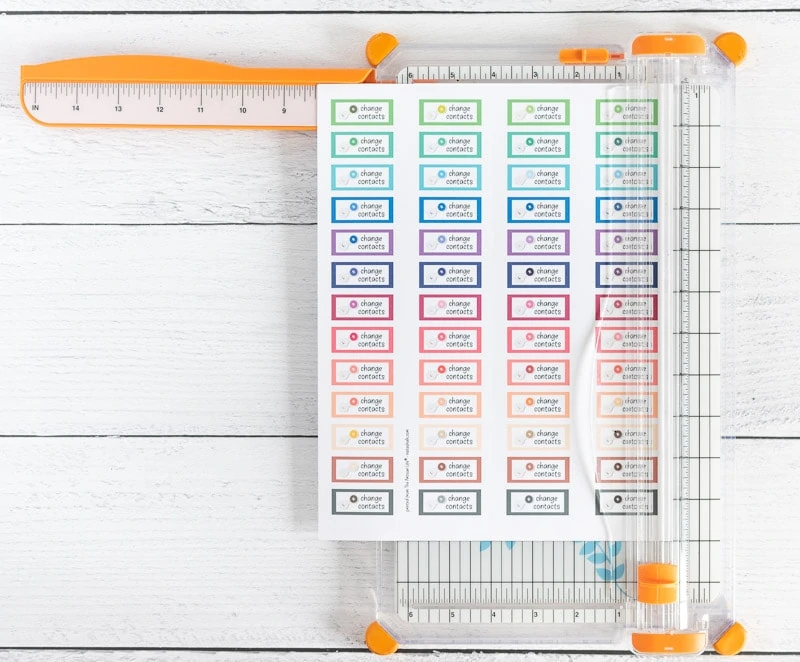 I purchased multiple types of sticker paper to test them out and see which is the best for printing your own stickers. I haven't written the post yet (because I've been too busy creating printables!), but this Online Labels sticker paper is my top pick for color and affordability. This is the paper I used for the stickers shown in the photos for this post.
When you buy the 100 pack, the price per page is amazing. The smaller packages frequently cost only a dollar or two less, so it's worth it to get the big pack. Make sure you double check the listing. There are versions with and without a slit on the back. It doesn't really matter if you're cutting by hand, but the slit version won't work as well with cutting machines.
Sticker Paper, 100 Sheets, White Matte, 8.5 x 11 Full Sheet Label, Inkjet...
BLANK WHITE MATTE STICKER PAPER - printable adhesive paper - non-yellowing, smudge-proof - permanent - 8.5" x 11" - full sheet - 1 label per sheet -...
NO SLITS ON LINER - no slits on backing for use with electronic cutting machines (Silhouette, Cricut, Brother) - perfect for cutting mats
INCLUDED IN ORDER - 100 full sheet 8.5" x 11" labels + ships in protective, plastic clamshell case, doubles as storage container + free activation to...
How to print planner stickers without sticker paper
If you don't have sticker paper, you can still make your own "stickers. " Here are a few ways:
How to print planner stickers smaller
These are full box stickers designed as a 1/4 box for Happy Planner Classic. They measure 1.5″ wide and will fit in any planner box that's the same width.
You can scale the stickers down to fit a smaller planner box. Scaling up will give you poor results – I don't recommend it.
Do some simple math to determine what size to print your stickers to make them smaller.
Measure your planner/calendar box.
Divide this number by 1.5.

For example, if your planner has a 1 inch box, the math is 1/1.5 = .667. Round up to print at 67% because you can always trim a tiny extra bit off.

Print to scale using the number you calculated.
Free printable change contacts reminder stickers
These stickers are in a rainbow of colors, both in a 1/4 box style with a contact lens case and as a smaller banner/header sticker. There are 52 stickers in each style. Although I think every other week, or even monthly, contacts are more common than weekly change contacts, I wanted to go ahead and give you lots of color options. Please note that the contact case clipart graphics are © ColoriveStudio | colorivestudio.etsy.com.
You can see my contact change reminder sticker in my planner below. (These free printable gratitude stickers are also shown.)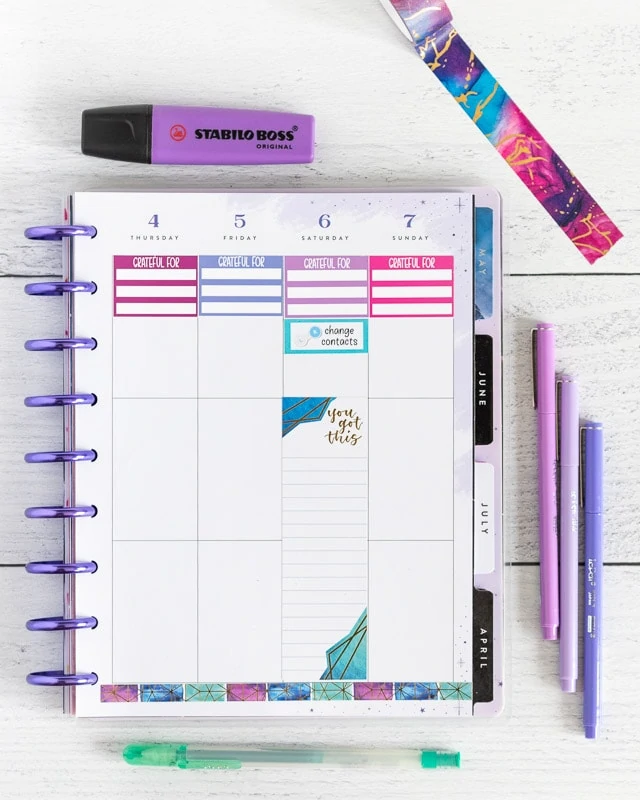 The file is saved in PDF, transparent PNG, blackout PDF, and blackout PNG (for easier tracing and cutting if you use an electronic cutting machine). You will need to decompress a .zip file to access your printables. An archive tool to decompress files comes pre-installed on Mac computers. You can unzip for free online at ezyzip.com without installing anything onto your computer.
If you have trouble, I found a helpful post from an Etsy seller explaining how to unzip any file on any device. This post from a different seller shows how to use blackout files with a cutting machine.
Like all printable planner stickers on The Artisan Life, these are licensed for your personal use. Personal classroom and small group use is fine, too, as long as you are personally organizing the activity and not charging specifically to use the stickers.
You are not licensed to sell or redistribute the digital files or printouts to others for their use (outside of specific single classroom/group activities you are organizing, as explained above). Instead, please refer your friends and coworkers to this page so they can download their own copies.
>

I hope you enjoy these functional planner stickers and put them to good use! Make sure to download these additional free printable planner stickers while you're here on The Artisan Life and check back again soon. I add new, free printable planner stickers frequently.
Printable Planner Stickers
Printable stickers are a fun way to spruce up your planner and make it more functional without a trip to the store.