These free printable fall fun dot marker pages feature kids playing and fall leaves and are perfect for your tot school, preschool, or kindergarten fall theme. I hope you enjoy them!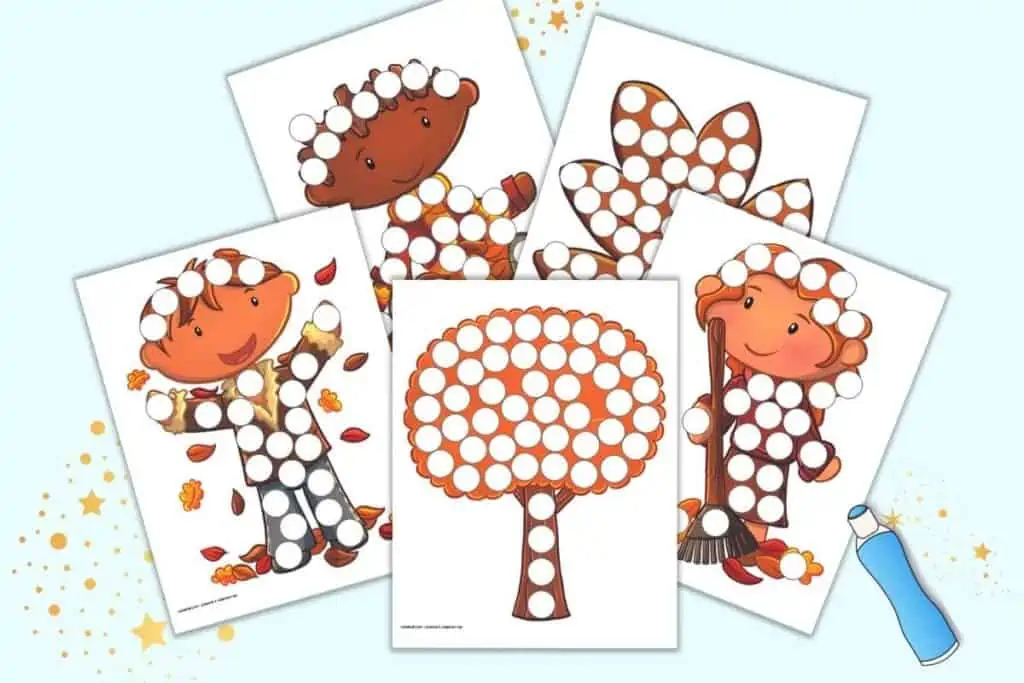 Planning a fall theme unit with your child or students? Make sure to check out these additional printables from The Artisan Life:
This post may include affiliate links which means I may earn a commission on qualifying purchases at no additional cost to you.
If you have young kids, you know how much they love dot marker pages. Dot marker pages are no prep for you and they're developmentally appropriate for kids from toddlerhood through kindergarten. They help develop fine motor skills, finger strength, and hand-eye coordination. They're also super easy to turn into a no mess travel-friendly activity when you use stickers to cover the circles.
In the picture below, you can see my daughter (4.5 at the time of writing) using her Pegasus dot marker page (from this set of mythical creature dot marker pages) with her favorite round stickers. Using inexpensive coding label stickers helps you to transform dot marker pages into a mess-free activity with no ink and no stains.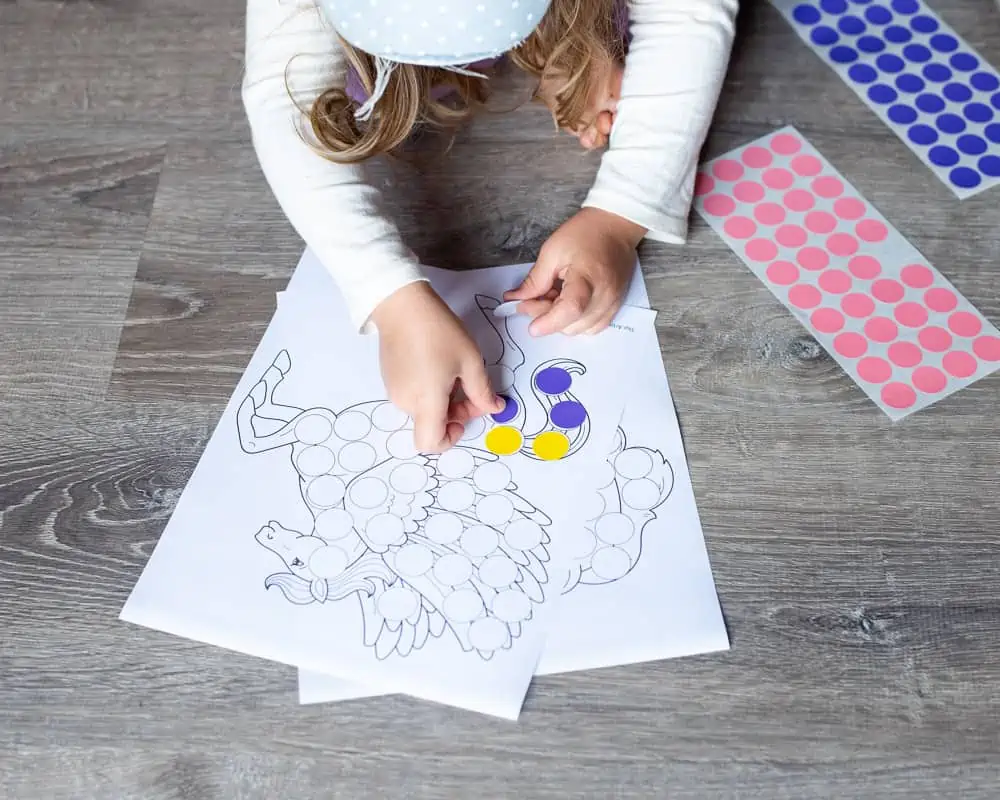 What are Do a Dot marker pages?
Dab it marker coloring pages, also called "Do a Dot pages" after the popular Do a Dot marker brand, are sheets with blank circles on the images. Your child or student uses a bingo-style dauber marker to fill in the circle. They can also use manipulatives, like pompoms, or round stickers to cover the circles.
Many of the dot marker pages I share are in black and white, but this set of fall fun dot marker pages is in color. If you'd prefer black and white images, make sure to grab these free fall themed dot marker coloring pages.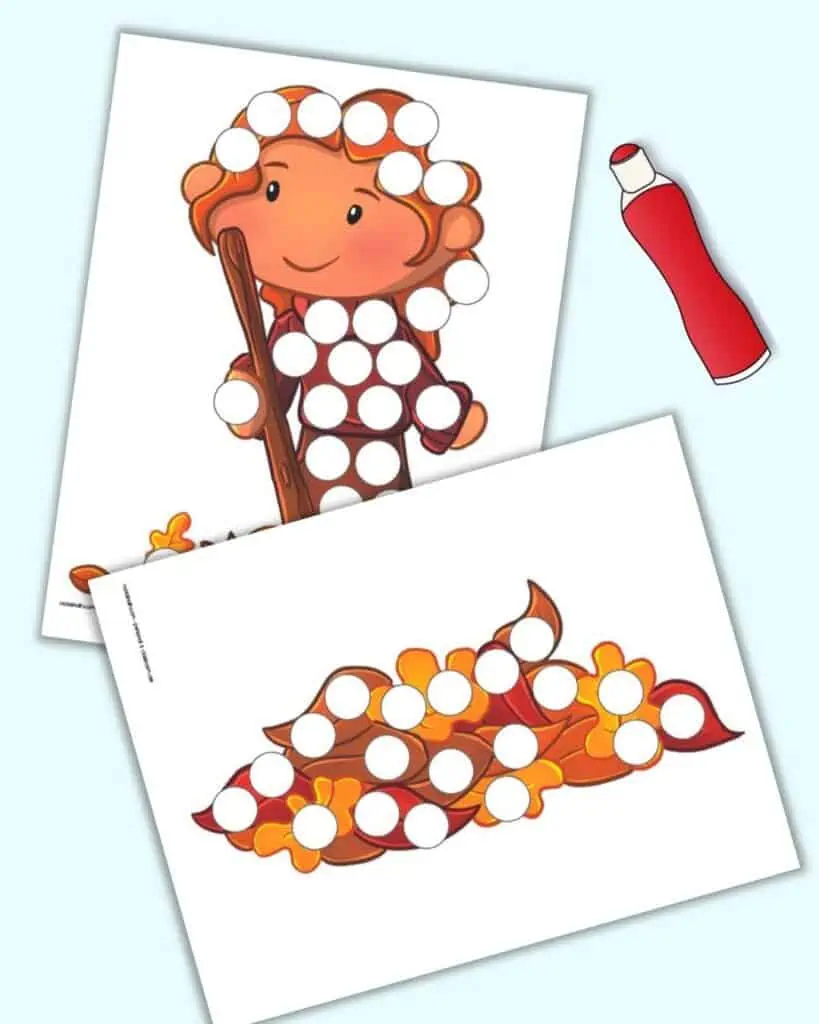 How to use dot marker pages
The circles on these dot marker pages are based on the size of my daughter's Classic Do a Dot Markers. The circles on your printable are sized for this brand of markers, but they also work with other dauber or bingo style markers. Readers have shared many photos of kids using a wide variety of marker brands. It's important to make sure you print at 100% so the circles are the correct size.
My favorite way to use dot it printables is with round coding label stickers. We use these stickers. They are the perfect size to fit the circles on these pages. You get thousands of them for just a few dollars. You can encourage your child to match colors between the stickers and the background images (when possible) and bring the pages in the car or to a restaurant because no markers means no mess!
Make sure to get 5/8″ or 3/4″ round stickers. One inch round stickers are too big for these pages. One inch stickers are less common – most of the stickers you find are a usable size, but double check just in case.
Sale
Pack of 2400 3/4" Round Color Coding Circle Dot Sticker Labels - 15...
✅ PACKAGE INCLUDED. Pack of 2400 Round Color Coding Circle Dot Sticker Labels and 1 zipper file bag can be used to keep labels. Bright and colorful...
✅ TIME SAVING. Our size stickers are super-easy to peel off, this is due to the 1 more process of removing excess waste paper before ex-factory,...
✅ GOOD QUALITY. The stickiness of size sticker is highly viscous, environmental and BPA Free! Make it good to stick to DVDs, books, notebooks, glass...
It isn't car ride friendly, but you can also provide your child with manipulatives to cover the circles. Wool felt balls are a favorite in our house. Add an extra challenge when you have your kiddo use large plastic tweezers or bamboo toast tongs to place the pompoms! (The page shown below is from this winter preschool learning bundle.)
Glaciart One Wool Felt Balls, Felt Pom Pom Balls (120 Pieces) 1.5 cm - 0.6...
15mm Handmade Felt Wool Balls: These rainbow felt wool balls are handmade in Nepal with a careful touch that creates uniform poms in the 1.3-1.7cm...
40 Color Craft Assortment: With Glaciart One what you see is what you get, so unlike cheap options, you get the 40 colors shown in the pictures for a...
120 Needle Felting Ready Poms: Crafters say the soft texture on these wool pom pom balls lets your needle travel easily making them great for core...
Free fall kids dab it pages download
This set of fall kids themed dot marker pages includes 11 sheets. Each image has its own page in the PDF. Any pixelation or off colors are because of image compression to help this page load more quickly. The printable PDF is high resolution. Here's a preview of what's included: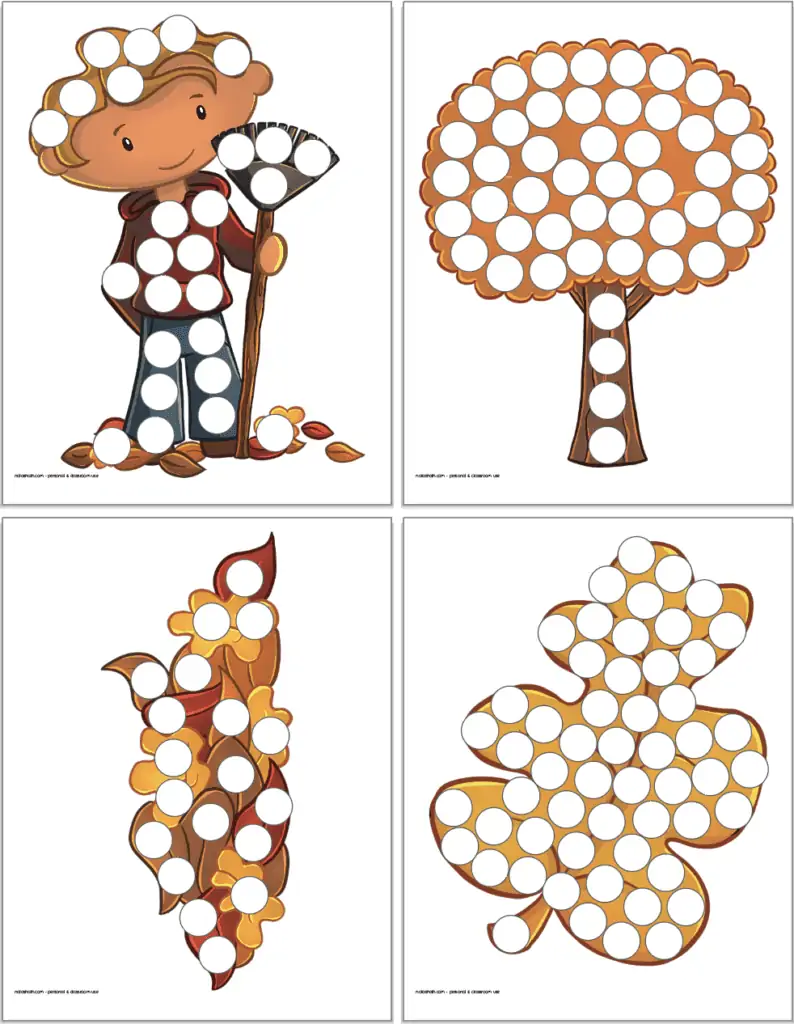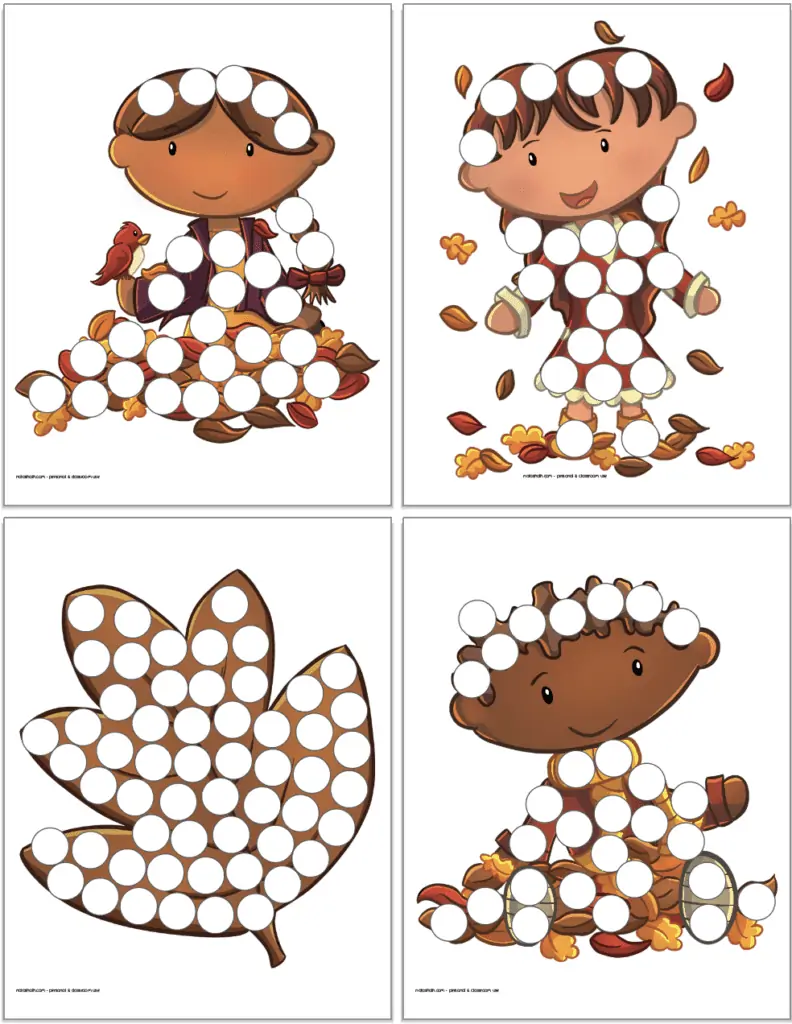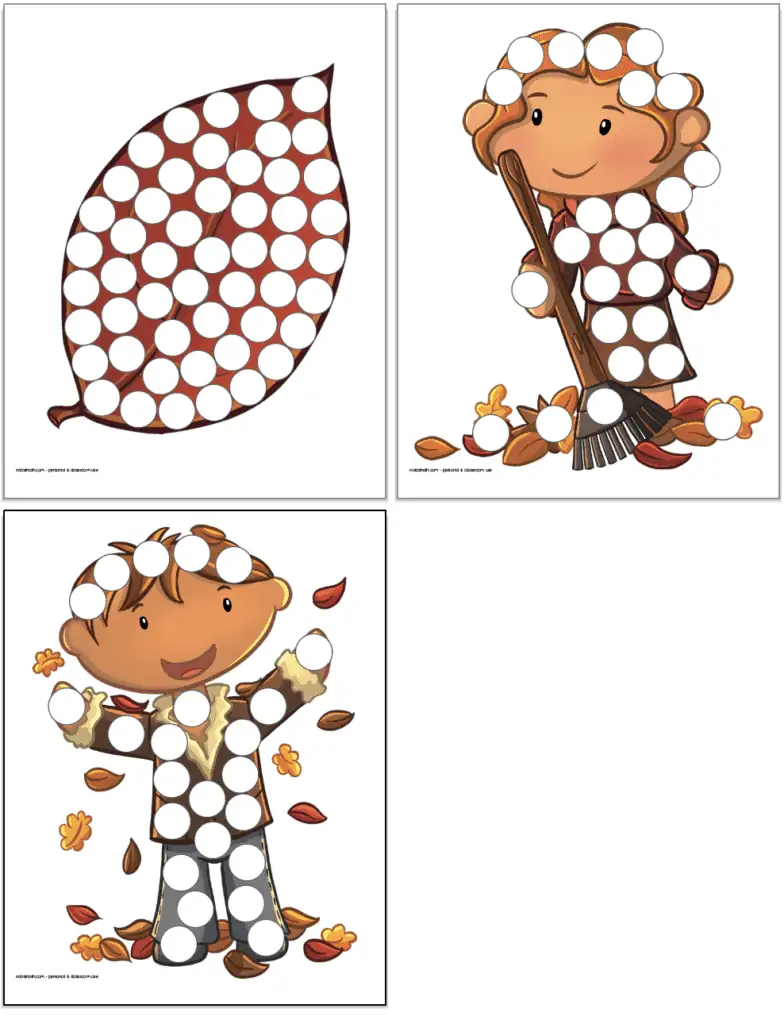 Like other preschool printables on The Artisan Life, these are for personal and single classroom use. This includes use with scout groups, homeschool co-ops, library activities, your own therapy clients, etc.
You are not licensed to sell, or redistribute, the files to other adults for use with their students/children. This includes posting them for sale or download on other websites. Instead, please refer them to this post so they can download their own copies.
I hope you enjoy using these fall fun themed dot marker coloring pages with your child/students! Be sure to check out these additional fall themed printables for little learners:
Fall Printables for Kids & Families
Keep your kids busy and learning with these free printables for fall! Activities include preschool printables, word searches, fall bingo, and more.