This free printable first day of fall worksheet is a great way for little learners to practice essential skills including fine motor skills, writing skills, and sight words.
Pick from two different versions: a "first day of fall" or a "first day of autumn" worksheet for your young learners. I hope you enjoy!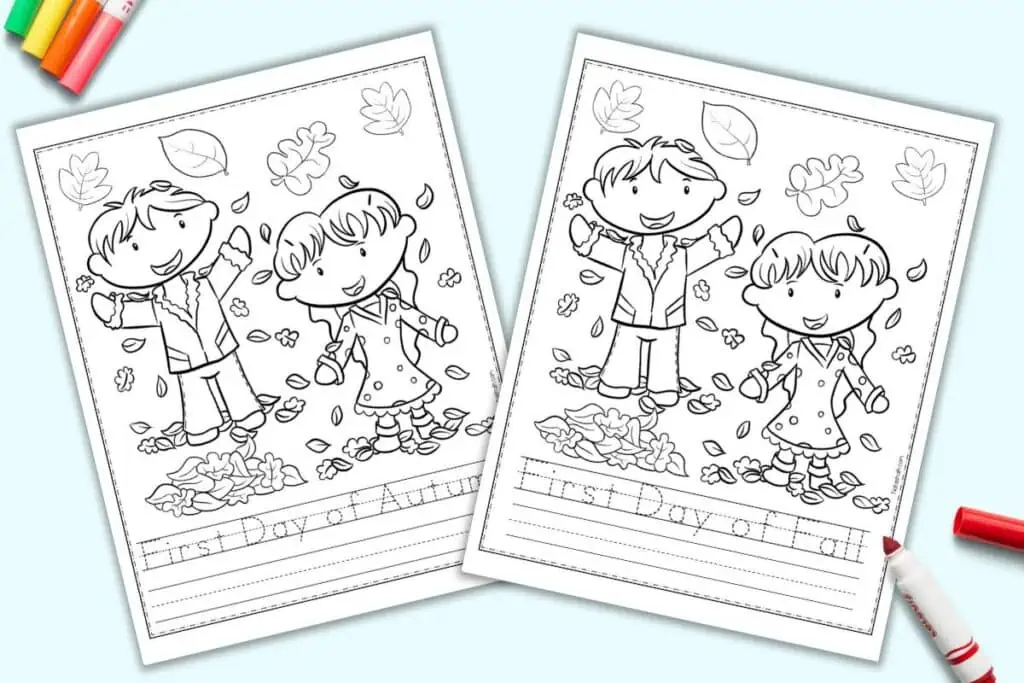 This set of worksheets to start the fall season features words to trace, a blank line for free writing, and images to color of two children planing in autumn leaves. 
This free printable is a fun activity for kindergarten and 1st grade students. Some second grade students could benefit from it, as well, depending on their needs and abilities. Special education students and students engaged in occupational therapy will also have a great time with this first day of fall worksheet.
If you're looking for educational activities for your fall theme, you've come to the right place! Make sure to check out these additional free fall printables while you're here on The Artisan Life:
When is the first day of fall?
The first day of fall is the day of the Autumn Equinox. In the Northern Hemisphere, this is typically on September 22 or September 23.
In the Southern Hemisphere, this equinox is typically March 20 or 21.
The Harvest Moon also occurs around this time. The harvest Moon is the full moon closest to the Autumnal Equinox.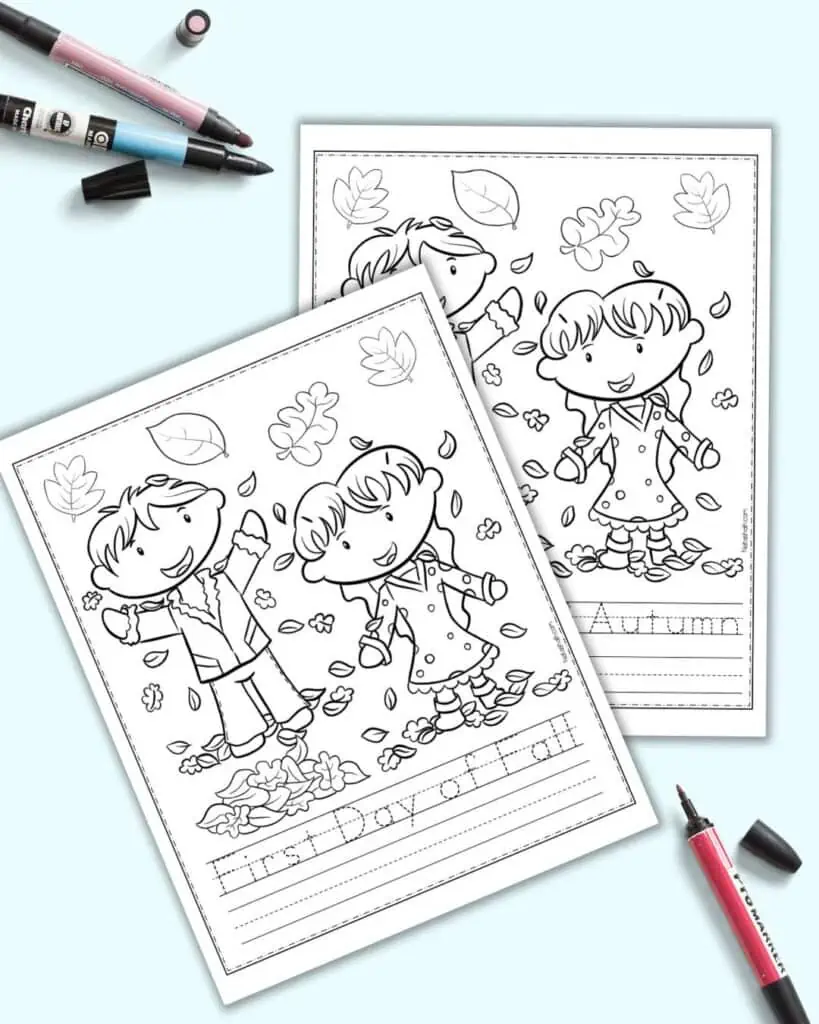 How to use printable worksheets
You don't need much to use this first day of fall/first day of autumn worksheet. You'll need:
Your free printable autumn worksheets (look for the download link towards the bottom of the page)
Printer access & paper
Crayons, pencils, etc for coloring
Dry erase pockets or page protectors, optional
You can just print the page out and hand it over to your little learner, but it's easy to make worksheets reusable. You can laminate the page, or side it into a heavy duty page protector or a dry erase pocket.
Sale
Clipco Dry Erase Pocket Sleeves Assorted Colors (6-Pack)
VERSATILITY - This pack of 6 dry erase pocket sleeves or worksheet sleeves are perfect for protecting and reusing student worksheets. Measuring 14...
COLORS - In this pack you will receive 1 blue, 1 yellow, 1 orange, 1 green, 1 red and 1 pink sleeve
HIGH QUALITY - Made with high grade plastic and double sewn edges these worksheet sleeves are made to last. Features a convenient marker pen holder...
Reusable worksheets help your child work towards mastery of the task. They're also ideal for literacy centers. Save your copy budget when you only print a few copies of the worksheet instead of an entire stack!
Parents and teachers are sometimes hesitant to make worksheets reusable because they don't want the stink and mess of wet or dry erase markers. I have great news for you – Stabilo 3 in 1 Woody crayons work even better than markers and they don't smell! We even use them with reusable coloring pages.
Sale
Learn more about making reusable coloring pages in this post with free printable dinosaur coloring sheets.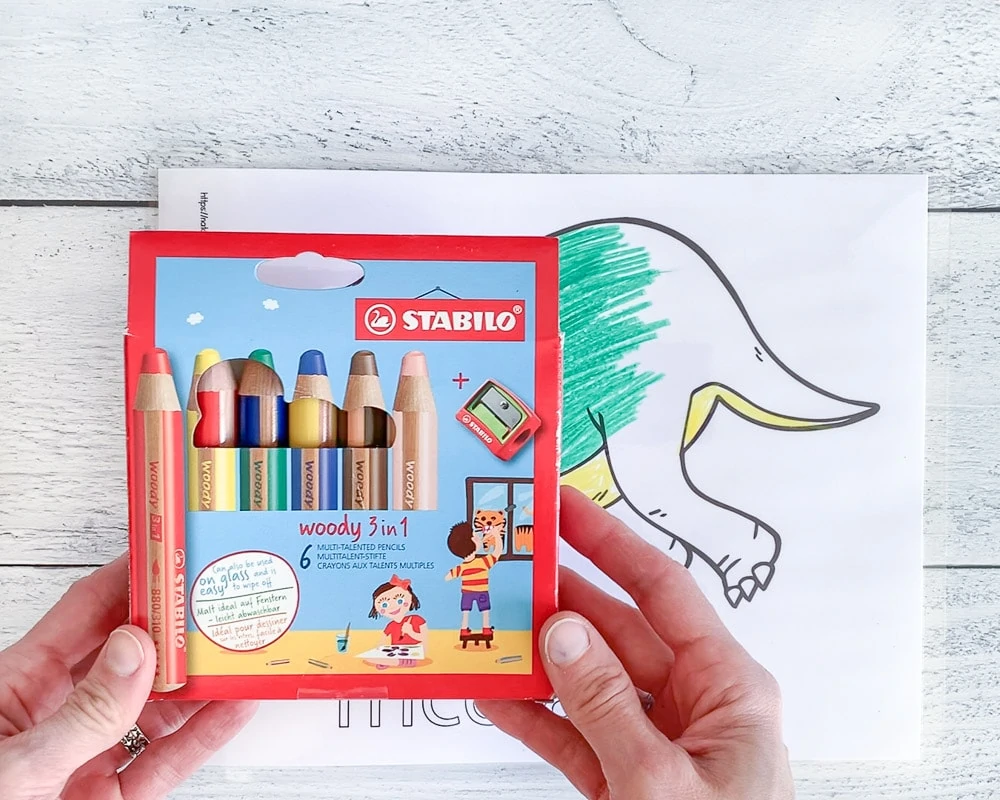 Free first day of fall worksheet PDF file download area
Like other printable activities here on The Artisan Life, these free fall worksheets are licensed for personal (non-commercial) and single classroom use. You are welcome to print and use them with your own children, students, therapy clients, library activity, etc.
You are not licensed to redistribute the files or print outs to other adults for use with their children or students. You are also not licensed to sell the files or print outs.
I hope you enjoy these printable fall activities to start the season of autumn. Make sure to check out the printable pages below for fore fun fall activities for young minds!
Fall Printables for Kids & Families
Keep your kids busy and learning with these free printables for fall! Activities include preschool printables, word searches, fall bingo, and more.