This post may include affiliate links, which means I may make a commission on purchases made through these links at no additional cost to you.
Are you ready to be more grateful and happy? You've come to the right place!
Sometimes people think practicing gratitude means that they have to pretend to be happy all the time or act like nothing is wrong.
This isn't true – you don't have to ignore the bad in order to practice gratitude!
Gratitude has helped me through some of the most difficult times in my life. Things were definitely still not completely okay, but they were okay-er because of my gratitude practice.
As you practice gratitude, you will become steadily more happy. Even the simple act of listing three things you're thankful for each day can measurably increase happiness!
In this post, I'll help you with ideas for how to practice gratitude, especially if you're new to a gratitude practice or if gratitude journaling isn't your thing!
I hope that you enjoy learning how to be grateful and happy. 🙂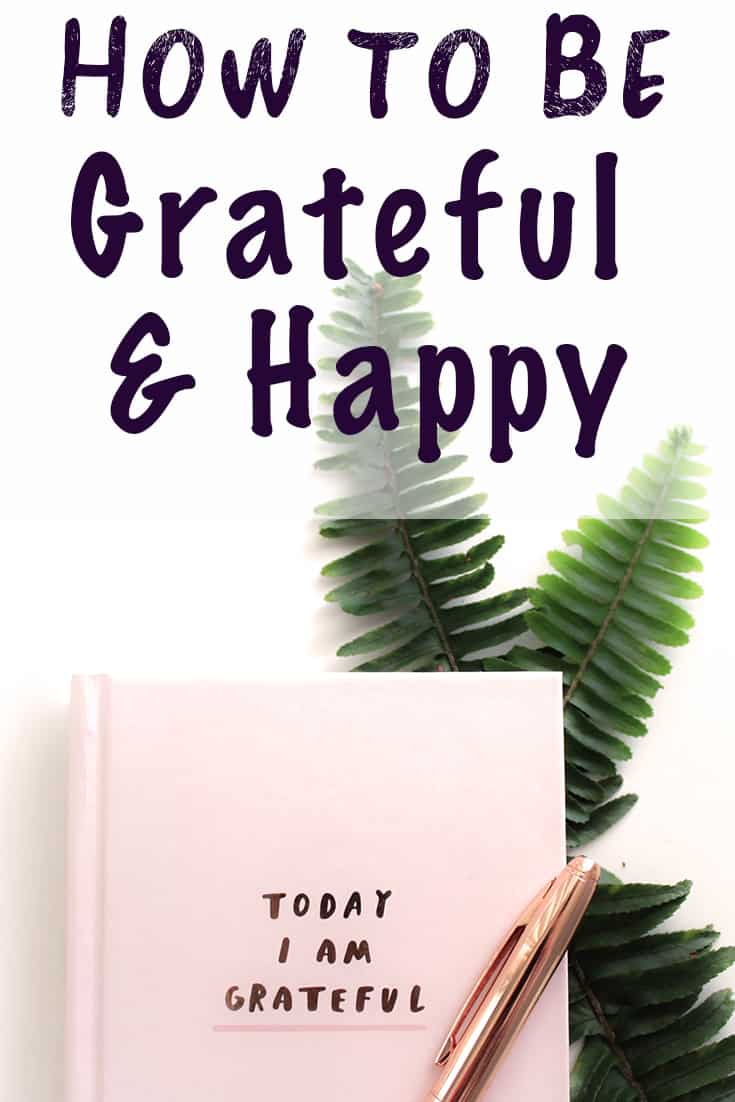 Why practicing gratitude is important
Being grateful is good for you in so many ways. Dozens of studies have explored and confirmed the myriad benefits of gratitude (you can read about some of these studies in greater depth here if you're interested). In summary, gratitude's benefits include:
Gratitude measurably increases your happiness. You can read a study about the long and short term happiness increases from gratitude here!
Gratitude helps you be a kinder person.
Gratitude makes you more likable.
Gratitude makes you healthier. Studies have found people with gratitude practices tend to have lower blood pressure, stronger immune systems, and are more likely to exercise/otherwise take care of themselves.
People who practice gratitude tend to sleep better.
Gratitude helps improve self-esteem.

How to be grateful and happy with gratitude journaling
Cultivating a daily gratitude practice is a fantastic way to bring joy and happiness into your life. Gratitude journaling, even something as simple as writing down three things you're grateful for each day, can have a measurable impact on your happiness! For a lot more info on who gratitude can make you happier, check out the book Thanks!
Tips for starting a gratitude journal:
Set aside a specific time when you'll write in your journal. Right when you wakeup or before going to bed are popular times, but journaling during your lunch break is another great option if you're already super busy.
Get a special notebook to use as your gratitude journal so you always have somewhere to write.
If a notebook/journal doesn't feel right to you, jot your gratitudes down somewhere else. I've recently started writing down three things on my wall calendar right before getting in bed!
If you need a bit of extra assistance, consider buying a gratitude journal with writing prompts.
Alternatively, you can grab one of the free printable gratitude journals below!
Do you need help starting your gratitude practice? Download my 5 crazy easy ways to start practice gratitude cheatsheet! It's located in the member's Resource Library. You can log in if you already have the password, or let me know what email address to send your password to using the form below:

Free printable gratitude journal pages
If you haven't already done it, I highly recommend the Daily Gratitude Challenge on The Artisan Life! You can download the printable gratitude journal right away when you become a member using the box below this post and you can follow along with the daily gratitude challenge YouTube playlist.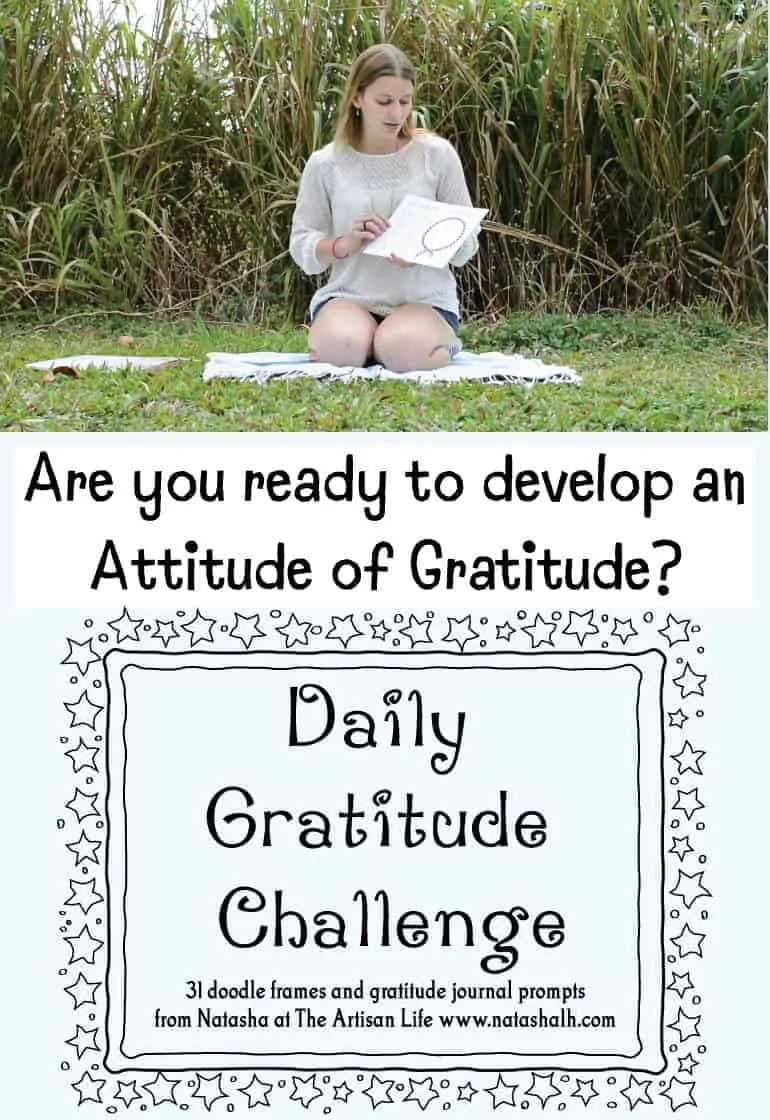 If 31 days seems like a big commitment, you can find a different free printable gratitude journal page here.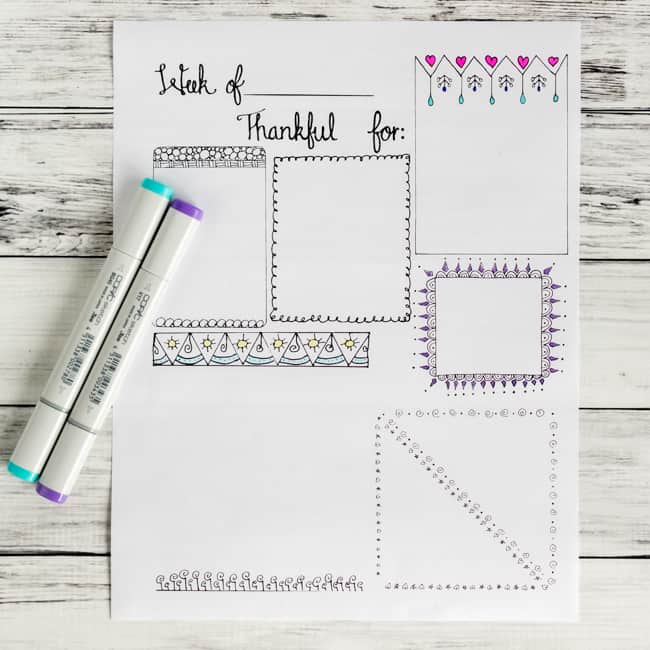 How to practice gratitude without a journal
Although gratitude journals are effective, you can learn how to be grateful and happy without a formal journal. There are many other simple ways to bring gratitude and happiness into your life.
Appreciate and thank three people each day. Let them know you recognized some act of kindness, no matter how small. Thanking them verbally is great, but if you have the chance to leave a note that's even better! Research indicates that being specific when you say thanks is most beneficial.
Take a moment at a specific time each day to be intentionally grateful. This could be for a minute or two while you're eating breakfast or on your lunch break so it's easy to remember your gratitude practice. Think about the little things, too, and find specific things to be grateful for in difficult situations. For example, if you were running late this morning but a coworker was nice enough to pick up coffee for you, be grateful for the coffee instead of stressed about running late.
Celebrate the simple things. If you have a roof over your head and food in your fridge, you are among the most privileged people in the world. If you have the literacy and computer (or phone/tablet) access and electricity to read this, you are very lucky. Look for the little things and be grateful for them! If you're having trouble with this:

Remember the bad times. Think back to a time when you lacked something you now enjoy. Don't wallow in misery remembering bad things from the past – be grateful for whatever it is you have now that you didn't have then. There have been times when I didn't own a car or couldn't afford gas, times when I went to bed hungry, and times when I've held three jobs trying to make ends meet. Perhaps there have been similar times in your life and remembering them can help you appreciate everyday joys that you currently take for granted.

Research indicates that you can increase your joy for the next month by expressing your gratitude in the form of a thank you note to someone you've neglected to thank in the past. Set yourself a deadline of one week to make sure you don't procrastinate, then write a heartfelt thank you and deliver it!

Make and use a gratitude jar.
Use this

printable gratitude banner

.
Start a complaint free challenge or a complaint free zone in your home/workplace. I'm still trying to go 21 days in a row without complaining after reading Complaint Free World, but I'll get there one day! Removing the focus from what's "wrong" and looking at what's "right" is such a game changer!
I truly hope that these tips for how to be grateful and happy help you start or strengthen your gratitude practice!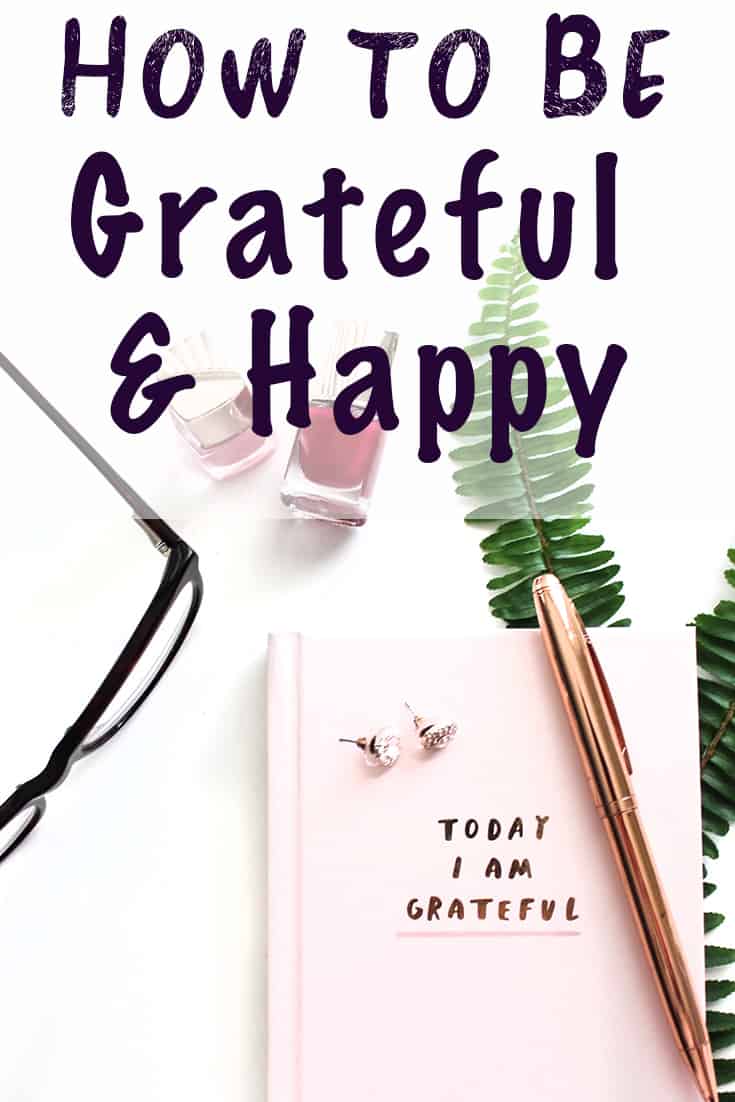 Do you already have an established gratitude practice? How do you express gratitude?