Many people are intimidated by the idea of camping with kids, but camping with your family can be time to bond and create memories that will last a lifetime!
It's a fun way to give your kids time in nature (and away from screens) and it truly does not have to be intimidating.
This post on how to plan a family camping trip will teach you, step by step, how to plan your camping trip with kids, camping necessities to pack, camping activities for kids, and much more!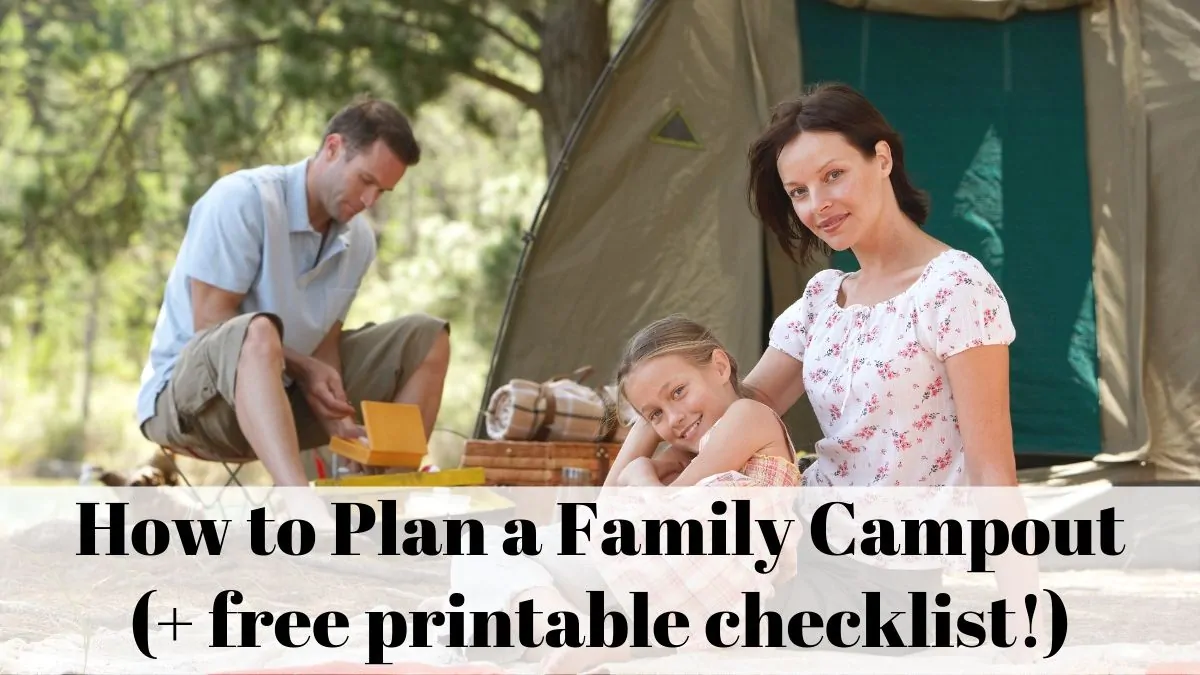 As I wrote recently in my post with toddler camping essentials, we love to be outside! I'm very glad because many children today suffer from "nature deficit disorder," a term coined by author Richard Louv. LG isn't at risk for that!
Time in nature is beneficial for adults and children, alike, and camping is the perfect way to get a bit closer to nature. I hope you enjoy this post and please let me know if there's anything else you'd like to see added!
Planning Your Family Camping Trip
I think one of the places people go "wrong" when they camp, especially with family, is they assume it doesn't require planning.
Camping takes just as much planning as any other family vacation, especially if you have kids. In fact, for a camping trip to go well it might even take even more planning! Please don't let that scare you off, though. Planning for a camping trip can be a whole lot of fun.
Tips for Choosing Where to Camp with your Family
The very first thing to do when planning your family camping trip is to choose your destination.
Where you go will inform many of the rest of the decisions that you need to make about the camping trip – including clothing, supplies, and activities.
Without knowing the destination, you can't successfully plan anything else.
If you haven't camped with kids before, pick a spot that's close to home.
Your own backyard is the ideal spot for your first night in a tent. (I don't even know how many times I camped in the yard as a kid and it was always fun!) Once you're ready to travel a little further, pick somewhere close.
If you're hoping to have your family camping debut on a big trip, I recommend doings couple trial runs closer to home before your vacation.
You'll see what does and doesn't work for you and help your children become accustomed to the idea of sleeping in a tent. Most young children love routines, so making camping more familiar can go a long way towards ensuring camping success.
It's hard for me to separate researching campgrounds and destinations into separate headings because, ideally, you want to consider all of these things at the same time. Thank goodness for tabbed browsing!
Although this section is broken down, try to take everything into account before actually making any reservations.
Research campgrounds
Once you know your destination, research the area further and pick a specific campground, if you haven't already.
There are several types of campground and levels of accommodations may vary. Some questions to ask while researching campgrounds include:
Are you allowed to use a tent?
Is there a place for your RV?
Are there cabins for rent?
Can you drive up to the campsite, or is it remote (meaning that you have to hike in)?
Are their flushing toilets? Pit toilets?
Are there showers?
Are dogs allowed?
Are there grills? If so, is there one at each campsite, or are they located centrally for multiple sites to share?
Are there pre-built, designated fire rings? Are you allowed to build fires elsewhere, or do you have to use the designated spot?
Is there a picnic table at each site?
What is the minimum stay? Especially in peak season, many campgrounds require a 2-4 night stay.
What is the maximum stay? If you're planning an extended vacation, you'll want to research this, too!
Make sure to look for various types of campground, including:
Parks (local, state, and national)
Privately owned "chain" locations like KOA
Privately owned individual locations.
Forestry and BLM lands, if you're in the western US.
Knowing what campground accommodations are available will help you determine what you need to bring camping.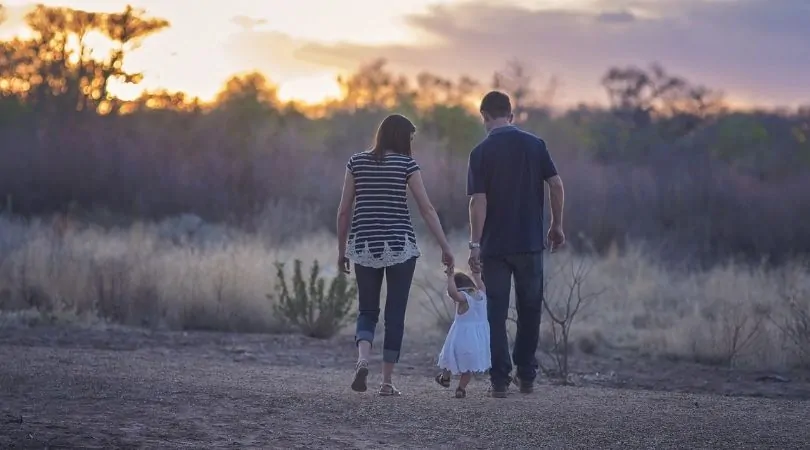 Research activities in the area
I like to have an idea of what's available to do in the area before I get too deep into researching campgrounds.
Take a look to make sure there are campgrounds in the area you want to visit that can accommodate your needs, then make sure there are things you actually want to do in the area!
You'll obviously want to pick activities that fit your family's interests and the ages of your children.
If you're camping in summer, especially with younger children who still nap, consider finding an activity that you need to drive to so they can nap in the car.
Some children can nap in a tent, but others find the extra light and noise too exciting. If your child is one of those sleeps everywhere types, that's awesome. If not, plan your activities to make sure your little one gets their much-needed nap.
Older children can still benefit from a midday activity that requires a drive because it can help them get out of the heat for a while.
When you're planning what to do, make sure you don't overschedule your family. We like to pick one "big" thing to do each day, then do other, smaller things as time allows.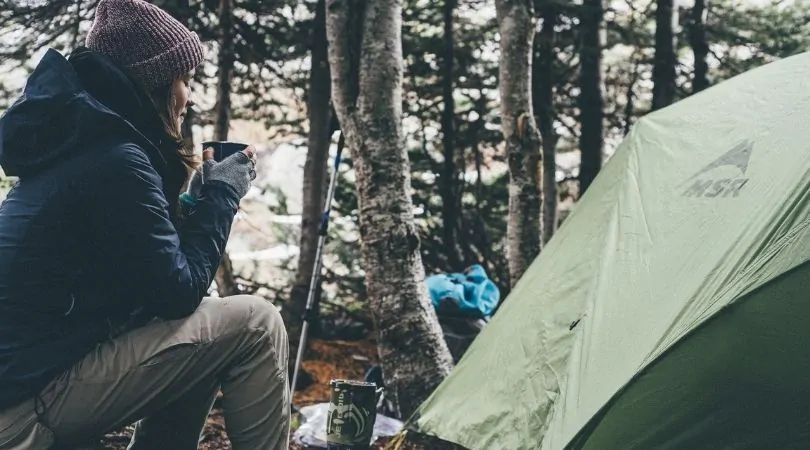 Create Backup Plans for Inclement Weather
If you experience inclement weather, your attitude will determine whether or not your family has a good time.
Attitudes are contagious. Complaining that the trip is "ruined" is a sure-fire way to ruin the trip. Instead, keep a positive attitude and point out the good in the situation.
If you're camping near a destination with indoor attractions and you see rain on the forecast, save those activities for the rainy days.
If you're camping further afield, you may not be near indoor activities.
My sister's third birthday (or maybe it was her fourth?) was spent camping in a location where it rained so much, it was actually declared a disaster area. We couldn't leave because it was too wet to drive out!
We weren't the only ones camping there, though, and we had a big awning and a propane space heater. We had her birthday party, anyway, and ended up meeting new people (who stopped in to see what was happening under our nice, dry canopy). We made the best of a difficult situation and ended up having fun and creating family memories that we still talk about 20+ years later!
If you see a chance of rain while you're preparing for your trip, be prepared. Bring books, coloring books, games, and appropriate gear. Pack your rain boots, ponchos, and extra clothes!
Younger children may have even more fun than they would have, otherwise, if you come prepared and allow them to play in the rain. Stomp in puddles, look for frogs, and have a good time!

What do you need for camping? (Camping essentials list)
Planning is an essential component of a successful, fun family campout. It doesn't matter if it's just a weekend or longer; planning will make everything go more smoothly.
During your planning process, create a checklist for everything that you want to bring with you so that you can pack everything a lot easier.
Once you have the checklist, you can start packing for your trip, marking off the things you've packed.
If you have toddlers, be sure to check out my post with a toddler camping checklist! It specifically lists things that are important to consider when camping with a toddler, but many of the suggestions are helpful for older children, too.
Allowing your children to do some of their own packing and check things off the list can help make the experience positive and memorable. (Just make sure to look behind them and ensure nothing has been forgotten!
Family camping checklist
This list of what to bring camping is based on my own experience camping. Your exact needs may differ, depending on your family, but this list is a great place to start!
A Tent
If you don't have an RV or camper, then you'll want to bring a tent.
You can actually rent RVs and campers if you don't know anyone to borrow from. Just search for RV rentals in your area!
Not into RVing and not sure you want to camp regularly enough to buy a tent? Check with friends to see if you can borrow one or look for a tent rental service in your area. Some outdoors stores offer tent rentals, or if you're in the military you can check with your local MWR for tent rentals.
If you do want to buy tent, make sure it is up to the task. Don't cram your family into something tiny, especially if you have young children or a baby that need a safe, separate place to sleep.
Tents have come a long way. I remember my family's first tent with the quick setup poles instead of ones you had to screw together each time. We were so amazed! Now one of the new, cool features is fabric that helps block more light. These tents are perfect for camping with a family, especially in the summer when it's light out long past bedtime.
If you'll be using a tent for the first time, practice putting it up and taking it down at home at least once before taking your trip.
Tarp/ground cloth for your tent
Placing am extra tarp or groundcloth under your tent makes a huge difference in comfort, especially if you're not using cots.
Folding chairs
Chairs are also great for relaxing around the fire or for resting and reading in the fresh air.
Many families use a children's camp chair to help set a safe distance from the fire.
Allow your child to pick out a special folding camp chair (folding chairs for kids are generally pretty inexpensive, so you won't need to spend much). When you set up camp, place the chair at a safe distance from the fire or grill and explain that this is where they can sit to watch.
A cot or air mattress
Okay, maybe I'm a bit of a glamper, but I just can't get comfortable trying to sleep on a foam camp pad!
A cot or air mattress will help keep you warmer, dryer, and more comfortable. If you're camping with your family and not super roughing it, backpacking, or hiking to your campsite, I see no reason to suffer needlessly!
Sleeping Bags
Sleeping bags are better than just blankets, especially in cooler weather.
You can find two person sleeping bags if your family wants to cozy up and stay warm.
These can be a good choice if you want to help ensure a child isn't too cold; a parent can share a sleeping bag with a child, or multiple children can share a sleeping bag. Frequently, two smaller adults and a child can fit in one of these extra large sleeping bags!
HiHiker Double Sleeping Bag Queen Size XL -for Camping, Hiking Backpacking...
Double Sleeping Bag Queen Size XL, 3-4 Season Warm Cold Weather, Waterproof...
Coleman Tandem 3-in-1 Double Sleeping Bag, 45°F Queen Sized Sleeping Bag...
REDCAMP Double Sleeping Bag for Camping,2 Person Sleeping Bags with 2...
HiHiker Double Sleeping Bag Queen Size XL -for Camping, Hiking Backpacking...
Double Sleeping Bag Queen Size XL, 3-4 Season Warm Cold Weather, Waterproof...
Coleman Tandem 3-in-1 Double Sleeping Bag, 45°F Queen Sized Sleeping Bag...
REDCAMP Double Sleeping Bag for Camping,2 Person Sleeping Bags with 2...
If you don't have sleeping bags for everyone, that's okay. You can always get started with regular blankets!
Honestly, I think it's more important to upgrade what you're sleeping on before what you're sleeping in/under.
Whether you're using a sleeping bag or blankets, I recommend shaking out your bedding before getting in just to make sure there are no unexpected critters!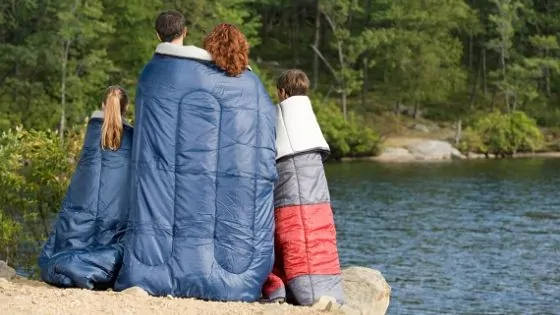 Pillows
The "just stick your tennis shoes in a pillowcase" and "use your dirty clothes for a pillow" ideas just aren't comfortable. Seriously. I've tried. Bring your favorite pillow.
Flashlights
It's nice if everyone has their own flashlight to bring along.
Having a flashlight helps younger children feel safer and can keep them from hurting themselves if they need to use the bathroom at night while everyone is sleeping.
A headlamp can also be useful, especially for nighttime tracks to the bathroom.
A lantern
There are convertible flashlights that are also lanterns, but having a large, dedicated lantern is nice. Many campsites have an elevated hook near the picnic table to hang a lantern for plenty of light at night.
You can go old school and use a traditional propane lantern, or you can get a battery operated lantern.
I personally prefer a battery operated lantern that is rechargeable with solar or a dynamo. This will keep you for having to lug around tons of extra batteries.
AGPTEK Solar Lantern, 5 Mode Hand Crank Dynamo 36 LED Rechargeable Camping...
5 Charging Methods: Solar Powered, Crank Dynamo, Car Adapter, AC Adapter or 3 x AAA Battery.
Green Power: Hand Crank Dynamo Solar 36 LED Lantern Outdoor Super Bright Camping Work Light.
Low Energy Consumption: Built in the Polysilicon solar panels, brighter than the other camping light and lower energy consumption.
Cooking equipment
You may need a grill or camping stove if your camping site doesn't have a grill.
You will also need appropriate fuel – charcoal for a campsite grill or your own portable charcoal grill, gas for a gas grill or stove.
Cast iron is best for cooking over a fire. It's also nice for cooking at home! Cast iron pans last literally forever if you care for them. My family is still using a couple Dutch ovens that are at least 20 years old.
If you cook with cast iron (or any non-stick pans) you need these inexpensive pan scrapers! They work amazingly and are only a few dollars.
To cut down on space and weight, you can use a single burner gas stove or an ultralight stove. These are typically more for backpacking use, but they can be a way to save space if your family vehicle is getting full.
Investing in a set of camp cookware can also save space, but cast iron is wonderful to cook with once you're used to it and nice to use at home, too.
Of course, you'll also need cooking implements like tongs, spatulas, and serving spoons. Plan your menu, then determine what you'll need.
Dishes and cutlery
You can use any dishes at cutlery you'd like, but I recommend going with something unbreakable (metal or plastic). Enamelware is very popular for camping.
If you don't want to wash as many dishes, you can chose to use disposable plates, cups, and flatware. If you opt for disposables, I encourage you to use something biodegradable like banana leaf plates (we used these at our wedding) instead of styrofoam or plastic.
Cutting board(s) and knifes
Prep as much as you can ahead of time to minimize food prep while camping, but bring at least one knife and cutting board to be safe.
If you plan to deal with any raw meats, bring a second cutting board for use exclusively with meats to minimize the risk of contamination.
A coffee pot
If you drink coffee, you'll want a camping-friendly coffee pot. We love using a percolator. A small percolator works beautifully over a camp stove, but you can also get larger percolators that work over a fire.
First Aid Kit
Anything that can happen, often will happen, especially if you don't bring a first aid kit!
A decently stocked first aid kit, like the one we own (shown below), is very affordable and absolutely worth it. You do not want to be driving to town in search of butterfly closures while holding your thumb above your head!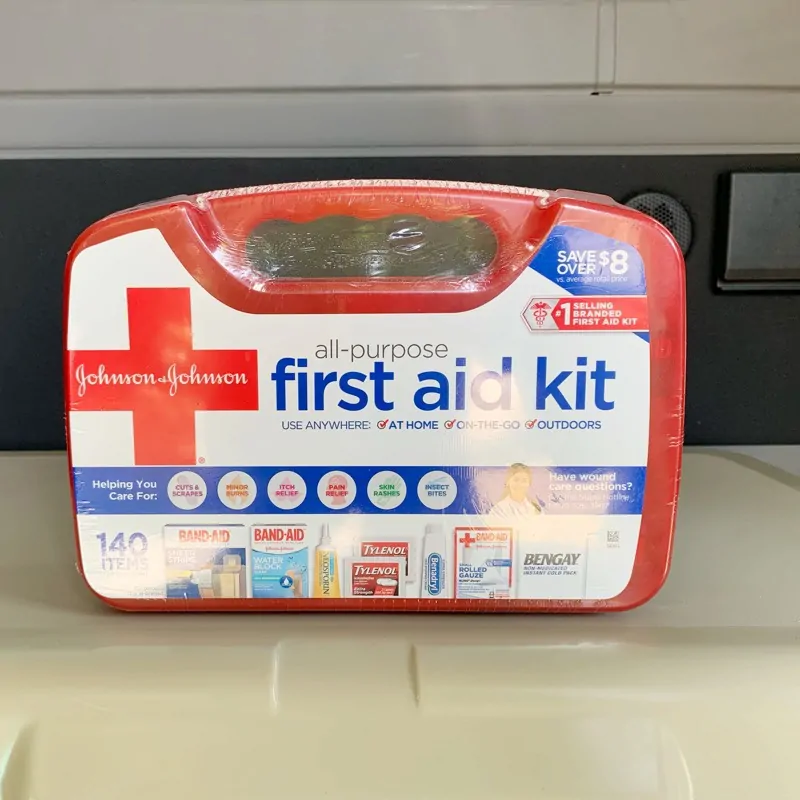 A multipurpose tool
You don't need to bring tons of tools, but one of those multipurpose tools that include a knife (aka a Leatherman) is very handy. My Leatherman Wingman has been used for a crazy array of tasks – even cutting up food to prepare a meal!
A mallet
If you plan to set up an awning or tent, you may need a mallet or hammer to anchor your tent to the ground.
Two-way radios
Your cell phones might not work, plus, it would be nice to collect them and put them away during your camping trip. Camping is about enjoying nature, and while it's good to have an emergency cell phone, two-way radios are effective and fun and will allow for fewer distractions.
For areas with no cell phone signal, consider getting a GPS messenger that will allow you to reach out for help if there's an emergency. I wrote about our GPS messenger in this post on staying in touch off the grid.
Lighter and/or matches
More than likely you're going to need to start a fire. I've never seen a campsite with an electric start grill, and I know our portable stove sure doesn't have one!
I recommend a grill lighter and a box of waterproof matches to have all your bases covered.
Fire extinguisher
Some campsites already have them, but you might want to consider a safe camping fire extinguisher in case your fire gets out of control. I have actually witnessed someone else's tent burning to the ground. Scary!
Bug spray with DEET
If you're going to go hiking, the best choice is really insect repellent with DEET.
It might feel dangerous, but the truth is that getting bit by mosquitoes is more dangerous. I know people who've had serious mosquito-born illnesses and they're not joke!
I try minimize my family's exposure to chemicals whenever possible, but research indicates that alternative bug repellants just aren't effective.
You can spray the DEET around your socks, shoes, and pants if you don't want to put it on your skin.
Our pediatrician recommended spraying our toddler when necessary, but washing her off once the bug repellant wasn't necessary. Wipes can be handy for removing excess bug repellant until you've had the opportunity to bathe.
Baby wipes
Whether you have babies or not, wipes are a great way to "wash" up quickly without a trek to the facilities. Larger bath wipes can come in handy, too. I always prefer to get face -safe, unscented wipes like the Seventh Generation wipes I use for my daughter.
Sunscreen
Look for sunscreens with an active ingredient of zinc oxide and/or titanium dioxide, the only two sunblocks that the FDA is recommending should be classified as generally regarded as safe.
Remember that sunscreen is added protection – the best protection is staying covered up and in the shade whenever possible. Utilize long sleeved shirts and big hats, especially for young children.
Sun Bum Original SPF 50 Clear UVA/UVB Face Sunscreen with Zinc And Vitamin...
Aveeno Kids Continuous Protection Zinc Oxide Mineral Sunscreen Lotion for...
Blue Lizard Australian Sunscreen Sensitive SPF 30+, 5-Ounce
Sun Bum Original SPF 50 Clear UVA/UVB Face Sunscreen with Zinc And Vitamin...
Aveeno Kids Continuous Protection Zinc Oxide Mineral Sunscreen Lotion for...
Blue Lizard Australian Sunscreen Sensitive SPF 30+, 5-Ounce
A battery operated fan
Or several battery operated fans! These are great for keeping cool in the heat of the day, especially if you have children. They also help keep bugs away in the evening.
We have used a battery operated 10″ fan in the past. It goes through batteries quickly on high, but it does produce a decent breeze.
We recently purchased a USB rechargeable clip on fan that oscillates. It's really nice! It also stands up on its own. On a lower setting, it can run all night without draining its batteries.
You can also get tent fans that you attach in the center of your tent to blow air downward.
SkyGenius Battery Operated Clip On Oscillating Desk Fan, Portable...
Odoland Portable LED Camping Lantern with Ceiling Fan - Hurricane Emergency
Treva 10-Inch Portable Fan, Powered by Battery and/or AC Adapter - Desk Fan...
SkyGenius Battery Operated Clip On Oscillating Desk Fan, Portable...
Odoland Portable LED Camping Lantern with Ceiling Fan - Hurricane Emergency
Treva 10-Inch Portable Fan, Powered by Battery and/or AC Adapter - Desk Fan...
Lye soap and Tecnu
I am not technically allergic to poison ivy. I don't go into shock or anything, but I get what's called a "large area reaction." Poison ivy wrecks my skin for weeks. If I think I've come near some, I immediately scrub off with a product called Tecnu. It works! I know I've touched poison ivy and ended up without a reaction thanks to Tecnu.
For people less we sensitive, a good scrub down with lye soap can help prevent breakouts.
The best solution, of course, is to avoid poison ivy, poison oak, and poison sumac all together. Educate yourself and your family on what these plants look like and stay clear!
Sale
Tecnu Extreme Poison Ivy and Oak Scrub, Removes Poisonous Plant Oils That...
Best Choice if Your Poison Ivy or Oak Rash Has Already Started; Apply to Entire Body in a Shower
Rash Spreading? Gets to the Root of Your Problem by Removing Urushiol, the Toxic Oil from the Plant That is Causing Your Rash to Spread
Is Your Itching Unbearable? This Product also Removes the Source of the Itching to Allow Your Body to Begin its Natural Healing Process Unimpeded
Pepper spray
If you're going to camp in a place known for its bears, and it is legally allowed where you are, you might want to consider taking pepper/bear spray. You can use it to avoid being attacked or bitten by not just bears but also wild dogs and other creatures.
Can opener
It seems obvious, but you'd be surprised at how many people forget to bring a can opener and then have to find creative methods for getting cans opened so that they can eat the food they brought. Trying to beaver your way into a can with your multitool is not especially fun. Ask me how I know 😉
Bucket or basin
You'll need containers to clean your dishes in. You can, of course, use paper plates instead, but you'll still need to be able to easily wash your cooking utensils.
I recommend using standard dishpans or collapsible dishpans, if you want to save on space. To adequately clean your dishes, consider bringing two – one for heated, soapy water and another for rinse water. (Some people use three separate dishpans to clean their dishes thoroughly.)
ustFlexWare Collapsible Sink with 2.25 Gal Wash Basin for Washing Dishes...
Wakeman Outdoors Collapsible Multiuse Wash Bin- Portable Wash Basin/Dish...
Progressive International Prepworks Collapsible Portable Wash Basin Dishpan
ustFlexWare Collapsible Sink with 2.25 Gal Wash Basin for Washing Dishes...
Wakeman Outdoors Collapsible Multiuse Wash Bin- Portable Wash Basin/Dish...
Progressive International Prepworks Collapsible Portable Wash Basin Dishpan
Eco-friendly soap
If you plan to wash your hands or dishes at your camp site, please use an biodegradable soap. Campsuds is a popular brand, but Dr. Bronner's soaps are eco-friendly and come in liquids and bars.
Toilet essentials
Don't rely on the campground bathroom supplies; bring a roll of toilet paper and some hand sanitizer. I don't know how many times I've been thankful to have some of my own TP!
Your normal toiletries
Make sure to bring your normal toiletries like toothbrush/toothpaste, deodorant, floss, etc.
If you'll be bathing outside, bring eco-friendly toiletries that are safe for lakes and streams.
Medications
Bring whatever normal prescription of OTC medications your family needs.
Water
Don't assume fresh water will be available. The rule of thumb is that you'll need at least one gallon of fresh drinking water per person, per day.
Do not drink water from streams, lakes, etc. unless you are knowledgeable about treating water to make it safe and have the correct supplies.
You can bring gallon jugs of water, or you can buy larger water containers. We use the 7 gallon Aquatainer. Just remember the water is heavy – water weighs 8.34 pounds per gallon! Larger water containers quickly become fairly heavy.
Sale
If you have a big ice chest, refill (clean) empty bottles with water and freeze them. They'll provide extra ice in your ice chest and will slowly melt into drinking water! Just make sure not to fill the bottles all the way to the top – leave some space for expansion.
Water bottles
You don't want everyone drinking straight out of your water jug! It's important to fill personal water bottles or cups to avoid contamination.
I personally prefer to use a water bottle instead of a cup while camping because it helps reduce the amount of bugs, random leaves, etc. that ends up in your water.
Even though our toddler normally drinks out of an open cup, we bring her stainless water bottle along, too. If you have a young child, stop by this post on sippy cup alternatives to find eco-friendly no spill cups and bottles!
To help you stay organized, I created a free printable camping checklist!
Download your family camping checklist here.

What to wear camping
One of the most important considerations for camping is what to wear.
Dressing for your campout doesn't have to be expensive.
Buying secondhand outdoor clothing at flea markets, thrift stores, or even places like Facebook Marketplace can save you a lot of money!
Another awesome place to find deals is Backcountry.com. Before you shop for any camping gear or clothing online, you need to get a free Ebates account. I've seen up to 10% cash back from many outdoors retailers including Backcountry and LL Beans! (Ebates is now Rakuten, but it's the same website.)
Consider the weather
The time of year, the place you're going, and the closest weather forecast you can get should inform the type of clothing you take on your camping trip for every member of the family.
I always check average weather for when I'll be visiting a place as part of my planning process. As the trip gets closer, I keep an eye on the actual forecast and adjust, as needed.
Always wear shoes
Going barefoot isn't really a good idea no matter where you are, because it's easy to hurt your feet and ruin your entire trip.
When camping, it's essential that you always wear shoes, including when getting into lakes, ponds, streams, and rivers.
A good pair of water shoes with gripping soles on the bottom can work for a variety of types of environments.
I love flip flops, but save them for the bathhouse or inside your tent. Wearing them around camp or while hiking is an invitation for an injury.
For snake-prone areas, boots are incredibly important. Consider wearing over the ankle boots whenever possible to help minimize the risk of snake bite! Boots also offer more support when you're hiking or walking over difficult terrain.
Keep a pair of shoes handy at night so you can put them on quickly for nighttime trips to the bathroom.
Consider what activities you plan to do
If you're going to go horseback riding, you need long pants and some kind of boots to wear.
If you're going boating, you'll need water shoes and a swimsuit.
Hiking? Bring appropriate footwear and clothing.
Pack layers
Layers are the best way to dress when you're camping.
It's common for mornings and evenings to be much cooler than the middle of the day, even in summer. Make sure to check the weather forecast and bring something warmer that's appropriate for your preferences and he projected temps.
For cooler weather, make sure to bring base layer clothing. I like to wear thermal pants under my regular pants, for example.
Look for quick dry clothing
Bringing quick dry clothing can reduce the amount of clothes you need to bring. You can get fast drying pants, shirts, bathing suits, and even underwear!
Wear long pants and long sleeves, even in summer
People frequency assume that shorts and short sleeves are the best for warmer weather, but summer weight pants and long sleeved shirts can be far better.
Covering your skin offers protection from sun, scratches, insects, and more.
This doesn't necessarily mean you should bring your favorite blue jeans along in July! Look for lightweight clothing that offers skin coverage from companies that specialize in active and outdoor wear.
Bring rain gear
At the very least, everyone needs to have an inexpensive poncho.
A rain jacket, rain boots, and even a pair of rain pants are great investments to make of you decide to make champing a regular thing.
Pack extra clothes
Especially with kids, I think it's important to allow for two outfits a day. You never know when something will get wet, dirty, or contaminated with poison ivy!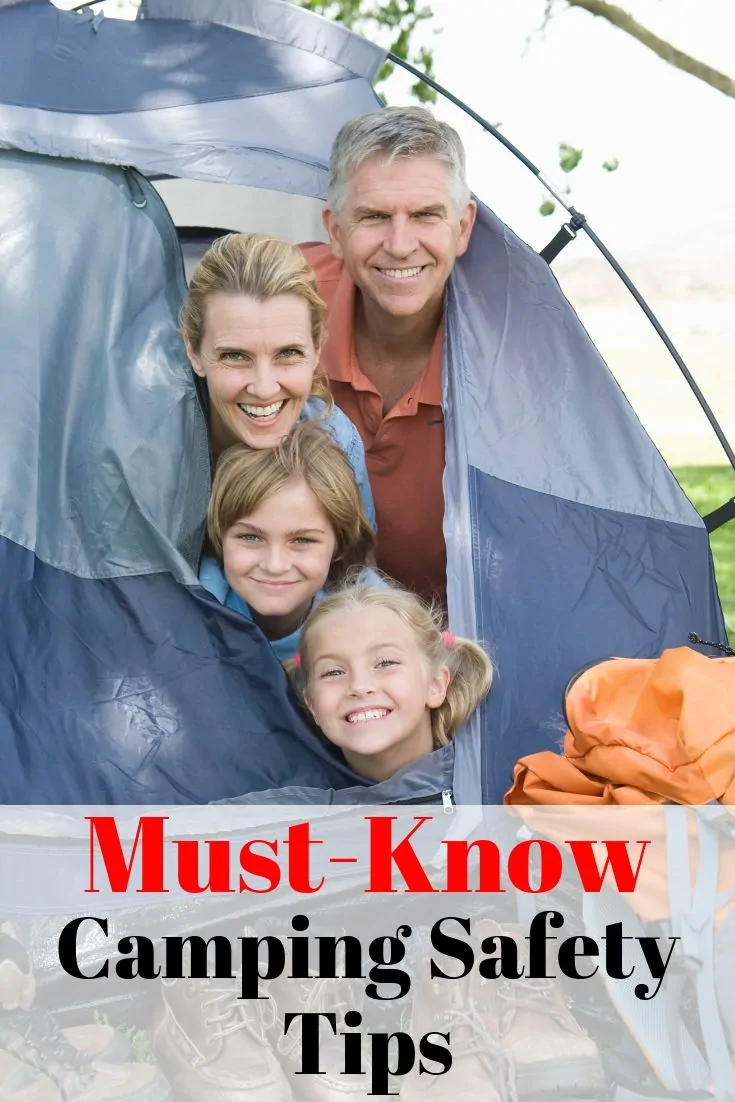 Camping safety tips
Following basic camping safety rules is very important.
Don't do activities that you're not dressed appropriately for, aren't physically fit enough for, and don't have someone to teach you how to do.
Read up on the types of potentially hazardous plants and animals in the area.
Familiarize yourself with the type of animals that you may deal with in the wild where you plan to go camping.
If there are bears, snakes, scorpions, or any other potentially hazardous wildlife, it's good to know about them so that you stay safe, including how to spot them and what to do if you encounter these animals.
Use a Buddy System
Keep your older kids safe by using a buddy system. Everyone should have a buddy to go to the bathroom with, go swimming with, and do other activities with. If you have a solo child, ask if they want to invite a friend along on your camping trip. They'll have more fun and they'll have a buddy!
Dress appropriately
Again, know where you're going and what you're going to do so that you can bring the right type of clothing that will keep you safe.
Over the ankle boots, long pants, and long sleeves will go a long way to keep you safe from plants, insects, and animals.
Practice food safety
Keep raw foods cold, cook food throughly, and clean your hands and dishes well.
Hand sanitizer is not enough to sufficiently clear your hands if you've handled raw meat.
Consider self-sense
For defense against wildlife, you can take pepper spray, but you can also carry a stick when walking to help protect yourself from wild dogs or other creatures if you need to.
Make sure to get large container of bear spray, not one of those little keychain containers.
Avoid areas known for crime and always leave if you feel uncomfortable about a location.
Practice fire safety
Many campgrounds require you to use a provided fire ring.
If you do need to make a fire pit, use rocks and keep the area free of leaves and other debris. Don't have a fire when it's super windy and keep a fire extinguisher nearby.
Always keep children a safe distance from fires.
Stay hydrated
It's easy to become dehydrated when you're outdoors more than you're accustomed to. Drink plenty of water!
Protect yourself from the sun and heat injury
Wear sunscreen and summer weight long sleeved shirts, pants, and a hat if you'll be in the sun. Stay under shade during the hottest hours of the day.
Staying safe while camping is about common sense. Understanding your environment, bringing the right tools and equipment and then staying aware an all times will keep you a lot safer than going in without a plan.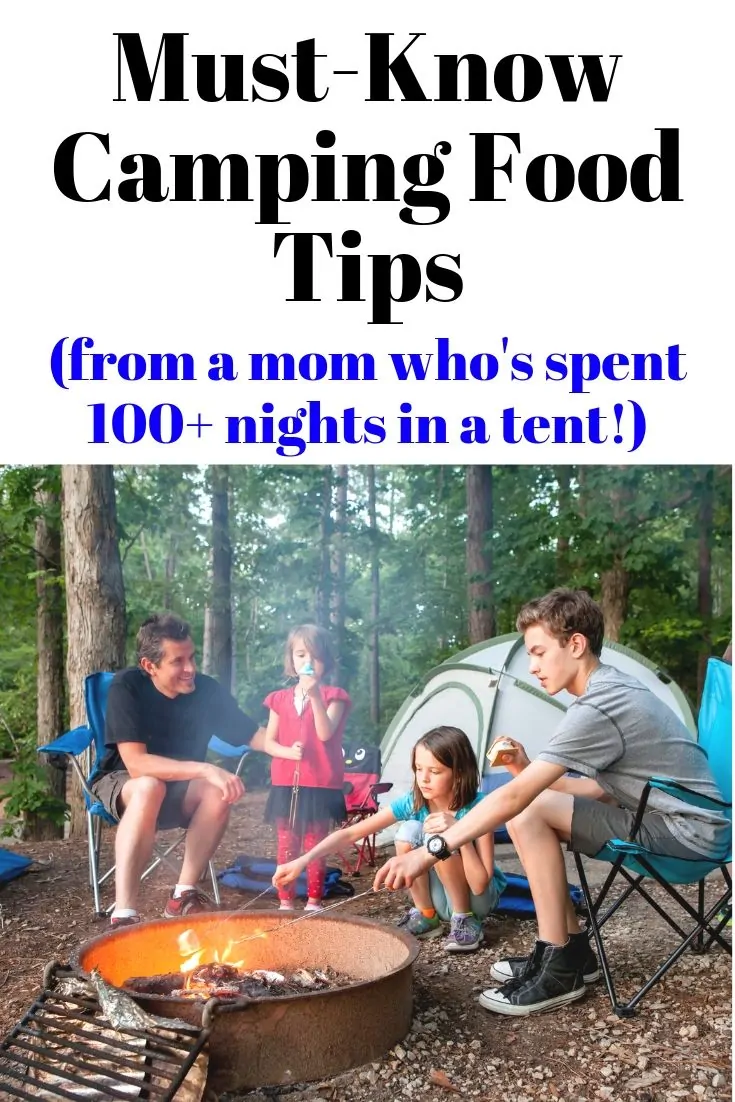 Food to bring camping
The type of food that you eat while camping is totally dependent upon the type of storage you have for your food.
If you have an RV, you can store and prepare meals that aren't much different from home.
If you only have access to a cooler, a campfire, and maybe a grill, then everything is different.
I highly recommend prepping as much as possible before leaving home.
Not only is this easier and safer, but it also means you can spend more time enjoying your trip! I feel like cooking and cleaning while camping take at least twice as long as when I'm at home. It's so nice to have meals that are basically ready to go!
An easy way to prep food for camping is to cook it at home, freeze it, and just reheat.
We recently made tons of breakfast burritos and froze them for a trip. We just reheated them in a cast iron pan for a couple minutes on each side! Clean up was sooo much easier than if we'd scrambled the eggs while camping.
Soups and stews tend to freeze well. When I was a kid, I'd make beef stew and freeze it for camping trips. Freeze it in quart or ziplock bags, then simply cut the bag away if the stew isn't thawed enough to pour into your pot when you want to eat.
Invest in a good ice chest, especially if you have children.
Children are more susceptible to food born illnesses than adults, so it's extra important to keep perishables cold if you have kids.
My husband and I used to laugh and say we'd never buy one of those "expensive" ice chests. We literally bought the cheapest ice chest we could find!
Well, we got what we paid for – an ice chest that needs new ice literally every day. Womp womp.
We decided to invest in a nicer cooler and now our food stays cold and we don't waste so much time getting ice! (It's also great for trips to Costco.)
We purchased an RTIC (pronounced "arctic") cooler because it's a highly rated Yeti alternative. There are also other brands available, including, of course, Yeti Coolers. They're all going to be better than a cheap ice chest.
The RTIC coolers have the added benefit of being bear proof. A bear proof box for food storage is mandatory at many campgrounds, especially out West.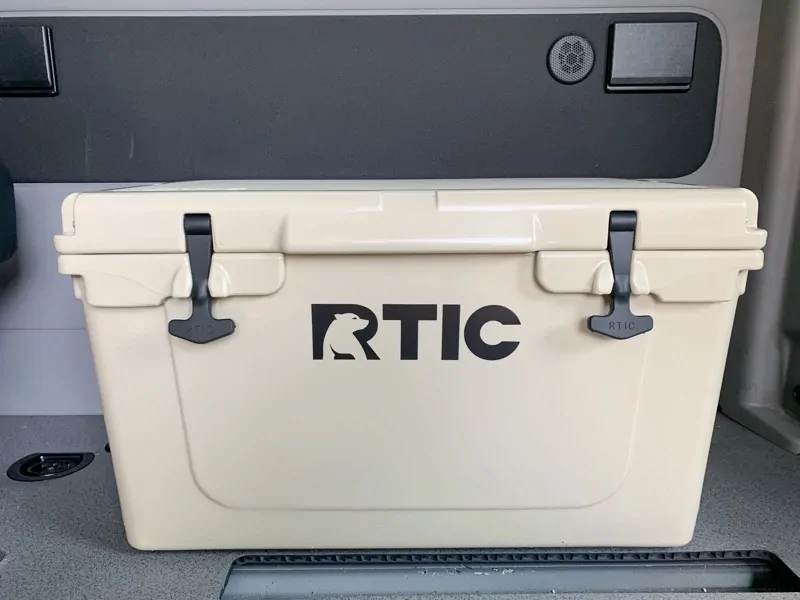 Keep it easy
You don't need to cook a hot meal three times a day! Sandwiches make for easy lunches and you can go with easy, cold breakfast options, too.
Roasting hot dogs on a "stick" (I recommend getting a metal fork made for roasting hot dogs because they're cheap and it's so much easier) is easy and fun.
Avoid raw meats
I like to simplify my life by avoiding raw meats while camping. I do not want to deal with sagely storing them, risking contamination in my ice chest, or cleaning up afterwards.
If you want to eat meat, look for precooked sausages or do most of the cooking at home.
I love my Anova sous vide cooker and use it all the time for everyday meals. It also makes preparing food for a camp out super easy!
Season and mostly cook steak, chicken, or pork at home and place individual meals or portions in containers.
Once you're camping, fire up the grill or hear your cast iron skillet and simply sear and reheat!
This works especially well when you've sous vided your meat because items cooked sous vide need to be browned/seared, anyway. If you haven't tried sous vide cooking yet, it's amazing (and the easiest way to cook the most perfectly cooked steak).
For longer trips, you can freeze some of your cooked meats. Eat the non-frozen items first, then move on to the frozen ones. (This also works well with hot dogs and sausages!)
Pack whole foods that don't require refrigeration
Many fruits and vegetables don't require refrigeration, especially if you're only camping for a few days.
Potatoes and onions are delicious when roasted in your fire's coals, and you can chop up veggies to make foil packets (or "hobo packets").
If cooking in foil doesn't appeal to you, try roasting corn on the cob, making veggie skewers, or, depending on what's available, wrapping your food in ti or banana leaves to roast it. You can also use corn husks soaked in water to roast vegetables, but each husk doesn't hold very much.
A mess skillet that can be closed up (think old school Scouts mess kit!) can also work for roasting veggies in the coals!
Sale
Bring emergency backup food
Grab some of those freeze dried meals, cans of soup with pull tab tops, or other food that can be eaten without any refrigeration or actual cooking.
Pack more food than you'd normally eat
Being outdoors and more physically active than usual will make you hungry! Allow for more food than you would normally eat at home.
And, of course, remember to bring the supplies for s'mores!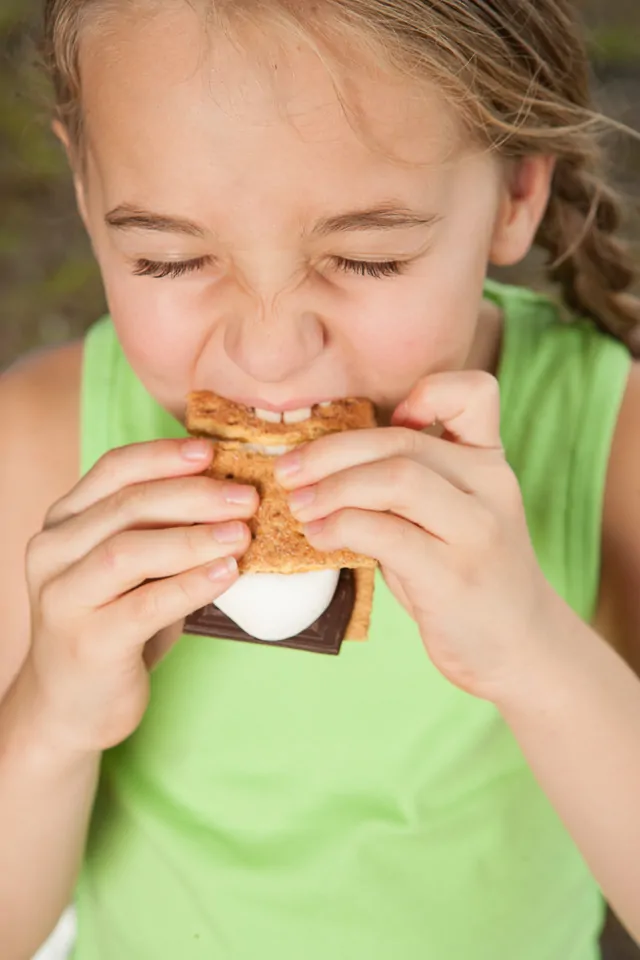 Camping activities for adults & kids
One of the reasons people love camping is the fun activities they do.
Some people prefer to hike or play in the water all day, but other families prefer to pick planned activities like ziplining, horseback riding, white water rafting, etc. with the experts in charge.
Here are a few ideas for low-cost, fun camping activities!
Taking photos
Camping is a great time to practice your photography can capture memories! Just make sure to being adequate batteries and keep your camera safe and secure if you're away from camp without it.
Wildlife watching
Whether it's bird watching or watching other types of wildlife, you can learn so much when you're out in the wild.
If you have a smart phone that still gets reception where you're camping, you can take pictures and use app to identify the animals you're looking at.
Alternatively, you can be "old school" and get a wildlife identification guide ahead of time. Working with your kids to figure out what animals you've seen can be a lot of fun!
Nature scavenger hunt
Creating a nature scavenger hunt is a great way to explore!
You can devise your own hunt, or head over to this post and grab a free printable nature scavenger hunt. It has images of the items you're looking for, so it's great for younger children.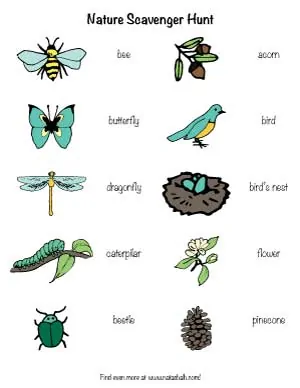 Hiking
If you have mountains nearby, it's fun to hike up the mountain so that you can take in the cooler weather and views from the top. It's exhilarating and fun to do, and good for you.
Plenty of flatter places have nice trails, too, that are easier to do with young children.
Swimming
Some camping areas have a place to swim nearby. Whether it's a lake or a river, swimming is always fun for most kids and adults. Plus, it lets you cool off and feel refreshed.
Fishing and boating
Some people like to catch their dinner, so if you have a boat you have many additional options while you're camping.
Even if you don't have a boat, you still may be able to fish for your food. Check licensing requirements before fishing, though.
Reading a book
When you're camping, it's okay to take it slow!
You can sit in a chair, or if you have a hammock stand, lie in there while you read a good book.
Don't have any good books? Sign up for a free trial of Kindle Unlimited and download away!
Canoeing
If you're camping near a river or lake, you may be able to rent a canoe.
Canoeing is pretty forgiving for beginners. As long as you stay seated, it's difficult to capsize.
Put your strongest paddler in the back and lighter passengers up front. And, of course, make sure everyone is wearing a life vest!
Singing around a fire
It doesn't matter if you think you can't carry a tune in a bucket, your kids are still going to love singing around the fire.
Don't know any camp songs?
Ziplining
Many camping site areas have planned activities nearby, and one fun thing to do is to go ziplining. Ziplining allows you to see the view from up top and also get a thrill from going down fast.
Younger, shorter children won't be able to participate, it older children and teens will love the thrill.
There are so many things you can do while camping, including just sitting back and relaxing with a good book. Don't underestimate good downtime as well as fun planned activities. Don't over-schedule your days, because you want to have fun and relax, too!
Leave no trace camping tips
It's very important to be a good steward of the land.
It doesn't matter whether you're camping in a park, campground, or the backwoods; it's imperative that you clean up.
To clean up properly, be prepared with the right equipment.
Bring trash bags
The best choice is to bring trash bags and take most of your trash home with you instead of leaving it. Of course, some campsites offer trash bins, but don't assume that there will be trash cans handy.
Follow any posted rules and recycle when you can by taking home or using the right bins to place plastic, glass, and paper waste.
Helping by picking up garbage from the ground is going to make camping a lot more pleasurable for everyone. But, at the very least don't leave your own garbage behind.
You would be shocked to learn how bad some people are at cleaning up after themselves when camping. Don't be one of those people.
Know how to properly dispose of wash water
For example, when you wash dishes, don't pour the water into a steam or pond. Instead, try to pour it on the ground at least 200 feet away from any water sources.
Scatter the water across an area instead of dumping it all in one spot.
Bring safe soap
Don't bring any type of cleaning supplies with you that can ruin the environment.
Look for soaps that specifically say things like biodegradable or safe to use while camping.
It's important to use shampoos, soaps, and dish-cleaning soaps that are safe so that you don't ruin the groundwater.
Clean grills and fire pits
If you used campground supplied grills and fire pits, you should also clean them out in a safe way.
Don't dump the grills out while they are still hot.
You can dump water on your fire to ensure the embers are our before cleaning out the fire pit. You'd be surprised how long coals can smolder for!
Many campgrounds have containers for ash and used charcoal.
If there aren't designated containers, scatter the cooled ashes or, if that's prohibited, pack them out with you.
Leave what you find
Look at plants, animals, rocks, etc., but don't touch or take them.
Don't alter the terrain by digging trenches or large holes or by building structures.
Compostable waste
Don't leave any compostable waste at your campsite, even in the woods. The best thing to do is take it with you unless there are specific receptacles to put organic matter.
Many things that you might think are okay to leave behind aren't.
Some things, like orange peels, do not degrade well. They may also upset the local ecosystem or introduce pests.
Cans and bottles
Don't leave behind any cans or bottles. Put them in the recycling or bring them with you to recycle at home. The more trash you can take with you, the less expensive it is for the campground to take care of your campsite.
Firewood
Do not bring firewood from home because it can introduce new pests to an area. Instead, purchase firewood locally.
If it is permitted, you can gather firewood on site. Only take fallen limbs that you can break by hand – not things large enough to require a saw or axe.
---
Concluding
thoughts

about

camping with your family

I truly hope you've enjoyed this ultimate guide on how to plan a family camping trip!

This post has been a lot of fun and writing it has brought back many fond memories.

I hope that you enjoy camping with your family and please leave a comment with any questions I haven't answered in this post. I'm happy to try to help!
More nature & camping resources
Toddler camping checklist