These free printable mermaid do a dot pages are a fun, no-prep activity for toddlers and preschoolers. They're fun, easy, and can be used as a completely mess free activity when you use round stickers instead of dauber markers. Use them to keep little hands busy on a super hot or thunder storming summer day, as part of a homeschool preschool lesson plan, or as everyday fun.
I frequently post new free printable dot marker coloring pages. These mermaid dot marker pages go well with these cute ocean animals dab it coloring pages. You can also find summer themed dot marker pages here. Make sure you grab both other sets while you're here for hours of no-prep fun for your little one.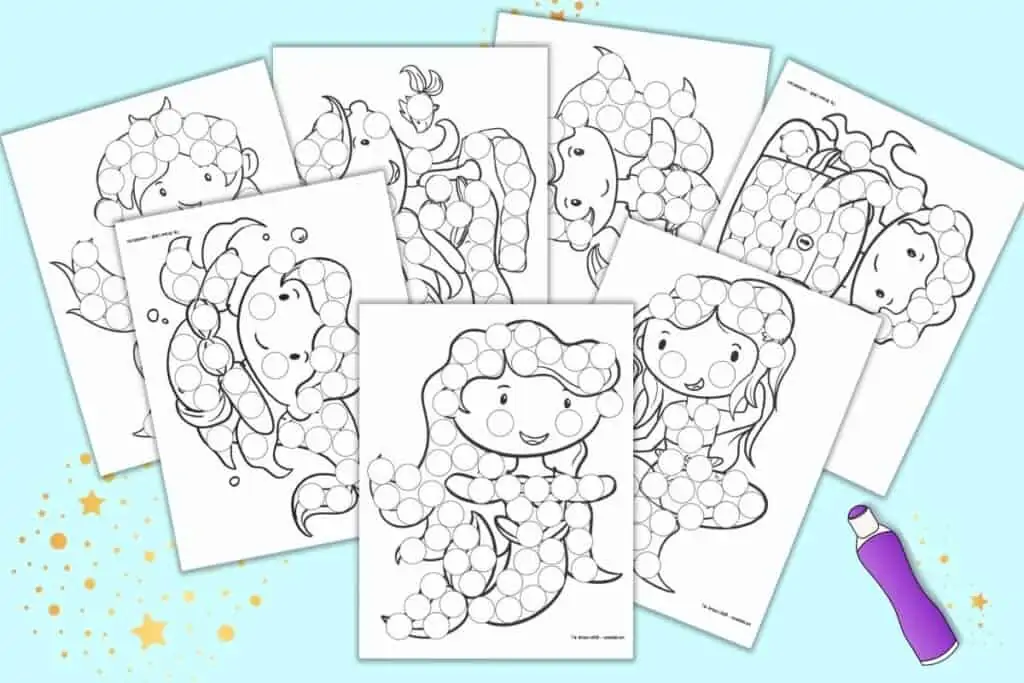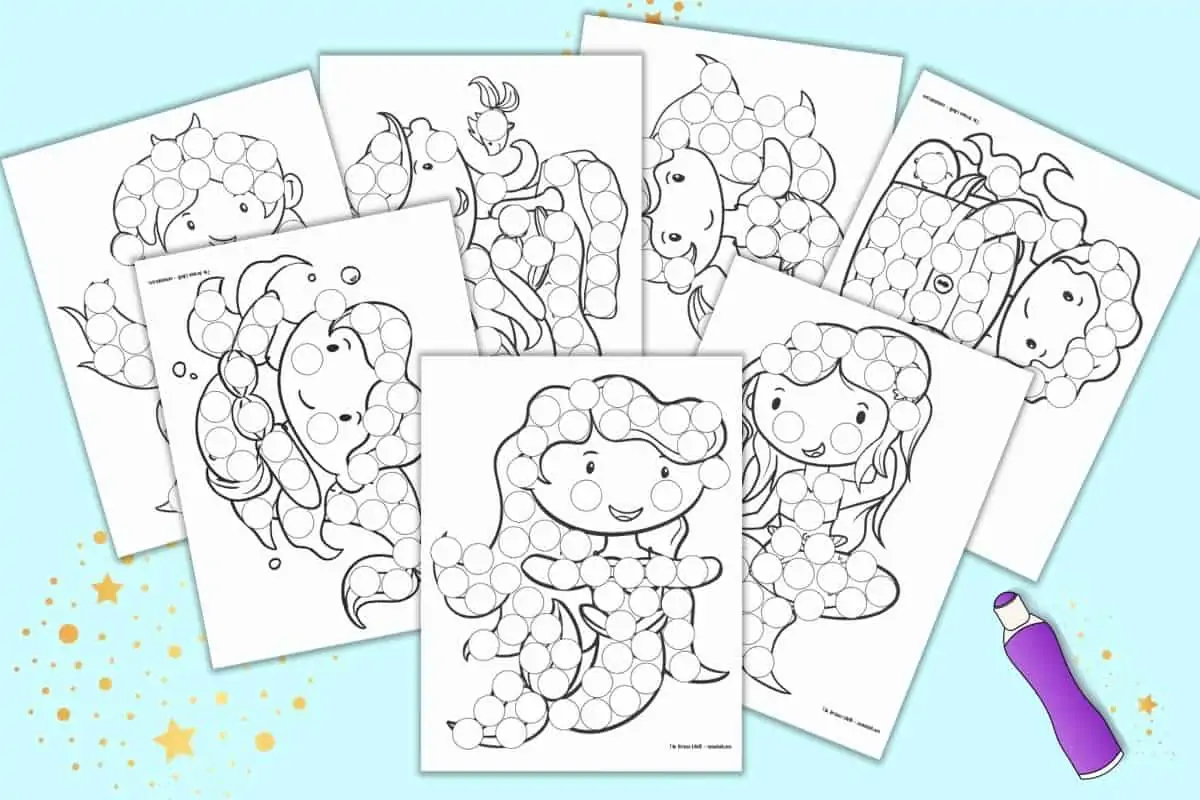 If your family loves mermaids and the ocean, be sure to check out these additional free printables while you're here on The Artisan Life:
This post may include affiliate links which means I may earn a commission on qualifying purchases at no additional cost to you.
Benefits of coloring with bingo markers
Dot marker coloring pages are an easy, no-prep activity. They're so popular I've even seen dot marker coloring books for sale at the Target Dollar Spot. But is coloring with dot markers developmentally appropriate and beneficial for your child's development? Or yet another entertaining but but really helpful activity?
Yes, coloring with dot markers is developmentally beneficial for your child! Thank goodness. A toddler and preschool activity that's fun, inexpensive, easy, and good for them.
Dot marker pages can help your develop their:
Hand-eye coordination
Grip strength
Finger strength
Manual dexterity
Creativity and artistic expression
Fine motor skills aren't just all about preparing to write. Developing your child's fine motor skills also helps them button, snap, and zip their own clothes; eat more neatly and accurately; and, eventually one day, even brush their own teeth instead of just painting their entire face with toothpaste.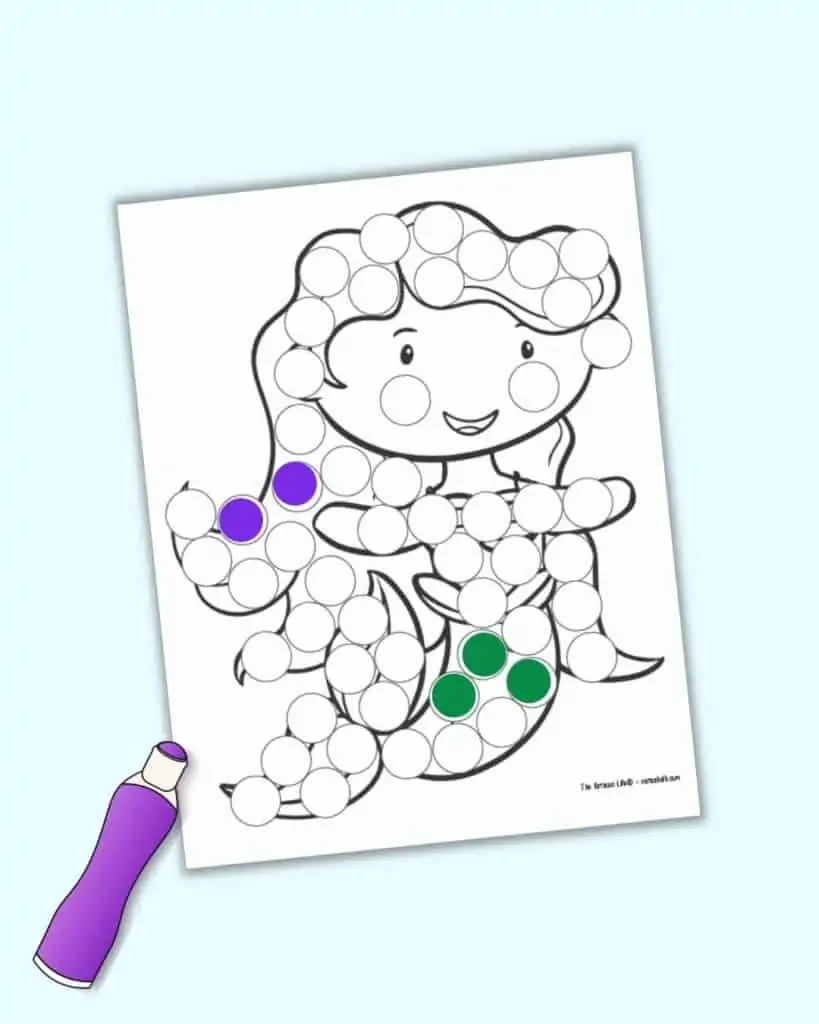 How to use dot marker coloring pages
These cute mermaid dab it pages will delight your little mermaid-loving learner. My daughter's eyes lit up when she saw these pages – I hope your child loves them just as much.
The circles on these pages are based on the diameter of my daughter's Classic Do a Dot Markers. The circles are slightly bigger than the sponge/daubing portion of the marker so that even toddlers can use these coloring pages. My daughter has used dot marker pages since she was about two years old. I don'w know if she could have used them when she was younger because I didn't give her any.
The circles are sized for the Do a Dot brand of markers, but they also work with other dauber or bingo style markers, unless the marker is usually small or gigantic. Readers have shared photos of using them with several popular brands, so whatever you have should be fine.
We've used the same set of Classic Do a Dot markers almost every day for more than two years. Amazingly, they still have ink! They seem to last foerver.
The markers can be a little spotty when we first use them for the day. If this happens to you, pounce the marker firmly a few times on a piece of scrap paper or cardboard to get the ink flowing again.
Always store dab it markers on their sides, not upright. Standing them upright drains ink from the sponge. Placing them on their sides helps keep the sponge saturated. This is actually true for any ink-filled marker. If you have Copics, Prismacolors, or even nicer pens, store them horizontally instead of vertically for a longer life and better coloring experience.
You can make the pages reusable by having your child cover the circles with a manipulative. Pompoms, big buttons, seashells, beach pebbles, and other small items all work. You can also use edible items like o-style cereal or fish crackers, they just won't perfectly fill the circle.
Plastic bingo chips are great for reusable dot coloring pages, too. Get .75″ chips, like the ones shown below. Some plastic chips are too large and others are surprisingly small, so make sure to get something in the 5/8″-3/4″ range. Ensure your child is always supervised with round plastic chips and make sure they're out of reach of any younger siblings who still mouth objects. The chips shown below are the ones we use. (They're great with these free printable ocean animal roll and count pages.)
Hebayy 500 Transparent 8 Color Clear Bingo Counting Chip Plastic Markers...
Health Care and Sanitary: Made from original PVC granules, high transparency and durability are preserved during the process of production. Ensure...
Mega Bundle: 500 PCS in total, no need to worry even you lose some, a real bargain that you wouldn't miss.
Multiple Color: 8 colors could afford multiple using scenarios or classification needs. With different colors you have more ways to demonstrate or...
For an easy, no-mess activity on the go, use dot it printables printables with round coding label stickers. This is a great activity for car trips, restaurants, and any time when you just don't feel like scrubbing marker off of little hands (and the table, chair, and wall…).
For a magical mermaid sticker experience, get round glitter stickers instead of plain coding labels. Make sure to get 3/4″ or 5/8″, not 1″. One inch round stickers are too big for the circles on these printables. The glitter stickers would also be fun with these free unicorn dot marker pages!
If you'd prefer non-glitter stickers, we use these. You get literally thousands of them for just a few dollars. Below you can see my daughter using the round stickers with an Easter do a dot printable: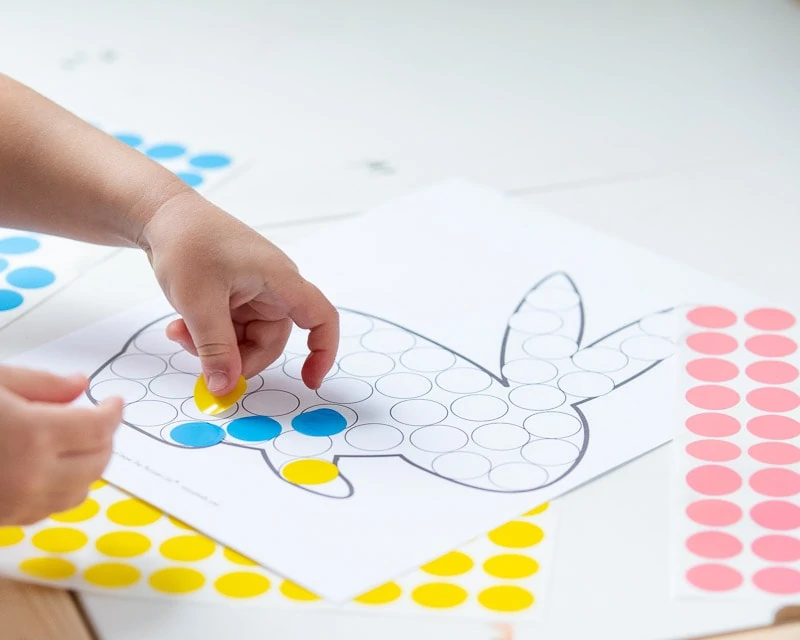 Free mermaid dab it pages download
This set of mermaid dot marker coloring pages includes 9 pages.
All 9 pages are located in one convenient PDF. Download information is below the preview images. Each image has its own page in the PDF printable. The preview images are shown in groups to help this page load more quickly.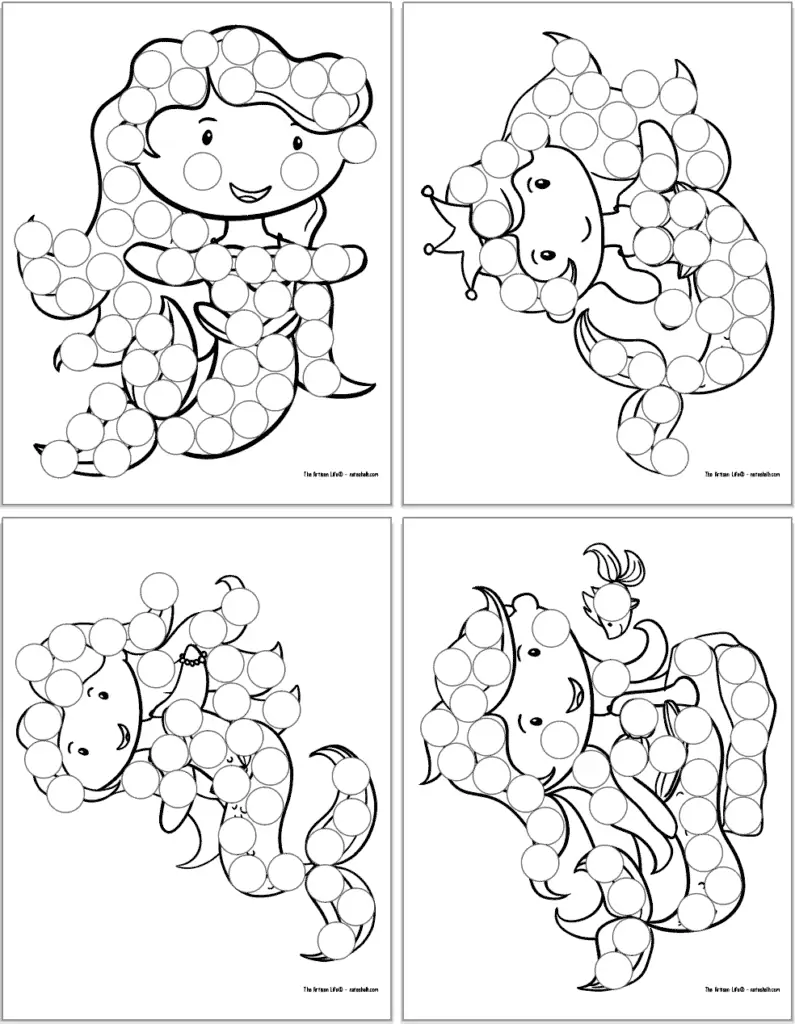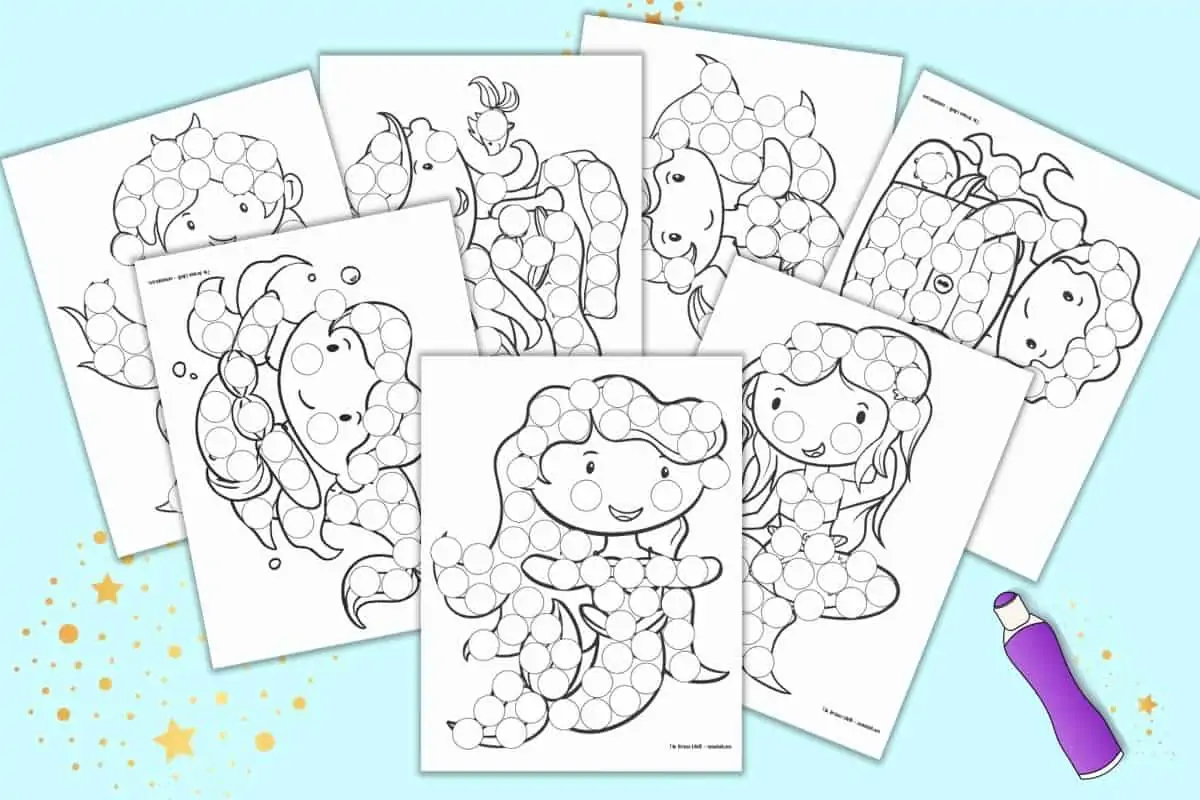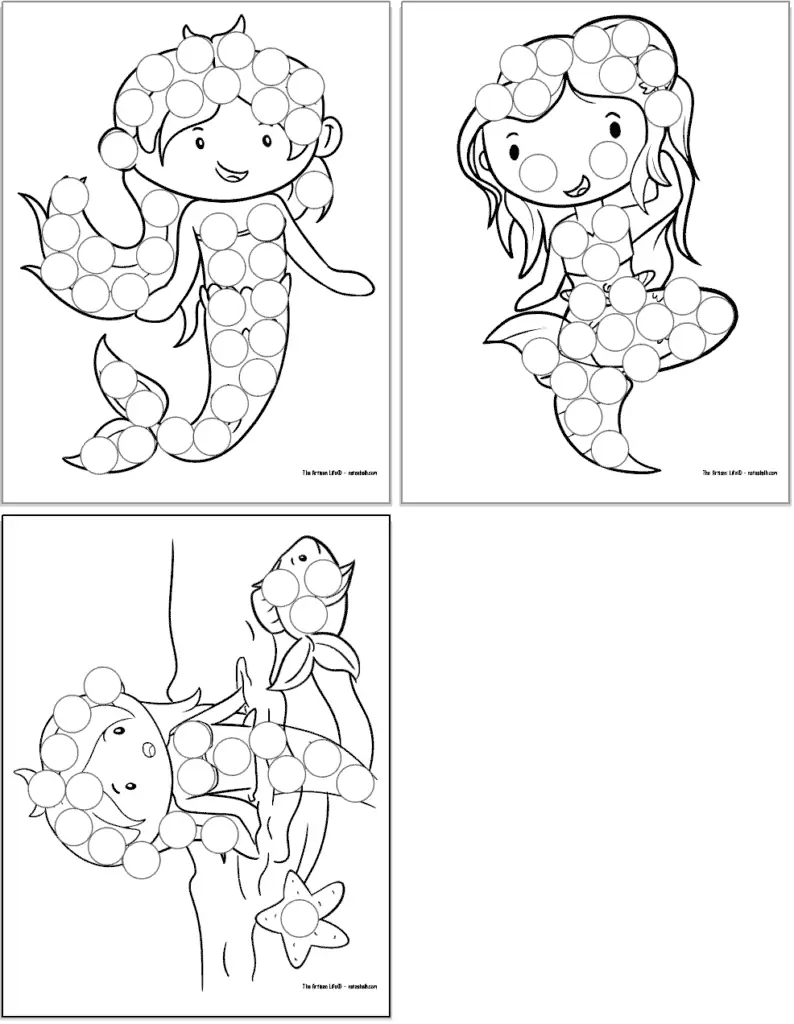 Like all preschool printables on The Artisan Life, these are licensed for personal and single classroom use. This includes use with scouts groups, Sunday school classes, homeschool co-ops, your own therapy clients, etc. as long as you are personally organizing the activity and not charging specifically to participate.
Yes, you are welcome to leave these for a substitute teacher in your own classroom. Thank you to the thoughtful readers who've emailed to ask!
I hope your little learner loves these do a dot coloring pages! Be sure to check out these additional free printable dot marker coloring pages while you're here on The Artisan Life:
Free Dot Marker Coloring Pages
Dot marker coloring pages are always popular with toddlers and preschoolers. Use them with round stickers for a no-mess activity or cover each circle with a pompom to make the pages reusable.