It's so frustrating to spend money on a new gel pen, only to find that the ink smears, comes out scratchy, or gets used up so fast you can't even finish your coloring page.
Gel pens are a great way to fill out adult coloring books or add some self-expression and creativity to a daily planner, but many different pens are on the market. So, how do you know which ones are the best so you don't waste your time and money on gel pens that aren't good?
Luckily, you've discovered this guide to the best gel pens for coloring so you can stop wasting your time on pens that don't work and find out which ones are the best!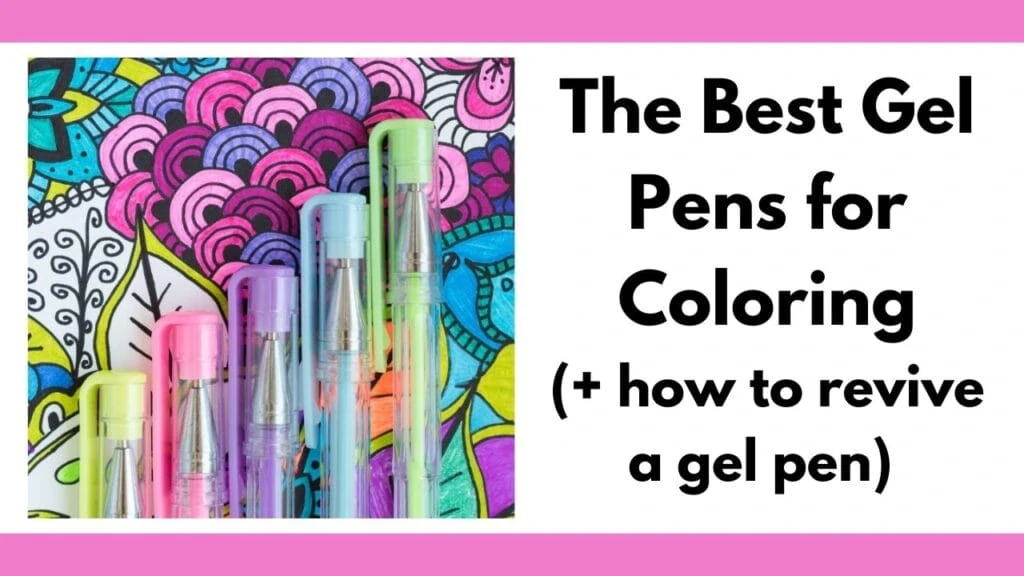 This post includes affiliate links, which means I may earn a commission on purchases made through links at no additional cost to you.
The best gel pens for coloring are gel pens with a broad tip that can quickly place a lot of color, pens that draw smoothly, and pens that don't bleed through the paper while you're working. There are many different gel pens available that work great with adult coloring books and other stationery projects.
Below you'll find a look of some of the very best gel pens for coloring on the market. No matter whether you're trying to decorate a journal or you're filling out an adult coloring book, these gel pen sets will give you more than enough tools to work with.
In a rush? Here are the two top picks: the absolute best and the best cheap gel pens for coloring:
How to pick gel pens for coloring
Here are some of the things you should be looking for when you look for a gel pen set for coloring:
Color: You'll want to choose colors carefully when choosing gel pens because some gel pens, such as pastel gel pens, work much better on darker paper than they do light varieties. There are also metallic, glitter, glaze, and other ink variations that can help add detail work to your coloring.
Legibility: Things to avoid when looking for gel pens for coloring include gel pen brands with a reputation for smearing and bleeding through to the other side of the paper. These tendencies can make coloring books look messy and can make planners illegible. Look for gel pens that are good about not bleeding through the paper and drying quickly to avoid smears.
Ink flow: It's important to look for gel pens that place color smoothly and don't have a bad habit of drying up or getting clogged. Because gel pens can be expensive compared to other pens, you don't want to have to throw out a gel pen just because it stops working prematurely.
Price: The price you're willing to pay for a set of gel pens depends on how many gel pens you want and what kind of deal you can get. Some people may be fine with just a set of a dozen pens, while others will want hundreds to choose from. Gel pen sets can also be collected over time if the price is an issue. (But they usually cost far less per pen when you buy a larger set.)
Tip width: You'll want to look at different gel pens tips depending on whether you plan on mostly writing with them or coloring with them. For gel pens used for coloring broad spaces, a wider tipped pen is a better option because it allows you to cover the paper more quickly. If you're using gel pens for writing in a journal or planner, you'll want to look for gel pens with a finer tip.
Variety: Some gel pen sets offer a huge variety, while others offer many repeats of the same colors in different styles, such as glitter, metallic, and neon. The type of set you buy will depend on your preference for how you like to color.
Thinking through what kind of coloring you want to do will ultimately help you decide on the best gel pen set for you.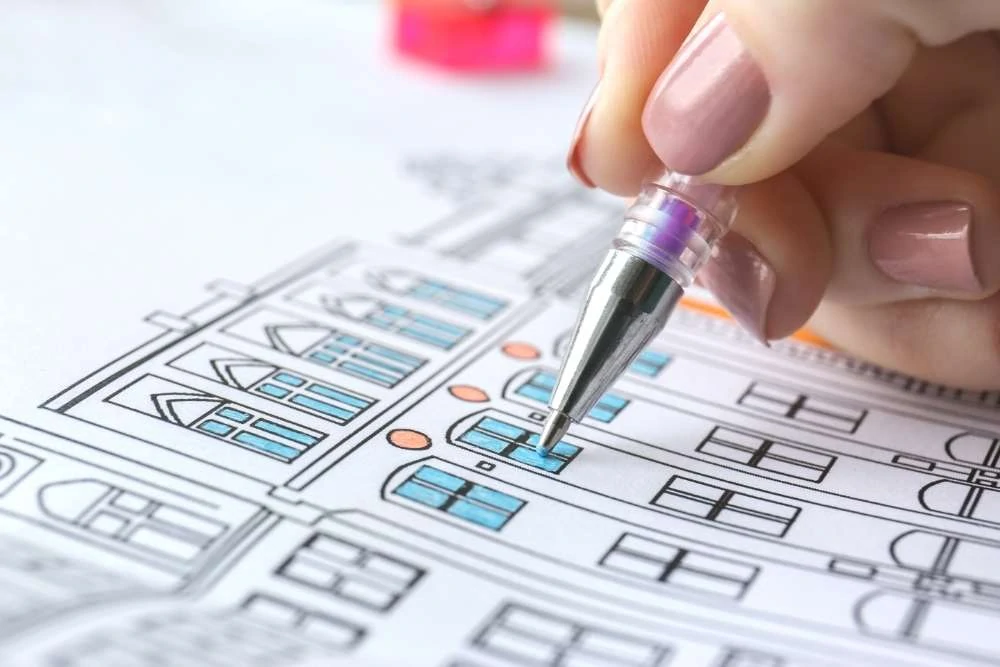 How do you use gel pens for coloring?
Gel pens may not be the first thing that comes to mind when you're looking for something to color with, but coloring with the right gel pen is a fantastic experience.
Here are a few ways to add gel pens to your coloring pages:
Use them instead of markers to color an entire page. This works especially well with the richest, creamiest gel pens like Sakura Gelly Rolls. (I recommend using gel pens to color in these free printable inspirational coloring pages to make them extra special.)
Use gel pens for highlights on top of marker or colored pencil (this would look great on these free printable unicorn coloring pages!)
Use fine-tipped gel pens for accents in detailed coloring pages
Add sparkly accents and doodles to your coloring and planner pages
Color in just a few highlights, like the words on these free printable wealth affirmation coloring pages
Add texture and depth to designs with crosshatching and stippling
There are several great videos on YouTube demonstrating coloring with gel pens and techniques, like blending with water. I like this one from Cher Kauffman demonstrating gel pen coloring techniques with a coloring book she illustrated:
Gel pens for coloring, planning, and bullet journaling
Gelly Rolls are one of the most popular art gel pens on the market, and these Japanese pens stand up well to their strong reputation. They are my personal favorite. In fact, I love basically every Sakura product I've ever tried. (And I've tried a lot of Sakura because I lived in Hawaii for years and their products are very popular in Hawaii). Branded as "ice cream smooth," Sakura gel pens come in many different types, including the following: 
Classic (jewel tones)
Metallic (reflective metal tones)
Moonlight (opaque and luminous)
Stardust (glitter)
Gold Shadow (gold-toned metallic outlining pen)
Silver Shadow (silver-toned metallic outlining pen)
In addition to single pens available at many craft stores, there are also several different Gelly Roll pen sets available. The sets are much less per pen, especially when you get the large set.
These gel pens may bleed if there is too much pressure applied to them, but they usually aren't bad about it.
The only Sakura Gelly Rolls I'm not a huge fan of for coloring at the shadow versions. (Actually, I don't like them for writing, either!) I've owned a couple of the silver shadow pens and they were kind of hard to see and didn't have much of the color visible.
Because Gelly Roll pens have a small silicone ball inside the cap to prevent the gel ink from drying out, it's important not to drop them into a pen cup. This can create air bubbles in the ink, which disrupt the ink's flow and leads to a poor coloring experience, or damage the silicone ball in the cap.
If you want to add a hint of sparkle to your drawings, this clear glitter Gelly Roll gel pen is perfect for layering over other gel pens to increase the luster of the page.
These pens don't come as part of another set and they are a great addition when adding detail work to finished color pages.
These clear glitter gel pens are perfect for adding the illusion of reflective surfaces in a coloring page or illustration and can be used for:
Mirrors and waterscapes
Jewels and metals
Wings and other translucent materials
Even if you've already got a gel pen set, adding some clear glitter gel pens to your repertoire can make a big difference in your artwork.
Sale
Sakura 37906 2-Piece Pouch Gelly Roll Stardust Pen Set, Clear
Gelly roll stardust set captures the sparkle and glitter of stars to make handwriting extra-special
Features include a roller ball pen that is easy and comfortable to write with archival quality ink
Applicable for notes, greeting cards, invitations, memos, gift tags and doodling
Aen Art Gel Pens come in a set of twenty-four pens that cover all the standard colors you will need for coloring. These pens have a unique feature: they have a double-headed tip with a finer point that allows for delicate line work and a brush tip for coloring in broader spaces on the page. This can save you time, money, and space because you don't need two different sets of pens for your coloring and journaling.
Another advantage of Aen Art Gel Pens is that they have heavy levels of pigment, which means that the ink in these pens is fade-resistant. The artwork you create with these gel pens should last for years as vibrant as the day you drew it as long as it is stored properly.
One minor inconvenience of these pens is that the ink tends to dry quickly. While this prevents it from smearing easily, it also means you can't blend colors or wipe up mistakes the same way you can with other gel pens. Nevertheless, these are some of the best gel pens you can buy for coloring.
Sale
Dual Brush Markers for Adult Coloring Books, 24 Colored Journal Planner...
♥MULTIPLE COLOR OPTIONS - 24 frequently-used variety of colors with no duplicates, rich and vivid colors arouse your artistic creativity
♥CONVENIENT DUAL TIPS - Dual marker pens are designed with fine tip and brush tip. 0.4mm fine tip to do outlining and further detail with thin...
♥ENRICH LIFE WITH COLORS - Fine tip is strong enough for easy note writing, brush end tip makes nice upstroke lines when doing modern calligraphy....
These gold and silver metallic gel pens are great for adding shiny details to an adult coloring book. They're also practical for use in Christmas cards and other seasonal stationeries. Gold and silver metallic gel pens show up particularly well on darker colored paper.
These gel pens are both smear-resistant and water-resistant, which means even if the page gets splashed, the part of the page covered with this gel pen should hold up well. Because these are fine-tipped gel pens, they are better suited for detail work rather than trying to fill in large patches of color.
The smooth ink flow of these gel pens is a plus in the calligraphy department, so if you're trying to practice your handwriting skills, grab some of these metallic gel pens, some toned paper, and you'll be good to go.
Gold & Silver Gel Pen for Artist 0.7mm Fine Point - Gold Ink Pen with...
Smooth Ink Flow: Get creative with Art-n-Fly gel pens. Our high-quality ballpoint and rich, gel pen ink allow for smooth and effortless drawing.
Archival Ink and Waterproof: We created our ink pens with archival ink, so your drawings and doodles dry quickly and without smudging. Not to mention,...
Extra Fine Tip: Our ink pen's 0.7mm point allows for clean, precise drawing. Thanks to the pen's fine point, you can use the art pens for detailed...
The Color It Glitter Gel Pen set is one of the larger gel pen sets you can buy find You get a wide array of pen colors to choose from, and you also get an ink refill for every single one of them and a carrying case with a magnetic closure. The carrying case itself is attractive with a dark blue glitter-touched fabric.
You can't get much better for the quality and the quantity you get in this gel pen set at under thirty dollars. It's a perfect starter pack for those just getting into adult coloring books or decorating their planner.
One disadvantage of these pens when it comes to coloring large spaces is that they are fine-tipped gel pens, which means these gel pens are better for intricate adult coloring books filled with mandalas or other "small space" designs.
ColorIt Gel Pens For Adult Coloring Books 96 Pack - 48 Premium Quality Gel...
96 GLITTER PEN SET - The ColorIt Glitter Pen Set will let your creativity loose in full force. These pens come in a myriad of shades in 48 glitter...
VARIETY OF COLORS - These glitter pens will let you create the ideal masterpiece with vivid splashes of color. Earth tones, bright and warm tones,...
WIDE RANGE OF USE - These pens can be used for a variety of purposes. They can be used as journal pens, planner pens, fancy pens, and coloring pens...
Feela makes one of the largest gel pen packs you can get for under thirty dollars, with a staggering one hundred and thirty different gel pen colors along with a hundred and thirty refills. This set has all the different kinds of gel pen varieties you could need, including pastel, neon, neon glitter, pastel, swirl, and standard.
While you get a lot of variety with this gel pen set, one disadvantage of the Feela gel pens is that they tend to take a bit more time to dry completely. This can increase the risk of smears.
A good thing about the slow-drying action of these gel pens is that it makes them suitable for blending. If that is a style of coloring that you enjoy, these pens are a good match for you.
Another disadvantage is that, quite honestly, they can be a little scratchy for coloring when compared to a "nicer" brand like Sakura. This isn't a consistent problem, though, and the ink is usually free flowing. If you have trouble with scratchy pens, make sure to check out the section at the bottom of this post on how to revive a gel pen.
feela Gel Pens Set, 260 Pack 130 Colored Gel Pens Plus 130 Refills for...
260 super valued feela gel pens pack includes 130 unique gel pen and 130 refills.
Color assortment: Glitter, Neon Glitter, Neon, Metallic, Pastel, Swirl, and Standard. Suit for children and adult, great for coloring, doodling,...
With Color box packing, eco friendly and delicate.
While this isn't a gel pen set, these white gel pens are perfect for adding little white highlights to an illustration, which adds an incredible amount of depth to your pictures.
These white gel pens work well over various other colored gel pens and can even be layered over other media such as watercolor paint or permanent marker.
If this white gel ink is layered over a colored section of an illustration, the white ink will pick up some of the color and turn to a light pastel tone of the color beneath it. But this can create realistic highlights for much more complex drawings and calligraphy.
These pens also write well over colored pencils. White gel pens that can write over colored pencils can be somewhat difficult to source, so definitely pick up a few of these white gel pens to add to your collection.
Raneon offers an extensive glitter gel pen set, with a hundred different pens and a hundred refills. If you buy this gel pen set, you probably won't have to restock on your coloring supplies for a while. This set offers tons of variety with good quality ink that won't bleed through even thinner types of stationery or coloring paper.
While some customers complained of a few of the pens not working well out of the set, these customer reviews seemed to be few and far between. Most people who reviewed this glitter pen set counted these pens as some of the best they'd ever worked with.
If you have problems with pens not working, it may be due to temperature changes or rough handling in transit. See the section at the bottom of this post for ways to revive your gel pens!
Since this set is usually priced at under $20, this is a great gift set of pens for any adult who has been bitten by the adult coloring book bug.
Sale
200 Glitter Gel Pen Set, 100 Gel Pens plus 100 Refills Glitter Neon Pen for...
★Large Glitter Set: Gift set of Reaeon 100 Glitter Gel Pens which including 62 glitter & 38 glitter-neon and 100 free refills. You wanted more...
★Premium Quality: We've packed in all the wonderful sparkly coloring pens and still managed to maintain the same professional high quality...
★Value Using: These colorful glitter pens are so fun to use for Adult Coloring Books, Journal, Drawing, Doodling, Mandala Coloring, School Projects,...
Smart Color has a large set of eighty gel pens for a very low price, but don't let that fool you—these pens have a good reputation with colorists. They're very popular for coloring – just check out the reviewer uploaded images to see lots of examples of these pens in action!
One complaint among users of these pens is that they are advertised as having refills, but no refills are included with the package. Even if you don't get refills, they're still a great value for the price.
These gel pens may run out more quickly than premium gel pens, but for those who are just getting started in adult coloring books or illustration, they're a good beginner set.
Smart Color Art 160 Colors Gel Pens Set 80 Gel Pen with 80 Refills for...
PROFESSIONAL QUALITY: None of toxic, acid free, lead free and all of the materials are eco-friendly. Conform to ASTM-D4236. Safe using. It's made of...
VARIOUS COLORS: We collect all the popular colors together and make each not single to avoid the refill of being used up quickly. Glitter, Metallic,...
DIFFERENT USAGES: Perfect Art Ink Pen for Scrapbooking, Coloring, Journal, Nail Art, Kids, Sketching, Painting, Drawing, Writing , Tattoo & Custom...
>
While this Tanmit gel pen set is one of the smaller sets on this list at only thirty-six pens, it has a good variety to choose from, and its inexpensive price makes it a good gel pen set for beginners.
This gel pen set includes the following gel pen types:
12 glitter pens
8 metallic pens
6 neon pens
6 pastel pens
4 standard color pens
The quality of these pens is good for the price, but a disadvantage of this set is that it does not come with skin tones. You'll likely need to supplement this gel pen set with another one for illustrating people. Some of these colors, such as the neon and pastel colors, are easier to see on dark or black colored paper.
Sale
TANMIT Gel Pens, 36 Colors Gel Pens Set for Adult Coloring Books, Colored...
★Premium Quality with Colored Grips: Wonderful, bright and true Colors in a Variety of Styles. Our 36 colored Gel Pens are all unique colors and all...
★Smoothly Drawing & Coloring: 36 Colored Gel Pens are perfect for writing, drawing, sketching and coloring books.Whether you are using this set to...
★Ideal Colors Type: Including 12 GLITTER, 8 METALLIC, 6 NEON, 6 PASTEL and 4 classic colors. This gel pen set comes with fine tips and large...
How to revive gel pens
Sometimes your beautiful gel pen ink will start scratching instead of flowing, even if you've treated it gently and stored it properly.
If you can still see ink inside, you can try to revive your gel pen.
If your gel pen stops writing, it's probably because an air bubble got into the ink or the ink in the tip dried up. It can also happen because of temperature changes and simply because it's the nature of gel pens to have occasional scratches. The tips aren't as well lubricated with ink, compared to other types of pens.
Do not shake your gel pen or bang the tip against your table in an attempt to get the ink flowing again. Unlike with a fountain pen, this does not work and can make the problem worse by adding more air bubbles to the ink or damaging the tip.
The first thing to try is scribbling circles on a blank page. Sometimes this can get the ink flowing again. Don't make short strokes like choppy lines – make long, flowing ones.
If scribbling doesn't work, you can try several different things:
blowing on the ink
using alcohol to clean the tip
heating the tip
soaking the pen in hot water
adding water to the ink tube

Many gel pens have a ventilation hole. Try blowing into this hole while scribbling to get the ink flowing again. You may have to unscrew the pen to access this hole.
You can try cleaning the pen tip. You can drop a few drops of rubbing alcohol onto the tip, let it soak in for a moment, then wipe it and try scribbling again.
Many people recommend heating the pen tip to clean it. This can work, but be careful! I don't advise using a lighter like some people do. This can hurt you and damage your pen irreparably fairly quickly. Instead, use a hair dryer to heat the pen tip for a few seconds, then scribble again. Repeat as needed.
You can also soak your stubborn gel pen in hot water. This sounds crazy, but I saw it recommended by Jet Pens and they know their pens! Place almost boiling hot water in a glass and let the pen soak, tip down, for 10-15 minutes, then dry it off and scribble again.
Finally, you can add a couple drops of water to the ink tube, then try scrubbing again. Gel ink is pigment suspended in a water-based medium, so this can help get the ink flowing again without damaging it (as long as you don't flood the tube).
Free Printable Coloring Pages
Discover free printable coloring pages on The Artisan Life!