These free printable space word searches are fun for adults and kids, alike. Pick from an easy outer space word search for kids or a more challenging version for older children and adults.
I've always loved word searches. I have a special method for finding all the words fast and I love to challenge myself to see how quickly I can complete the puzzle.
Unlike most free printable word searches on The Artisan Life, there are two difficulties for this word search.
One is an easy space word search and features words that are only written forwards and in a straight line. There are no backwards or diagonal words in this space-themed word search, which makes it easier to solve.
The second version is what I usually share – a more difficult word search with words hidden forwards, backwards, and on the diagonal. This version is more challenging and great for older kids (and adults!) who are ready for a challenge.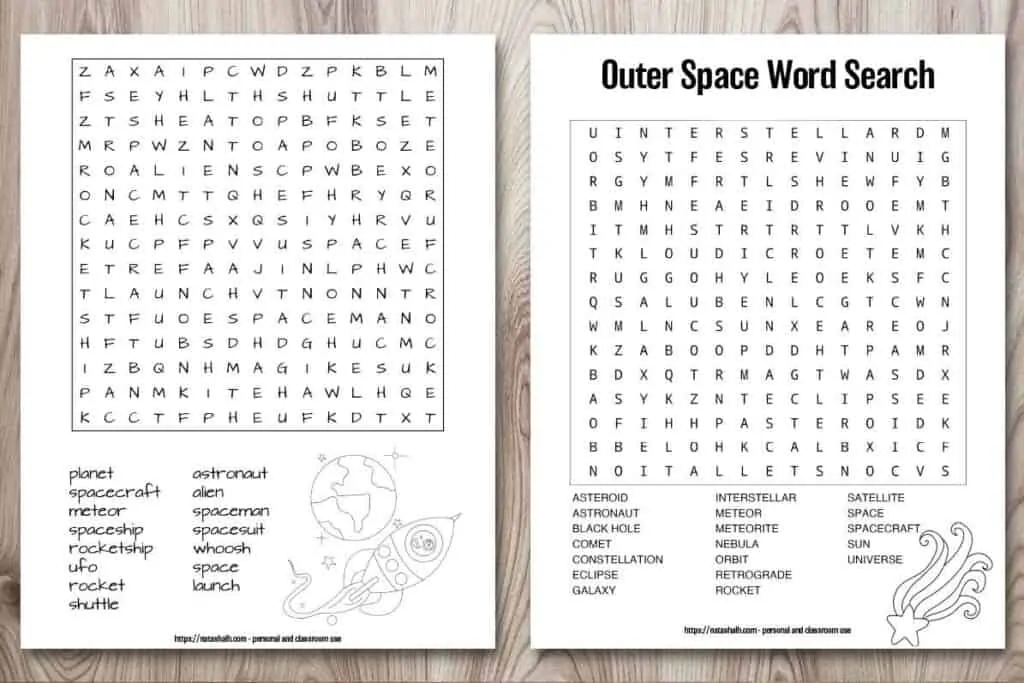 Benefits of word searches for children
Word searches are fun and good for your child's brain and development.
Word searches can reinforce vocabulary learned in lessons or through reading. They also help your child look for constant clusters, recognize patterns, and notice vowel patterns.
Some word search benefits include improved:
Word recognition
Spelling skills
Problem-solving skills
Visual discrimination
Vocabulary
Working word searches at home can help reinforce classroom learning, especially when your child isn't physically in school.
Because there are two difficulties to pick from, you can print the word search that best meets your child's current needs and skills.
Related: Free printable outer space bingo
Free printable outer space word search
Please note that, like all Artisan Life free printables, these word searches are available for personal and classroom use. You are welcome to print and use them as many times as you'd like with your own children, students, therapy clients, homeschool co-op, etc.
You are not licensed to alter, redistribute, or charge for the printables. Please do not share the printouts or files with other adults for their use. Instead, send your friends and coworkers to this page so they can download their own copies.
You may share the files with your own students for distance learning purposes. However, I would greatly appreciate if you could please send them to this page for their own copies if at all possible.
Individual download links are located below the preview images. Please follow the links to access the PDF file. Links are highlighted in grey to make them easier to find. Both puzzles include their answer key!
Easy space word search for kids
First there's the easier word search for kids. As mentioned above, all words are written forwards and on a straight line (down or across). There is also a picture to color with the Earth, stars, and a rocket.
If your kiddos love outer space, be sure to grab this free printable outer space memory game!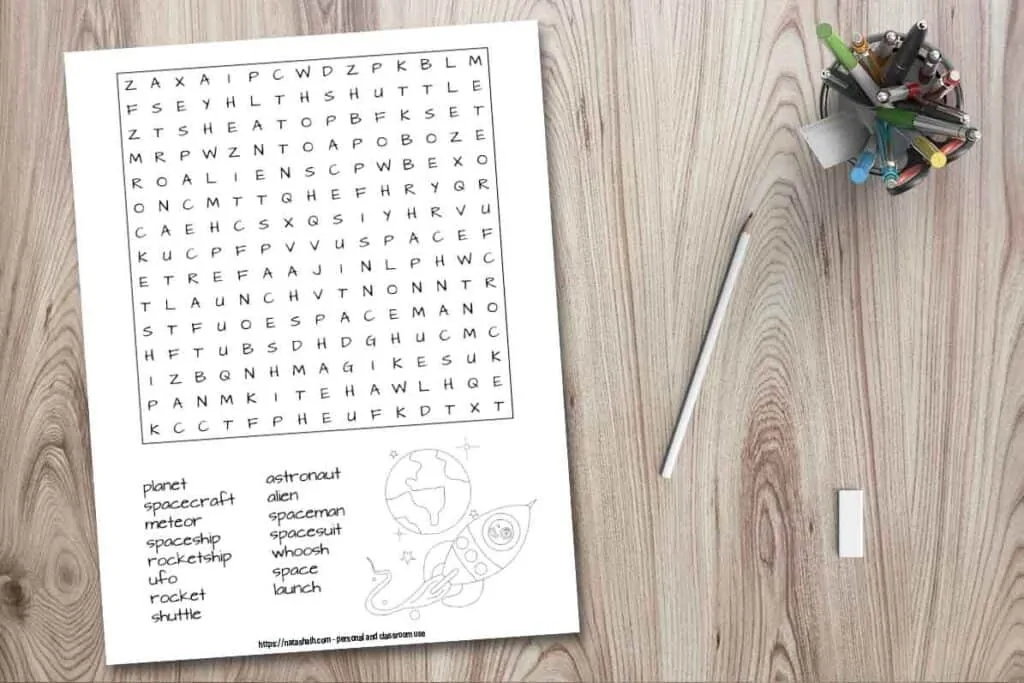 Download the outer space word search for kids here
Challenging outer space word search
Next there's a more challenging outer space word search. These words may be forwards, backwards, and on the diagonal. There's also a showing star to color.
Download the space word search here
Do you need more low-prep, educational fun for your children? Be sure to check out these additional free printable word searches on The Artisan Life.
Free Printable Word Searches
All free printable word searches include the answer key so you don't have to solve the puzzle to help your kiddo.