These free printable Halloween word searches and word scrambles are low-prep fun for kids! They're also popular with older adults to keep mental faculties sharp. Pick from colorful versions or ink-saving black and white. All versions are available to download in the post with no email address required.
This post includes affiliate links, which means I may make a commission on purchases made at no additional cost to you.
I've seen a lot of requests for printables that don't use all the ink, but I also know people enjoy cute, colorful graphics.
That's why the word search and the scramble are available in color, black and white, and a third version with just a touch of color to make the printables more Halloween-y!
Related: Free printable Halloween bingo
These puzzles are fun for kids and adults, alike! Print them out for your classroom or Halloween party as an easy, non-prep activity. You could also hand them out with a Halloween pencil as a non-candy Halloween treat.
The word search printable features 20 Halloween-related words and the scramble has 10 Halloween words.
There's also an answer key for both Halloween word puzzles so you don't have to guess or do a lot of extra work when your children or students ask you if they have it "right."
Suggestions for printing and using your printables
If you're using the black and white version of the puzzles, you can just print them off on regular copy paper and hand them to your kiddo!
If you want vibrant, crisp images for the colorful version, I recommend printing on presentation paper. It has a special coating to make sure pictures look their best.
Although this image shows free printable mermaid bingo cards, you can see the difference between printing on presentation paper and regular cardstock. The difference is more pronounced in real life, but you can tell the card on the left, which was printed on presentation paper, is more vibrant.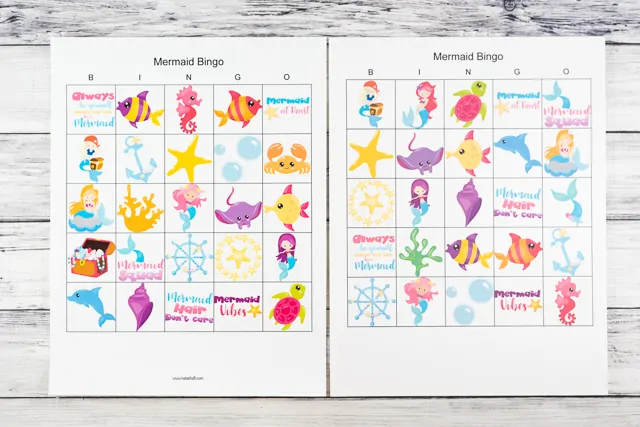 To make your Halloween printables reusable, laminate them or place them in a dry erase pouch.
Although reusing a word search or word scramble may seem boring to you as an adult, young children can rework the same puzzle several times. In fact, they may want to do the same page time after time! It's a well-known fact that children like, and benefit from, repetition.
Laminating pages at home is easy and very cost effective. If you plan to laminate more than 10-15 things ever, buying an at-home laminator is worth it. Most copy shops charge $1-2 per page, plus there's the hassle of driving to the store and waiting in line.
Dry erase pouches are even easier to use, but there's always the chance that your little one will simply remove the printable and draw on it, anyway.
Sale
Halloween word puzzle printables
Alright, let's take a look at the free printables!
These printables are available for personal and classroom use (in your own classroom). Please do not share the files with friends or coworkers – just send them a link to this page so they can download their own copy.
The preview images are not printing quality – please use the download links to get the high resolution PDFs from Google Drive. The answer key is included with each download file.
Halloween word search PDF files
The words are hidden forwards, backwards, and diagonally.
A fair number of the words are backwards, so I highlighted the words on the answer key to make them easier for you to find. There's also a non-highlighted version if you want a bit of a brain workout, too!
Look below each preview image for the download link. Links are highlighted with a grey box.
Halloween word scramble printables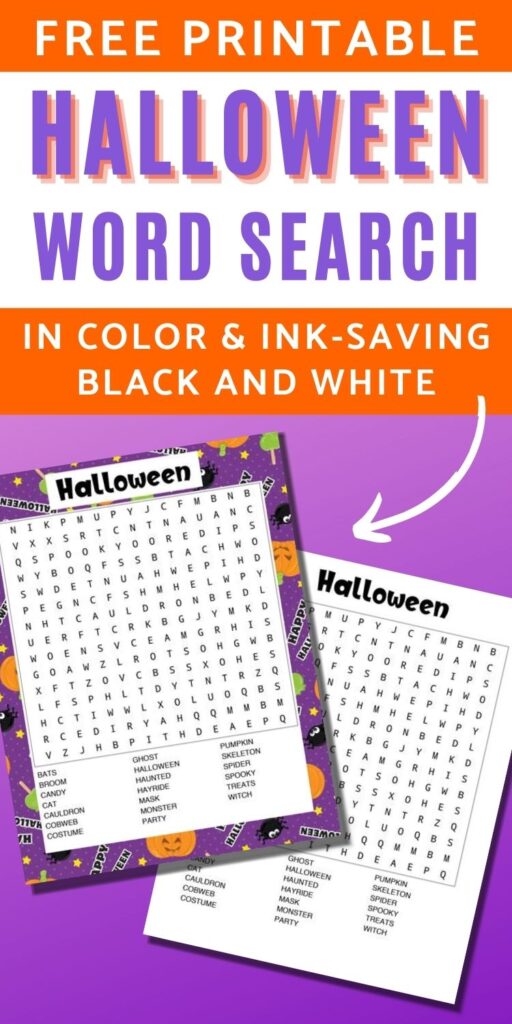 Halloween Printables
If you're looking for Halloween printables, you've come to the right place! Get crafting templates, printable games, Halloween bingo, coloring pages, and more.