This Easter matching game printable is an easy, low-prep activity for kids! Use it as a matching game for toddlers or flip it over for an Easter memory game for your older kids.
I started making printable matching games because my daughter loves them. She gets so excited whenever she sees a "new game" and can't wait to see what images are on it!
Today I'm sharing a set of printable Easter matching cards. Actually, there are two sets of Easter matching printables – one with a variety of Easter images and a more difficult Easter egg matching game for older kids! I hope you enjoy them as much as we do.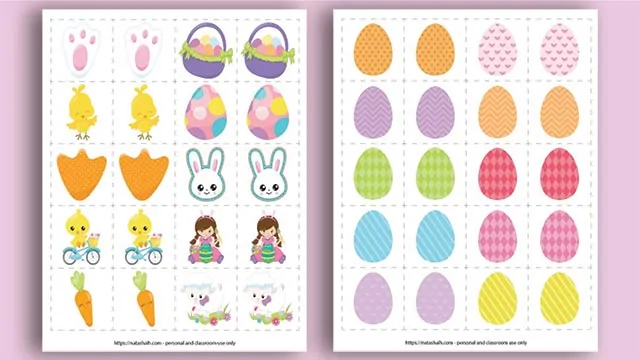 Materials needed for a DIY Easter matching game
This post may include affiliate links which means I may earn a commission on qualifying purchases at no additional cost to you.
You don't need much to make your own Easter memory or matching game! Here's what you'll need:
Your Easter matching cards printables (see below!)
Paper or cardstock. I recommend presentation paper.
Printer access. You can print these at home or take them to a copy shop.
Laminator. Optional but highly recommended!
Scissors or a paper cutter
I always print my matching cards on presentation paper, a type of heavyweight paper with a special coating for crisp, vibrant images. I also laminate the matching cards or else they'd be destroyed in a hurry!
If you don't have a laminator, you can "laminate" the cards with clear packing tape on the front and back. It's definitely not the same, but it's better than nothing!
To use your matching game:
Print the cards, laminate, then cut them out! Easy, peasy.
You can play with the cards face up as a matching game for toddlers or preschoolers.
Older children can play memory with the cards by placing them face down. You can also remove pairs from the set to make the memory game easier for younger children. My two year old can play memory with three or four sets of cards if she has adult help.
These matching cards also make a great, no-candy Easter basket gift idea!
Related: 20+ toddler Easter gifts that aren't junk
Free Easter matching game printables
Alright, let's check out the free printables!
These matching cards are free for personal and classroom use. You are welcome to print and use them with your own children, personal classroom, scout troop, Sunday school class, etc.
Please do not redistribute the files or printed games to other adults for their use. Instead, send your friends and coworkers to this post so they can download their own copies!
Download links are below the preview images. I've highlighted them with a grey box to make them easier to find.
Easter matching game
First we have the "easier" Easter matching game. It features 10 different Easter-themed images. This is the version I play with my toddler.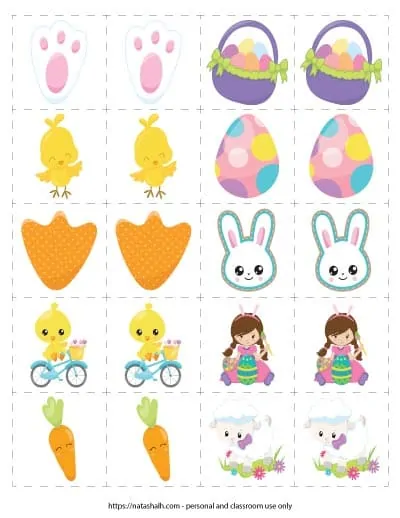 Download the Easter matching game printable here
Printable Easter egg matching game
Next there's a more challenging set of matching cards. Every image is an Easter egg! This set is great for helping older children develop their powers of observation and visual discrimination.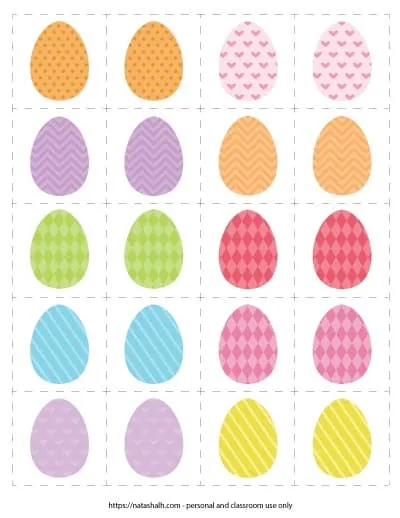 Download the Easter egg matching printables here
We love playing with matching cards at our house. They're such a wonderful (and fun) teaching/learning tool! I have a variety of other matching games for holidays and occasions.
Be sure to check out these additional free printables for Easter:
Easter Printables & Crafts
Looking for free Easter printables or easy Easter crafts for kids? You've come to the right place!