This printable camping bingo is perfect for rainy days, road trips, and backyard campouts! Enjoy screen-free family fun with these free printable camping bingo boards.
I love picture bingo. It's fun for kids of all ages (and adults, too!). Your kids will love playing round after round! It's perfect for keeping your children busy while you set up camp, passing time on a rainy day, or keeping kids occupied while you're driving to your campsite.
There are four different sets to pick from with larger sets of bingo game printables for scout troop and free printable camping bingo for families!
This post was originally published on Together Time Family. Syndicated by permission.
Planning a camping themed unit? Make sure to grab this free printable camping themed counting book and camping themed dot marker pages. If you're planning a camping trip, make sure to grab this free printable camping scavenger hunt, too!
This post includes affiliate links, which means I may earn a commission on purchases made at no additional cost to you.
HOW TO PLAY PICTURE BINGO
Playing picture bingo is easy!
1. Grab your PDF printables. There are four different sets to pick from in the section below!
2. Print as many cards as you need. Make sure to print the two pages of call cards at the back of the PDF.
I recommend printing the cards on cardstock or presentation paper. Presentation paper is a heavyweight paper with a special coating for bright, crisp images. If I'm using my colored ink, I want my printable to look its best!
I also recommend laminating your bingo boards. This makes them much more durable and means you can use them time after time! I have an inexpensive home laminator and I love it. If you don't have a laminator, you can use dry erase pockets. They're basically super strength page protectors.
3. Cut out the call cards to form tiles and place them in a bowl or bag. There are 29 images in the pool and only 24 images on each card so it's important to cut out the call cards, not an extra bingo board.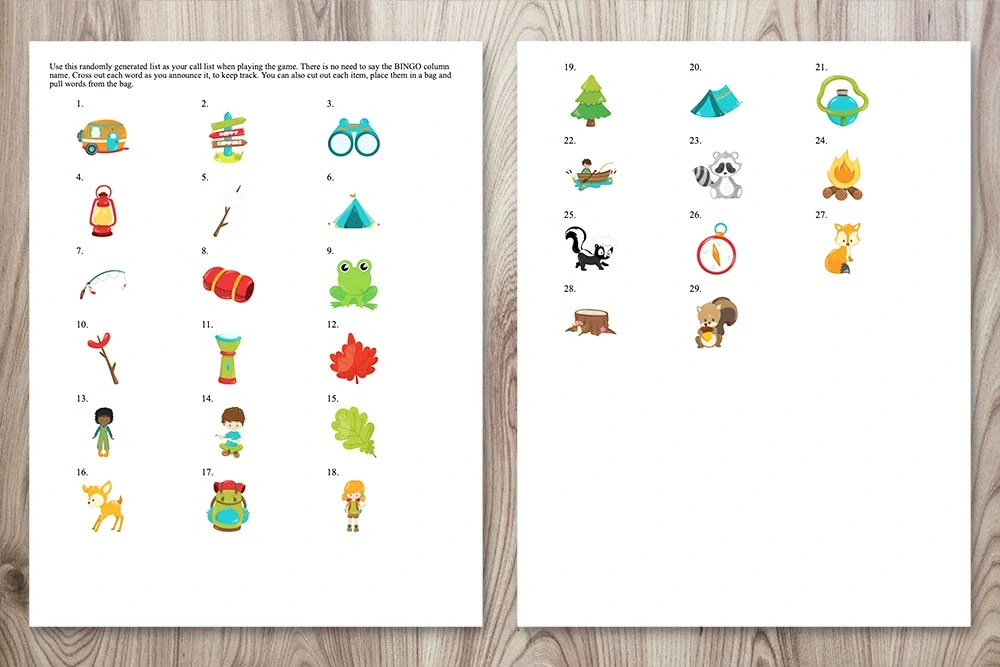 4. Draw cards one at a time and announce them/show them around. Players mark the called picture if it's on their card.
5. The first player to get five squares in a row covers (diagonally or in a straight line) calls Bingo! to win. You can also play variants like needing to form an X to win or cover all four corners.
Children frequently want to play again with a new board. The fun doesn't need to stop after the first player calls Bingo!
You can use different items for bingo markers. Play with mini marshmallows, for example, or have children use rocks and small pinecones they've collected as markers.
PRINTABLE CAMPING BINGO BOARDS
Before downloading please note:
These printables are for personal and classroom use only. Commercial use is not permitted. You are welcome to use these with scout troops, classrooms, etc. as long as you are personally organizing the activity and not charging to play the game.
You may not modify, re-sell, redistribute, or claim the design as your own. Please do not share the printouts or digital files with others adults for their families/classrooms. Just share a link to this post so they can download their own copies!
I have four different sets of camping bingo boards for for you.
50 camping bingo boards for a large group (this one is great for family reunions and Scouts trips)
25 boards
10 boards (this is the most popular option)
4 boards
The sets of 10 and 4 are free and all sets are unique!
CAMPING BINGO FOR A BIG GROUP
First we have the set of 50 camping bingo boards for a crowd. This is great for Scouting campouts, family reunions, etc. This set is available for the very low price of $5.
(Just keep scrolling a little more to get to the freebie sets.)
CLASSROOM SET OF 25 CAMPING BINGO BAORDS
This set of 25 games is perfect for Scout troops, classrooms, and campouts with friends. Get the set of 25 unique bingo boards for just $3.
FREE PRINTABLE CAMPING BINGO – SET OF 10
Next we have a free set of 10 camping bingo boards. This is the most popular set. It's fun for families, even if you don't "need" all 10 because kids love to try their luck with a different card!
This set is free – just let me know where to send your PDF by filling out the box below the preview image.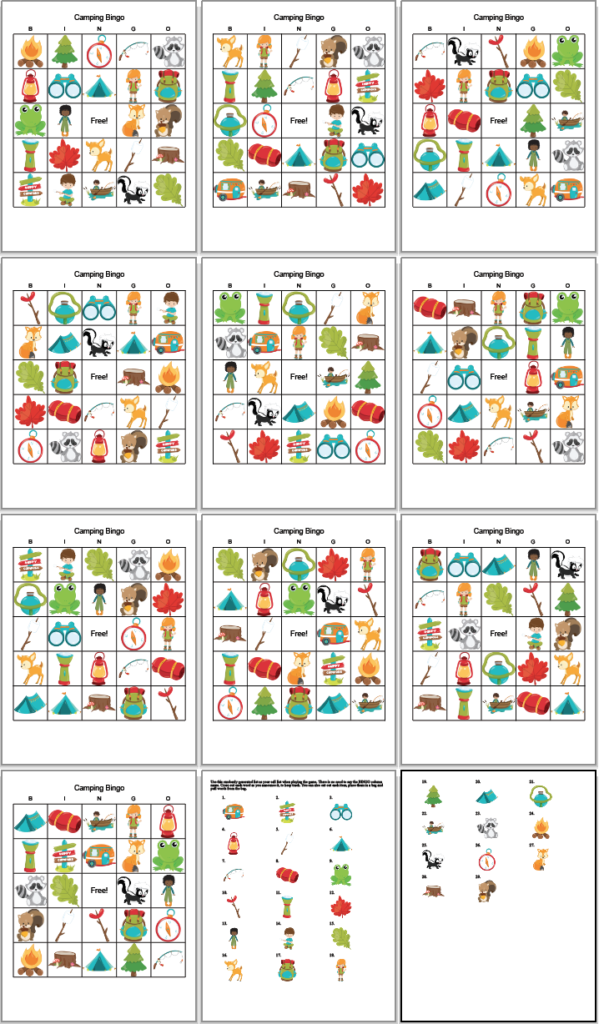 SET OF 4 CAMPGROUND BINGO BOARDS
And, finally, we have the free printable set of 4 bingo boards. This set is available for download right here in the post – no email address required. Just use the download link below the preview image (it's in a grey box to make it easier to find.)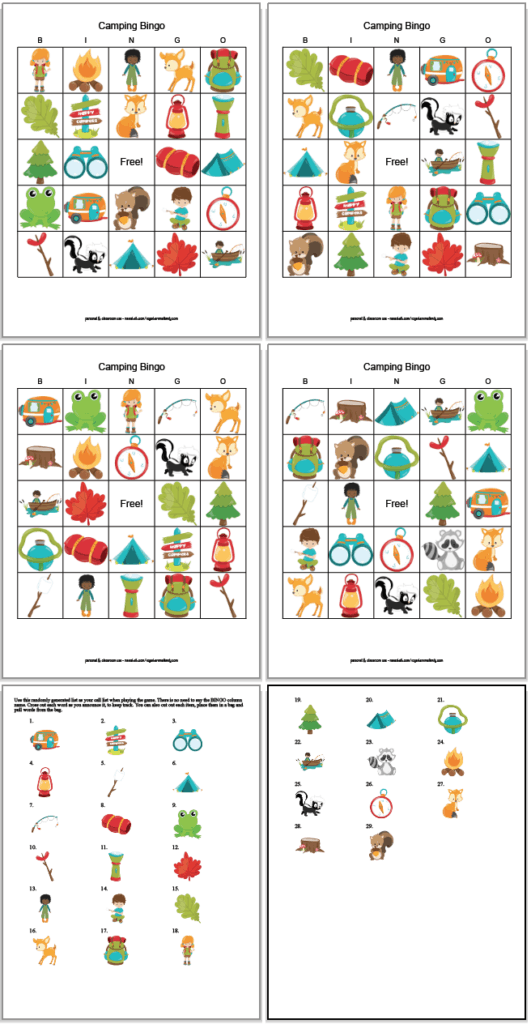 Don't lose track of these bingo printables – Pin them now! (Follow the link to open on Pinterest.)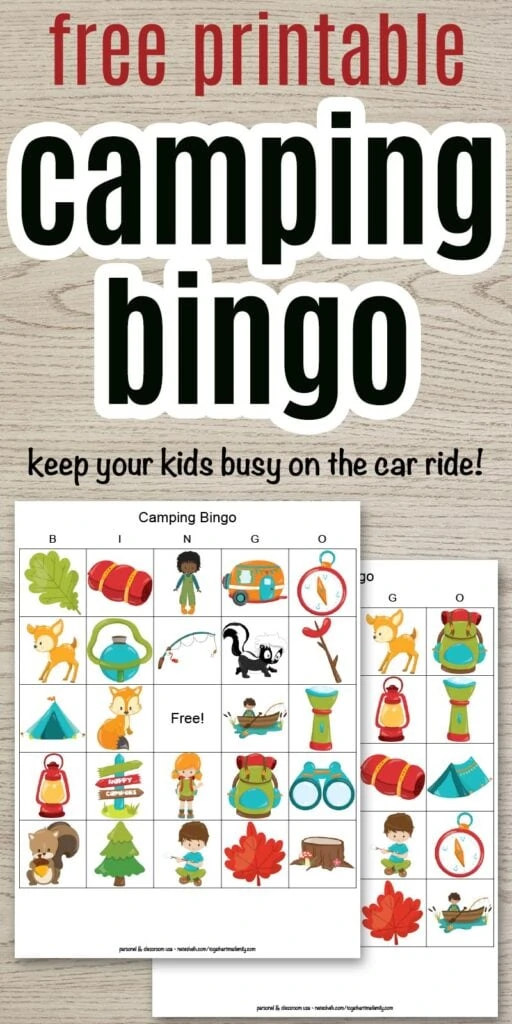 If you enjoy playing picture bingo, make sure to check out these options for more holidays and occasions on The Artisan Life!