These cute, free printable Valentine bingo cards are sweet and so much fun!
When I first started posting printable bingo cards, I had no idea how popular they would become! They're so much fun for me to make, too, so I'm thrilled to be sharing these printable Valentine's Day bingo boards today.
This post includes affiliate links, which means if you make a purchase through a link on this page, I may earn a commission at no additional cost to you.
Ideas for using this Valentine's Day bingo game:
Valentine's bingo is an easy, no-prep way to keep your kids occupied or enjoy some family fun time together. It's also great for classroom use!
You can use these bingo cards in a more traditional way by cutting out the pictures on the call list sheet, placing them in a bag, and drawing them randomly.
It's easier for participants, especially younger children, if you show the image than to try to describe it.
You can save some cutting and the risk of lost pieces by giving the call sheet to an adult and having them 'randomly' call out images. I think this is a good choice if you're at a party because it means fewer pieces to keep track of!
Make a tic mark with a pencil to denote which pictures you've already called.
If you laminate the cards (or use dry erase pockets), you can use markers to mark off called images.
The difference doesn't show up as clearly in a photo as it does in real life, but I printed the mermaid bingo card on the left on presentation paper. The one on the right is on cardstock.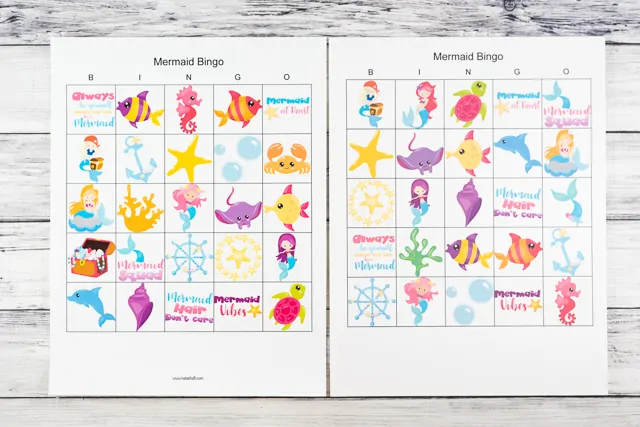 For repeated play, especially near food, water, or sticky candy hands, laminate the sheets or place them in a dry erase pocket or page protector. Dry erase pockets are like page protectors, only sturdier.
Sale
You can get sheets laminated at copy shops and office supply stores. This can cost a dollar or more a page, so it can be worth it to get an inexpensive home laminator.
When you laminate your bingo cards, you can store them with your Valentine's decorations and use them year after year!
You can make the game even more fun by using fun things like stickers, erasers, or other small prizes as tokens to mark off called cards.
Or if you're normal, you could use candy and then let your kids eat it after the game. I try to keep candy out of our house because I'm "that" person. =p
Printable Valentine bingo cards
Let's take a look at the bingo cards!
These bingo cards are all available for personal use. This includes use in your own classroom, with your scout troop, etc., but not restribution of the digital file. Please simply refer your friends, family, and/or coworkers to this post so they can download their own copy.
There are three sets of bingo cards: A set of 25, a set of 10, and a set of 4.
The sets of 10 and 4 are completely free, and there's no opt-in required to grab the set of 4. All the card sets are unique, which means you can combine them to have 39 unique bingo cards.
Set of 25 Valentine's bingo cards
First we have a set of 25 unique bingo cards with cute Valentine's Day illustrations. These cards are different from the other sets, so you can combine them for 30+ unique bingo cards!
Set of 10 free printable bingo cards
This set of 10 cute bingo cards is perfect for larger families and small groups! Because they're unique, you can pair them with the larger set of 25 for big groups or the set of 4 for mid-sized groups. (This doesn't mean you can't have multiple "Bingos" in one turn, but the cards are unique.)
The set of 10 printable Valentine's bingo boards is free for Artisan Life family members!
Not a member yet? Quickly and easily join The Artisan Life family using the form below! Each month I give away exclusive access to premium printables for FREE. If you are already a member, you can still fill out the form and receive the download. 🙂
4 free printable bingo games for Valentine's Day
Finally, we have a set of 4 Valentine's bingo cards to print.
These bingo cards are available for free, right here in the post – no strings attached! The download link is highlighted in grey below the preview image.
Download 4 Valentine's Day bingo cards here
Don't lose track of these printable bingo cards for Valentine's Day! Pin them now!
If you love free printables, you have come to the right place. Here are just a few of the fun free printables and Valentine's day craft ideas available on The Artisan Life!
Stop scrolling Pinterest for Valentine's Day printables and crafts - check out these Valentine's posts right here on The Artisan Life!