Both as a parent and a teacher, I am not a fan of empty praise and frequently saying "good job" to kids.
This does not mean I don't believe in speaking encouraging words to kids. Not at all! I believe encouragement is very important for children to hear, but that encouraging words and praise should be targeted and specific for maximum effect.
Today we're looking at a list of encouraging words for kids, ideas of encouraging things to say in difficult situations, and why it's important to speak words of encouragement to your children. I also have a set of free printable lunchbox notes for you. I hope you enjoy!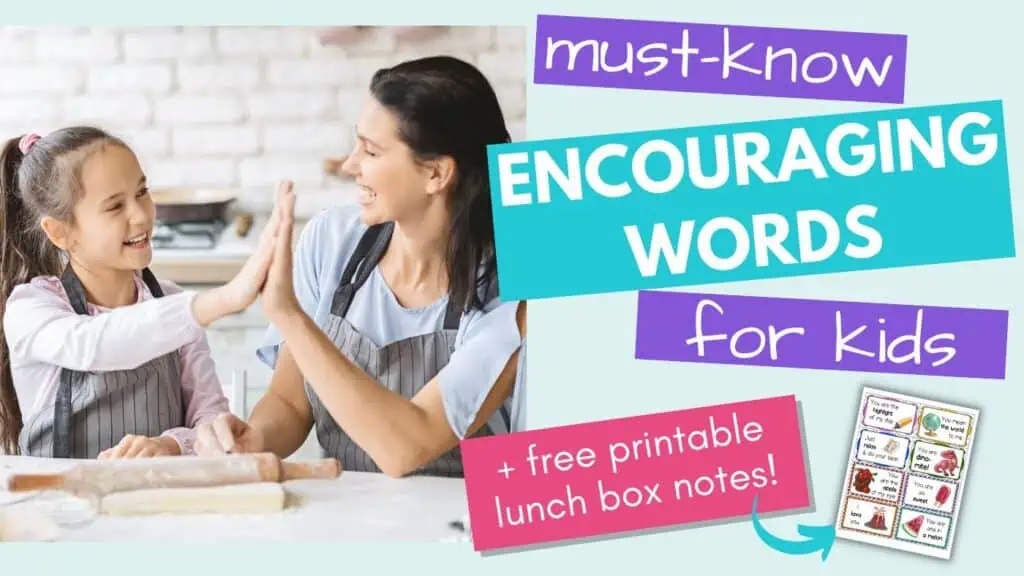 This post may include affiliate links which means I may earn a commission on qualifying purchases at no additional cost to you.
If you're looking to have a positive impact on your child's self-talk or instill a growth mindset, you've come to the right place. I have a variety of resources to help you, and your family members, develop a positive mindset.
If this is your first time on The Artisan Life and you're wondering who I am to write about encouragement for kids, welcome! I'm Natasha. I hold a Master of the Arts in Teaching and I'm a mom. I am a total nerd for developmental psychology and childhood development. I'm excited to share this post with you today because I love this topic.
Praise vs Encouragement
Did you know that praise and encouragement are not the same thing?
That's right! Praise focuses on what you, the adult, feels or things. Alfie Kohn, author of Punished by Rewards and Unconditional Parenting, argues that praise is a judgement. Others don't always go so far, but generally agree that praise is adult-centric.
(Side note – I love the audio versions of Alfie Kohn's books because he narrates them, himself. You can really hear his intended emphasis and it's great.)
Examples of praise include "I like your drawing" or "I like how you picked up your clothes."
The effects of praise, in the long term, can be to decrease intrinsic motivation and give the impression that what the adult thinks matters more than what the child thinks or feels. This can lead to detrimental people pleasing behavior and a low sense of self worth.
Does this mean you can never tell your child you like anything they've done? Of course not! However, as parents and teachers we should be mindful of the kind of praise we give and how often we give praise, especially the all too frequently spoken "great job!"
(I feel like I also need to note that sometimes great job is exactly the right thing to say. I'm just encouraging you to be mindful of what you say and try to lean more into positive reinforcement and encouragement whenever possible.)
Encouragement is not judgement-based. It focuses on the child instead of the adult. For example, instead of "Good job finishing the puzzle," you could say "Wow! You worked really hard to complete that puzzle. You must feel proud." Instead of "I like how you picked up your clothes," you could simply say "thank you" or "I noticed that you picked up your clothes. Thank you."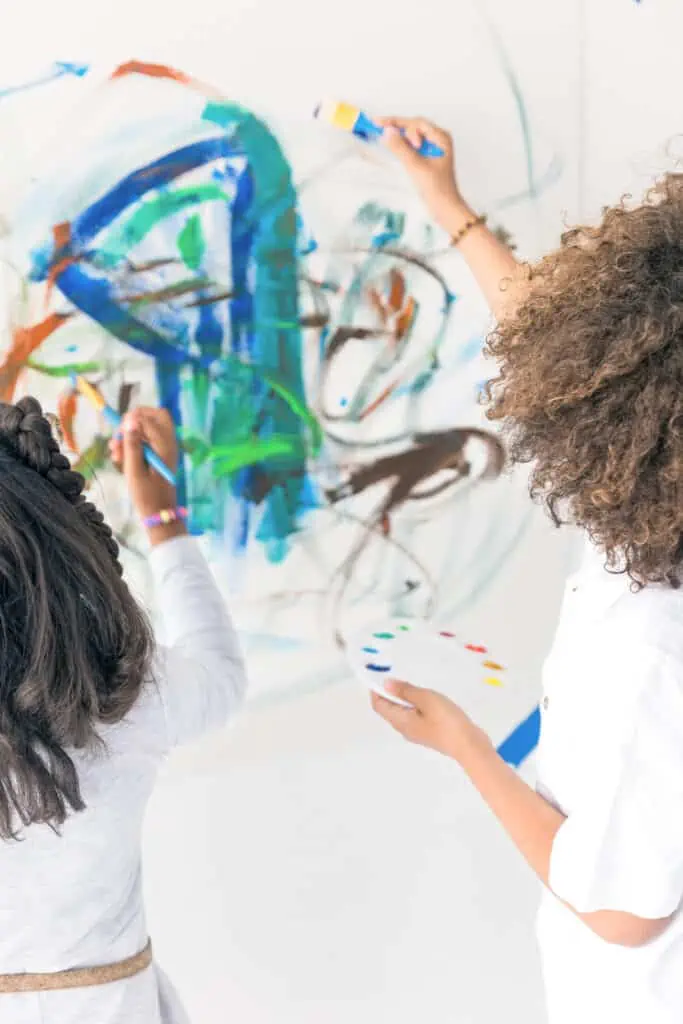 We're so accustomed to hearing frequent praise that encouraging phrases may seem week and wishy-washy to you. They hold great power, though. Research shows that using encouragement helps children develop a stronger sense of intrinsic motivation (self motivation) and take greater pride in themselves. They're also less likely to be "people pleasers."
If you've been offering lots of praise in the past, don't worry that you may have had a negative impact on our child. Instead, take positive action today and start encouraging your child, whenever possible. Congratulate yourself for speaking kindly to your chink in the past and prepare yourself for the next step of offering encouragement in the future by reading this post. =)
Quick tips for encouraging words
1. Focus on the process, not the outcome. Yes, of course it's okay to notice the outcome, but don't focus all of your attention on the end result.
2. Focus on effort, not talent. People mean well when they say "You're such a talented artist!" (Or something similar). Unfortunately, this can lead children with natural talent to not practice and develop their skills and it can bruise feelings when the child put a whole lot of hard work and practice in. Praising their "talent" ignores all their hard work.
3. Be specific. Instead of a vague/general "good job," tell the child exactly what you're appreciating.
4. Be timely. The best time to offer encouragement for positive reinforcement is immediately after you see the good behavior. Say "I noticed you sharing that toy with your little brother" immediately instead of "hey, I saw you sharing yesterday." (This recommendation holds true for other appreciations, too, not just noticing behaviors.)
5. Offer five sincere encouragements a day. This can be tricky difficult for you to do if you're away at work or your child is at school. Try adding an encouraging note to your child's lunch box or leaving a note at the breakfast table. (Make sure to keep scrolling to the bottom to download your free lunch box notes!)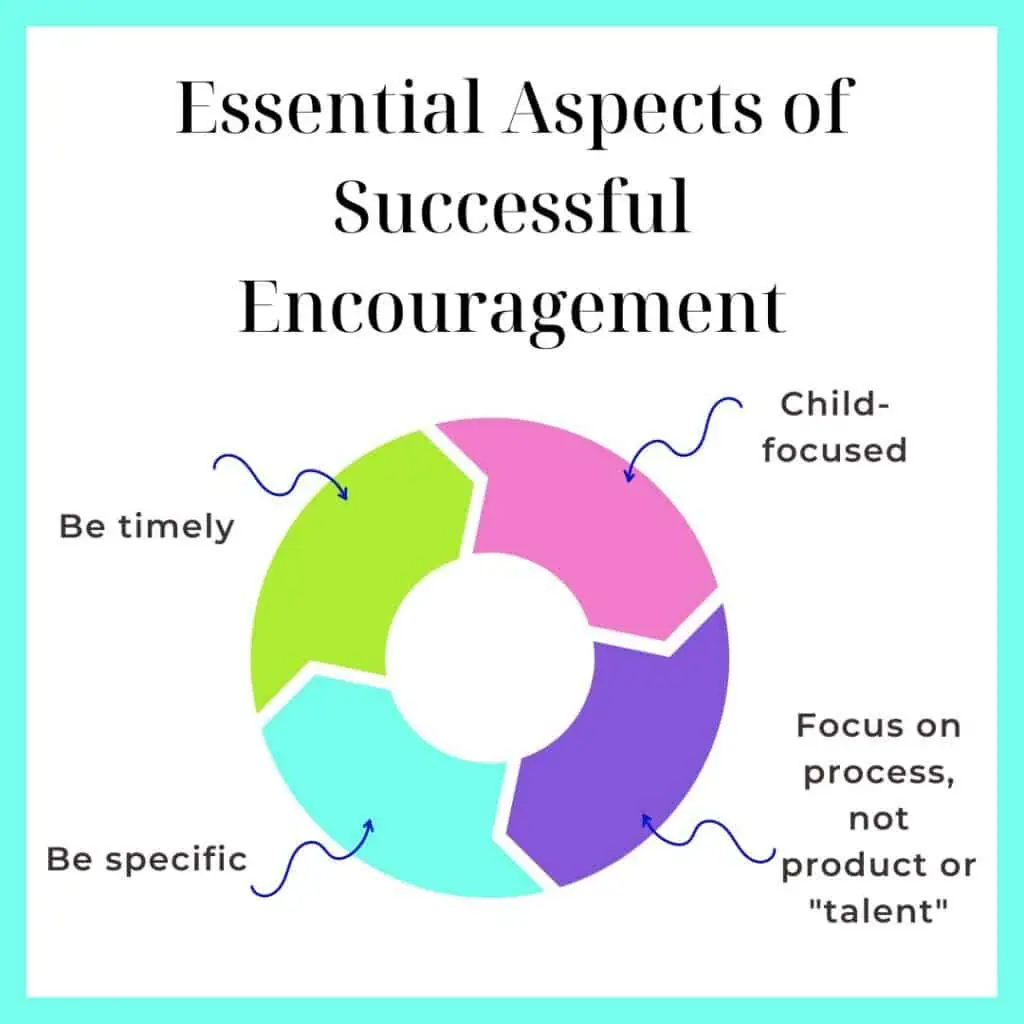 Benefits of speaking inspiring words to children
Positive words of encouragement have many benefits for children. A few of the benefits include:
Teaches children to value their effort and the process, not just the end result.
Builds a positive outlook and positive self-talk.
Encourages a growth mindset.
Increases self-esteem and intrinsic motivation.
Encourages kindness to other children because kids learn through modeling. When you speak words of encouragement, they will, too!
Makes children less vulnerable to peer pressure since they're not as concerned with the judgements of others.
Builds a strong sense of self.
Helps children be willing to try new things because they focus on the process instead of worrying about failure).
Before the age of 7, children basically exist in a hypnotic trance. They have high theta brainwave activity, which allows them to absorb and learn an incredible amount. Things learned between the ages of 2 and 6 program themselves directly into your child's subconscious mind.
This means how you speak to your child when they're young becomes how they speak to themselves and how they see the world. Your kind words to your young children truly do matter and have a lasting impact in your child's life.
If your child is older, kind words still matter. This is especially during more challenging times like the first day of school, moving, or having difficulties a (former) good friend. Older kids need to hear and read positive messages, too.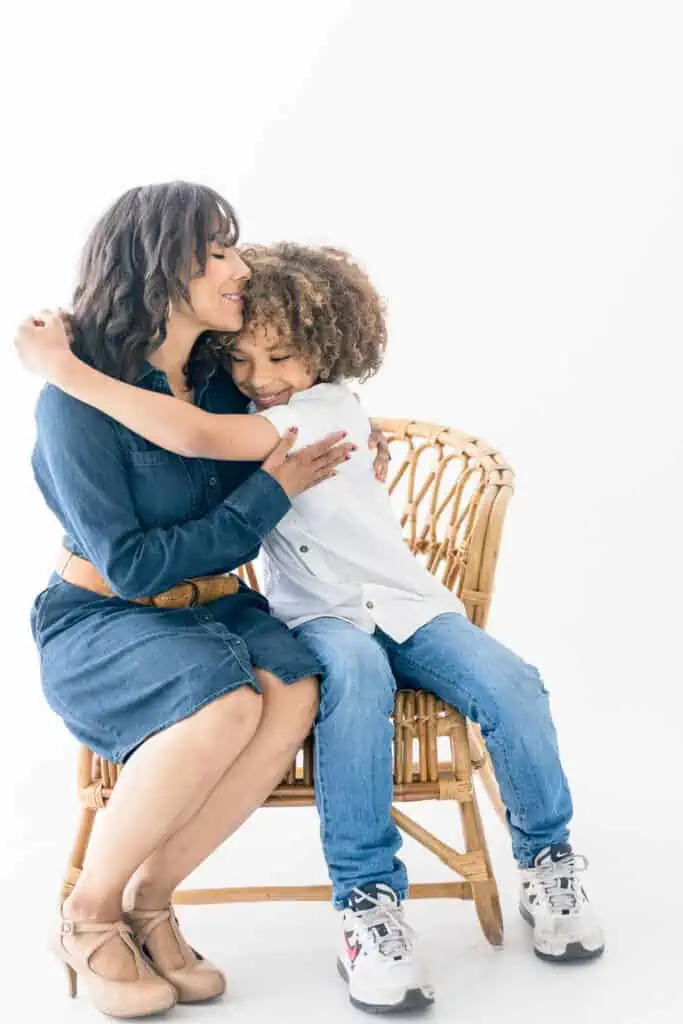 Positive Phrases and Inspirational Words for Children
WIth all that in mind, let's look at a few positive phrases and inspirational things to say to kids. Some of these phrases may not sound like positive encouragement to you, but they are powerful ways to make a difference in your child's day.
Most of these phrases are intentionally generic. For the greatest impact, make sure to modify a statement to make it specific when it makes sense to do so. For example, instead of "I noticed you sharing," say something like "I noticed you sharing your car with your sister."
As you seek to encourage your child, be careful you don't discount or disparage any so-called negative emotions they are experiencing. You don't want to build the bad habit of repressing emotions. Instead, acknowledge their big feelings and suggest helpful ways to process emotions, like EFT Tapping.
Not familiar with tapping? Don't worry, it's super easy to get started! Taping is an evidenced-based approach to processing big feelings and relieving stressful thoughts. This short video from The Tapping Solution is a great place to start tapping for kids:
My daughter loves tapping along with me and frequently asks me to read Gorilla Thumps and Bear Hugs, a book about tapping for kids.
Sale
Words of encouragement – positive things to say instead of praise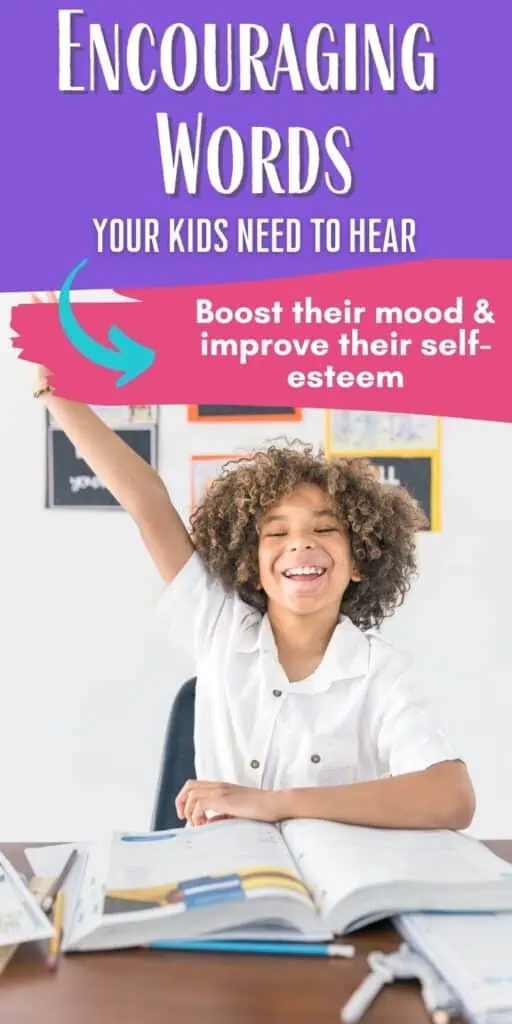 I love you.
I believe in you.
You can always ask me for help.
I trust you.
I am grateful for you.
I appreciate you.
I am so thankful to know you.
I'm lucky to have you in my life.
You have a kind heart.
You make a positive difference in the world.
You did it all by yourself!
That was very creative.
You've been working really hard and it shows.
You mean the world to me.
I noticed you sharing. That was kind of you.
I noticed how clean your room is. Thank you.
You are such a helper.
I saw you working hard on that. You must feel so proud it's completed now.
Your confidence is inspiring.
You look so happy and proud!
You worked hard for that.
That was so kind of you.
I admire your honesty.
You cleaned up after yourself. Thank you.
It sounds like you really love singing that song.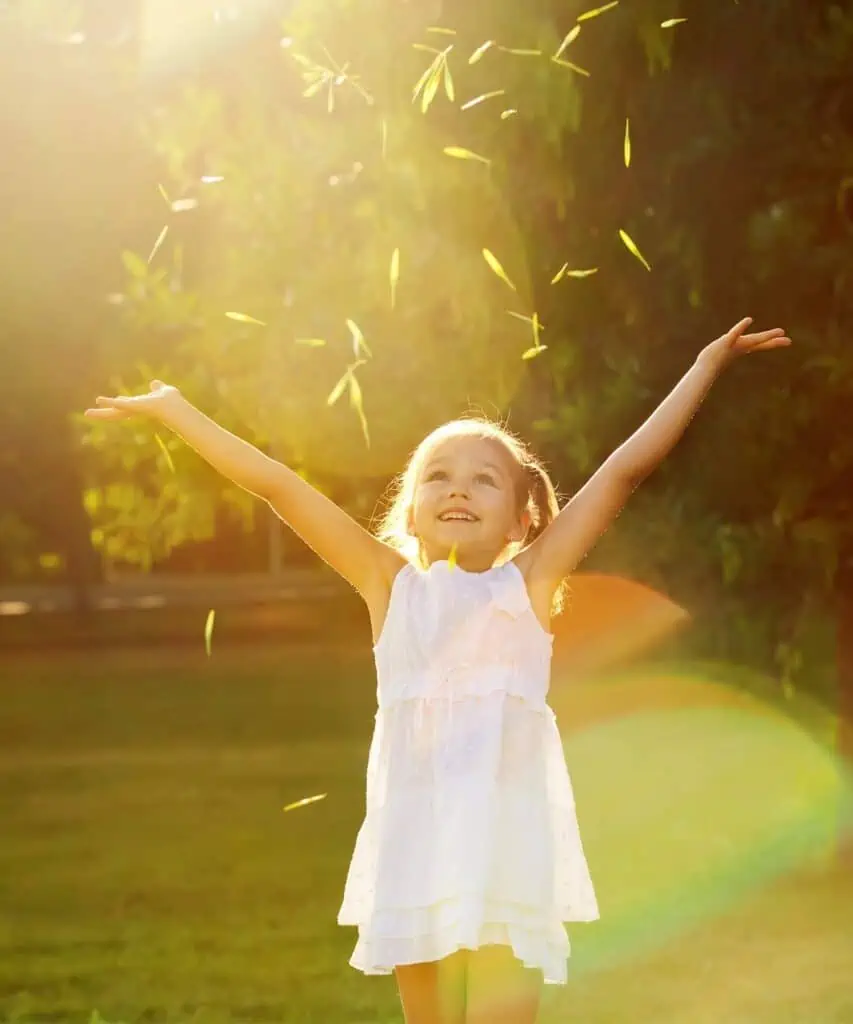 It must have been difficult to be honest in that situation. Do you feel proud of yourself?
Your kindness is heartwarming.
Your actions can change the world.
That was very brave of you.
You look so happy!
You are worthy.
You're stronger than you realize.
Your joy is a light to the world.
Wow! Your drawing is so detailed.
You really look happy when you're dancing.
Encouraging words for a bad day/hard times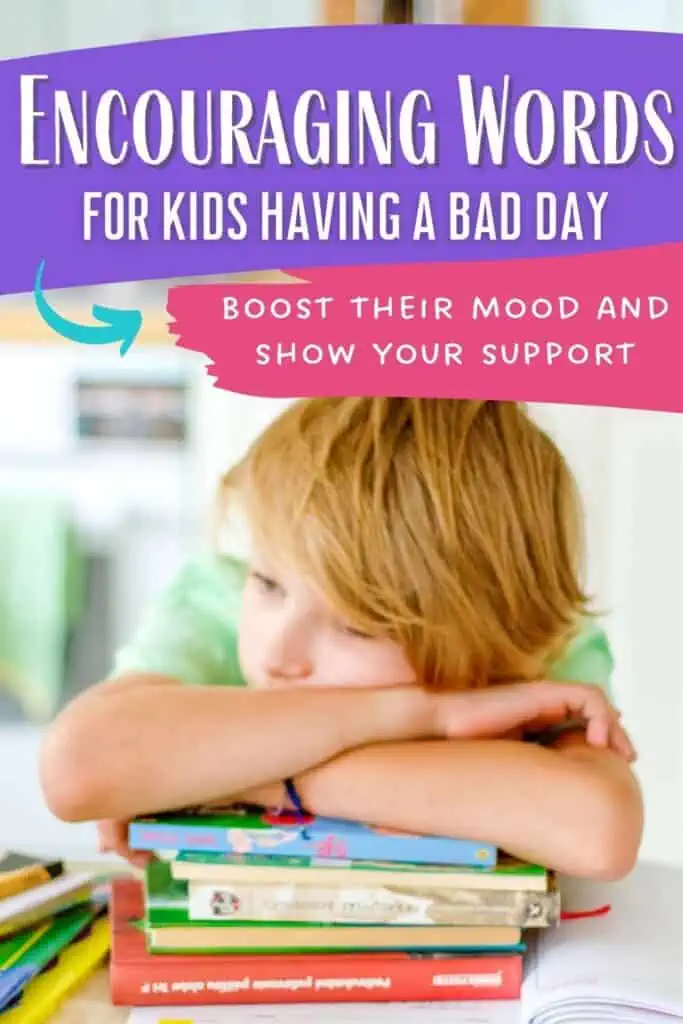 We all make mistakes sometimes.
We all have bad days.
Do you want to talk about it?
It's okay to make mistakes.
It's a difficult situation, but I believe in your ability to figure it out.
What would you do differently next time?
You can always talk to me if you're having a hard time.
This feels really difficult right now, but remember this is just one day in your entire life.
It's okay to feel upset.
You're disappointed with the grade on this test/project and that's understandable. Remember that this grade doesn't define who you are.
We can't always agree with everyone, and that's okay.
Every new day is a new beginning. Tomorrow will be a different day.
Mistakes are how we learn.
Would you like a do-over?
Handling difficult situations is hard, but you're figuring it out.
It's okay to feel overwhelmed.
It is okay to cry.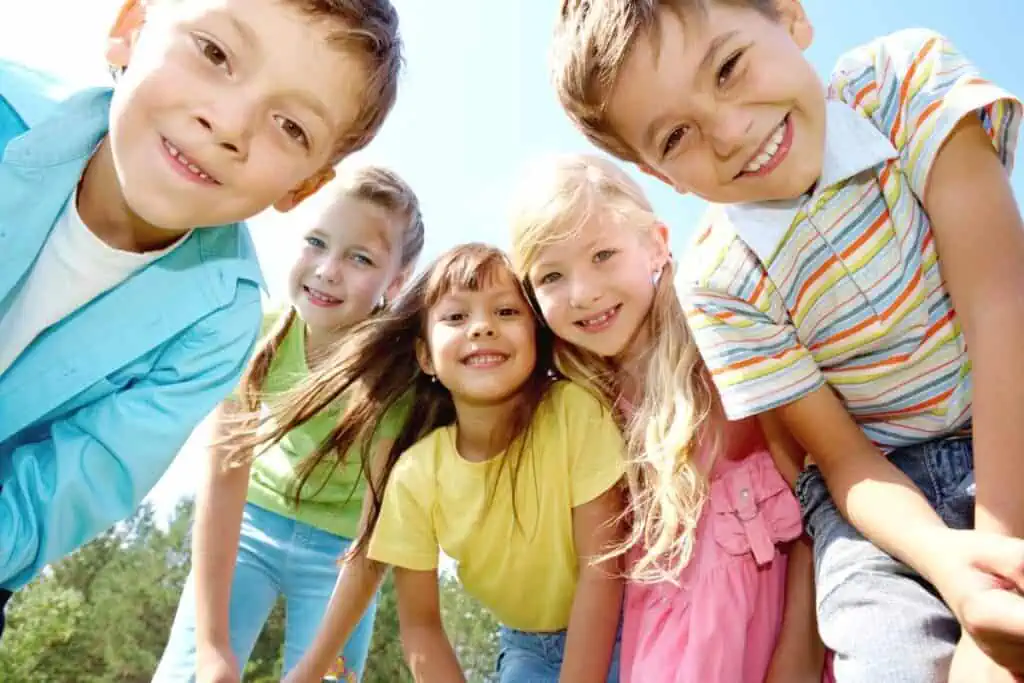 You can't control anyone else and you are not responsible for their actions.
I can tell what s/he said really hurt you. Would you like to talk about it?
Tapping can help with big feelings. Would you like to tap with me?
It's okay to have disagreements with friends.
Encouragement for when your child is struggling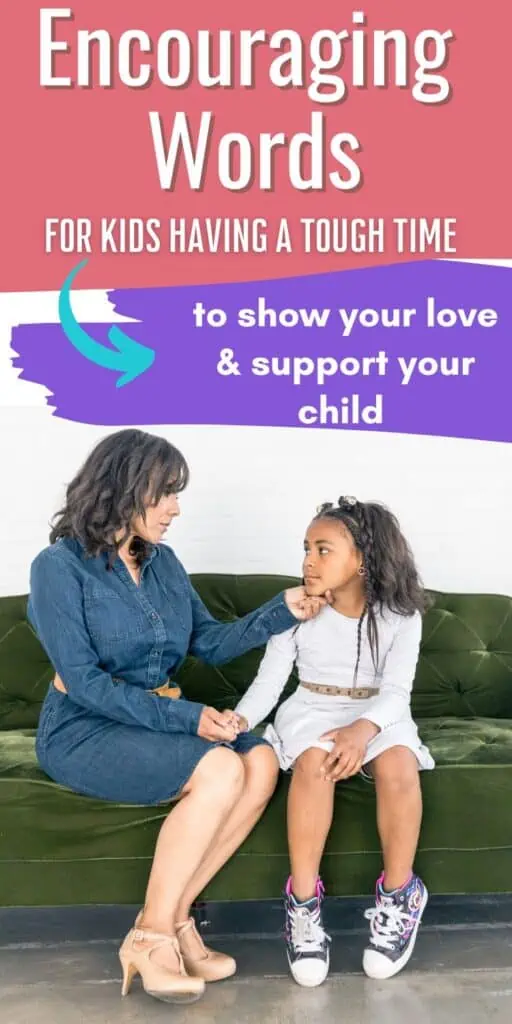 I can tell you're trying really hard.
You did your best, and that's what matters.
I can tell you gave it your all.
You really put your heart into it.
You're really giving it your best.
It's okay to quit if you want to.
You must feel proud of yourself for working so hard.
It's okay to make mistakes.
You're almost there!
I have confidence in you.
You can take a break and try again later.
It's okay to ask for help.
Asking for help shows your bravery.
I'm happy to help if you want me to.
It's okay to take your time. You'll get there.
Look how far you've come!
You have improved so much at…
You know lots of problem-solving strategies. Maybe one of them can help.
Getting started is the hardest part, and you've already started.
Big dreams sometimes take longer to achieve. It's okay that it's taking longer than you hoped.
I'm proud of you for making an effort instead of an excuse.
Take a slow breath, smile, and start again when you're ready.
Encouragement quotes
Sometimes a quotation from a favorite character, author, or notable person can do the trick when words from Mom or Dad aren't enough. Here are a few of my favorites.
"Failure is not falling down; it is not getting up again." – Mary Pickford
"Being different isn't a bad thing. It means you're brave enough to be yourself."– Luna Lovegood, Harry Potter
"Try to be a rainbow in someone else's cloud." – Maya Angelou
"Be the change that you wish to see in the world." – Mahatma Gandhi
"You are braver than you believe, and stronger than you seem, and smarter than you think." – Christopher Robin
"You have brains in your head. You have feet in your shoes. You can steer yourself in any direction you choose." – Dr. Seuss
"Be yourself; everyone else is already taken." – Oscar Wilde
"If I cannot do great things, I can do small things in a great way." – Dr. Martin Luther King Jr.
Lunchbox notes PDF printable download area
As promised, I have a sheet of printable lunch box notes for you! They don't have to be just used in a lunch box. You can tape one to the bathroom mirror, leave one at breakfast, or even send one in the mail to a child at summer camp or college.
These are fun, encouraging lunchbox notes with punny, images and minimal usage of your colored ink. If you've like more colorful lunch box notes options, please leave a comment and let me know!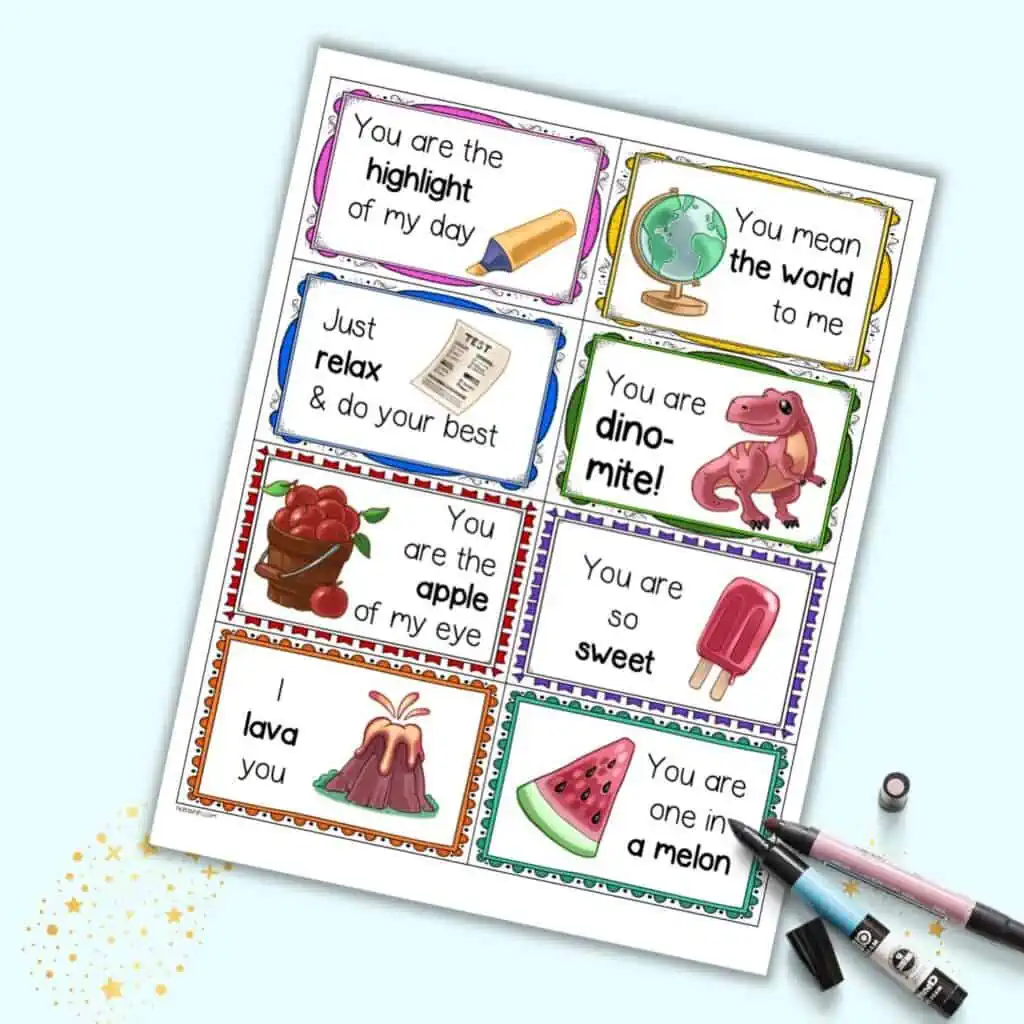 I recommend printing these notes on a premium paper or heavy duty card stock and laminating them for durability. Laminate before cutting the sheet so you can cut just one time. If you don't have a laminator, you can cut the cards out individually and "laminate" them with clear packing tape.
HP 32# paper is my favorite for printables. See it in side by side comparisons with other papers and card stocks in this post on the best paper for planner printables.
HP Paper Printer | 8.5 x 11 Paper | Premium 32 lb | 1 Ream - 500 Sheets |...
Made in USA: HP Papers is sourced from renewable forest resources and has achieved production with 0% deforestation in North America.
Heavyweight premium printing: HP Premium32 is a heavyweight (32 pounds), brighter (100 bright) and whiter (163 whiteness) paper with a super-smooth...
Certified sustainable: HP Premium32 presentation paper is Forest Stewardship Council (FSC) certified and contributes toward satisfying credit MR1...
This set of free printable notes is licensed for personal use. You may print and use them with your own children, students, and therapy clients. You are not licensed to redistribute or sell the print outs or digital files to other adults for use with their children/students. Instead, please refer friends and colleagues to this post so they can download their own copy.
If you agree to these terms of use, you may click below:

I hope you enjoyed this post on encouraging words for kids. Make sure to visit the posts below for additional uplifting printables.
Growth Mindset Resources
Do you want to develop your mindset or help your child develop a growth mindset? You've come to the right place!