These free word of the day oracle cards are a fun and easy way to make time for self-care and to stay inspired each day. Simply draw a card each morning or evening and use it as inspiration for your thoughts, mediations, or journaling for the day. They also make great positive decorations for a cork board, fridge, office wall, mirror, or anywhere else you'd like to see a bit of inspiration. They can even be used as lunchbox notes!
If you enjoy positive quotes and affirmations, be sure to check out these positive mindset coloring pages and free printable Rumi quotation posters, too.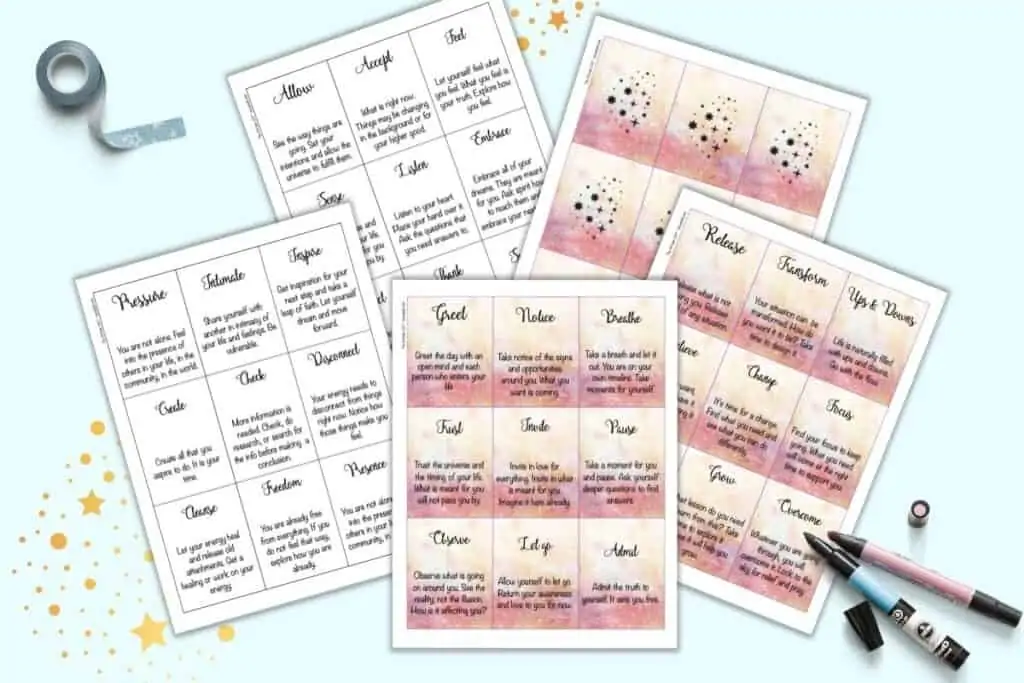 This post may include affiliate links which means I may earn a commission on qualifying purchases at no additional cost to you.
What are oracle cards?
Different people define oracle cards in different ways depending on their personal beliefs. Some people use them to see Divine guidance. Other people view them as a tool to connect with intuition. You might also view them as way to talk to your spirit guides, guardian angels, or even with your ancestors.
Oracle cards encourage introspection and can help you cultivate self awareness. Sometimes oracle decks are used to help provide guidance or clarity. For example, you could ask a question, draw a card, and see how the card applies to your question. Even if you're not a big believer in divine guidance or your intuition, they can help you see things from a different perspective.
These oracle cards are meant to be inspirational and provide you with "word of the day" to contemplate. You can use this word as a journal writing prompt, meditate on it, or just think about how it might apply to your day.
To use these cards, I recommend closing your eyes, taking a centering breath, and simply drawing a single card. Read it and use it in whatever way feels right to you.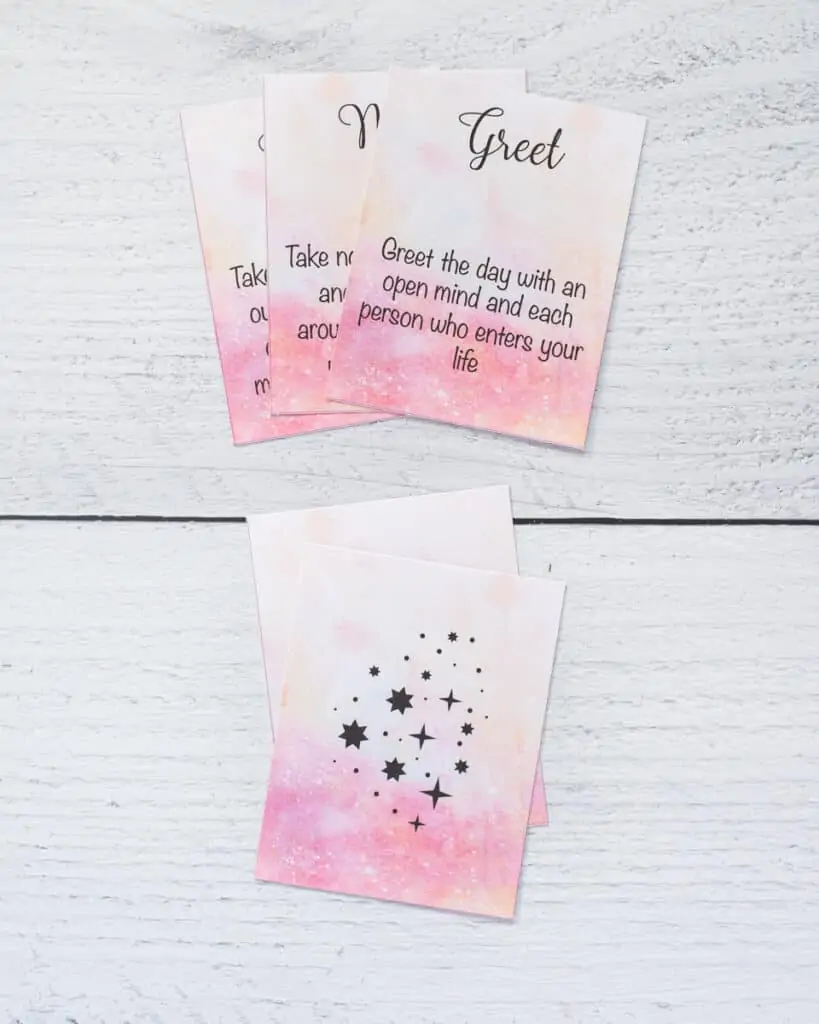 How to print your own oracle cards
I love using HP 32# paper for printables, but it is a little thin for cards. I recommend using a bright white cardstock if you plan to handle your cards frequently. If you want to use them more as a decoration (like on your office wall), then the 32# paper is a better choice because images are brighter and crisper when printed on this paper. See side by side comparisons in this post about the best paper for printables
There are a total of 45 cards on 5 sheets. There is a version with a pink watercolor background and another set without a background. This set can be printed on colored or patterned paper, if you have a favorite colored cardstock, or used if you only have black/white printer access. There is also a page with a card back design, if you want to print on the back of each sheet for a more professional looking deck. The card back sheet is also available with and without the pink background.
First, print your designed set of cards (colorful or without a background). Make sure to print only the pages you want, not the entire PDF since it includes both versions.
Next, place the pages back in your printer to print the backs, if you want. Set the exact page and number of copies you need (5 if you've printed all 5 sheets of cards). Pay careful attention to your specific printer to determine how to place your page. Many home printers print on the front-facing side of the sheet, which means you would place the already printed portion to the back.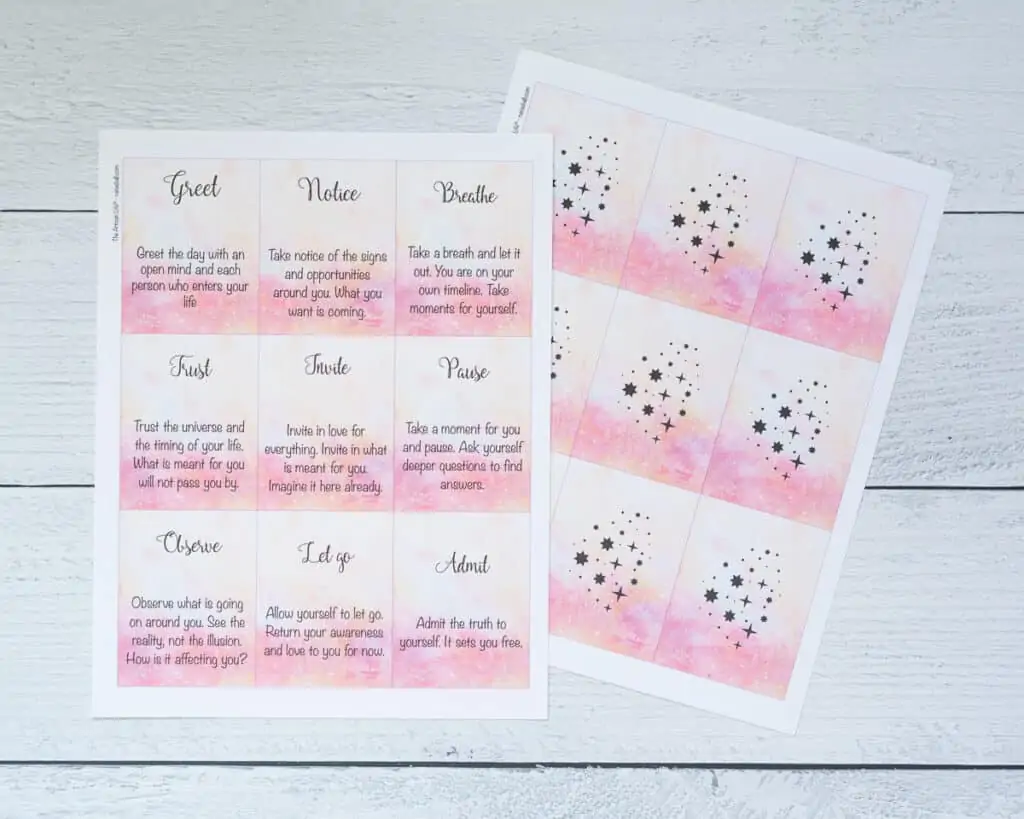 Cut out your cards and enjoy! I use this Fiskars paper trimmer with a guide wire so I can cut right along the line.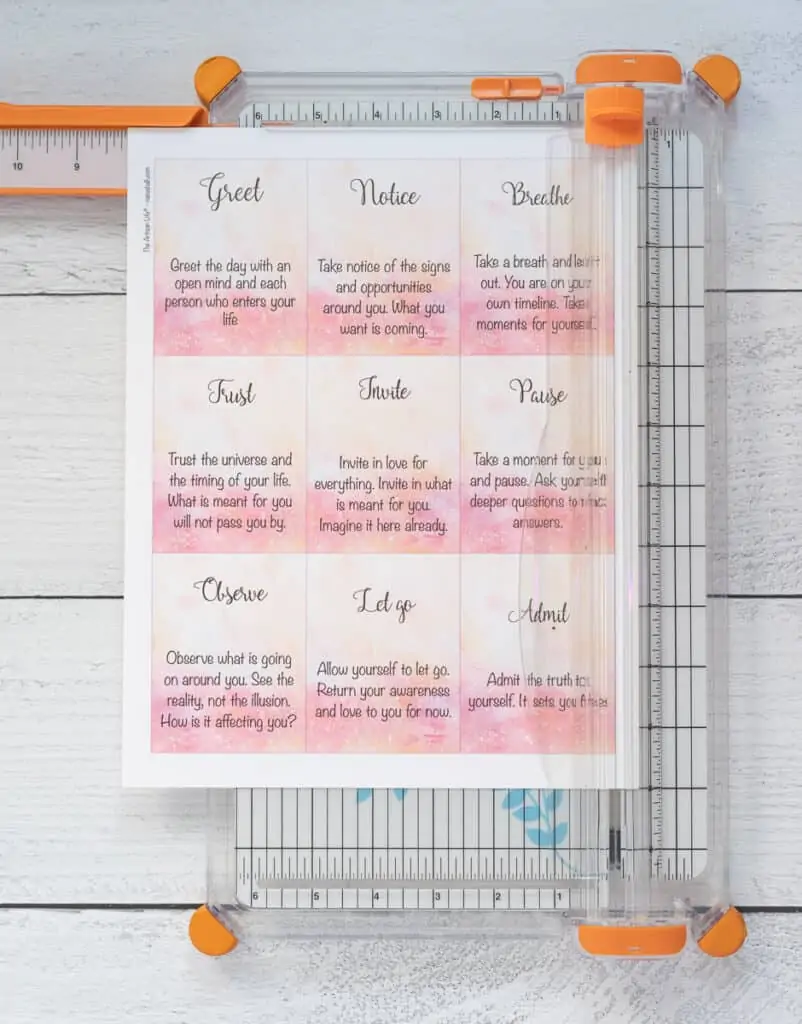 Now you're ready to use and enjoy your cards!
Free printable inspirational oracle cards
Like all printables on The Artisan Life, these oracle cards are available for personal and classroom use. You are welcome to use them in your own personal classroom, with your Scout troop, your own therapy clients, etc. as long as you are organizing the activity.
You are not licensed to alter, sell, or redistribute the files (digital or printed) to others for their use. You absolutely are not licensed to post them for sale or download on any website. Please just send your friends and family to this page to download their own copies.
If you agree to this license, you may click below:

I hope you enjoy using these word of the day oracle cards. If you're working to take better care of yourself, be sure to grab some free printable coloring pages to help you relax and unwind:
Free Printable Coloring Pages
Discover free printable coloring pages on The Artisan Life!