These free printable Rumi quotation posters are a beautiful way to keep yourself inspired. Each page includes a popular Rumi quotation with images to quickly raise the vibe in your space. Keep scrolling for printing suggestions and 10 free inspirational poster printables!
If you enjoy positive quotes and affirmations, be sure to check out these positive mindset coloring pages and inspirational coloring pages while you're here on The Artisan Life.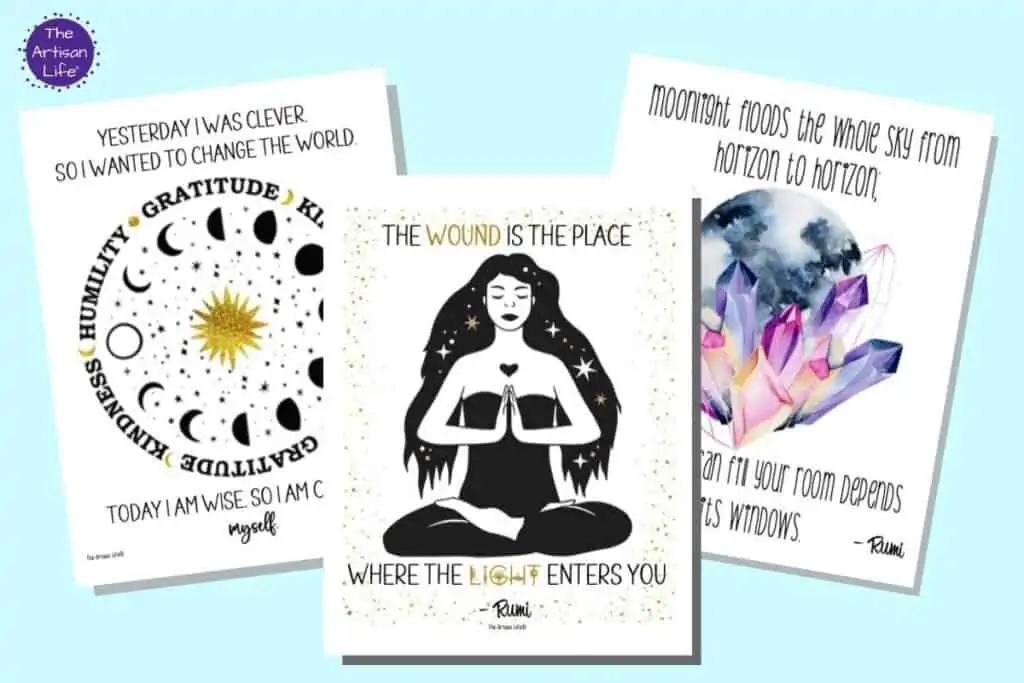 This post may include affiliate links which means I may earn a commission on qualifying purchases at no additional cost to you.
For high-quality results, make sure to use a nicer paper (not whatever cheapo paper is in the printer at work). You can see side-by-side companions of the best papers for printables in this post. It focuses on planner printables, but they're also good choices for these printable posters.
I use HP 32# paper for posters. It's thicker and brighter than "regular" copy paper, which makes your posters appear more professional. You can use cardstock, but the images aren't as bright and crisp.
HP Paper Printer | 8.5 x 11 Paper | Premium 32 lb | 1 Ream - 500 Sheets |...
Made in USA: HP Papers is sourced from renewable forest resources and has achieved production with 0% deforestation in North America.
Heavyweight premium printing: HP Premium32 is a heavyweight (32 pounds), brighter (100 bright) and whiter (163 whiteness) paper with a super-smooth...
Certified sustainable: HP Premium32 presentation paper is Forest Stewardship Council (FSC) certified and contributes toward satisfying credit MR1...
I used the 32 lb paper for the posters shown in the photo below. They mostly have a boho-celestial vibe. (Sorry about the slightly dark images – we were having a huge storm the day I printed these and took the pictures.)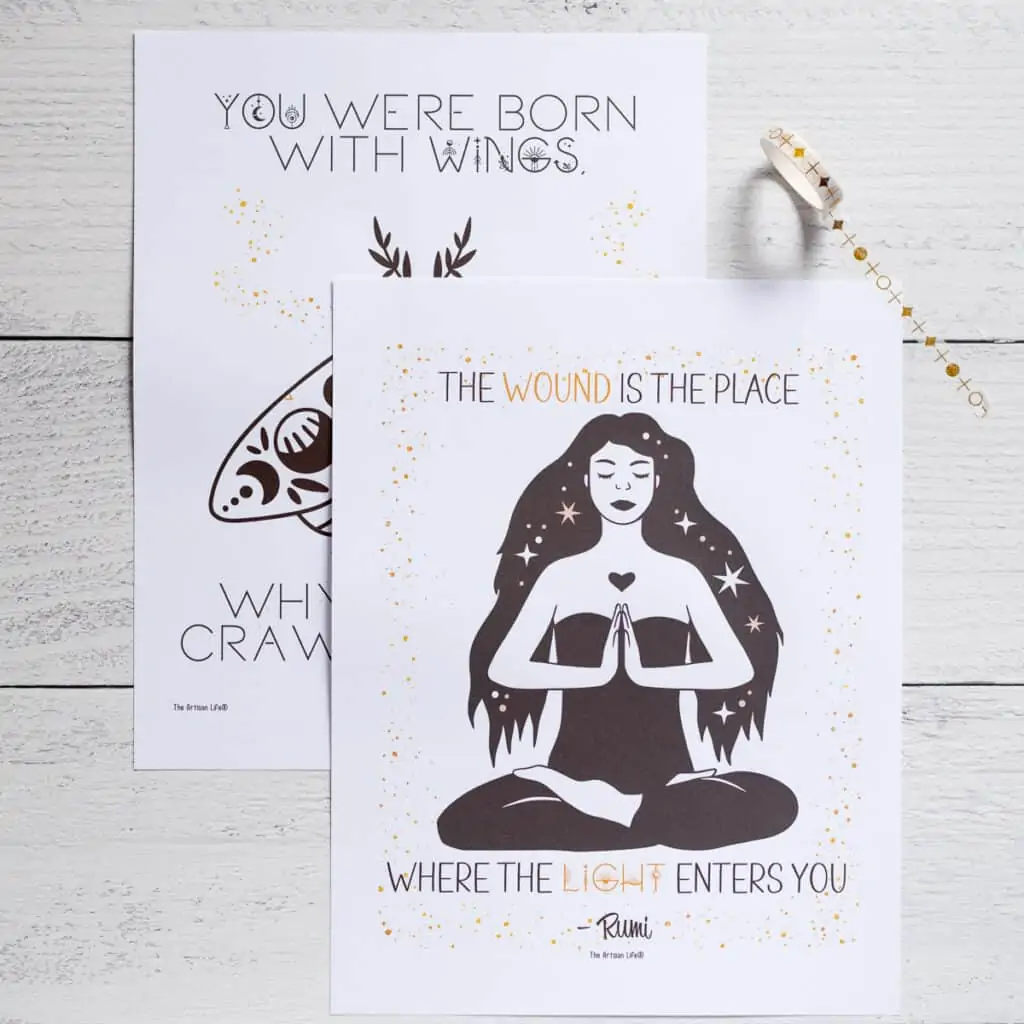 One of the fonts I used is named "Celestial" and it has the coolest ornamentations: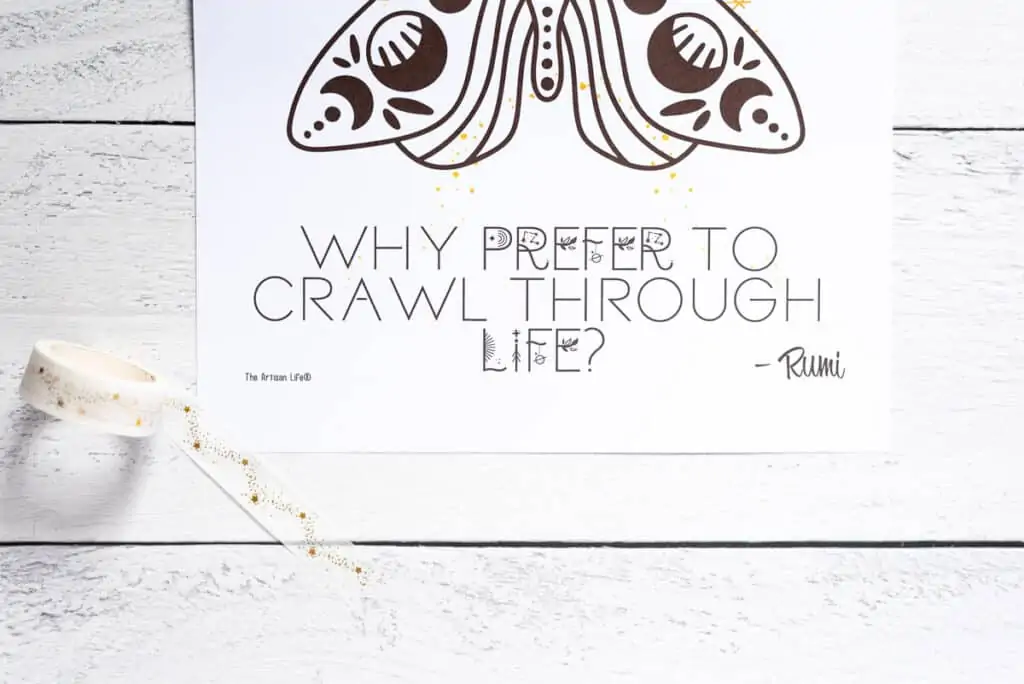 The design on each poster fits in an 8×10 area so you can place the posters in a standard 8×10 picture frame. You could also use painter's tape, poster putty, thumbtacks, etc. to hang your posters. Floating frames and hanging clipboards are also cute. It's up to you and what you want to do with your space!
Free printable inspirational posters
There are 10 posters with popular Rumi quotations:
The wound is the place where the light enters.
What you seek is seeking you.
Yesterday I was clever so I wanted to change the world. Today I am wise so I am changing myself.
You were born with wings. Why prefer to crawl through life?
Everything in the Universe is within you.
Be grateful for whoever comes, because each has been sent as a guide from beyond.
Stop acting so small. You are the Universe in ecstatic motion.
If you are irritated by every rub, how will your mirror be polished?
Moonlight floods the whole sky from horizon to horizon, how much it can fill your room depends on its windows.
When you do things from your soul, you feel a river moving in you, a joy.
The poster printables are shown two at a time to help this page load more quickly. Each sheet has its own page in your printable PDF. Download information and license terms are located below the previews.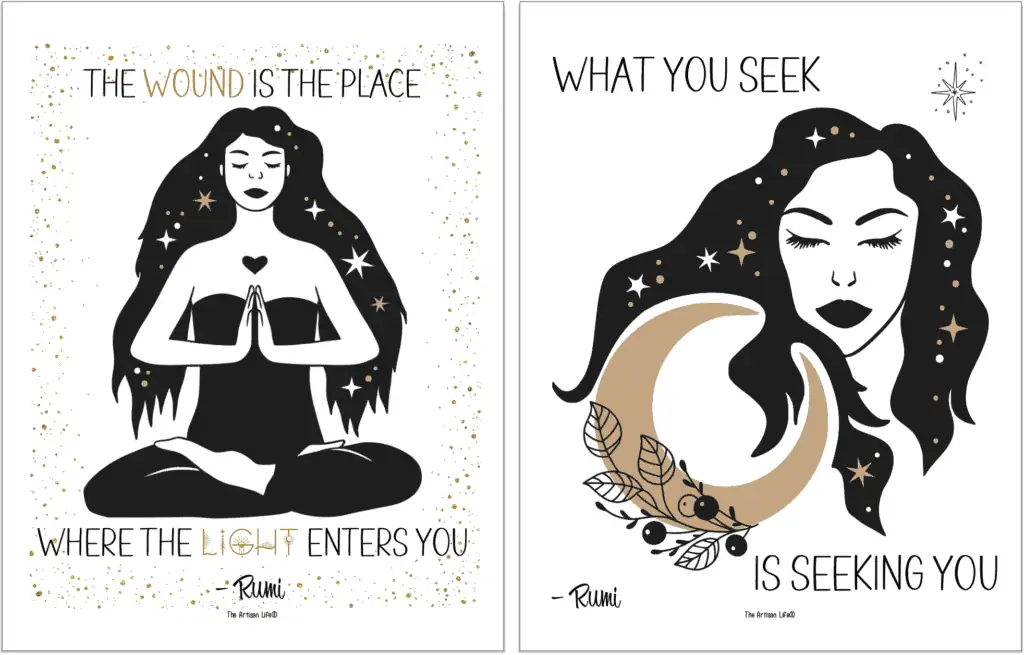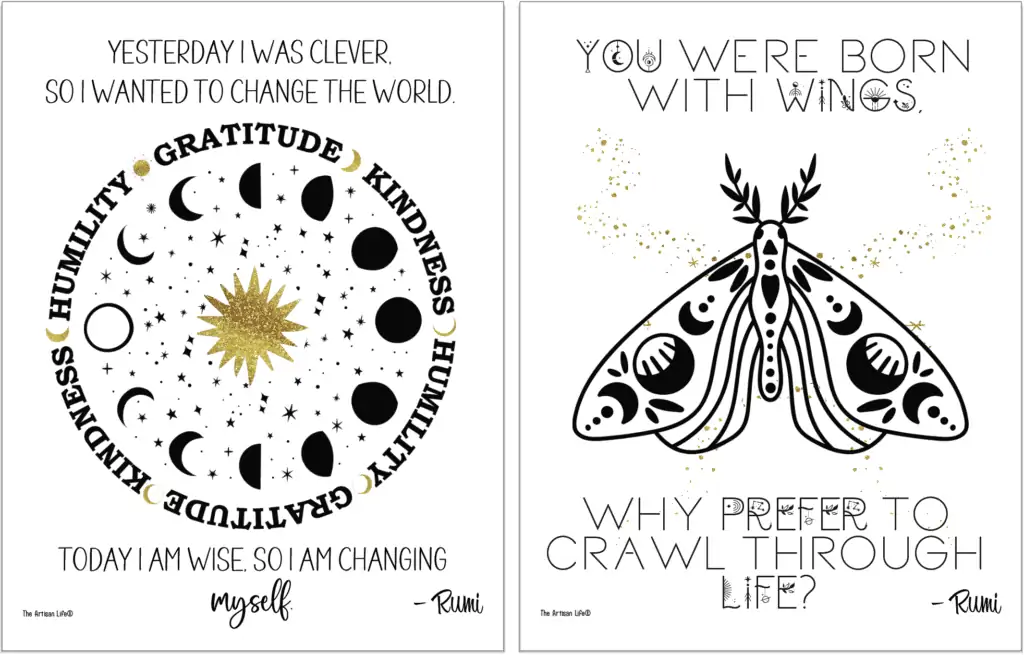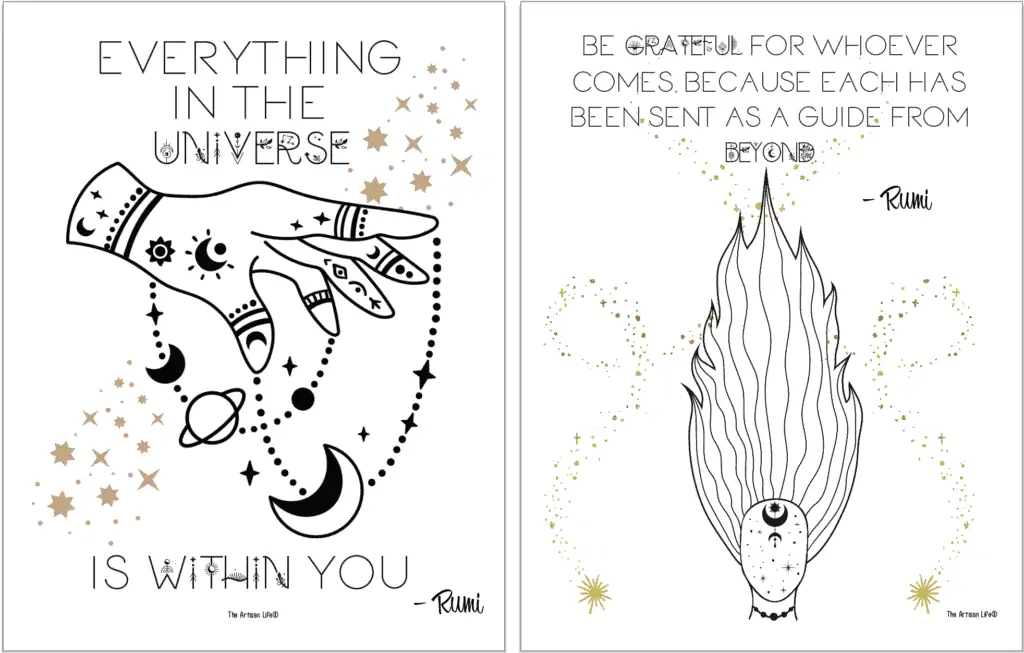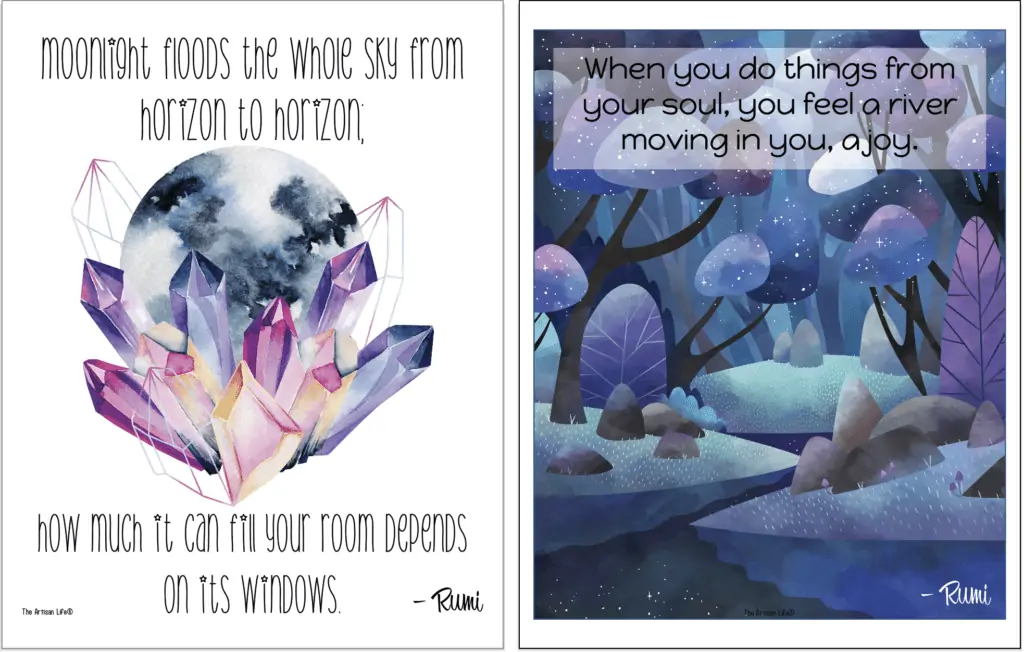 Like all printables on The Artisan Life, these posters are available for personal and classroom use. You are welcome to use them in your own personal classroom, with your Scout troop, your own therapy clients, etc. as long as you are organizing the activity.
You are not licensed to alter, sell, or redistribute the files (digital or printed) to others for their use. You absolutely are not licensed to post them for sale or download on any website. Please just send your friends and family to this page to download their own copies.
If you agree to this license, you may click below:

I hope you enjoy using these positive quotation posters! Be sure to check out these free printable coloring pages while you're here on The Artisan Life:
Free printable coloring pages
Check out more free printable coloring pages on The Artisan Life!