This post will tell you everything that you need to know about setting weekly or short-term goals, why you should write down your goals, as well as giving you a (SMART) framework to create your own goals. You can even grab your own free weekly goals planner at the bottom of the post, so make sure to scroll to the end!
I know that you're here because you're motivated and ready to take on the world…
But maybe your dreams are so big you don't even know where to begin.
Well, I've got an answer for you: weekly goals.
If you're not exactly sure what goals you'd like to set, I've also got some weekly goal ideas to help get you started! Make sure to grab your free printable weekly goals planner so you can set and achieve your goals every week.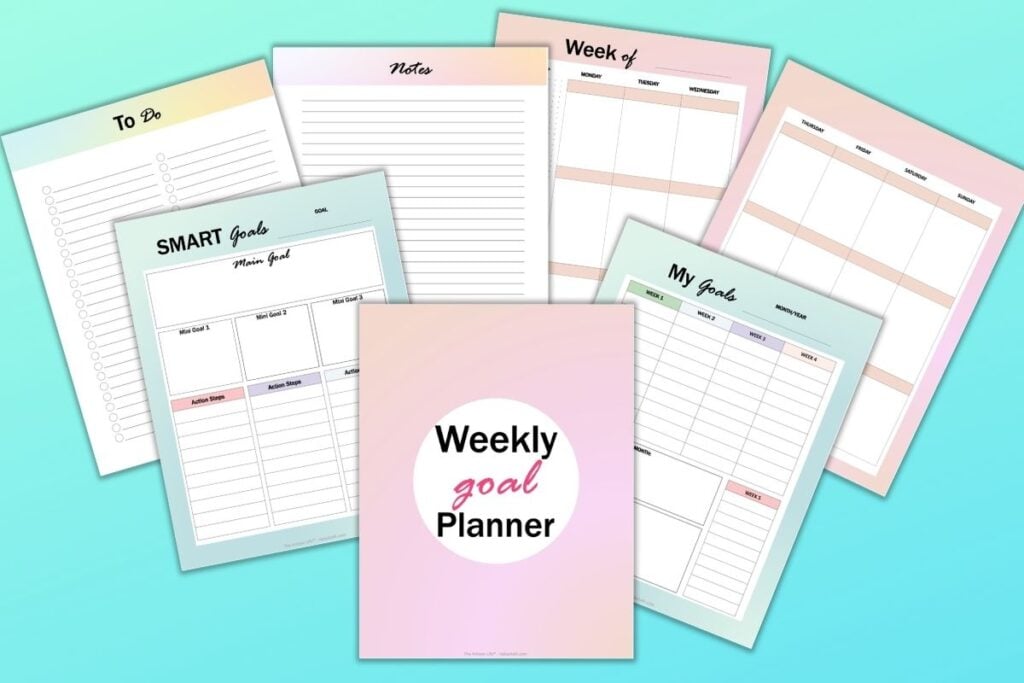 This post may include affiliate links which means I may earn a commission on qualifying purchases at no additional cost to you.
The Difference Between Aspirations and Goals
Now, when you think of a goal, you might think it sounds something like this:
I want to be healthier!
Or
I want to live in a big house!
Those sound great and they ARE great. You should definitely strive for those things if that's what you want. But, there's no clear way of getting there.
These are aspirations. Aspirations are something you want or wish you had.
Goals, on the other hand, are specific and measurable. They imply action and working to achieve, not just sitting around wishing.
There's definitely a similarity, but the difference is in the effort put forth. You can aspire to have a big house or eat healthy all you want, but it only becomes a goal once you are putting an effort into achieving it.
What is a Short-Term Goal?
A short-term is generally a goal that will take you less than one year to accomplish. Short-term goals are usually easier to accomplish than long-term goals. However, short-term goals can be a way for you to take bite-sized chunks out of a long-term goal.
Here's a few examples of short-term goals:
Cook dinner at least three times a week instead of eating out
Take a writing class
Clean the bathroom each weekend
Read every day
You may think that these goals may seem more like tasks that you have to do. And in part, they are.
Here's example of how those short-term goals can fold into long-term goals
Cook dinner instead of getting fast food to lose weight
Take a writing class to get a promotion at work
Clean the bathroom to teach your children how to clean and keep a tidy house
Read a book every day as part of reading X amount of books a year
Why You Should Write Down Your Goals
Knowing what your goals are is part of the battle, but writing them down may help you follow through with them. Researchers have found that people who write down or describe their goals in detail are between 1.2 to 1.4 times more likely to successfully complete their goals.
That doesn't seem like a huge difference, but it makes your goals tangible and encodes it into your brain, which means it will be much more likely to be remembered.
How to Set Weekly Goals
The following framework will help you to make sure that you are able to reach your goals. This framework can be used for both short-term goals and long-term goals.
SMART is an acronym generally believed to be developed by businessmen and professors, Peter Drucker, George Doran, and Robert Rubin.
S – Specific
M – Measurable
A – Achievable or attainable
R – Relevant or realistic
T – Timely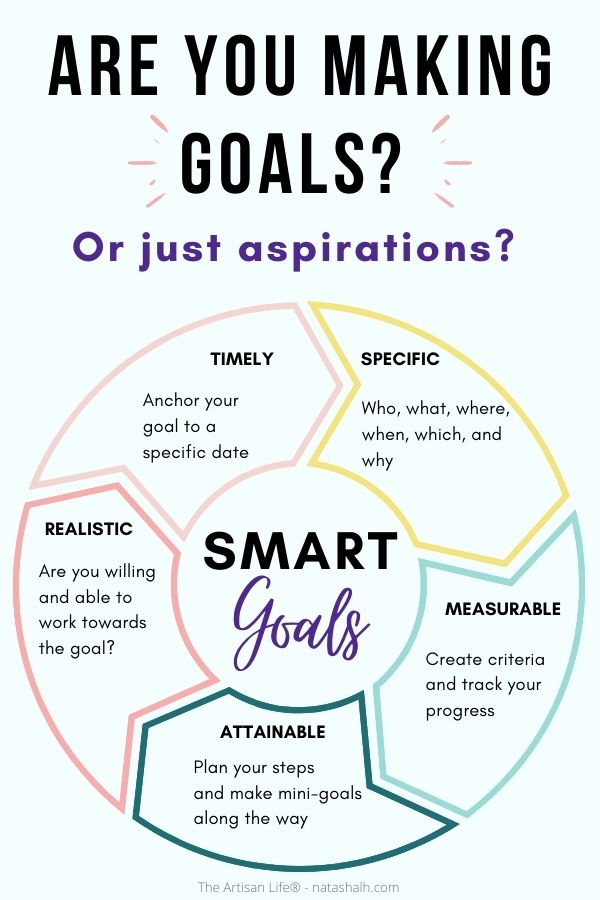 Setting Short-Term Goals: Making them SMART
We're going to walk through setting a SMART goal together. We'll use one of the examples we talked about when defining goals vs. aspirations.
So we're going to turn, I want to be healthier, into a SMART goal.
Specific – For this step, you want your goal to be clear, understandable, and specific.
For example, "I want to be healthier" is too vague. Here are some questions that you may want to answer:
What do I want to accomplish?
What is involved in accomplishing it?
Why is this goal important?
What does XYZ (in this case eat healthier) mean?
If we answer some of these questions, getting healthier may turn into I want to eat more fruits and vegetables or I want to exercise consistently.
We're going to move forward with the exercise example because working out 5 mornings a week is a big part of my daily routine. I schedule pretty much everything else around it because it's very important to me. Your goals may be entirely different.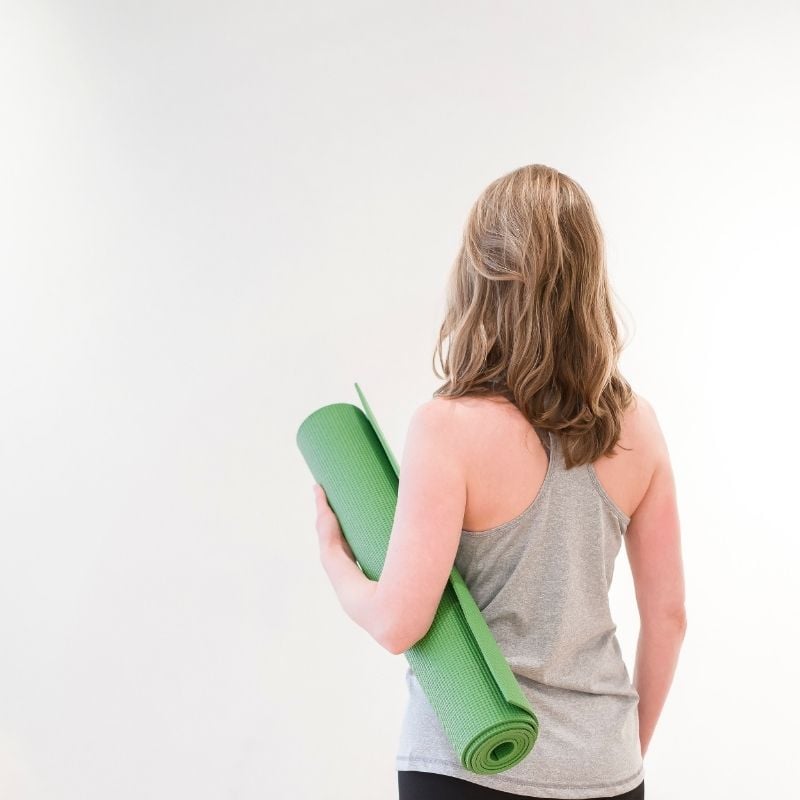 Measurable – To make your goal measurable, you want to be able to track your progress. This will help you maintain motivation for achieving your goal.
Some questions to think about for this step are:
How much?
How many?
How often?
How will I know when it is accomplished?
Revised goal: I want to exercise 5 times a week.
Achievable – When you think about your goal being achievable, you want it to be realistic but still stretch yourself. Additionally, you want to make sure that your goal is not dependent on someone else.
For example, having a goal of making your husband cook healthy food every night isn't an achievable goal. You (unfortunately!) don't have control over that. A more achievable goal could be to add a fruit or vegetable to your own meals. You also can't make him workout (Trust me, I've tried…he just gets angry), but you can control what you do.
You may need to break your goal down into mini-goals. That's okay! Make sure to grab the free printable goals planner lower in the post – it has a page for breaking your goals into action steps.
Some questions to think about:
How can I accomplish this goal?
What are some potential barriers?
Who can help me achieve this goal?
Are you currently working out at all? If you're not, going from 0 days a week to 5 day a week may not be realistic.
Revised goal: I want to exercise 3 times a week.
Relevant – When I saw that you want your goal to be relevant, I mean that you want to make sure that your goal is actually important to you. Some questions to consider:
Is this the right time?
Am I the right person to achieve this goal?
Does this match my other efforts/goals?
With these questions in mind, think about if your goal is relevant. If it is, congratulations! You're ready for the next step.
Timely – For this last step, you want to make your goal time-bound. If your goal isn't timebound, you may feel like there is never an end in sight. Give your goal a deadline to help prioritize both your everyday tasks AND your long-term goals. Here are some questions to consider:
When do you want to meet your goal?
Where do you want to be a year from now?
What daily tasks can support my larger goal?
Because this is an article on weekly goal ideas, we'll focus on setting a weekly goal.
Revised goal: I will exercise for at least 20 minutes 3 times a week.
Now that you understand the SMART framework for setting goals, let's get into some examples of weekly goals that you can try if you're not sure where to start. Make sure to keep scrolling for your free printable weekly goals planner, too!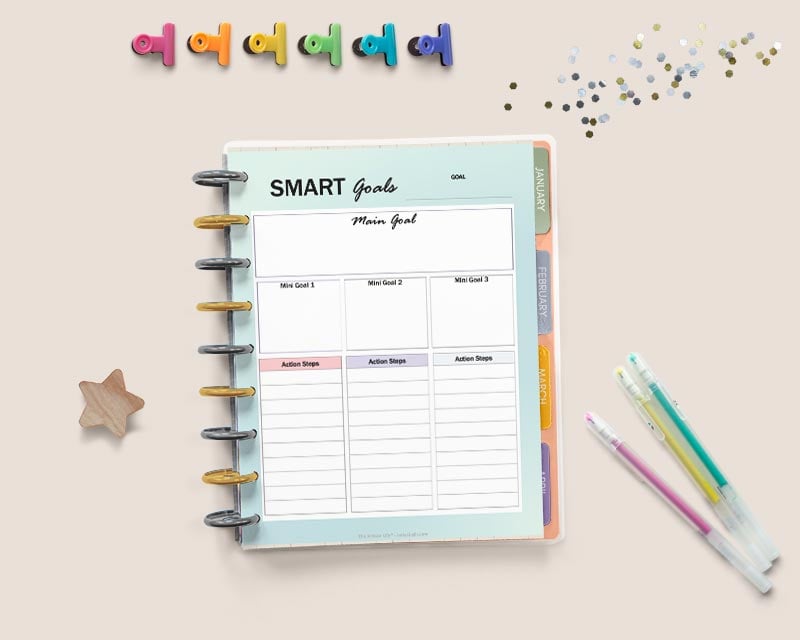 Weekly Goal Ideas
As discussed above, these weekly goals can be daily habits or something that you only do a few times a week. They can also be stepping stone to a larger, monthly or annual goal.
It's easier to add something on than take something away, so instead of taking away a "bad habit", add one of these.
Remember to make these goal ideas SMART! These are just basic ideas – they need to be customized to your specific needs and desires.
Weekly Goals For Physical Health
Exercise
What you do when you exercise is super personal so find an exercise routine that works for you. Some people prefer to refer to this as "movement" instead of exercise. It can include anything from walking, yoga, or playing with your kids outside to more traditional "exercises" like running or weightlifting.
Drinking water instead of juice or soda
There's a lot of talk of the 8 glasses of water a day, but a 2004 review found that this isn't really backed up by science. Say what?! (source)
This means you don't have to stress over tracking exactly how much water you drink a day (hooray!), but drinking water is still important. If you drink lots of soda, juice, sports drinks, or other non-water beverages, switching one or two servings a day may improve your health and finances.
No hitting the snooze button
My husband is a snooze button junkie. Do the extra 10 – 15 minutes of sleep really help? Maybe. I personally can't fall back asleep after my alarm, so I just lie there stressing and waiting for the snooze to get off. I always feel better when I just get out of bed without hitting snooze. Give it a try for yourself.
Go to bed at a reasonable time/get 8 hours of sleep
If you're getting 8 hours of sleep (or the amount of sleep that your body needs) you won't need to hit the snooze button every morning.
I know getting to sleep can be difficult – I've had insomnia for most of my life. If you have trouble falling asleep, try doing a brain dump before bed to help you unwind.
Meal planning and/or meal prep
Meal planning can be a great way to have less stress around meal time AND to eat healthier. When you prepare food ahead of time for the week you can also save a lot of money.
Begin a skincare routine
Your skin is the largest organ in your body and needs to be taken care of. And not just the skin on your face! Take some time to think about how to nourish your skin and make it a goal. I recently started using a dry brush and it's really helped the skin on my arms and legs.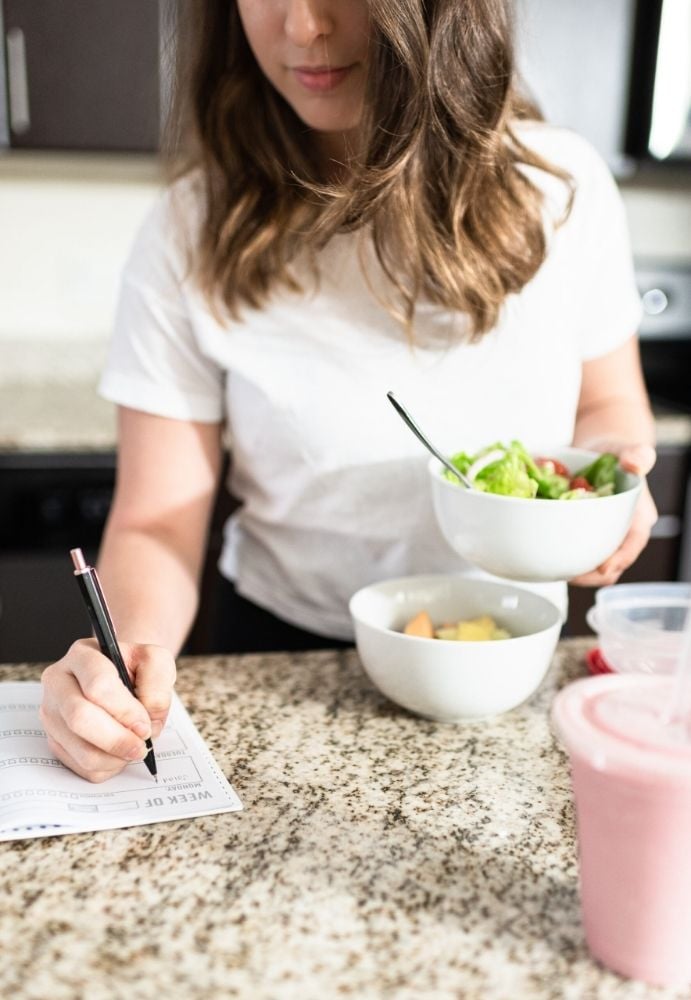 Weekly Goals for Mental Health
Limiting screen time
This includes all screens: tvs, tablets, phones, e-readers, etc. What could you do if you spent less time staring at your screen? This would be a great family goal as well.
Do a social media detox
This is similar to reducing your screen time, but with this goal, you're specifically limiting your use of social media. You can try limiting it to the platform (Twitter, Facebook, Instagram, etc) or limit the amount of time. You'll feel much better. Trust me.
Journaling
Journaling can be a wonderful way to get to know yourself and to get your thoughts out. One of my favorite ways to journal is to do gratitude journaling. Get started with these gratitude journals.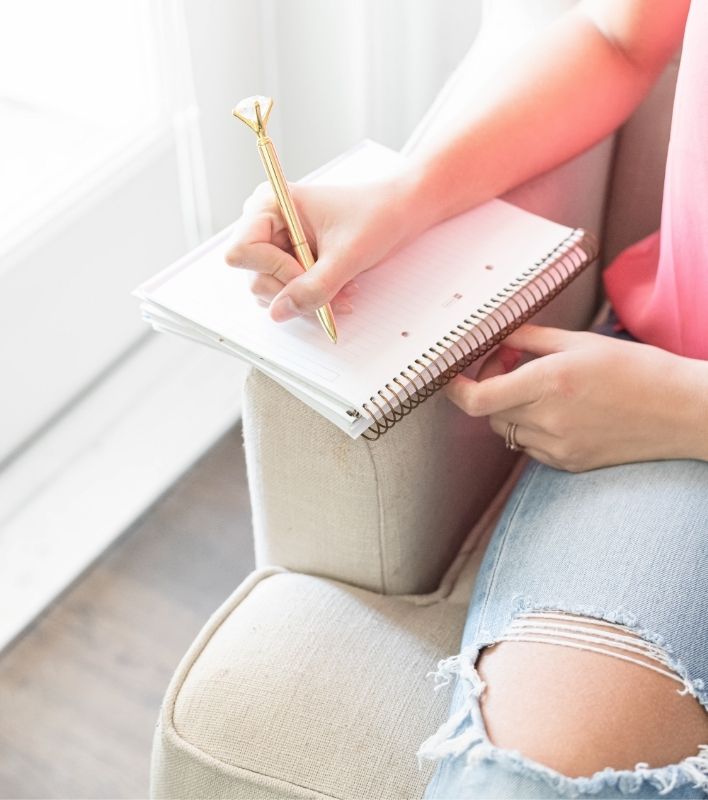 Decluttering
Decluttering has done wonders for my mental health. Someone once told me that you can't move forward until you let go of the past. This definitely includes clutter that you've collected over the years.
Plan a date night
Connecting with your significant other at least once a week is extremely important for your relationship as well as your own mental health. If you're single, plan a date night with yourself!
Weekly Goals for Financial Health
No spend challenge
The no spend challenge is super simple in theory. All you need to do is not spend any money on anything "extra". Things you need to live: groceries, utilities, rent, etc don't count.
Use the envelope system
The envelope system is a cash system where you put all of your money into envelopes that the money corresponds to. Cash for groceries goes in the groceries envelope. Cash for rent goes in the rent envelope etc. Once the cash is gone for that envelope, you stop spending in that category.
Evaluate one bill or subscription
If one of your long-term goals is to save money, evaluate what bills you can lower or subscriptions you can cancel. Do you need Netflix, Hulu, and Amazon Prime? (If you're not even sure what your monthly payments and subscriptions are, make sure to check out these free printable bill trackers.)
No fast food/eating out
This can go along with meal planning or be separate. Fast food, while convenient, is often more expensive than if you made the same thing at home. Save money and grill up some burgers.
Check for banking fees
You may notice that you get charged a checking account fee from your bank every month. Find out what you need to do to make sure you don't get hit with this fee. There are too many free banking counts available to waste your money with companies who charge you a monthly fee!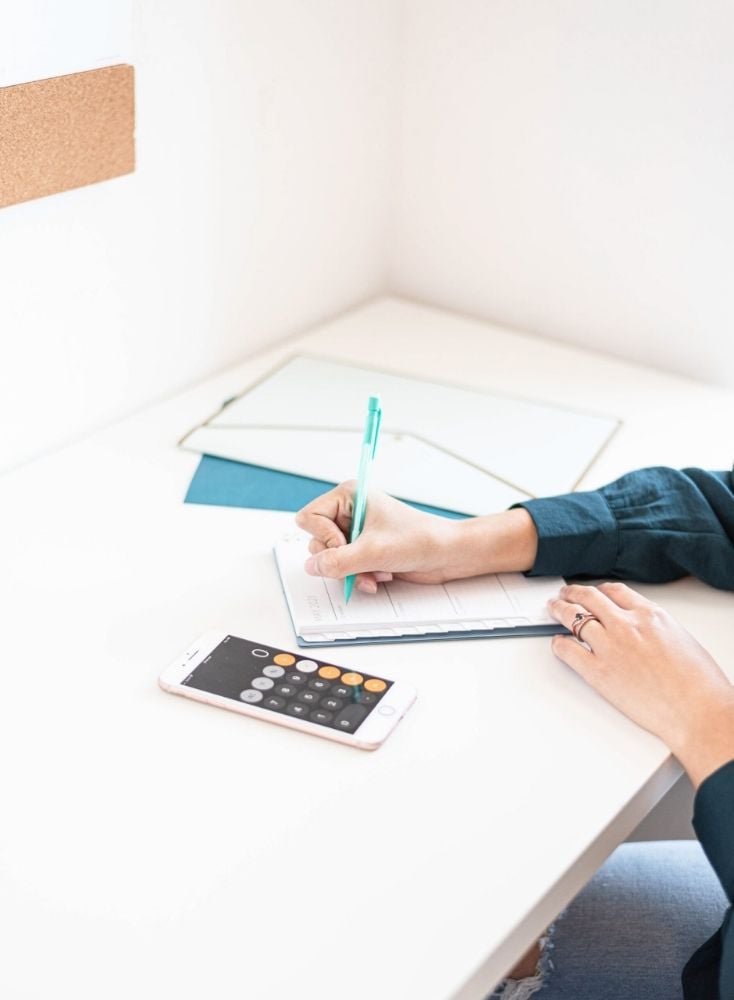 Weekly Goals for Spiritual Health
Start meditating
Meditating is a simple practice that can bring many wonderful benefits. Meditating doesn't mean that you have to sit with your eyes closed for an hour. Start with 5 minutes and see how you feel.
A guided meditation is a great way to start mediating. Try this guided meditation to shift your energy and raise your vibration. You'll feel fantastic afterwards!
Do a random act of kindness
One of the tenets of many religions and spiritual practices is connection. What better way to connect with someone else than doing a random act of kindness?
Almost anything you can think of can be a random act of kindness like mowing a neighbor's lawn or paying for someone's lunch. Even something simple like paying someone a sincere complement can make a huge difference in their day. Make sure to check out how to give a meaningful complement here.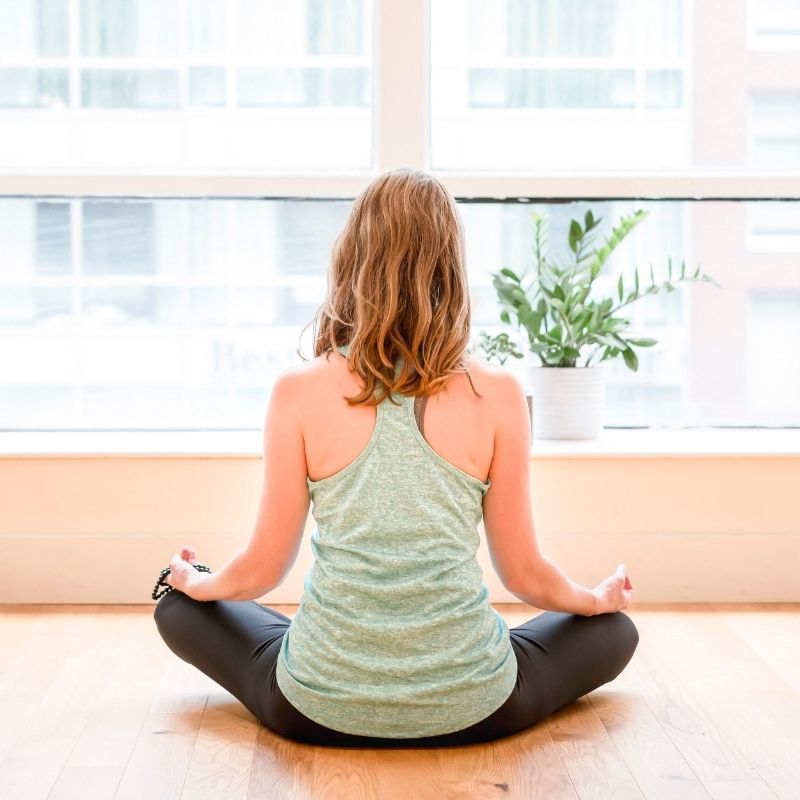 Get out into nature
Spending time outside has numerous benefits, and you don't even have to go on a brisk walk to receive them!
Have you heard of the Japanese concept of "forest bathing?" Immersing yourself in nature has many proven health benefits like reducing stress and improving cardiovascular health. (source)
Going outside is a simple, free way to do your body and mind a huge favor.
Pray (or say positive affirmations)
Both prayers and positive affirmations can be uplifting as well as help you to get into a more positive mindset. Learn how to write your own positive affirmations that work.
Now that you've gotten some weekly goal ideas and the SMART framework, you're all set on creating some goals that you can achieve this week!
To track all of these new goals, check out these free habit trackers.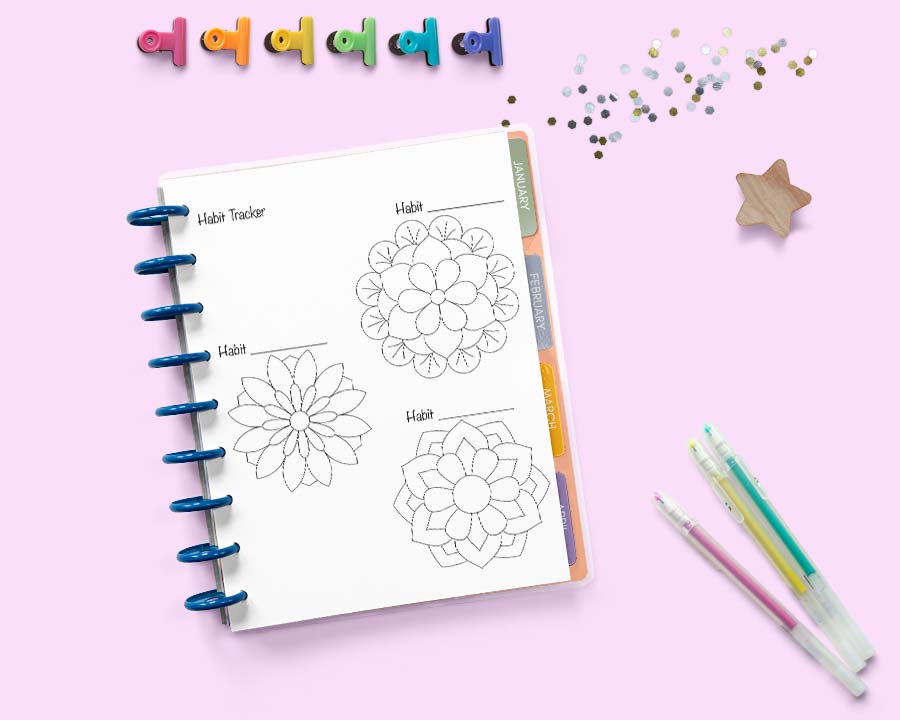 Free printable goals planner
Alright, let's take a look at your goals planner!
Like all free journaling and planner printables on The Artisan Life, this is for personal and classroom use. You are welcome to print and use it as many times as you'd like and share it with your students, therapy clients, or other group activities you are personally organizing as long as you're not charging specifically to use the printable.
Please do not redistribute the files to others for their personal use. Just send them to this post so they can download their own copies.
This planner is available in US letter and Happy Planner Classic size.
You will need to unzip the compressed file to access your PDFs. Many computers already have a file extraction tool installed (it's free on every Mac out of the box). For Windows, you can download the program 7zip for free or or use EzyZip to decompress files online for free.
The planner has 7 pages:
A cover page
Monthly goals at a glance
Two week page spread
Smart goals & mini-goals
Notes
To-do list
Make sure to use the correct paper if you want your printables to look their best. I used up my ink so you don't have to in order to test five different papers and demonstrate the best paper for planner printables.
You can see a quick preview of the pages in the video below:
The colors are a great match with this free printable homeschool & distance learning planner, so make sure to grab those printables, too. You can also find additional free printable to do lists if you want more options.
These planner pages are free for Artisan Life family members. Not a member yet? Let me know where to send your files using the box below! If you're already an Artisan Life subscriber, use the same email address you've previously signed up with.
Let's go out and reach some goals!
Planner & Journal Printables
Looking for more planner and journal printables? Check out these freebies on The Artisan Life!