This free winter I Spy printable has four different versions so you can pick the correct level of challenge for your child!
A printable I Spy game is the perfect way to keep your kids busy and learning on a cold winter day! These printables are easy, no-prep activities for your kids or classroom, plus they're fun and educational. It's a real win-win!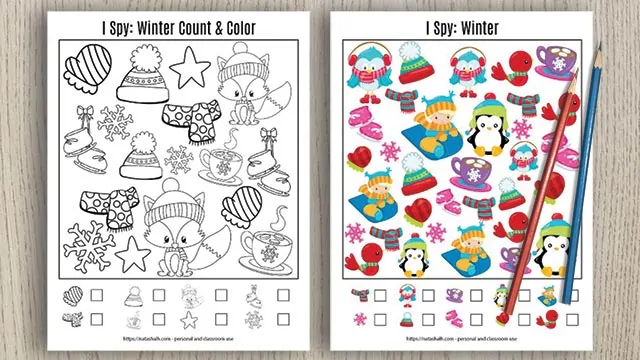 Benefits of playing I Spy
Playing I Spy with a printable can help your child develop important skills. Some of the benefits of playing I Spy include improving your child's:
Visual discrimination
Counting
Concentration
Handwriting and fine motor skills
Because of increased use of technology, children are entering school with worse fine motor skills and weaker fingers. This means they may not be able to write well, cut with scissors properly, or perform other important tasks.
Using games like these I Spy printables can help your child work on their pencil grasp, practice writing numbers, and improve other fine motor and pre-writing skills. For example, you can have your child circle or cross out pictures once they've been counted aloud, even if they aren't writing numbers yet.
The toddler/preschool version of the worksheet is a "count and color" printable. Coloring gives your child the opportunity to practice their pencil (or crayon!) grip and improve finger strength.
How to play winter I Spy
This post may include affiliate links which means I may earn a commission on qualifying purchases at no additional cost to you.
These printables are so easy to use!
Materials needed:
Your free printables (see below for download links)
Paper. I recommend using presentation paper or cardstock.
Laminator or dry erase pockets, optional but makes your printables reusable.
Pens, pencils, crayons, or markers. I love the Crayola Twistables crayons because they don't require sharpening and there's no paper to peel off and eat! (Please tell me it's not just my child who does that…)
I love printing everything on presentation paper. It's a heavyweight paper with a special coating that makes images crisp and vibrant. If I'm going to use my color ink, I want everything to look it's best!
The difference is more obvious in real life, but the mermaid bingo card on the left was printed on presentation paper. The bingo card on the right was printed on regular cardstock. They were printed on the exact same printer on the same day.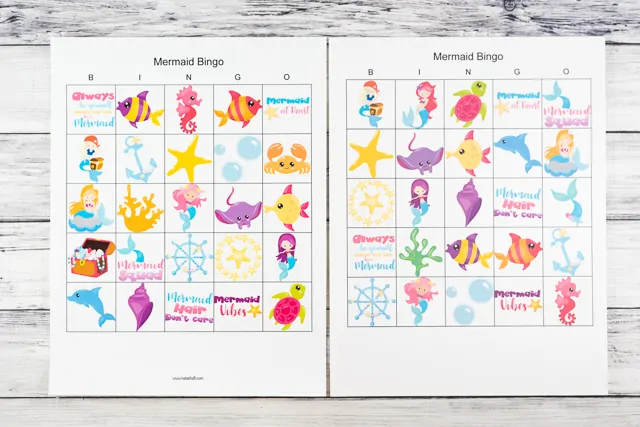 I laminate virtually everything with my home laminator. This makes the printables reusable. You may be surprised by how many times your child wants to do the same activity! You can store this winter printable with your seasonal items or in a file folder and pull it out again next year. Laminating the printables also means you can use them for activity centers in a classroom without having to print a jillion copies.
If you don't want to laminate, you can use dry erase pockets, instead. Dry erase pockets are essentially heavy-duty page protectors. They only downside is that your child may remove the printable from the pouch and write on it, anyway.
Free printable I Spy for winter
These games are free for personal use, including in your own classroom (or with your own scout troop, Sunday school class, etc.).
Please do not redistribute the digital files or printed copies to others for their use. Simply send them to this page so they can download their own copies!
Don't print the images – they're low resolution previews that will look horrible if printed. Please use the download links to get the high resolution PDFs from Dropbox. I've highlighted each download link with a grey rectangle to help you find it!
Easy winter I spy for toddlers and preschoolers
First we have an easy version of the printable. Each picture is included twice. It's perfect for toddlers (with assistance) and preschoolers. My daughter loves showing off her ability to count to two!
Download the easy Winter I Spy game here
Winter I Spy – medium
Next there's a "medium" difficulty I Spy. Each image is included 3-4 times.
Download the medium I Spy for winter here
Difficult winter I Spy printables
People have been asking for a difficult I Spy printable, too, so here it is! To make it even more challenging, don't let your child circle or cross out pictures they've already counted.
Download the difficult winter I Spy here
Winter count & color worksheet
The pictures in the winter count and color worksheet are slightly different. Since it's for younger children (toddlers with assistance and preschoolers), there are only 8 pictures to find. This also helps make sure the pictures in the puzzle are actually big enough to color!
Download the winter count & color worksheet here
Winter printables and activities
Need more winter printables and activities to keep your kids busy on a cold day?