These super cute free printable winter animal color pages are low-prep fun for a cold winter day indoors!
The designs are perfect for children and adults who want a simpler page to color. Most designs feature a cute winter animal with a doodle frame, but several have a more detailed winter background to color, too. Keep scrolling to download 20+ cute winter animal coloring sheets for free.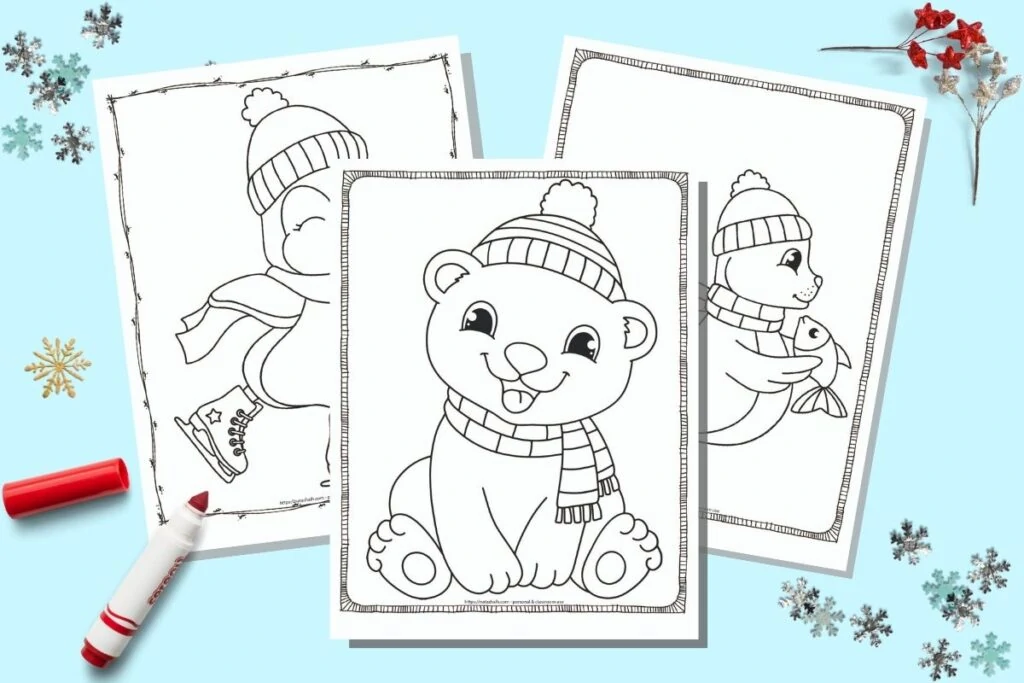 This post may include affiliate links which means I may earn a commission on qualifying purchases at no additional cost to you.
For a fun coloring experience, try coloring with gel pens. Gel pens are vibrant and glittery, but they're also a way to explore your artistic side. Many gel pens are bendable so you can create your own colors and blends across the page. My husband loves coloring with gel pens, so I put together an entire post on the best gel pens for coloring based on his recommendations.
Crayola Supertips are affordable and surprisingly versatile markers for adult color and children's coloring. They're another favorite at our house.
Crayola Super Tips Markers, Washable Markers, 10Count, Assorted
CRAYOLA SUPER TIPS: With 10 classic colors to choose from, Crayola Super Tips Washable Markers are great for coloring, drawing & art projects. The...
VIBRANT ART TOOLS: Crayola Washable Super Tips Markers are kids markers that let your little one color, draw, or work on art projects in 10 classic...
WASHABLE INK: From washable markers & Washable gel pens to washable crayons & Washable paints, we'll help keep your creative kid clean & creative with...
And, lastly, trusty crayons are always fun for kids to color with. Lately we've enjoyed these Honeysticks beeswax crayons. If your child is frustrated by crayons with barely visible color that hardly write, at all, check out Honeysticks. They have rich, vibrant colors and smell great because they're made from pure beexwax. No more stressing about your child putting sketchy Dollar Store crayons in their mouth again!
Sale
Honeysticks Natural Beeswax Crayons - Classic Crayon Size and Shape for a...
100% PURE BEESWAX AND FOOD GRADE COLORS FOR PEACE OF MIND: Handmade in New Zealand using 100% Beeswax and Food Grade Pigments for Color. Free from the...
CLASSIC SIZE THAT IS DURABLE AND ERGONOMIC - At Honeysticks, we understand that children develop pencil grip at their own pace. We have developed a...
8 EXCITING COLORS TO STIMULATE CREATIVITY - Your child will love expressing their inner artist with an exciting range of 8 Colors. These handmade...
Cute animal coloring pages for winter printables
Like all free printable coloring pages here on The Artisan Life, these are free for personal and classroom use. This includes use with homeschool co-ops, scout groups, etc. as long as you are not charging specifically to participate.
You are not licensed to redistribute the files or printouts to others. Instead, please refer your friends and coworkers to this page so they can download their own copies.
Free download links are located below each preview image. The font is bolded and made larger to make it easier to find. The links should open in a new tab and begin downloading immediately. You may need to authorize DropBox if a dialogue box appears asking for permission.
Don't worry – the purple watermark does not appear on your PDF. Any off colors or blurriness are the result of image compression so this page loads more quickly. The PDF coloring pages are high resolution and completely black/white.
Download one or download them all! I hope you enjoy.
Save valuable time when you snag all 21 coloring pages in one handy file for the very low price of $1.29!
(Keep scrolling past the widget for the individual freebie download links.)
Free printable winter animal coloring pages for kids
Alright, here you are the freebies link section.
As a quick reminder, please use the download links below the image to get your file and remember to accept DropBox downloads if prompted for permission. If you have any trouble, please leave a comment at the bottom of the post letting me know which page(s) you're having difficult accessing and I'll be happy to help you!
Cute penguin with snowball coloring page
Cute seal on a sled coloring page
Sledding penguin coloring page
Ice skating penguin coloring sheet
Seal with snowflake and winter scene coloring page
Seal with snowball coloring page
Seal on an iceberg coloring page
Polar bear with a small snowball
Polar bear with hot chocolate coloring sheet
Cute seal with a fish coloring page
Seal in a sweater coloring page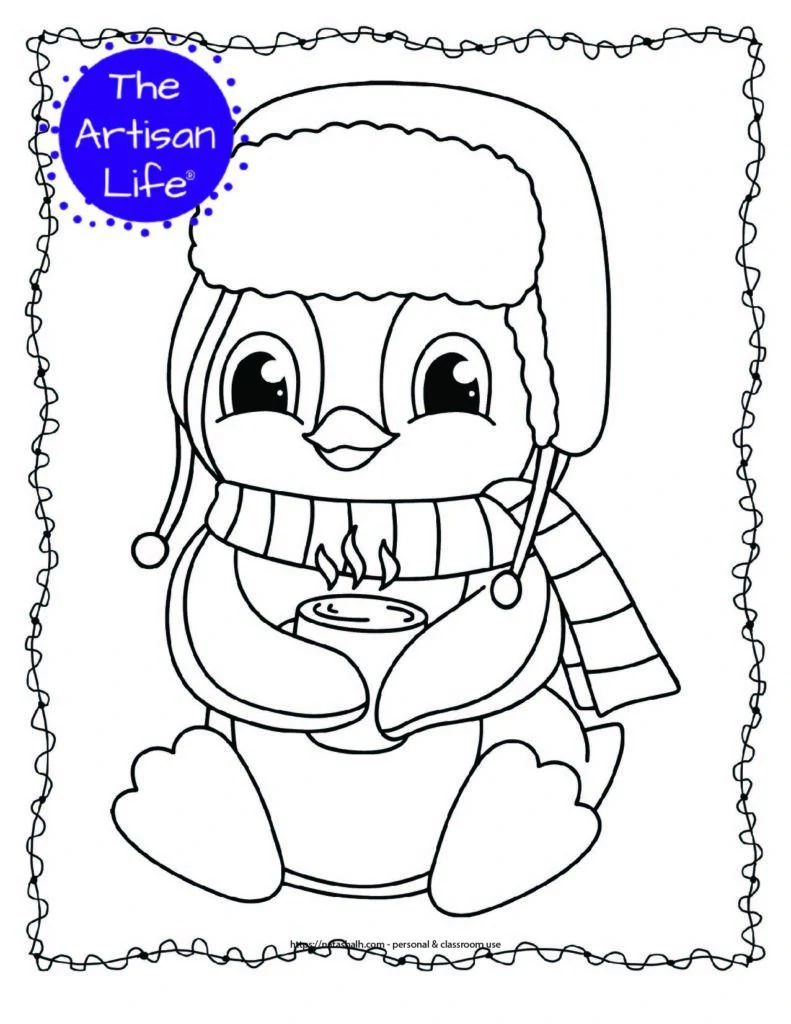 Penguin with hot chocolate coloring sheet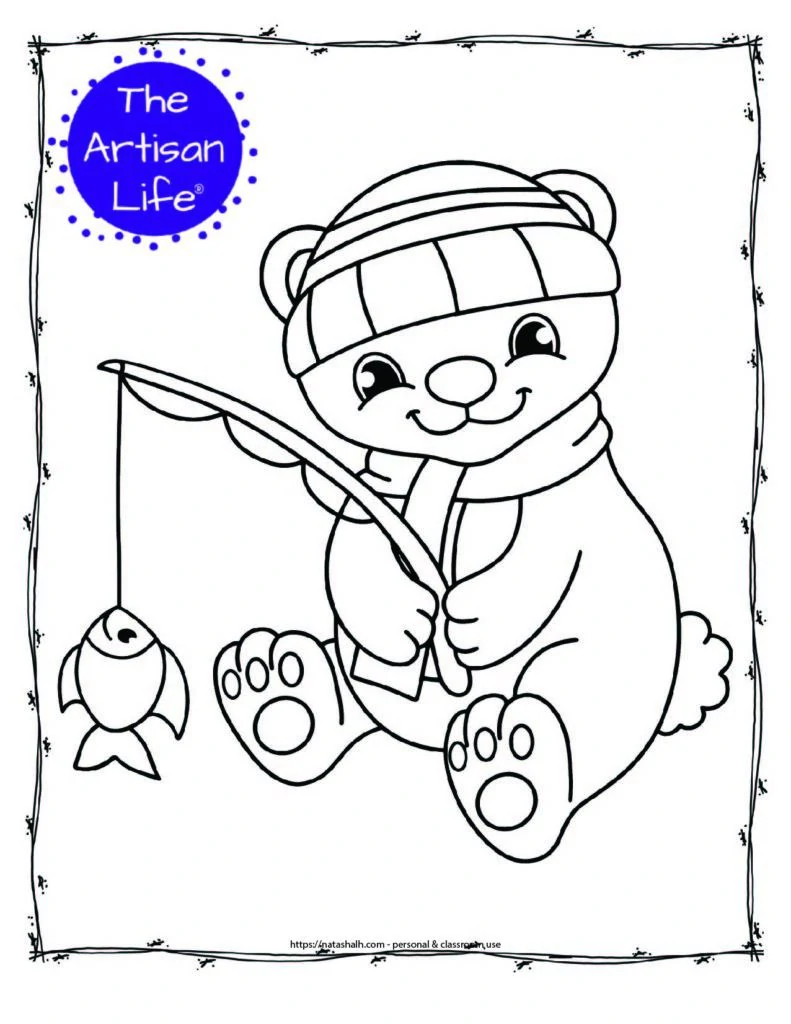 Fishing polar bear coloring page printable
Cute baby penguin in a sweater coloring page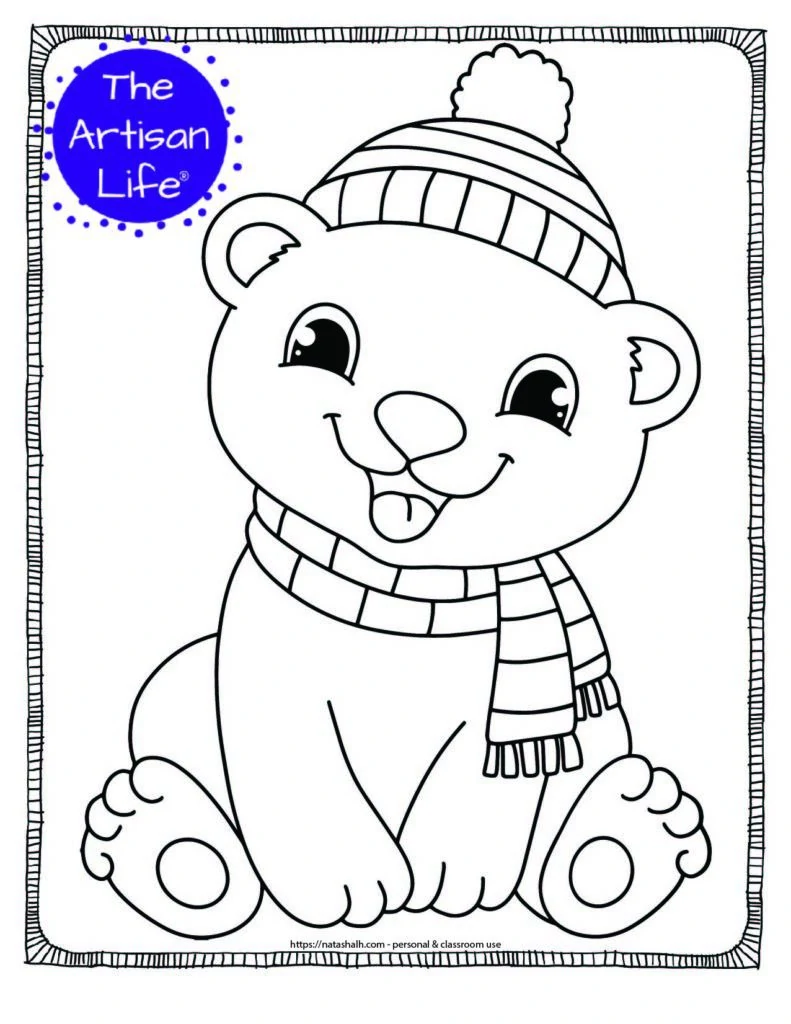 Cute baby polar bear coloring page
If you're looking for more low-prep winter activities, be sure to snag these other free printables:
Winter printables and activities
Need more winter printables and activities to keep your kids busy on a cold day?