These Polar animal picture bingo games are so much fun as part of your Arctic unit or as low-prep family fun on a cold winter weekend. Download sets of 4 or 10 for free or grab a very low-priced classroom set of Arctic animal bingo boards.
While sometimes call these Arctic animal bingo boards, not all of the animals are truly Arctic since penguins live at the South Pole. Because they're frequently included in winter units, I went ahead and included them here, too. To be more precise, introduce these as polar animals or winter animals. The bingo cards, themselves, have "polar animal" written on the top. Please note that these are cartoon animals, not photos.
If you'd prefer a more general winter bingo game with snowmen, sledding, etc., please stop by this post with free printable winter bingo cards.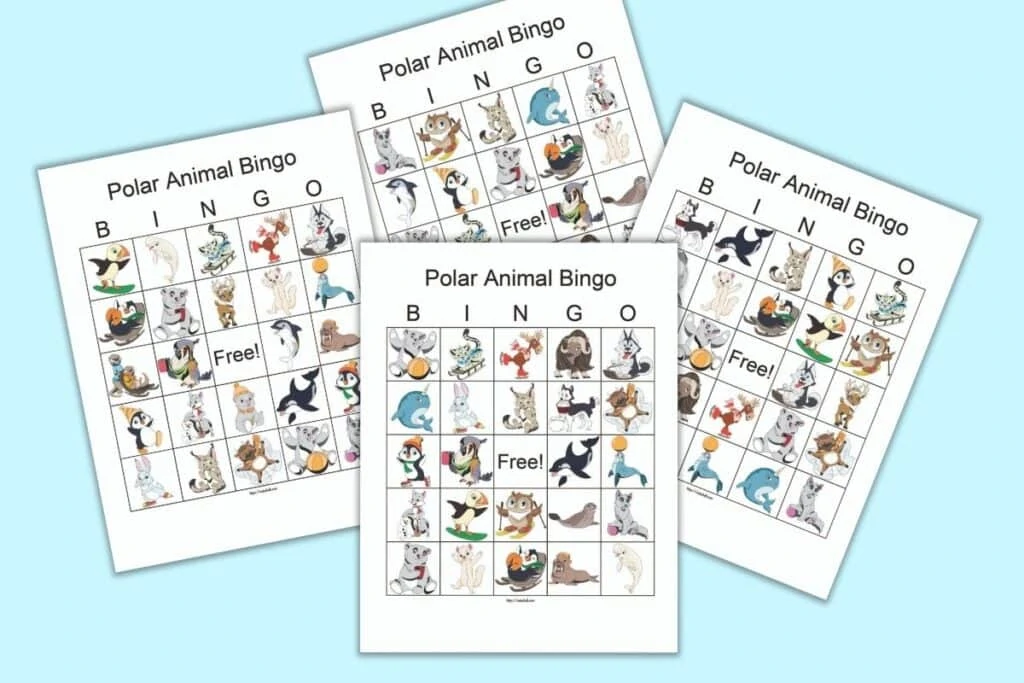 For more low-prep winter fun for kids, please see this post of winter printables. These are a few favorites with preschool and kindergarten ages children:
This post may include affiliate links which means I may earn a commission on qualifying purchases at no additional cost to you.
How to play picture bingo
Picture bingo is an easy, no-prep way to keep your kids occupied or enjoy some screen-free family fun time together. It's also great for classrooms, after school programs, scout groups, and even senior nights. I've received many comments and emails from readers telling me how much assisted living residents they work with enjoy playing picture bingo.
Picture bingo is fun, plus it's a brain booster. Since some of the images in this "Arctic" animal bingo game are similar, players need to pay careful attention. Is there any parent who doesn't want their child to practice paying attention and noticing details?
You can use these bingo cards in a more traditional way by cutting out the pictures on the call list sheet, placing them in a bag, and drawing them randomly.
Make sure to print the two pages of call cards at the back. There are 30 total animal images, but only 24 appear on each card. Don't print an extra card and cut it up or you'll miss 6 of the images!
You can save some time cutting out tiles by giving the call sheets to an adult and having them 'randomly' call out images. This means fewer pieces to cut out and keep track of.
For study, pretty bingo cards, print on bright white 32 lb paper. The paper is sturdier than 'normal' copy paper and brighter for cleaner, more vibrant images. For a comparison of several papers, including cardstock and the 32 lb paper, please see this post on the best paper for printables.
HP Paper Printer | 8.5 x 11 Paper | Premium 32 lb | 1 Ream - 500 Sheets |...
Made in USA: HP Papers is sourced from renewable forest resources and has achieved production with 0% deforestation in North America.
Heavyweight premium printing: HP Premium32 is a heavyweight (32 pounds), brighter (100 bright) and whiter (163 whiteness) paper with a super-smooth...
Certified sustainable: HP Premium32 presentation paper is Forest Stewardship Council (FSC) certified and contributes toward satisfying credit MR1...
For repeated play, laminate the sheets or place them in a dry erase pocket or page protector. Dry erase pockets are like page protectors, but sturdier.
If you use page protectors, I recommend heavyweight "secure" page protectors with a flap on top to keep the page from slipping out. They're not quite as sturdy as dry erase pockets, but they're a fraction of the cost and work very well. These are the ones we personally use:
Sale
Avery 76000 Secure Top Sheet Protectors, Super Heavy Gauge, Letter, Diamond...
Keep contents secure in the protective sleeve with convenient top flap; perfect for holding nonstandard size papers and important items
Get a crisp, clear view of the contents of your documents with diamond clear page protectors featuring a polished finish for high clarity
Ensure your documents stay protected with long-lasting super heavyweight sheet protectors for all of your frequently referenced items
You can use objects like counting bears or math link cubes to mark called images.
Or, of course, you can use ever-popular dot markers to mark cards for one-time use.
Do A Dot Art! Markers 6-Pack Rainbow Washable Paint Markers, The Original...
🇺🇸MADE IN THE USA. Designed and manufactured in our own factory guaranteeing that you are getting the best product without the risk of unknown...
👍EASY TO GRIP BOTTLE FOR LITTLE HANDS: With generous 2.5 ounce bottles. Do A Dot Art makers have more paint per bottle than other dot markers. Just...
🧒FUN ART MEDIUM FOR CHILDREN OF ALL AGES: Do A Dot Art markers have a PATENTED large sponge tip dauber engineered to be mess free, never dry out,...
Polar animal picture bingo printables
Like all picture bingo games on the Artisan Life, these are for personal and single classroom use. You are welcome to print and use them as many times as you'd like with your own children, students, therapy clients, etc.
You are not licensed to share the printouts or digital files with others for use with their students/children. Please just send your friends and coworkers to this post so they can download their own copies!
There are four different sets of bingo cards. All are unique and can be combined:
Set of 50 winter animal bingo boards for a large group
Classroom set of 25 Arctic animal bingo cards
10 free printable polar animal bingo boards
4 free printable Arctic animal bingo cards
Please keep scrolling to find the set(s) you want.
Set of 50 Arctic animal bingo boards
First we have the set of 50 cards. This set is perfect for winter school celebrations, Scout meetups, and even senior centers.
Classroom set of 25 winter animal bingo boards
Free printable set of 10 polar animal bingo cards
Larger families and smaller groups love this set of 10 free printable bingo boards! Combine them with the set of 4 listed below for 14 unique cards. This set is great for small Scout troops, homeschool groups, and more.
Use the box below the preview image to let me know where to send your bingo cards and they'll fly across the internet & into your inbox.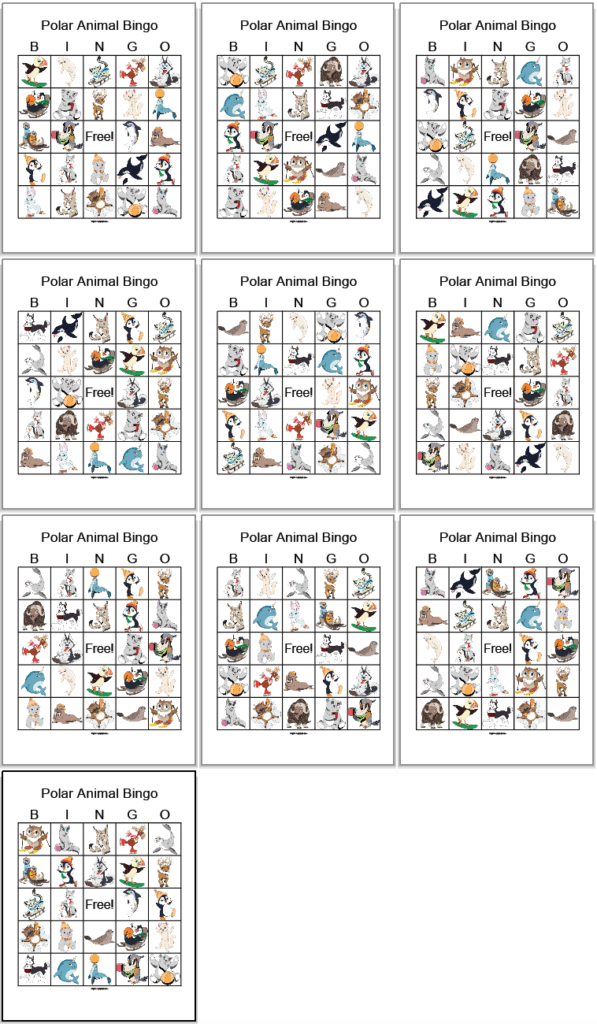 Free printable set of 4 Arctic animal bingo cards
Last but not least, we have the set of four free printable Arctic animal bingo cards for families.
This set is perfect for smaller groups and families. There's no email address required – simply click the link below the preview image. It should open in a new tab and begin downloading automatically. You may need to authorize downloads from Dropbox if a box appears asking for permission.
I hope you enjoy playing polar animal picture bingo! Be sure to check out these additional free printables for winter here on The Artisan Life:
Winter printables and activities
Need more winter printables and activities to keep your kids busy on a cold day?