Do you want to start bullet journaling, but don't know what notebook you need or how to set up your notebook? You've come to the right place! Discover the basics of bullet journaling, what pages to include in your bullet journal, and some of the best bullet journal notebooks.
After reading this post, you'll be ready to start a new bullet journal with confidence, even if you've never journaled before.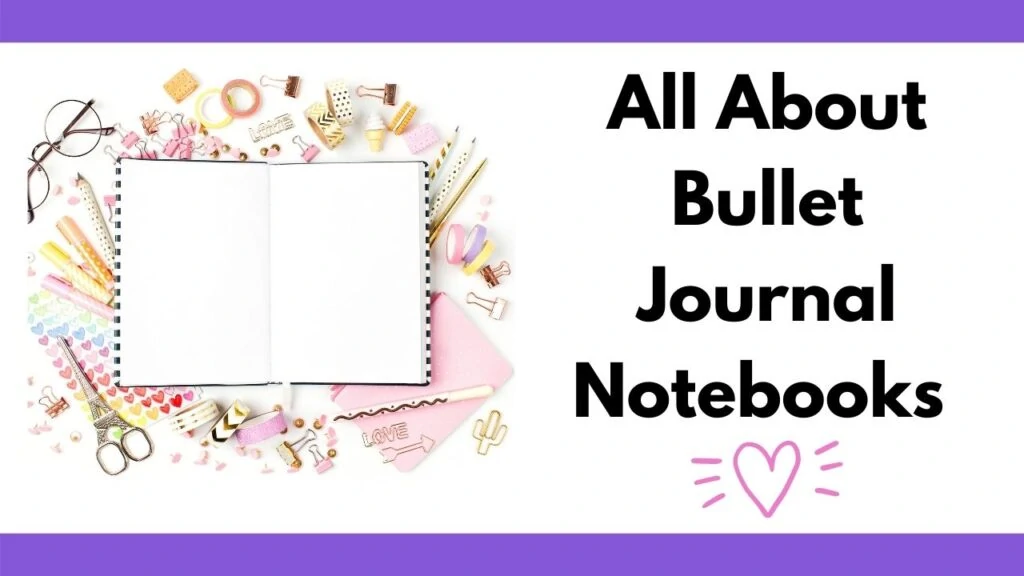 This post may include affiliate links which means I may earn a commission on qualifying purchases at no additional cost to you.
What is a Bullet Journaling?
Bullet journaling is an organized but dynamic way to plan and track your life. Bullet journals are suitable for all sorts of people: students, professionals, stay-at-home moms, business owners, and anyone interested in self-improvement or staying organized.
Bullet journaling, called bujo for short, is a unique way to combine:
Planning
Journaling
Note-taking
Creativity
Originally created by Brooklyn designer Ryder Carroll, the bullet journal is meant to be a responsive system that lets you "track the past, organize the present, and plan for the future." (source) The term "bullet" comes from Carroll's bulleted list style that inspired the bullet journal system's development.
Carroll has an official bullet journaling book called The Bullet Journal Method with advice on how to set up your bullet journal and use it for personal growth. The book is a handy resource, but I recommend getting the paper version instead of the e-book version. The illustrations are awkward and difficult to use in the digital version.
A bullet journal takes an active, dynamic approach by which a person plans and assess their daily, weekly, monthly, and yearly:
Habits
Events
Tasks and chores
Thoughts and feelings
Ideas, pursuits, and goals
A bullet journal takes a bird's eye view of everything going on in your life.
The bujo system helps you quickly sort and distribute upcoming plans on a monthly and weekly basis, so you can focus on daily tasks that need your immediate time and attention.
Bullet Journal and Daily Planner Differences
Some people confuse bullet journals with daily planners. Aside from their differing structures, the goal of bujo is much more than a daily plan.
The aim of bullet journaling is to define basic plans at the beginning of a broad time period—at annual, quarterly, or monthly intervals—and to refine and specify them within smaller time frames—from weekly and daily perspectives.
Like daily planners, bullet journals can be divided into periods that focus on a:
The main advantage bullet journals have over daily planners is the flexibility they allow you, the individual planner.
The actively evolving nature of a bullet journal is what allows it to provide comprehensive insights into your ongoing goals, habits, routines, and thoughts. In contrast, a daily planner can only account for events and action items. (Unless, of course, you add planner inserts to your planner to turn it into a bullet journal! I am personally a Happy Planner Classic lover and bring bullet journaling pages into my planner on a regular basis.)
A bullet journal is customizable, and unlike daily planners, it does not follow a strict template. All bullet journals have an aspect of rarity because their structure is defined by the one doing the planning.
Some people prefer bullet journals over daily planners, but others (like myself) do a bit of both. One of the fantastic things about bullet journaling is that there is no wrong way to have a bujo – it's all about what you want.
The Problem with Daily Planners
Many people choose bullet journals over daily planners because they want to have more control over the processes they use to plan and reflect upon their lives.
Daily planners leave many feeling unsatisfied due to their lack of flexibility. Unlike bullet journals, daily planners seldom leave room for miscellaneous note-taking like:
Lists
Brainstorms
Journal entries
Goal setting
Mental health logs
A huge drawback of daily planners is their tendency to prioritize busyness over productivity.
Daily planners create an illusion of productivity by segmenting days into hourly or half-hour time slots. Unfortunately, this structure can encourage you to compartmentalize your day unrealistically.
When you fail to complete their over-regimented daily items, you may feel overwhelmed, stressed, and anxious.
If you are a daily planner user who faces these problems, consider trying the bullet journal system instead of your usual planner pages. Bujo solves this problem by providing planners with strategies to forward unmet tasks to future dates or delete them altogether.
If you're not ready to jump fully into bullet journaling without any structure, make sure to check out my monthly planner printable posts. Each month I share a set of free planner printables and a paid planner printable kit for US letter and Happy Planner Classic sizes. These planners include pages for goal setting, gratitude journaling, habit tracking, note taking, and more.
Planner Printables
Plan your year with free, colorful monthly themed planner printables in US Letter and Happy Planner Classic sizes! The entire year is available now so you can plan ahead.
There are also non-month specific planner printables and free printable planner stickers.
Why Use a Bullet Journal?
People frequently turn to bullet journals because they realize planning their day-to-day life requires an individualized approach.
Benefits of Using a Bullet Journal
The bullet journal system will help you find peace in your planning by engaging in a rhythmic planning cycle that complements your lifestyle. There are many benefits of using a bullet journal, including:
Increased organization
Inspiration and creativity
Motivation and self-improvement
Archiving memories
All personality types can benefit from using bullet journals. For the sake of brevity, we'll explore the benefits for the main groups of bullet journal users that I like to call planners and journalers.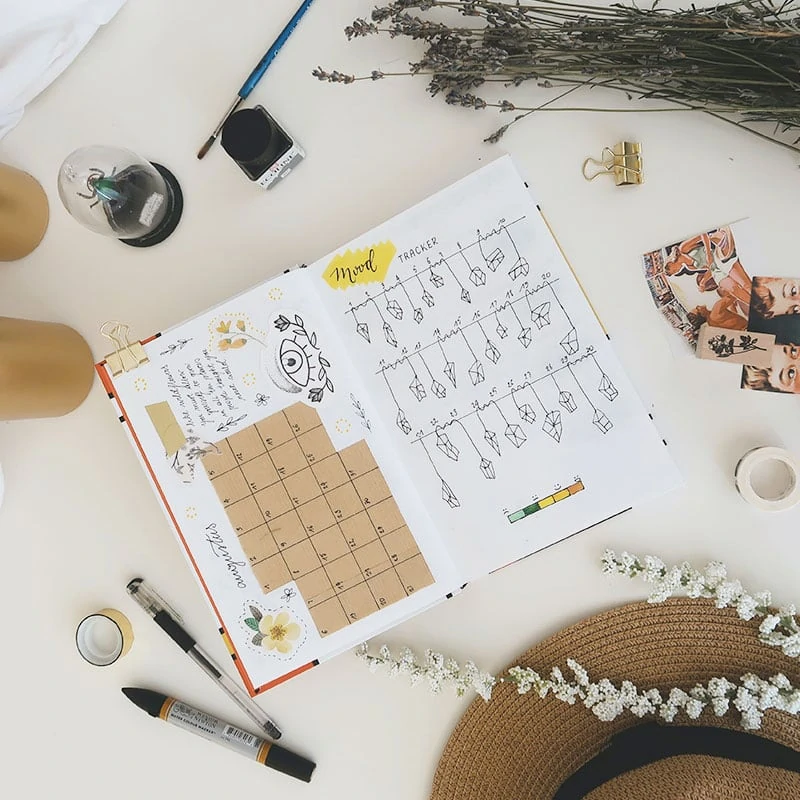 People Who Prefer to Plan
Planners are meticulous and task-oriented people. They like to use their bullet journals to organize their schedules down to very granular levels.
Bullet journaling benefits these types of precise people by allowing them to maintain accurate records while accounting for many things at once.
People Who Prefer to Journal
Journalers are visionary and idea-oriented. They like to use their bullet journals to organize creative musings and pursuits. For this group, a bullet journal is a dual endeavor of planning and artistry.
An added benefit of this style of bullet journaling is that the book can later be saved as a collective memory book.
The main things people use bullet journals for are:
To-do items
Tracking
Future planning
Note-taking
Journaling
Creativity
To-Do Lists in Bullet Journals
The number one reason for using a bullet journal is to stay on track with daily action items. Bullet journals provide a focused way for your to maintain order throughout your day while keeping in-tune with weekly and monthly events.
With bullet journaling, uncompleted to-do items are easily shifted to future dates or removed altogether. This flexibility, combined with the simplified daily view of tasks, helps you be, and feel, more productive.
Don't want to draw up your own to-do list from scratch? Stop by this post to grab free printable to-do lists.
Tracking in your Bujo
Bullet journals are powerful tools for self-improvement. The bujo system encourages you to track meaningful habits to maintain self-accountability.
You can incorporate any habit tracker into your daily routine, whether it's your financial, health, or mental habits.
For ideas to get you started with tracking your habits, stop by this post on 75+ life-changing habits to track and download your free printable habit trackers. (The printables pictured below are from this set of October planner inserts.)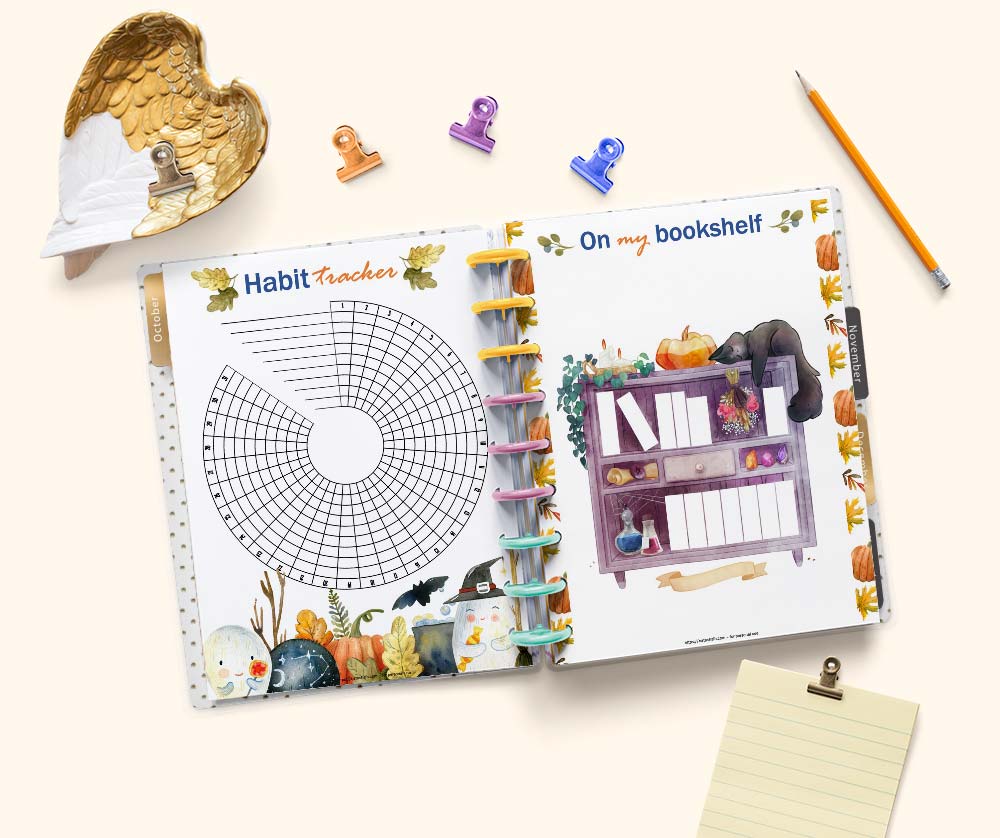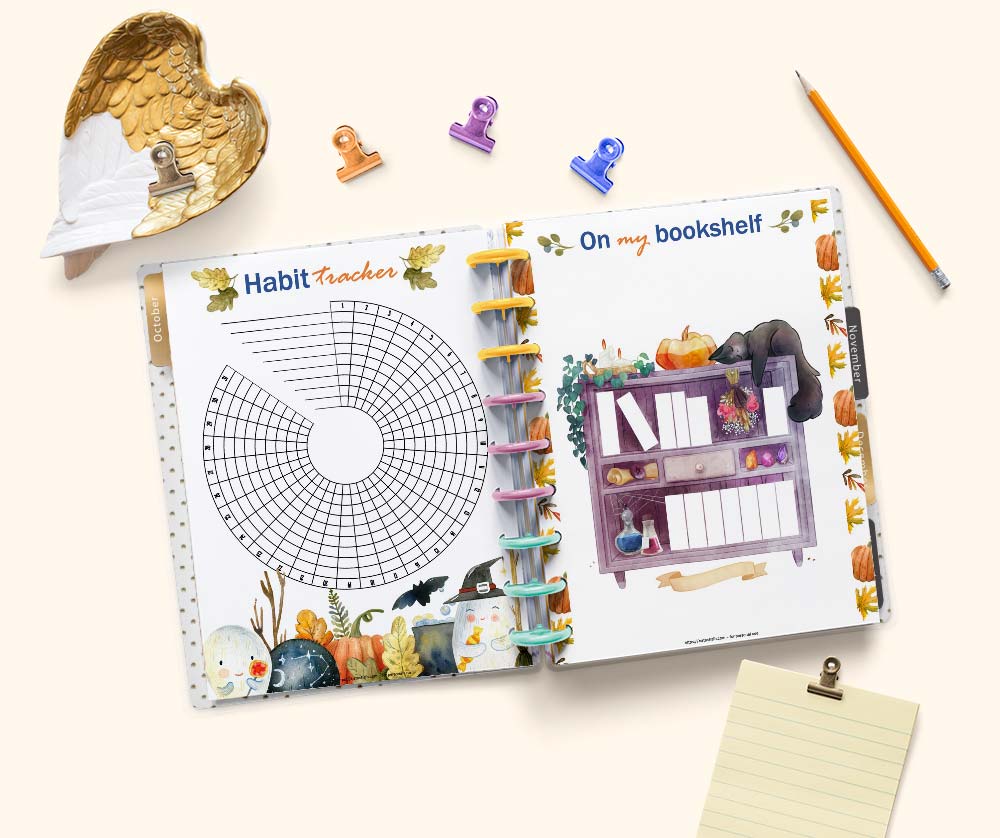 Many bullet journalers also enjoy tracking their moods.
Mood tracking is enjoyable and helpful. It can help you discover more about yourself, notice patterns, and learn about your triggers. For more information about mood tracking, visit this post with free printable mood trackers.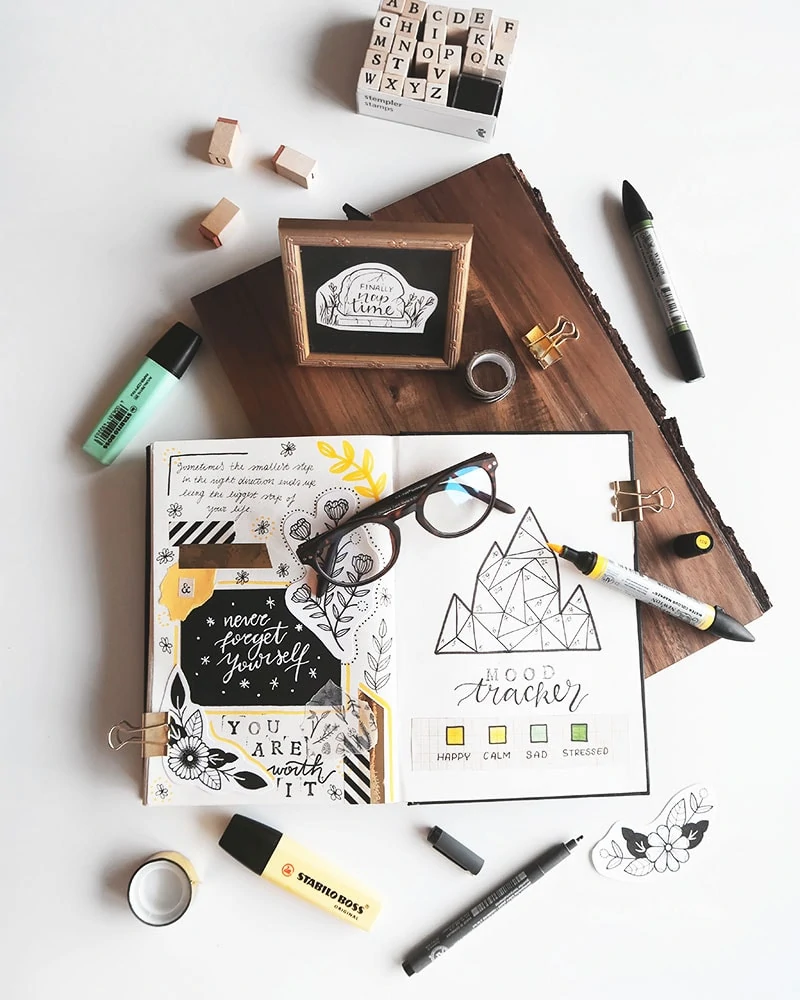 Future Planning
Thanks to their comprehensive and record-driven nature, bullet journals provide a balanced look into your daily and future life. Bullet journals are a useful way to view projects, habits, and goals on a high level, as well as break them down into manageable daily action items.
Note-Taking
Bullet journals provide space for you to jot down your thoughts.
We all come across spontaneous information we need to remember throughout the day. Bullet journaling provides a way to collect and remember all of it. Whether this information is used for:
Studying
Scheduling
Song-writing
Birthdays
Million-dollar ideas
Some bullet journals even contain pockets in their covers where you can easily store documents like receipts or cards. These notes and documents can be used later to create future action items, events, or diary entries.
Journaling in your Bullet Journal
There's a lot that goes on in one day that can be expressed beyond to-do items. And it only makes sense that journaling is a popular activity of bujo—it's in the name!
Journaling is an excellent way for you to reflect on your day and address thoughts that linger from the day's tasks, goals, and habits.
For some, the journaling aspect of bullet journaling takes a diary-centered approach. For others, journaling is used for summarization purposes.
Whatever the purpose of the journal entry, the bujo system prioritizes today's reflection and thoughtfulness to help the user plan for a more productive tomorrow.
Journaling is very beneficial, but it can be intimidating to get started with. Staring at a blank page can sap your creativity! That's why I create and share themed journal prompts each month. Each post also includes a free printable lined journal. You can use the prompts with your bullet journal or print and use the journal pages separately.
Here are the journal prompts and printables available at this time:
Journal Prompts and Planner Printables
Planner and calendar printables allow you to stay organized without a trip to the store or wait for the mail.
Journal prompts remove the fear of the blank page and allow you to start journaling today! Make sure to grab your free printable journal pages in each post.
Creativity
Not everyone uses a bullet journal as a creative outlet, but they're a fantastic way to bring art and creativity into your life.
It's easy to feel guilty for taking the time to make art. Even if you only have time for simple doodles in the margins, your bullet journal can give you a safe space to practice your art and beautiful your organizational routine.
Many people enjoy planning their month's layout and color theme so everything matches. If that's you, awesome! If it's not you, that's okay, too. Do whatever feels right for you and works with your schedule and desires.
How to Use a Bullet Journal
Bullet journals help you organize your life by encouraging you to assess it through broad perspectives. Here's a quick flow for getting started with bullet journaling:
Start by identifying everything that will happen and needs to happen within a wide timeframe, perhaps an annual, bi-annual, or quarterly view.
Funnel these anticipated events into monthly views. Sort all upcoming monthly events to a weekly basis.
After the expectations for a year, month, and week are defined, reflect on the expected monthly and weekly events.
Plan your day by adding concrete tasks that will help you accomplish the upcoming weekly or monthly events. The bullet journal system creates daily plans one day at a time. This helps maintain organizational flexibility and prevents the journalist from feeling "stuck" in their plans.
If there is a new event at any time, simply add it to your broadest timeframe, followed by its respective monthly and weekly views.
Before you get started with bullet journaling, look at the concepts and terms you know below.
Bullet Journaling Terms You Should Know
Read on about these seven essential bullet journaling terms before getting started on your creative organizational journey:
Migration
Spread
Tracker
Monthly
Weekly
Daily
Collection
Migration
Migration is a foundational component of the bullet journaling system. A migration is the ability to forward to a future date or page an unmet:
Usually, an item is migrated to the next day to maintain its priority and relevance.
Spread
A spread is comprised of a few pages that describe a particular set of time. A spread can also be a future plan, event summary, or a diary entry.
Spreads are used to describe months, weeks, and days.
You can use your spreads to:
Plan future tasks
Track priority dates and events
Reflect on past events
Record thoughts and notes
Explore new ideas
Trackers
A tracker is a type of spread meant to record repetitive actions to build habits or complete repeating tasks. Trackers are most often used in daily planning lists, where the writer plans and records the pertinent tracking action.
Trackers are used to build habits or complete tasks like:
Cleaning
Exercising
Sleeping
Pet-sitting
For more ideas, be sure to check out this post with habits to track and look at these free printable habit trackers for inspiration.
Monthlies, Weeklies, and Dailies.
Monthlies, weeklies, and dailies are spread subtypes that exactly describe what they say – a month, week, and day.
Monthly and weekly spreads provide generic overviews of what to expect in the coming days, with weeklies being a bit more specific than monthlies.
Daily spreads are the main component of bullet journaling.
A daily spread is a concrete list of action items and events to be completed throughout the day. It can also include notes that describe accomplishments or unexpected events.
Collection
A collection describes a miscellaneous accumulation of text and media. Examples of collections can be:
A shopping list
Contact list
Brainstorm notes
Sketches
Gratitude logs
Brain dumps
I'm personally a huge fan of doing brain dumps. Discover what a brain dump is and how it can change your life.
Important Bullet Journal Pages
There are five types of pages that are must-haves for a complete bullet journal. (Though, of course, you can always leave one or more of these out if you want to.) These essential pages are:
Index
Future Log
Monthly Spread
Weekly Spread
Daily Spread
Index
An index dedicates a few pages at the beginning of your notebook to catalog your bullet journal's contents. Whether you prefer to catalog your journal by months or weeks, you must continually update your index as you add more temporal sections, collections, and miscellaneous texts.
Future Log
Following the index is the future log. A future log is a list of important dates (think holidays, vacations, anniversaries, etc.), spanning a few pages within a specific time frame.
For example, if your bullet journal is designed or pre-printed to plan for six months, all future log events should happen within that half-year.
If you need to plan for events that occur outside of your future log time frame, then you need to increase and update your current future log (perhaps increase your six-month log to 12 months). Most future logs follow a calendar year.
Monthly Spread
The monthly spread provides an overview of expectations for the upcoming month. A monthly spread can include anticipated appointments and projects within the upcoming month and monthly goals.
Weekly Spread
Like monthly spreads, weekly spreads provide a glance at the upcoming week. Weekly spreads can be a little more specific in their expectations and action items.
Daily Spread
The daily spread is the most essential page in the bullet journal. The daily spread is where journalers jot their daily:
To-dos
Habits
Journal entries
Notes
Some people like to dedicate their daily spreads to daily tasks, and others like to dedicate their daily spreads to journal entries.
Ultimately, every bullet journal is as detailed and granular as you want to be. You can choose to incorporate any or all of these concepts into your bujo.
The Basic Structure of a Bullet Journal
While the design of a bullet journal is ultimately up to the user, the general structure of a bullet journal is as follows:
Index. Usually two to three pages. An index is updated when a new catalog section, like a monthly spread or collection, is added to the bullet journal.
Future Log. Usually one to two pages.
Monthly Spread. Usually, one page.
Weekly Spread. Usually one to two pages.
Daily Spread. A daily spread can take up as much or as little space as you want. Some people like to dedicate one page for each daily. Others like to split one page into two dailies and fit even more daily spreads onto one page.
Collection. Usually one to four pages. It's important to note that not all dailies are followed by collections. Collections are most often used for recording text, notes, logs, and media intermittently. Remember to update your index after adding a collection.
What To Look For in A Bullet Journal Notebook
A bullet journal is a daily tool. To help you use your bullet journal efficiently and thoroughly, here are a few things you should consider before buying or making your own journal:
Price. Whether you make or buy your bullet journal, make sure it comes at a comfortable cost.
I absolutely understand being on a budget, but it's worth it to get a "nicer" bullet journal instead of the absolute cheapest notebook you can find, especially if you plan to include art in your journal. That having been said, there are some solid, affordable journal choices if a "splurge" notebook simply isn't in the cards for you right now.
To help you determine what price you're comfortable paying for your bullet journal, consider the following aspects of a bullet journal below:
Style. A bullet journal notebook should be as unique as you. Do you prefer a notebook that:

Lays flat when you open it?
Has a hardcover?
Has pockets?
Has a clasp and pen loop?
Has a ringed spine?
Paper. Determining what type of bullet journaler you are will help you pick out a suitable paper for your needs and style. Common bullet journal paper styles include:

Gridded
Dotted
Blank paper
If you plan on painting or coloring with pens or markers in your bullet journal, you'll want to use thicker paper with a weight above 90 lbs.
If you already know what sort of artistic media you want to include in your bullet journal, take a look at this art paper guide to make sure your journal has the right paper for your journal.
Features. Some notebooks come with features like:
Pockets in the covers
Table of contents
Perforated pages
A bookmark
A band to hold the notebook closed
Stickers
Best Bullet Journal Notebooks
Now that you've considered what to look for in an effective bullet journal look at our list of 11 bullet journals to buy, print, or download.
I'm personally a bit of a notebook hoarder so I've personally tried many notebooks and journals. My brother-in-law is an amazing calligrapher who takes journals and stationary very seriously, so I made sure to consult him to learn more about the bujo notebooks with the very best paper.
Best Bullet Journals for Beginners
If you're new to bullet journaling, a "pre-made" bullet journal with some pages already printed can help you get started without feeling overwhelmed.
A premade bullet journal will help you get used to bullet journaling structure while providing you room to be flexible and creative in your planning and note-taking.
The Bullet Keeper Perfect Planner is a solid introductory bujo notebook that won't overwhelm you if you're new to bullet journaling.
The notebook comes with undated daily, weekly, and monthly pages in addition to blank pages to fill however you'd like.
The monthly calendars are blank for you to fill in with dates and days. Having the lines already dawn is a big timesaver if you want to get started right away or aren't confident in your drawing skills. The weekly pages are also unlabeled so you can have a Sunday start, Monday start, or even start on any other day of the week.
The Perfect Planner also comes with plenty of bonus goodies like an elastic closure band, expandable back pocket, two bookmarks, and monthly tab stickers. The paper is 100 gsm and rarely has problems with bleed through or feathering.
BK Undated Weekly/Monthly Planner 2023-2024 Daily Planner Agenda & Personal...
📈 STRUCTURE YOUR LIFE, YOUR WAY! Our undated 2023-2024 monthly planner features flexible structures that allow you to keep track of daily tasks....
📆 2023-2024 UNDATED DAILY, WEEKLY, MONTHLY CALENDARS. The Perfect Planner by BK is also great as a teacher planner 2023-2024 and is a fit for...
🌱 VEGAN LEATHER HARDCOVER. Luxury and stylish thanks to its leather hardcover: durable yet soft to the touch. We've sourced the materials...
The B5 planner is a little more free-form than the Bullet Keeper. The B5 is divided into 12 unlabeled months, each with spacious and unnumbered monthly, weekly, and daily spreads.
The B5 planner provides a great balance between year, month, and week spreads versus the nitty-gritty of the daily spreads.
Scribbles That Matter is an extremely popular bullet journal notebook brand. They have an extensive lineup with many different colors, options, and paper fill styles. Scribbles That Matter is known for having high quality paper that doesn't bleed and durable covers. If you enjoy the planner version for your first bullet journal, explore their other offerings for a future notebook!
STM Planner - Undated - An Organized Life - The Planner You Will Keep...
2023 Planner: Meet your (and your family's) command centre in 2023, a planner that gives hope not just checkboxes. People with ADHD, depression, and...
2023 Monthly Planner: The monthly calendar page helps you stay informed of agenda 2023-2024 important dates and events in the month so there are no...
2023 Weekly Planner: with all 7 days on one page, get an overview of the week ahead. Organize personal and professional life in a perfected layout...
Best Budget Bullet Journal Notebook
Many "nice" bullet journal notebooks cost $20-30. Although I know of people who bullet journal in dollar store notebooks, cheapo supplies can create frustration and a poor experience that leads to to give up journaling.
Luckily, there are some solid choices for bullet journal notebooks on a budget.
>
The Miliko A5 grid notebook is a solid choice for a budget bullet journal. It's typically around $12 for two notebooks. (If you ever see the set for under 10, jump on it right away!) I personally own a set of the notebooks and they're my go-to for practicing doodles and everyday note taking.
The paper is acid free, a feature you'd expect from a higher-end journal. The paper is 80 gram, which is on the lighter side so heavy coloring can show through on the page behind. However, the paper is easy to write on and easy to erase off of, too.
Overall, this notebook is surprisingly nice for the price. Although each one costs about 1/4 of what a "fancy" bullet journal notebook does, it only lacks a handful of benefits. It has plastic covers, for example, instead of leatherette. There are no pockets or elastic bands, either. If you're curious about bullet journaling, but don't want to drop a lot of money on a notebook, these are a fantastic way to get started with bullet journaling.
Although most people don't think of using spiral bound notebooks for bullet journaling, I really like spiral bound journals. You can't create the same type of uninterrupted two page spread, but you can easily lay the notebook flat and remove pages, even if thy don't have perforations. You can also add pages to a spiral or coil bound notebook, as shown in this post.
Best Bullet Journals for Advanced Journalers
If you've been in the bullet journaling space for a while now and are ready to step things up, take a look at these notebooks.
You may be surprised to learn that most bullet journalists design their own notebooks. Unlike the beginner bullet journal recommendations, these advanced bullet journals do not rely on pre-printed sections like monthly, weekly, or daily spreads.
Instead, they prioritize the notebook quality, like paper and cover, so the individual planner can focus on developing a structure that works for them.
Pre-printed only with key, index, and pen test pages, the Scribbles That Matter A5 provides you with all the structural and planning freedom you want. With this notebook, you can design your own future logs and spreads on smooth and durable dotted grid paper.
If you've been bullet journaling for a while and have developed a rhythm for your planning and are sick of low-quality paper, try this notebook! It features hardy 160 gsm paper that's known for stopping bleed-through so you can use both sides of your notebook pages.
The notebook also boasts features like a vegan leather cover, elastic closure, expanding pocket to store your treasure in the back, and a pen loop.
Scribbles that Matter is an incredibly popular bullet journaling brand with several different notebook designs and cover colors. The A5 comes with 10 different cover color choices to match your personal style. (There's also a version with a plain cover, if you'd prefer.)
Bullet Journals | A5 Dotted notebooks | Dot grid notebook journal | Vegan...
📖 Scribbles That Matter Bullet Journaling Experience: Create the bujo of your dreams with our bullet journals, boasting buttery-smooth,...
⏱️ Save Your Setup Time: Our bullet journals come equipped with essential pre-made features like a key page, index pages, numbered dotted pages,...
🌿 Choose Your Paper: We cater to every journaling style. If you prefer traditional or minimalist journaling, select our 120gsm thick paper. For...
Leuchttrum1917 is "the original" bullet journal notebook brand. They produce a variety of plain dot grid notebooks and a newer style called The Bullet Journal Notebook. The blank notebooks are blank (except for the grid!) and the bullet journal version comes with a few pre-printed index and key pages.
The covers lay flat open (not all notebooks do), there is a pocket inside, and the Leuchtturm1917 brand is virtually synonymous with bullet journaling. The pages are numbered, which is very convenient for creating your index.
That having been said…it's actually not my favorite notebook (and my stationary-loving Japanese brother-in-law agrees). The paper is "only" 80 gsm. Many people find this heavyweight enough for their needs, but some fountain pens and markers do ghost and bleed through.
The Rhodiarama is intended for the inventive planner who can envision and design alone.
This is a blank, dot-gridded notebook without pre-printed pages. Advanced journalists love this notebook because it is durable and suitable for personal use. It's also great for practicing your hand lettering – Rhodia notebooks are a favorite with hand lettering enthusiasts and calligraphers.
I have personally owned several Rhodia notebooks and really like the paper. It's easy to write on and easy to erase off of, too.
Although some heavy-hitting markers like Copics and Prismacolors may bleed through the paper, the Rhodiarama can hold up to a lot of artwork. To see some impressive pages with lots of ink and paint, check out the photos posted by this reviewer.
The Rhodiarama features a gusseted pocket at the back and an elastic band to keep the notebook closed. It's available in a couple of different sizes and an array of colors to match your preferences.
Sale
Rhodia Rhodiarama SoftCover Notebook - 80 Dots Sheets - 6 x 8 1/4 -...
PREMIUM PAPER - 90g smooth ivory sheets, acid-free, pH neutral. French Milled. Inks won't bleed or feather.
EXPERTLY CONSTRUCTED - Italian faux leather hardcover, glued spine, rounded corners.
HIGHLY FUNCTIONAL - Includes inner pocket, ribbon page marker and elastic closure to keep papers secure.
Essential Bullet Journal Supplies
Before you go out and buy any of these items, try using what you have. You might find out that you may really like something you already have, or you may discover that you can get by just fine with just pens and markers.
Here are some of the most popular items avid bullet journalists keep handy when planning and journaling.
Pens and Markers
You can bullet journal with whatever pen or pencil you have on hand. However, people generally prefer something archival and no-bleed.
Sakura Pigma Microns are classic bullet journal pens that are suitable for beginners and pros, alike. They don't feather or bleed and they write on practically everything. The ink is also lightfast, so it won't fade if you accidentally leave your bujo open.
Stop by this post on the best bullet journal pens to discover what to look for in bujo pens and markers.
Stationary Tools for Bullet Journaling
Ruler. (No, those IG people don't freehand all those perfectly straight lines!) It's better to use a short, sturdy ruler for our bullet journal. It fits more easily in your notebook and is easy to pack for planning on the go. This the 6-inch metal Wescott ruler is a highly-regarded staple of the bullet journaling world.
No products found.
Sticky notes. Use sticky notes in your journals to create page tabs for easy navigation.
Stickers. Many artistic bullet journalists enjoy using stickers to personalize their planning. You don't have to rely on expensive printed stickers – discover the benefits of printable stickers and how to start printing your own stickers with confidence.
Washi tape. Washi tape is a beloved design tool for many bullet journalists. If you prefer not to use a ruler to make your borders, you can use washi tape to section your bullet journal. Warning: washi tape can be downright addictive!
Process vs. Product in your Bullet Journal
Creating your bullet journal can be daunting; it's easy to get distracted by over-planning or over-designing your notebook.
The free-form structure of bullet journaling can be intimidating to planners. Sometimes, the open-ended bujo structure makes them feel like they have to add as much detail as possible. Sometimes journalists feel the need to make everything perfectly artistic and beautiful.
In the end, bullet journaling is about finding peace in your schedule by creating a simple organization flow.
DO NOT worry if your bullet journal is not as pretty as the ones you see on Instagram. It's really only for your eyes anyway. You'll also find you'll get better at planning and designing the longer you bullet journal.
It's Time to Plan in Peace
Start your bullet journaling adventure today! You don't have to wait for the start of a new year, month, or week. You can get started with a structured beginner journal or dive right into the deep end with a blank notebook today. Happy journaling!
Planner & Journal Printables
Looking for more planner and journal printables? Check out these freebies on The Artisan Life!