These free printable tropical bird do a dot pages are a fun, no-prep activity for toddlers and preschoolers. Your little learner will be having no-prep fun in just a few minutes with these free printables. You can even turn these tropical bird dab it printables into a completely mess-free activity by using round stickers instead of makers. No prep and no mess? That's a win-win!
I create lots of do a dot coloring pages because my daughter loves them. If your little one likes do a dot markers, too, be sure to check out the ever-growing collection of free printable do a dot pages here on The Artisan Life.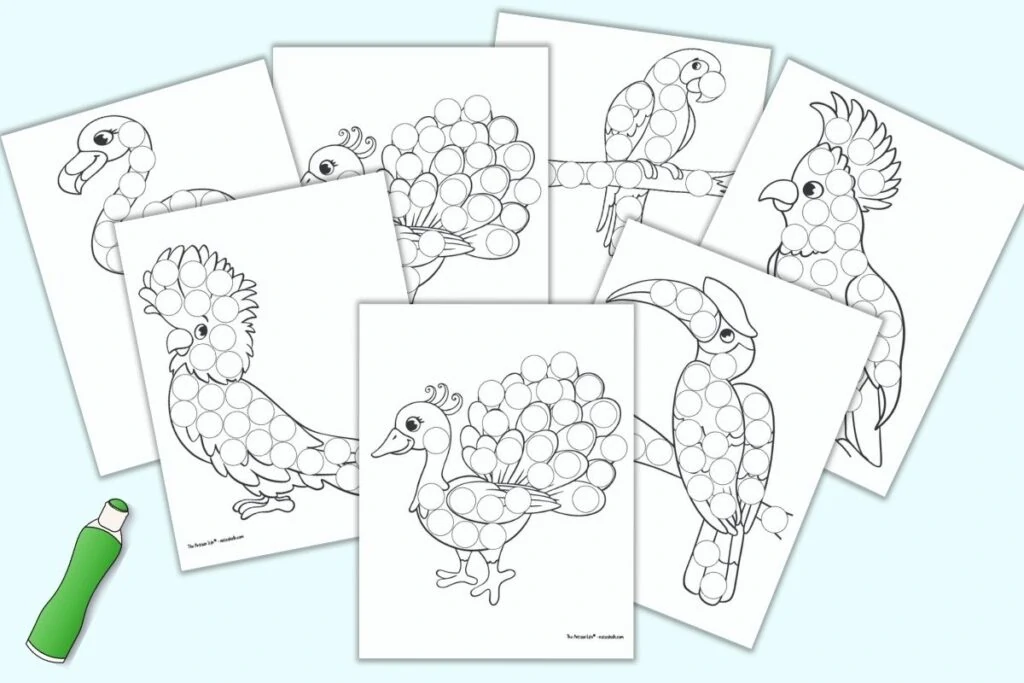 Dot marker pages are beneficial for your child and a super easy activity for any time you need something low-prep to keep your little one occupied.
You don't need to scroll Pinterest for ages for an activity you can actually make with things you already have at home or listen to Baby Shark for the 1,527th time. Just print these pages and hand them over with your child's favorite dauber style markers. Or, better yet, do like I do and have a folder of them printed and ready for anytime they're needed.
This post may include affiliate links which means I may earn a commission on qualifying purchases at no additional cost to you.
Are dab a dot coloring pages developmental?
Do a dot marker pages are an easy, no-prep activity. But are they developmentally appropriate and beneficial?
Yes!
Do a dot coloring pages help your child develop skills including:
hand-eye coordination
grip strength
finger strength
manual dexterity
These benefits come from both dauber markers and stickers.
Providing you child with plenty of opportunities to practice their fine motor skills can help prepare your child for things like tying their own shoes, fastening buttons, drawing, and writing.
These dot marker pages are an easy way to keep your child busy, happy, and practicing important skills. They can be used as part of a planned lesson or any time you need a few minutes without turning on YouTube. (The photo below is my daughter enthusiastically coloring her spring do a dot pages.)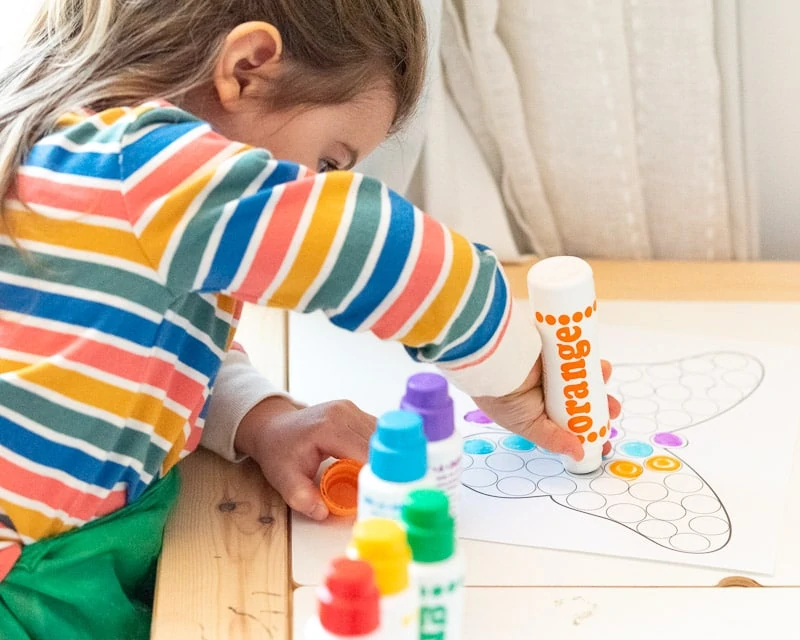 How to use dot marker printables
These pages were based on the measurement of my daughter's Classic Do a Dot Markers. The circles are perfectly sized for this brand of markers, but they also work fine with other dauber or bingo style markers.
For an easy, no-mess activity, use these dot printables with round label stickers. Stickers add even more fine motor practice – peeling the stickers off of the page is a challenge for little fingers. Make sure to get 5/8″ or 3/4″ round stickers – 1″ round stickers are too big for the circles on the printables. We use these stickers. You can see them in action below in this photo of my daughter using an Easter do a dot printable: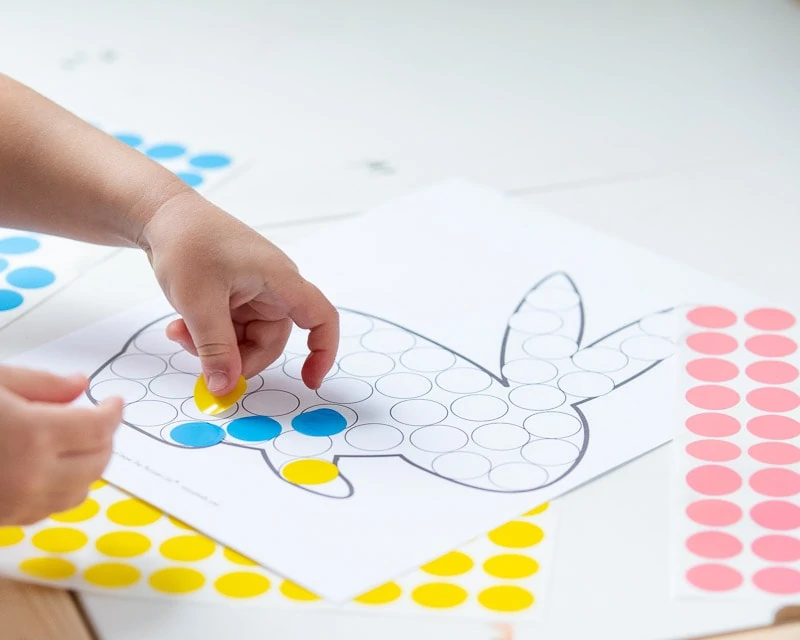 For an even greater challenge, have your child cover the circles with pompoms or big buttons. We love this set of wool pom poms shown below with our winter activity printables:
Free tropical bird dab it pages download
This set of tropical bird dab it coloring pages includes 12 images with stylized tropical birds. Birds include:
Parrots
Cockatoos
Cockateels
Quetzal
Humminbird
Honeycreeper
Hornbill
Flamingo
Toucan
Peacock
All 12 dab it coloring pages are located in one convenient PDF. Download information is below the preview images. Don't worry – each bird has its own page in the PDF printable. Pages are shown in groups of four so you can see everything without as much scrolling.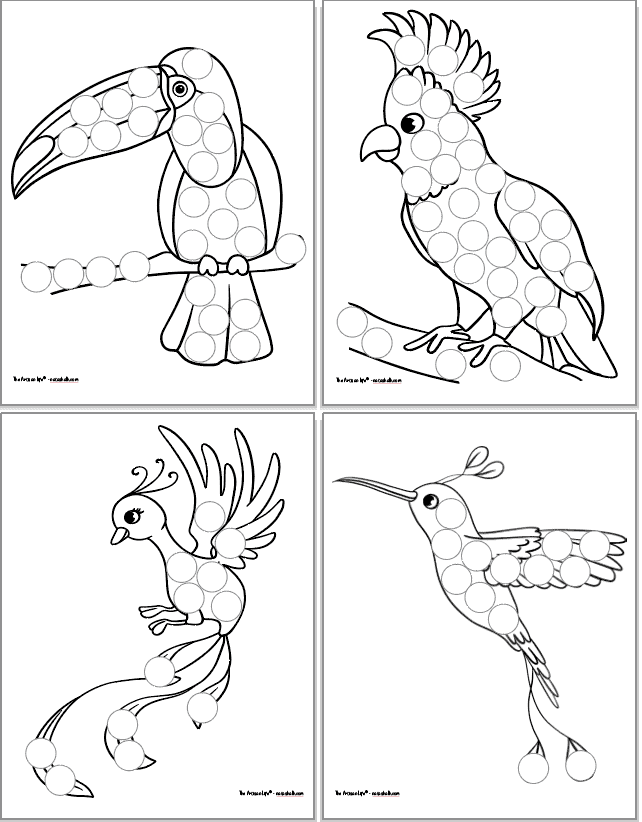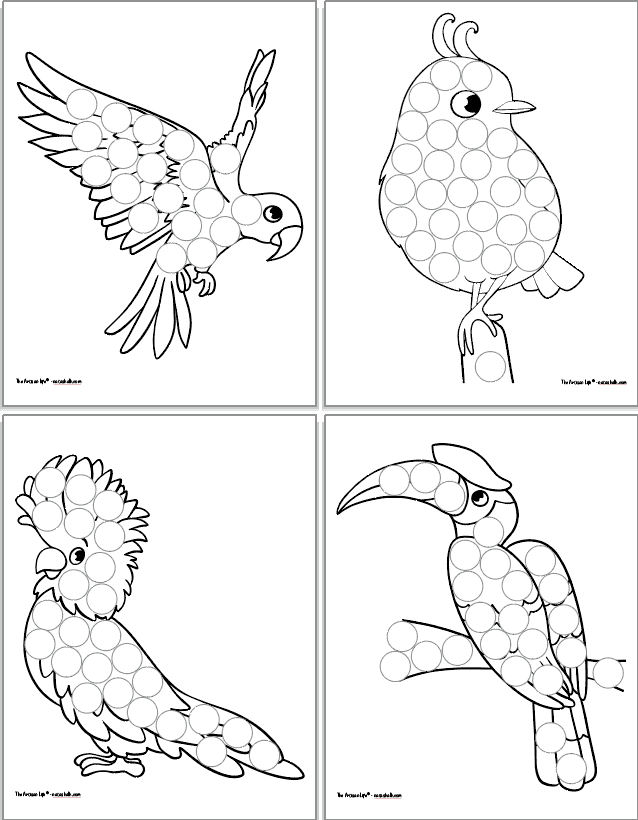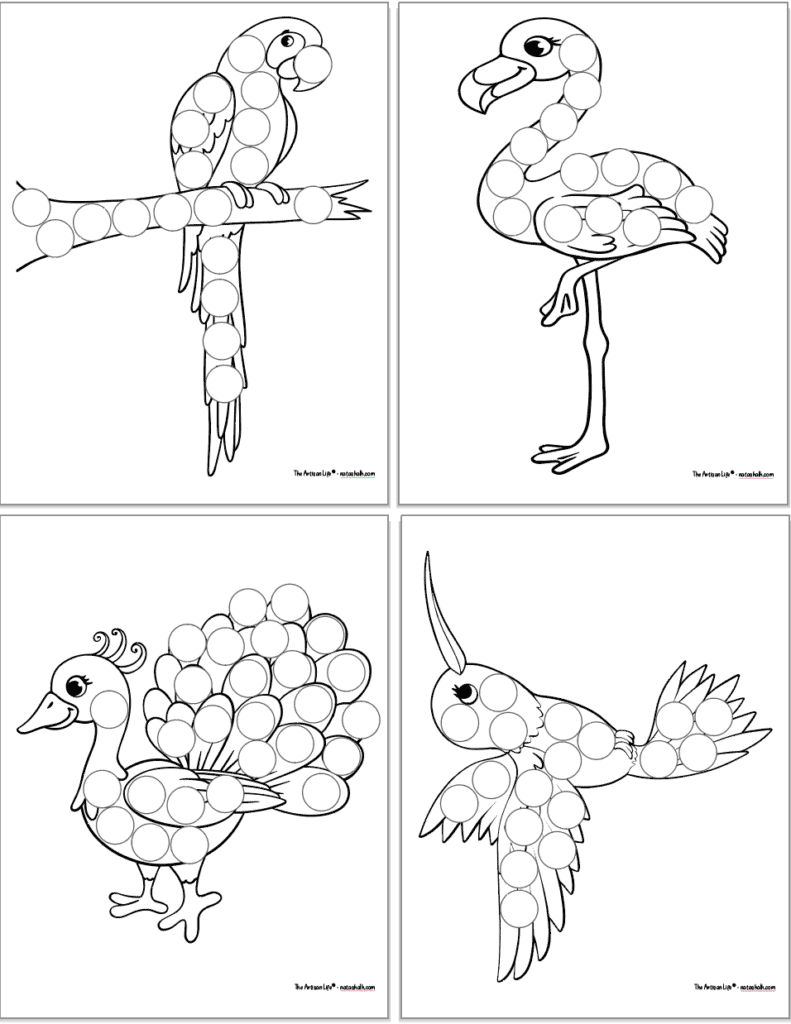 Like all free printables on The Artisan Life, these are for personal and single classroom use. This includes use with scout groups, homeschool co-ops, Sunday school classes, your own therapy clients, etc.
You are welcome to print and use them as many times as you you want for your own children, students, therapy clients, scouts, etc. as long as you are personally organizing the activity.
You are not licensed to sell, or redistribute the files to other adults for use with their students/children. Instead, please refer them to this post so they can download their own copies.
If you agree to this license, click below:

I hope your little learner loves these do a dot pages as much as mine does! Be sure to discover these additional learning printables here on The Artisan Life:
Preschool Learning Printables
Download these additional free activities to keep your little one busy and learning without tons of prep time.