This set of fall trivia questions is a fun way to text your family's or students' knowledge about the autumn months. The same fun trivia questions are available with and without multiple choice answers. Both come with an answer key. Have fun and good luck!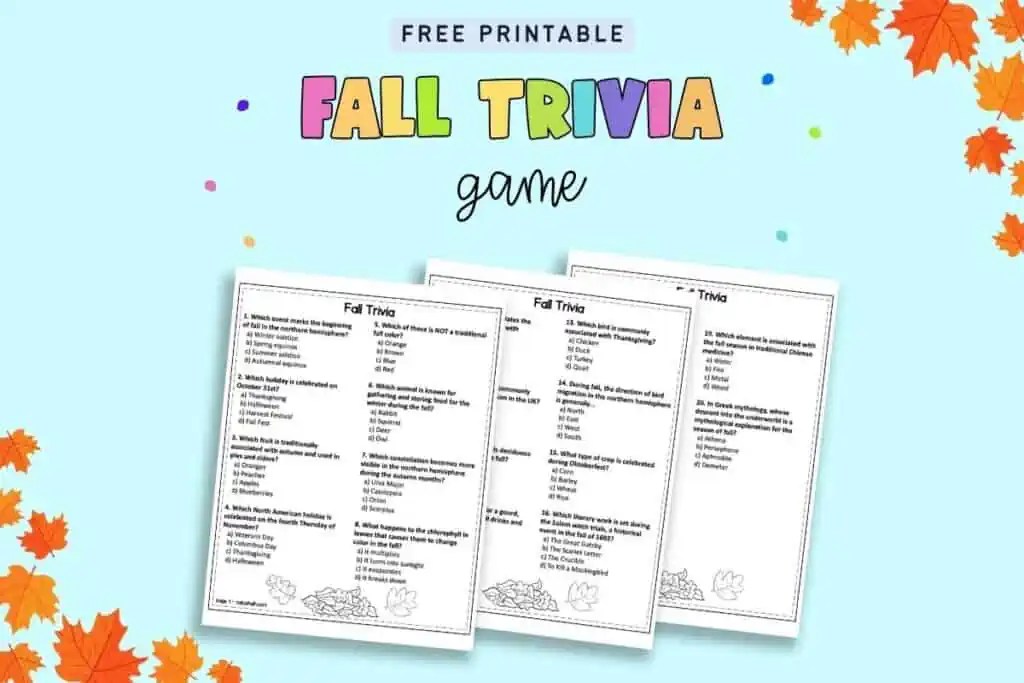 This fall season trivia game is fun activity for older children, adults, and seniors. Unlike most printables I've shared to date, the questions are not geared towards early learners. Younger kids will probably know the answers to a handful of the questions, but I wouldn't expect them to know the answers to several of them. 
If you need autumn activities for younger children, be sure to check out these additional free printables here on The Artisan Life:
There's nothing inappropriate about the questions or answers, so don't be afraid to play with your family. 
If you do play with kids, consider making teams with an older child or adult on each team. This would be a lot of fun for a family game night/trivia night! We always find ourselves playing more games in the fall season to shorter days and cooler weather.
You could also use these trivia games at a harvest festival, Friendsgiving, or office fall party. It's a great way to have a friendly competition and get everyone involved with the festivity.
If you enjoy these fun questions, be sure to grab this pack of free printable Christmas party games, too. 
This trivia could also be a fun way to keep your family busy on road trips over the holiday season.
There are twenty fall trivia questions to test your knowledge of autumn leaves, Greek mythology, why tree's color changes, and more.
These are general autumn trivia questions – not Halloween trivia questions, Dia de los Muertos trivia, etc. If you've like to see holiday specific trivia games in the future, please leave a comment and let me know.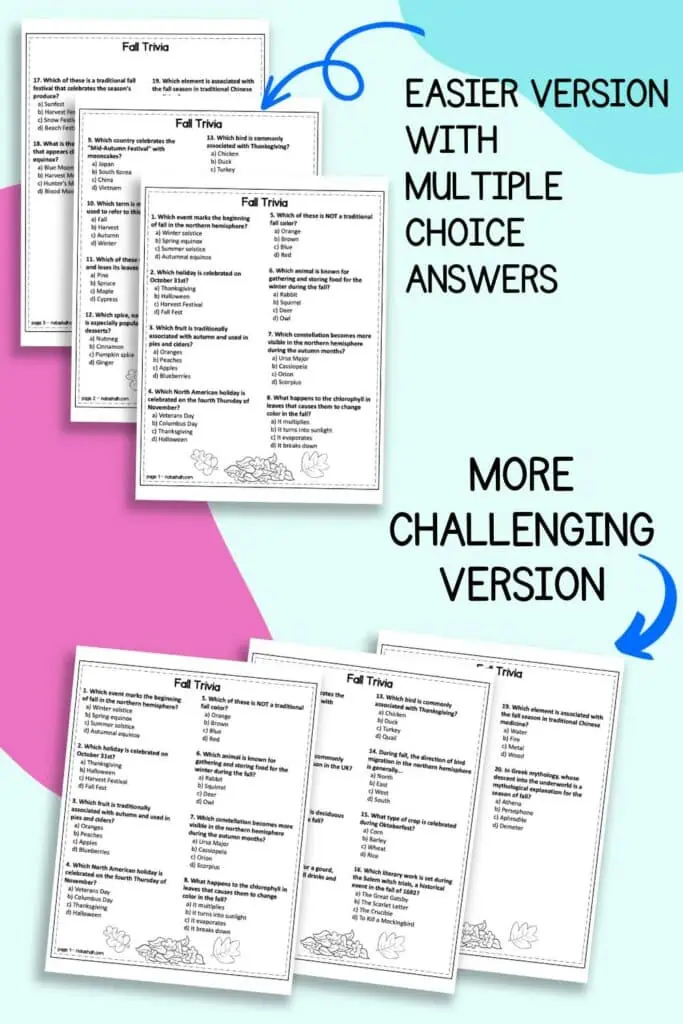 Autumn trivia game PDF file download area
This trivia game printable is licensed for personal use. This includes use with your classroom, office activity, senior center, etc.
You are not licensed to redistribute or sell the print outs to others for use with their family/friends/students/clients/etc. 
I hope you enjoy and have a little fun with this fall trivia game! Be sure to check out the posts below for more fall fun activities.
Fall Printables for Kids & Families
Keep your kids busy and learning with these free printables for fall! Activities include preschool printables, word searches, fall bingo, and more.