This free printable garden matching game is a fun complement to your homeschool preschool garden theme. Toddlers, preschoolers, and kindergarteners can all enjoy these free printable matching cards when you modify play to differentiate instruction. Both classic matching cards and garden shadow matching cards are included.
Use the garden theme matching cards as a classic face up matching game or provide greater challenge by using the cards for a face down memory game.
This set includes a page of classic matching cards with pairs of exact duplicate images. The second page has shadow matching cards where one image is "normal" and the other is completely blacked out. These cards are the "next level" for children who've mastered the basic matching game.
Are matching cards educational?
Matching games can benefit young children, even if they can't play a face down memory game yet.
The US Department of Education recommends playing memory games and counting puzzle and game pieces with young children. Preschoolers and toddlers can work on finding the matching card and counting to two. If your children are like mine, they'll be so excited to match cards and show off their counting to two abilities!
Playing with physical game pieces, like these garden theme matching game printables, is more beneficial than playing an electronic matching game. Picking up the cards requires manual dexterity and placing them back in the grid, if you're playing memory, also requires coordination and dexterity.
Manual dexterity and fine motor skills are important, and neglected too frequently in an age of electronics. Children are increasingly starting school with poor fine motor skills because of using so many screens instead of physical toys.
The shadow matching cards provide additional challenges and benefits. Shadow matching activities can help your child improve their visual discrimination skills and attention to detail. These skills translate to an improved ability to differentiate between letters and numbers. Yes – playing a simple game like this one can improve your child's literacy and math skills!
These garden themed matching cards can be used in garden, healthy eating, recycling, and Earth Day themes. If you're teaching ecology, recycling, or an Earth Day theme, make sure to grab these free printable Earth Day coloring pages, too. This free printable vegetable bingo can help with your healthy eating or nutrition theme.
If you enjoy gardening, download a free printable garden planner and free printable gardening planner stickers while you're here. You deserve something nice and new, too!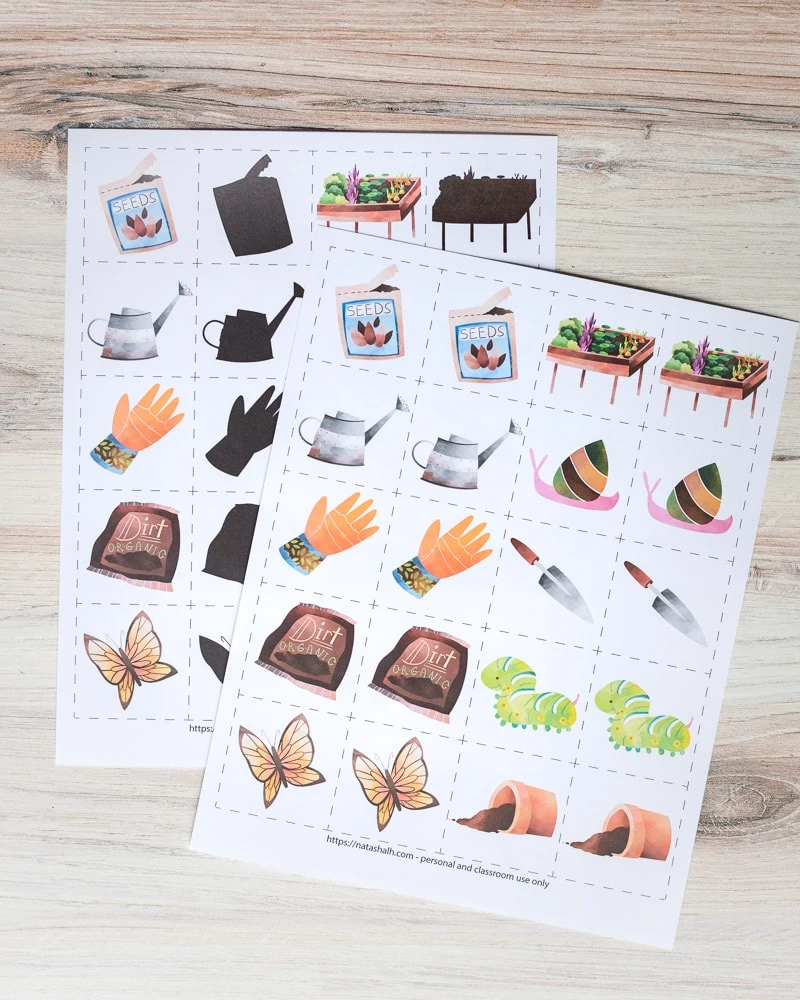 How to print and use matching cards
This post may include affiliate links which means I may earn a commission on qualifying purchases at no additional cost to you.
You don't need much to get these garden matching cards printed and in use. Here's what you'll need:
Materials needed:
First, download your printables from further down the post.
Next, print the pages you want. The margins are safe for almost all printers so you should be able to print at 100%.
Laminate pages before cutting, if you're laminating. If you don't have a laminator, you can "laminate" the cut out cards with clear packing tape.
Finally, cut out the cards using scissors or, for faster and more accurate cuts, a paper trimmer.
A guillotine style paper cutter is more effective for laminated pages, but a (safer) paper trimmer works, too. I regularly use this paper trimmer on laminated pages: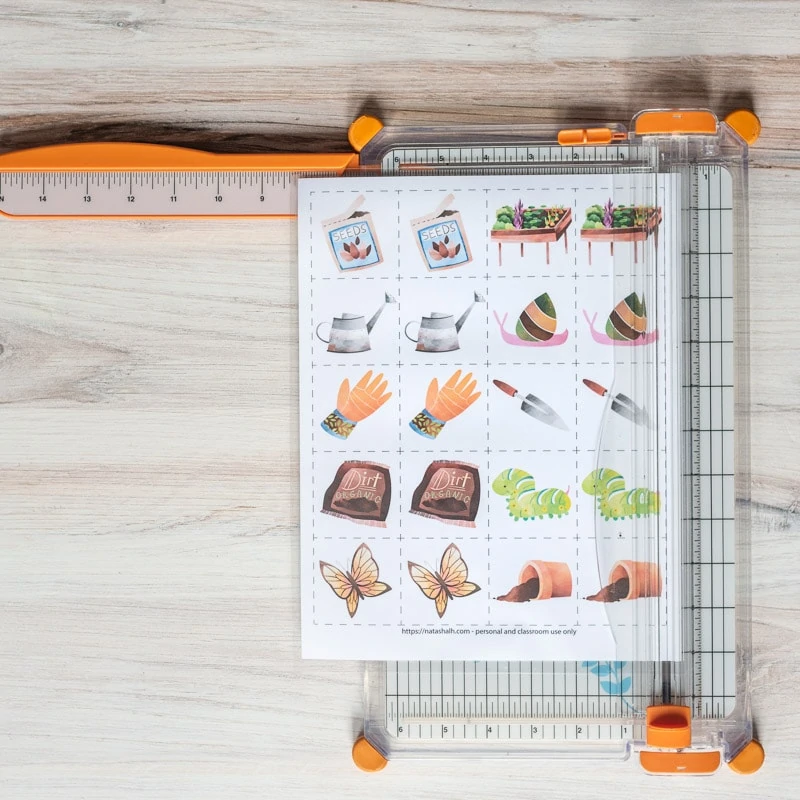 Play and enjoy! You can place all the cards face up, half the cards down for a modified memory game, or all the cards face down for a more difficult game of memory matching. You can also remove some of the pairs to make the memory version of the game easier for younger children.
The shadow matching cards can be used in the same manner as the "regular" cards.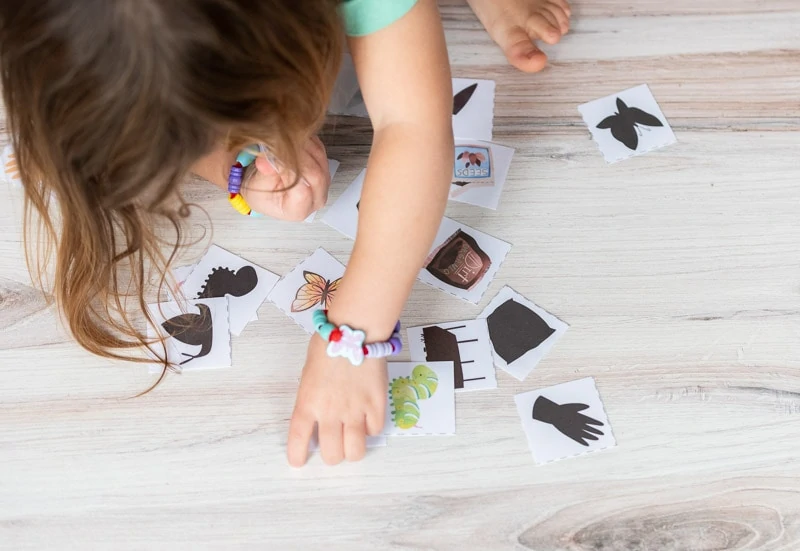 Free printable Garden matching game download
Alright, let's get to the free printables!
Like all free preschool printables on The Artisan Life, this game is free for personal and classroom use. You are also welcome to use it with scout troops, homeschool co-ops, etc. Basically, as long as you are personally organizing the activity, it's fine to use these.
You are not licensed to redistribute the printouts or digital files to others. Just send your friends or coworkers to this post so they can download their own copies!
If you agree to this license, click below:

I hope your little learner or students enjoy playing this matching game!
Make sure to download these additional free learning printables for preschoolers while you're here:
Preschool Learning Printables
Download these additional free activities to keep your little one busy and learning without tons of prep time.