This printable vegetable bingo game is a fun way to teach your child or students about vegetables, nutrition, food groups, and more! Grab from free printable vegetable bingo boards for your family or pick up a classroom set of vegetable bingo printables.
These vegetable bingo cards feature 30 different vegetables. The images are culinary vegetables (plus mushrooms), not botanical vegetables. (Tomatoes, peppers, cucumbers, pumpkins, and several other popular vegetables are botanical fruits.)
Although the veggies are labeled, reading is not required to play this vegetable bingo game. You can even use this vegetable bingo with preschoolers and older toddlers! My daughter (33 months at the time of writing) loves to play picture bingo as a matching game using the calling card tiles.
However you chose to use your vegetable bingo PDFs, I hope you enjoy them as much as we do!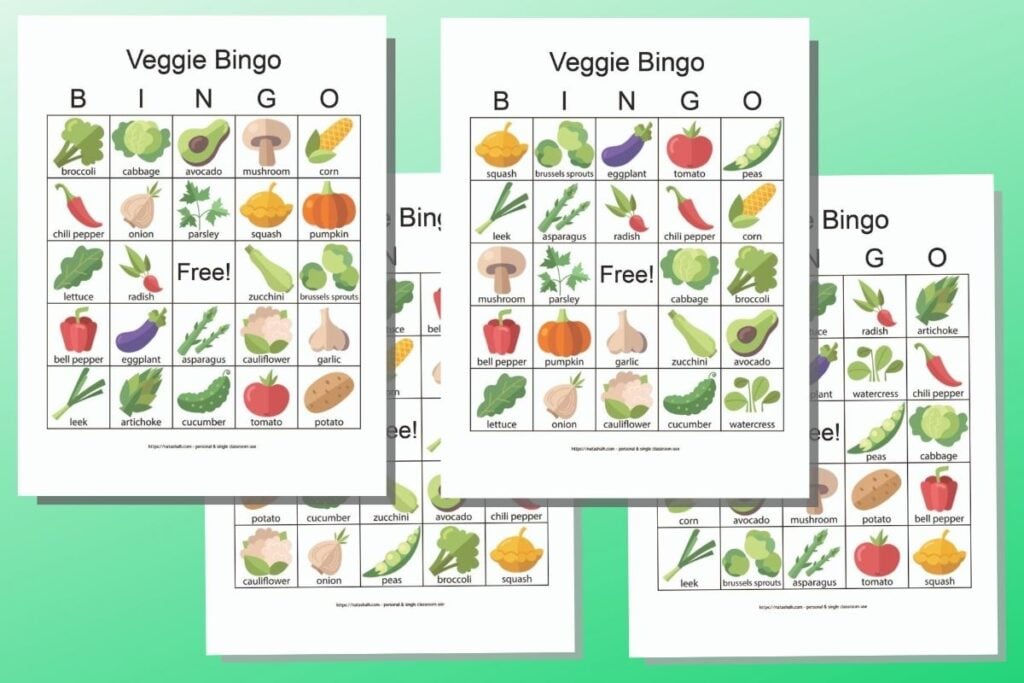 How to play vegetable picture bingo
This post may include affiliate links which means I may earn a commission on qualifying purchases at no additional cost to you.
Playing picture bingo is fun and easy:
Grab your PDF downloads (further down the post)
Print the desired number of bingo cards and the call cards at the back. Do not cut up a card to use as call cards because each card does not contain every possible image.

I always print bingo boards on presentation paper, a heavyweight paper with a special coating for crisp, vibrant images. If I'm going to use my colored ink, I want the cards to look their best!

Laminate your bingo boards and calling cards before cutting the cards out. This is optional, but highly recommended!
Cut the call cards apart. I've used this paper trimmer for years and it's still going strong.
Place the tiles in a bowl and draw them one at a time. Read out the vegetable name and show the image around. Players mark the image if it appears on their card.
The first player to get 5 in a straight line or on the diagonal shouts "bingo!" to win.
When you laminate the bingo boards, you can use dry or wet erase markers to mark off the cards.
For an added fine motor challenge, have your child use small manipulative like large buttons, pompoms, or counting bears to mark their cards. To really up the challenge, have them use tongs to place the manipulatives.
No products found.
As mentioned above, this game can also be played as solitaire. Have your child match the call cards to the bingo board. Here you can see my daughter playing a matching game with her summer bingo card: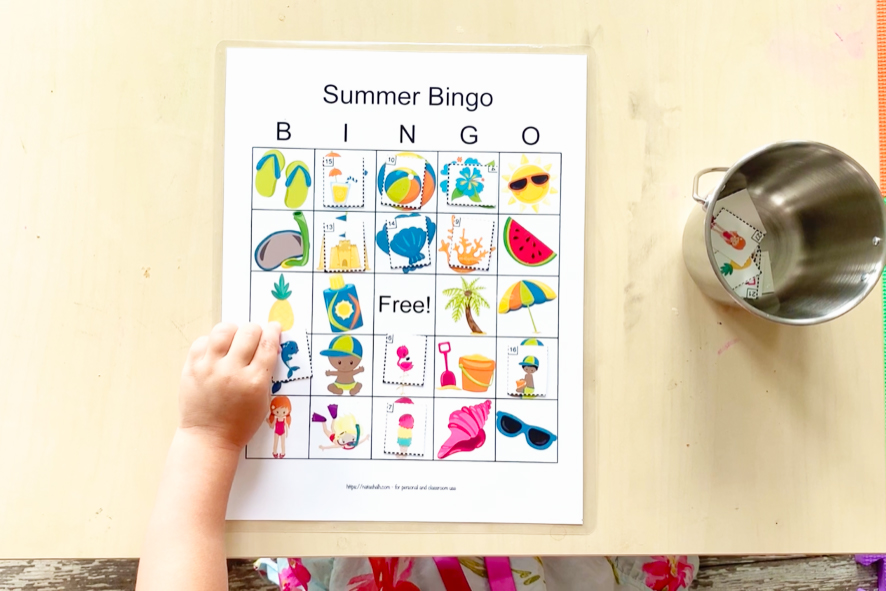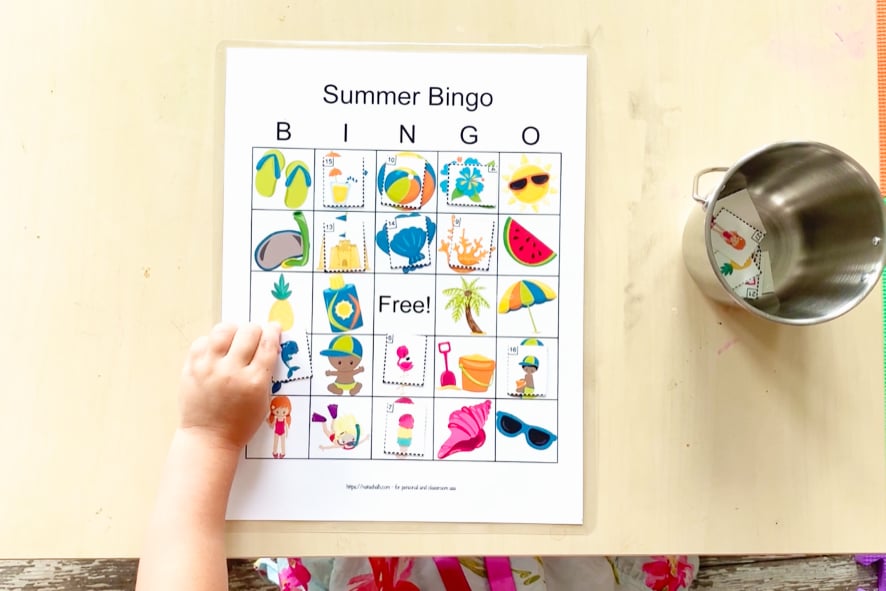 Printable garden bingo boards
Like all free printables on The Artisan Life, these bingo cards are for personal and single classroom use. You are welcome to print and use them as many times as you'd like with your own children, personal classroom, Scout troop, therapy clients, etc.
You are not licensed to alter, resell, or redistribute the files. Please just refer family and coworkers to this page so they can download their own copies!
There are four sets of garden bingo cards to pick from:
Vegetable bingo for a large group (50 boards)
Classroom set of veggie bingo cards (25 cards)
Free printable set of 10 vegetable bingo PDFs
4 free printable vegetable bingo cards
All sets are unique and can be combined. So, for example, if you need 30 cards you can combine the sets of 25 and 10 instead of buying the package with 50 boards. Just keep scrolling until you find the set(s) you need!
Vegetable bingo boards for a large group – 50
This set of 50 vegetable bingo boards is available by popular demand! It's ideal for larger gatherings, school harvest festivals, and even for nursing home game nights. It's available for a very low price – less than 10 cents a card.
Classroom set of vegetable bingo cards
This classroom set of 25 veggie bingo cards is perfect for most classrooms. If you need a few extra boards, grab one of the free sets below!
Free printable set of 10 garden bingo cards
The set of 10 bingo cards is always the most popular. It's great for larger families and smaller groups. This set is free – just let me know where to email your PDF by filling out the form below the preview image.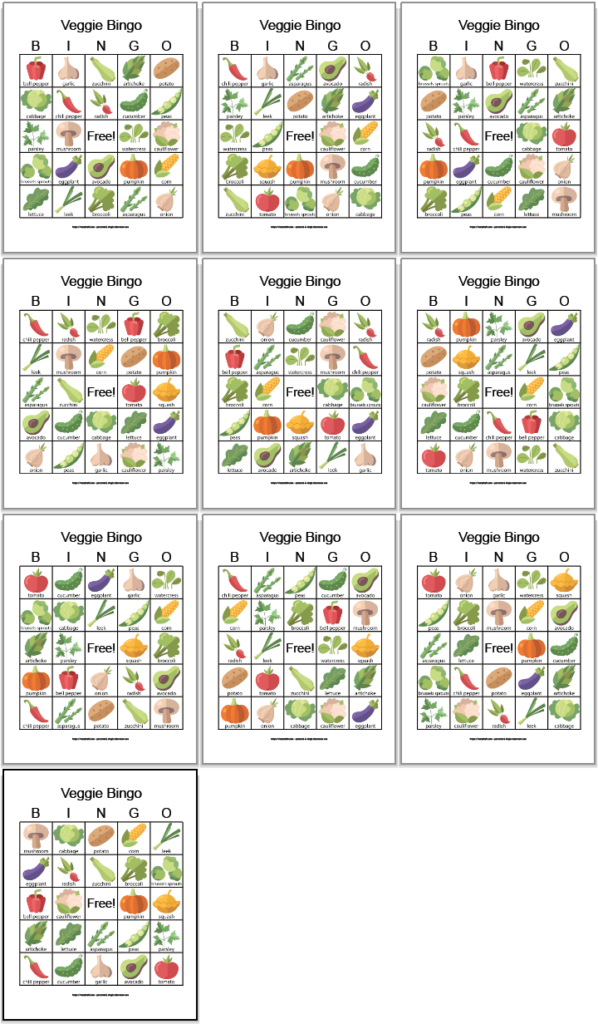 4 garden bingo card printables
This set of 4 veggie bingo cards is completely free with no email address required. Simply follow the link (located below the preview image) to get your file from Dropbox.
Download 4 free vegetable bingo boards here
Don't lose track of these bingo boards – Pin them to your kids activities board now!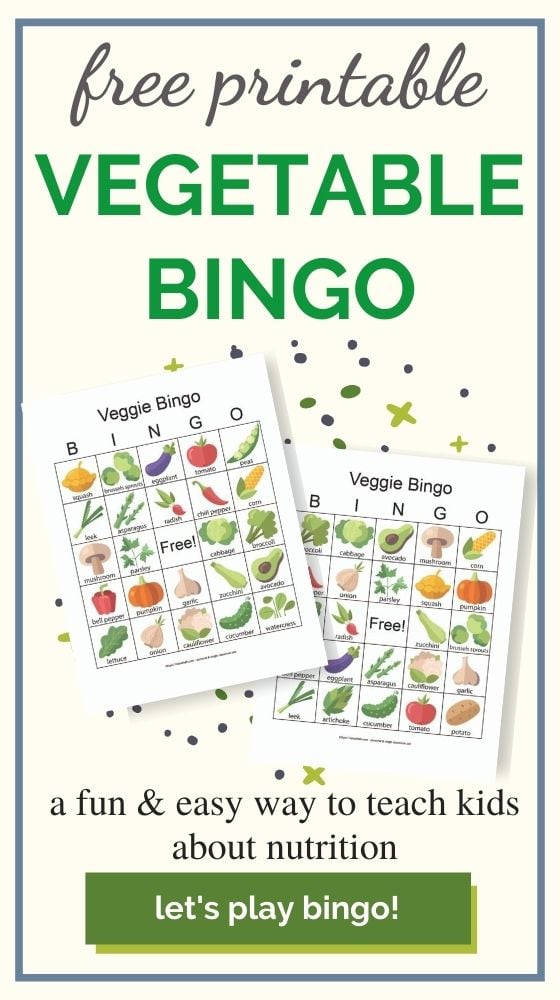 If you enjoy playing picture bingo, make sure to check out these options for more holidays and occasions on The Artisan Life!