Set your preschooler up for writing success with these princess themed trace in the path fine motor pre-writing practice pages! Use them as a print and play no-prep activity or laminate them for repeated use.
These prewriting practice tracing pages will help your child develop their fine motor skills and hand-eye coordination as they trace along the path with a finger or draw between the lines with a marker or crayon.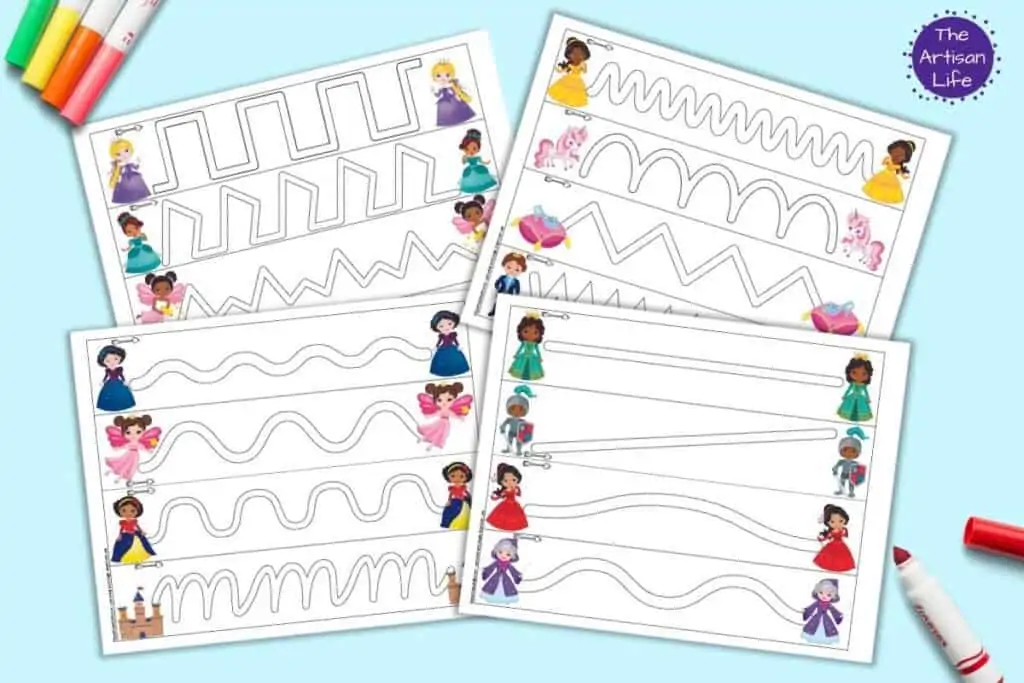 If your little learner loves princesses, make sure to grab these additional printables while you're here:
This post may include affiliate links which means I may earn a commission on qualifying purchases at no additional cost to you.
It's easy to use these prewriting printables as a no-prep activity when you print them out and let your child trace away with their favorite pencil or crayon. We use these nontoxic beeswax crayons and preschooler-friendly pencils.
You can also make the activity reusable by laminating the pages or sliding them in page protectors for use with a dry erase marker. It's also easy to cut the laminated pages into strips that you slip onto a binder ring for a go-bag activity that easy to wipe down after a car ride or trip to the doctor's office. My daughter loves erasing the pages herself with a damp paper towel or white board eraser.
In the image below, you can see my daughter using her car tracing pages cut into strips to see what I mean:
How to print and use trace in the path prewriting pages
This set has four different pages with four tracing paths each. There are various straight, curved, zig-zagged, and shaped lines to help your child gain fine motor control and hand-eye coordination. They're developmentally appropriate for children all the way from toddlers through preschool, and even kindergarten if your child is still working on pencil control.
Your child can even use a finger to trace the lines if they aren't ready for a pencil or crayon yet. My daughter was barely able to trace the paths with her finger when she first started using this style of prewriting practice pages at around age 2.5. Now, as a young five year old, she's a pro and is so proud of tracing the lines (relatively) accurately. As she learns how to write, she's recently pulled her old prewriting practice pages back out.
Materials needed:
How to use trace in the path pages
Make sure to get your download from lower down in the post. Look for the row of purple arrows pointing the way.
Print the pages you want to use. If your child is new to this type of activity, you might want to skip printing the last page. If they're very practiced at tracing, they might not be interested in the first, easiest page. The page shown below is the second page with a medium-level of difficulty.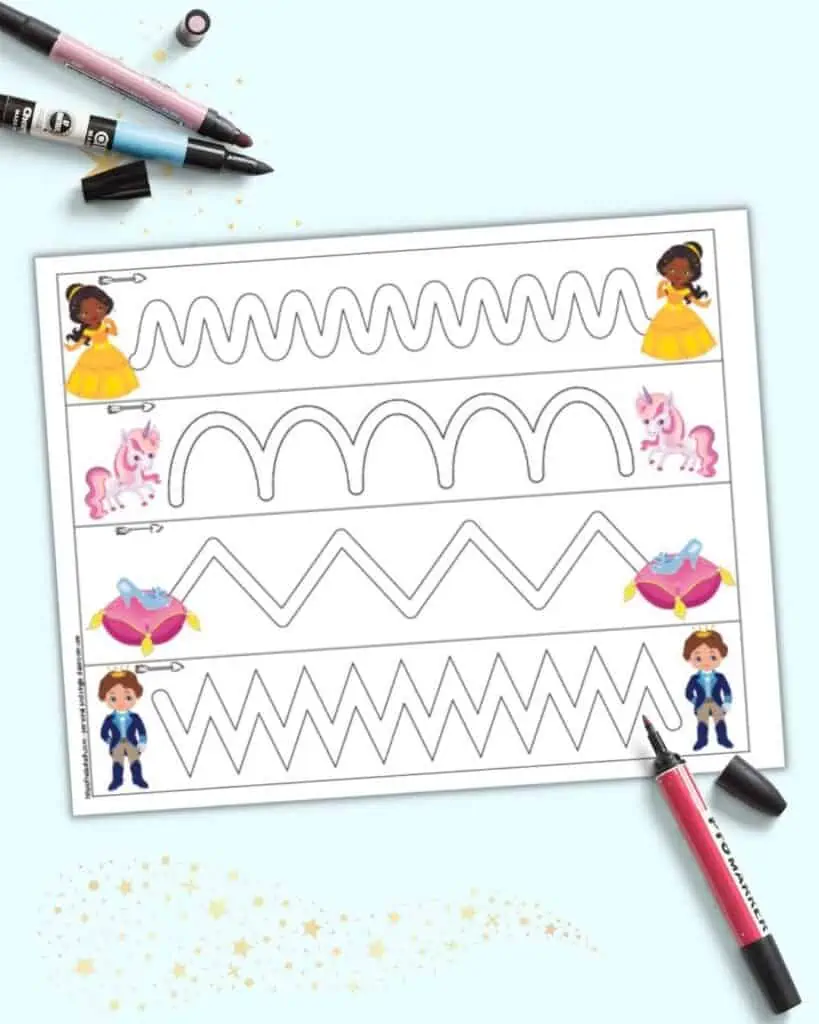 Demonstrate how to use the pages. You can start by tracing from left to right with your index finger, or you can jump straight to using a marker/crayon.
If your child has trouble tracing, or if you want a new activity to keep your child's attention, you can have your child place small manipulatives to fill the path instead of tracing inside.
Almost anything small can work for covering the path. You can use nature treasures, pompoms, balls of play dough, mathlinks cubes, etc.
After placing the manipulatives, you can count together how many it took to reach the end of the line. You may even want to leave the objects on the line so you can count and compare how many it takes to fill various lines. It's amazing how many ways you can use these simple printables for learning.
Free printable princess trace in the path fine motor practice pages download
Like other free preschool printables on The Artisan Life, these are for personal and single classroom use. You are welcome to use them with Scouts groups, home school co-ops, library activities, therapy clients, etc.
You are not licensed to redistribute the files or printouts to others for their personal use or post them for sale or redistribution online. Instead, please send your friends and coworkers to this page so they can download their own copies.
I hope your little learner enjoys using these princess trace in the path pages as much as mine does! There are many more free printable activities here on The Artisan Life. Make sure to download them, too, while you're here:
Mermaids, Fish, and the Ocean
Does your little learner love fish, mermaids, and the ocean? You've come to the right place!