This post will tell you everything that you need to know about brain dumping AND comes with a cute printable brain dumping worksheet that you can download to use whenever you want.
You're probably here because you have a lot on your mind and you need help with sorting it out. You might be stressed, anxious, depressed, or otherwise overwhelmed with what is going on in your life.
Doing a brain dump can help you with all of that! But what exactly is a brain dump and how do you do one?
Make sure to keep scrolling to the bottom for your free printable brain dump worksheets!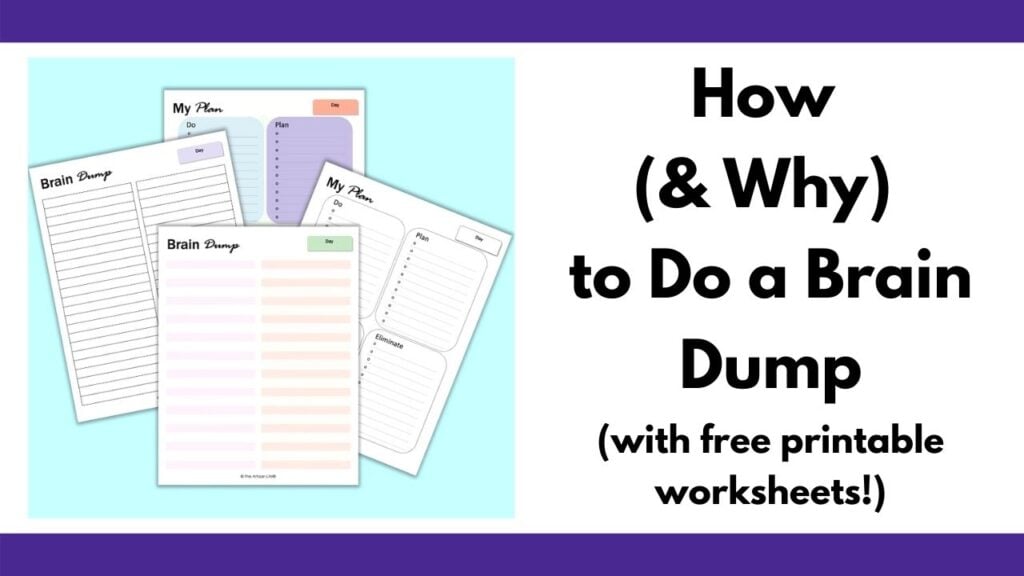 This post may include affiliate links which means I may earn a commission on qualifying purchases at no additional cost to you.
What is a brain dump?
Essentially, a brain dump exercise is a way that you can get all of your thoughts and feelings out in the open so that you can start to make sense of them. If there's something on your mind that you feel is weighing you down, you can get it out with a brain dump.
Worried about an upcoming promotion at work?
Have thoughts about your next big goal?
Anxious about your relationship and where it's headed? 
Is your mind racing, making it impossible for you to sleep?
Get it all out so it is not all just floating around in your mind.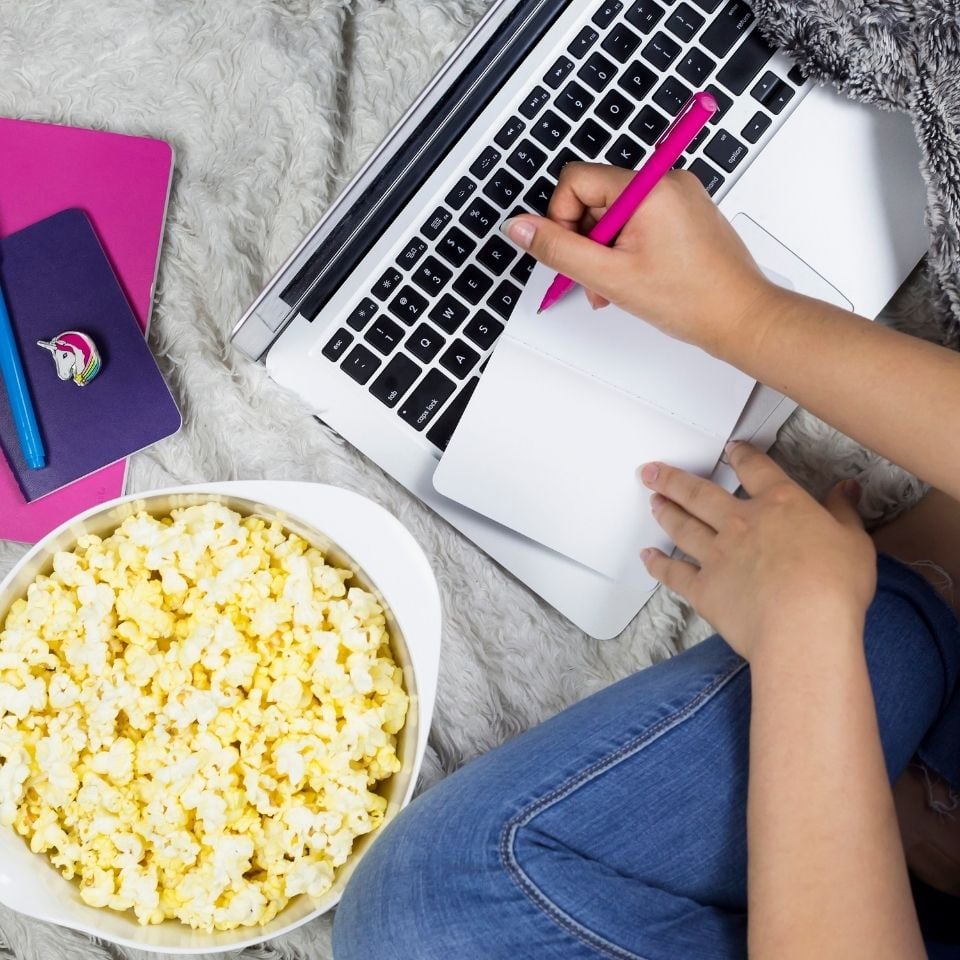 Why and how brain dumps work
Writing down all of your thoughts and feelings may seem a bit silly at first. You might be thinking, "What is writing down my thoughts going to do?".
So let's answer that.
A group of researchers found that "'offloading' your worries into free-form writing frees up mental resources that you can then use to complete tasks more easily," and that it literally changes the way that your brain works (shown by reduction of negative brain waves on an EEG).
Fascinating right? But what does it mean in layman's terms?
Brain dumps work because they makes your thoughts and feelings more real. When something feels more real and tangible, it allows you to find solutions and connections that you might not have seen before. So writing down your thoughts (especially your worries) can assist you in becoming more focused, less worried, and more productive.
Related: Free printable mood trackers
When should you do a brain dump?
You can do a brain dump at any time, whenever you're feeling stressed, overwhelmed or just need to get something out into the universe.
However there may be times where a brain dump is especially beneficial like:
When you're trying to make a big decision
When you have competing thoughts
At night when you have a lot on your mind (so you can get to sleep!)
In the morning to help structure and organize your day
On a weekly basis to clear out last week and organize your thoughts for the week ahead
How to do a brain dump
There are generally two different ways to do a brain dump: a stream of consciousness list style or mind mapping. We'll take a look at both styles. But, what you'll need for either is a notebook and a writing utensil. I also light a candle and write by candlelight when I do a brain dump in the evenings to help me wind down.
Traditional List-Style Brain Dump
This traditional list style of brain dumping is super simple. All you need to do is list out everything that is on your mind. This is a stream of consciousness style of brain dumping. This means that you write whatever comes to mind. It might look something like this.
I really need to think about what to cook for dinner.
I can't believe that my friend is breaking up with her boyfriend.
Should I break up with my boyfriend?
He's really annoying sometimes.
Ahhh I forgot to pay my electric bill!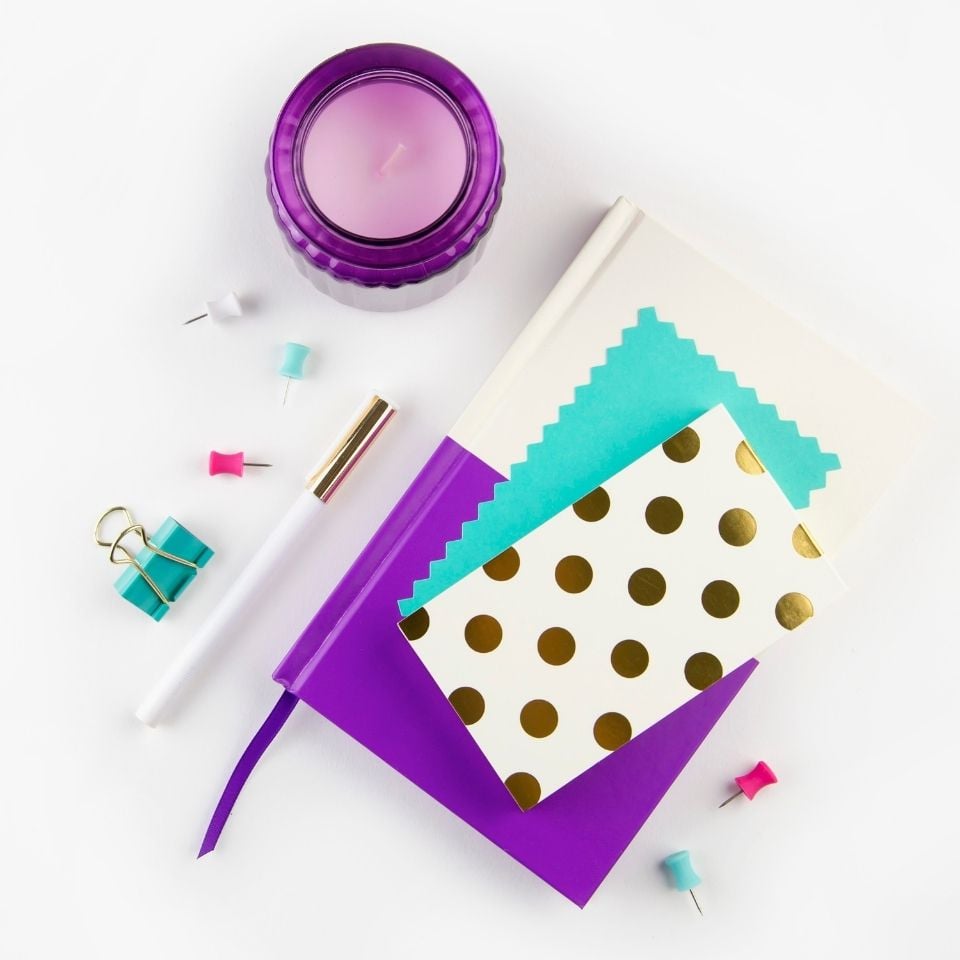 Mind Map Brain Dump
A mind map is another way that you can do a brain dump. This type of brain dump is a bit more organized. Instead of writing down your thoughts as they come up, one after another, you categorize your thoughts as you go along based on their relationship with each other.
I personally prefer to do a list style brain dump to "get it all out," then organize my lists later on a separate sheet or by coloring coding. You may prefer to use categories to begin with in a spider chart of mind map. Experiment and see what works best for you!
Continuing the example from above, you could categorize a friend breaking up and thoughts about your own possible break up in "Relationships" and cooking dinner and forgetting the electric bill in "Household".
With each thought they can branch off into smaller categories. "Relationships" becomes "friendships" and "romantic relationships". "Household" becomes "cooking" and "paying bills".
Map mapping can get super intricate. Think of it as a tree, with branches, twigs, and leaves all coming out at different points. This site is great to learn more about mind mapping and how to do it.
Great mind-map style brain dump categories to try are:
Family
Procrastinations (things you've been putting off and are weighing on your mind)
Incomplete goals
Household tasks
Money/finances
Relationships
Angers (things you feel angry or hurt about and haven't fully addressed yet)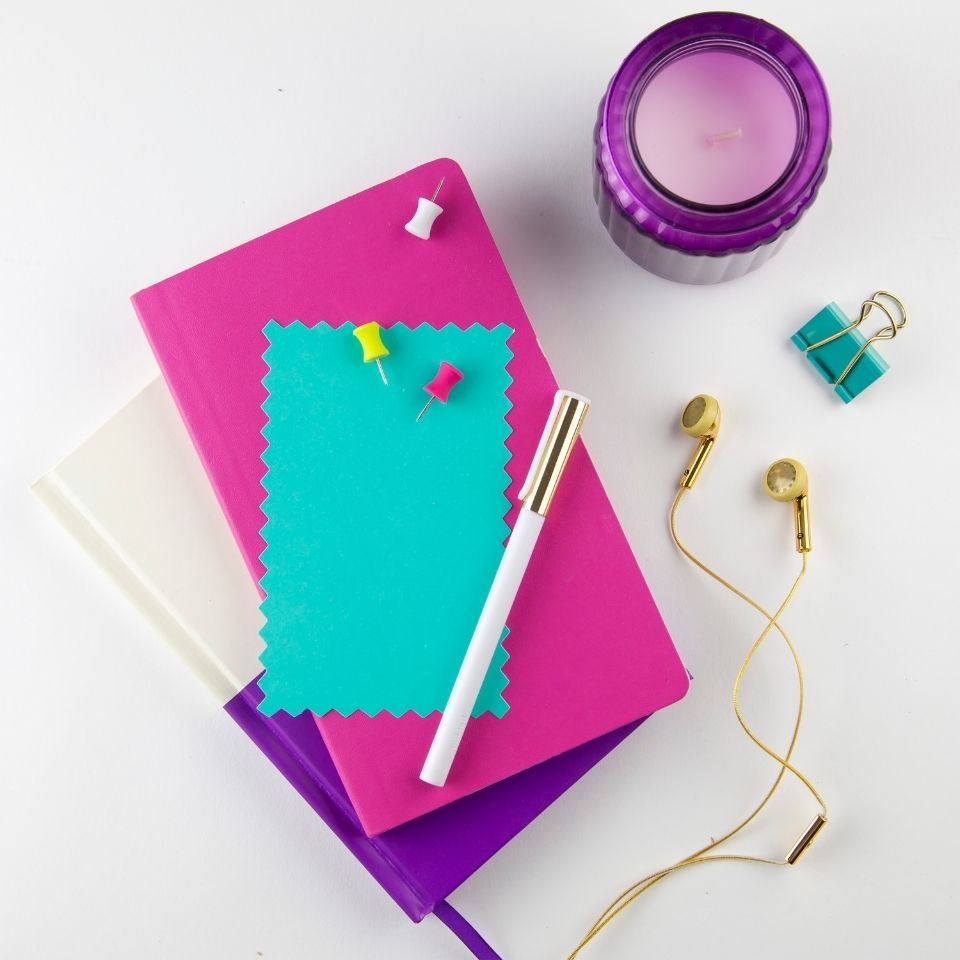 Organizing Your Brain Dump
Once you've gotten all of your thoughts out, you may want to organize your brain dump in different ways. It's your choice
Do you have to organize your brain dump? No not at all. This is about you. If just getting your thoughts out there is enough, then it is enough.
There are two main ways to organize your brain dump. You can either re-write your thoughts in a more organized manner (if you didn't already do a mind map) or color code them. Of course, you can also organize your lists and color code them, too. Experiment to see what you prefer.
Organizing your brain dump with lists
Rewriting your brain dump into organized lists can help you see what areas of your life need your attention most. It can also help you formulate a plan to address anything you need to take care of.
Your free printable brain dump worksheet includes an organization page in color and ink-saving black and white with the following categories:
To-dos . You can further organize this into "right now", "soon", or later." Make sure to grab these free printable to do checklists to help you out!
Things to plan – These tend to be bigger tasks that you'll want to break down into smaller chunks and goals before tackling them.
Things to delegate – These are things you can ask someone else to do. Maybe you can ask a partner to come up with dinner ideas or take out the trash, for example
Things to eliminate – Is there anything on your brain dump that you're ready to release?
Using color coding to organize brain dumps
If you're a visual person, color coding may be helpful for you in organizing your brain dumps after you've completed them. It is totally up to you to decide your color-coding system but here are some suggestions:
Green = Money
Red = Romantic relationships
Yellow = Professional or educational
Gold = Goal setting
Purple = Creative ideas
Some of these suggestions are based on color psychology. Color psychology in a nutshell says that colors can assist in conveying meaning and are a form of non-verbal communication You can read more about it here.
You can use your favorite markers, pens, highlighters, and even stickers for color coding. The Staedtler fineliner pens are some of my absolute favorite both for journaling and color coding brain dumps. They have fine lines, lots of color options, and don't usually feather or bleed.
STAEDTLER triplus fineliner, 0.3mm metal-clad tip, ergonomic triangular...
The perfect pen set for technical or fine art drawing, these fineliner pens create clean, precise lines and outlines
Got a journal? These needle point markers are wonderful journal pens. Or take clean, color-coded notes
Dry-safe ink means even if the cap's been left off for days, it remains usable. You can just pick it up and carry on
Can I Do a Digital Brain Dump?
Sure! If you're not a pen and paper person, don't force yourself to become one. You can definitely take your brain dump online using your favorite word processor (like Google Docs or Microsoft Word) or note taking apps like Notes or Evernote.
However, I am a big fan of actually putting pen to paper for all types of journaling and brain dumping. It involves more of your brain and engages your senses. Even if you think you aren't a paper person, I encourage you to give it a try on paper. (It doesn't matter if your handwriting is poor – mine is terrible!)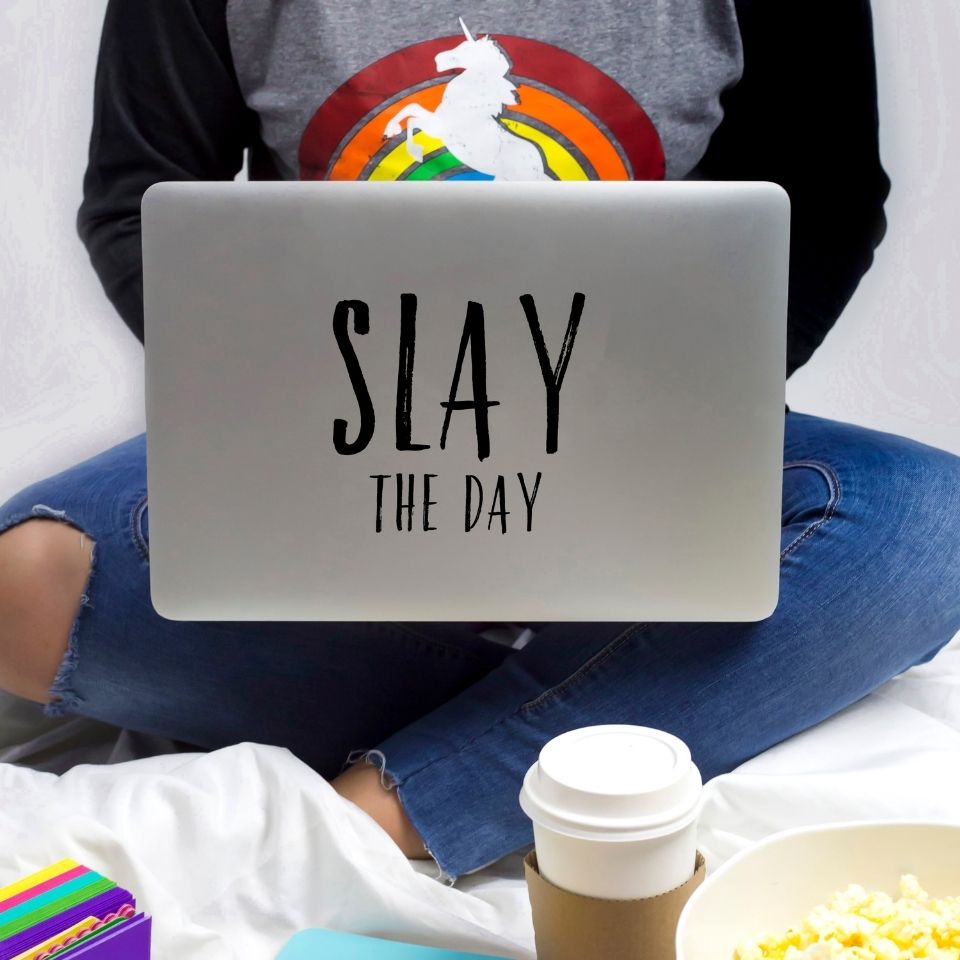 More ways to do a brain dump
Not into the stream of consciousness type of brain dump? That's totally fine.
You can write about specific things or situations and keep writing about them until you've written down everything that you can.
Here are some specific things you may want to brain dump about if you don't have any idea of what to write about:
Your ideal vacation
Your grocery list
A bucket list
Chores that need to be done
Thoughts about your relationships (friends, family, partner, kids, coworkers, etc.)
Brain dump tips
So now that you understand what a brain dump is, when to do it, and how to do it, you may still have some questions on tips or techniques that might help make brain dumping easier for you. Here are some tips for brain dumping:
Set a routine
If you're often feeling overwhelmed or stressed, setting a routine to do a brain dump can help.
Set a reminder on your phone or note in your planner to do a brain dump at least once a week.
I personally find doing a brain dump by candle light before bed helps me get to sleep. My doctor suggested using only candle light for an hour before bedtime to help treat my insomnia and journaling and brain dumping to help my anxiety. I was skeptical at first, but this routine has really helped calm my racing mind.
If you already have a journaling routine or other routine (like at night or in the morning), you can slip brain dumping right in there as part of your self-care routine.
Set a time limit for your brain dump
I could honestly go on forever when I'm in a brain dumping session or when I'm journaling. If that sounds like you, you may want to set a time limit so that you don't get lost in your thoughts. Try for about 10 minutes and see if that feels like enough. If it doesn't give yourself another 10 minutes.
Keep your brain dump separate from your journaling
Because a brain dump can involve a lot of stream of consciousness writing, you may want to keep it separate from your "other" journaling.
I keep a separate brain dump journal so it doesn't clog up my gratitude journal, for example. I love using a lined journal with a spiral binding for my brain dump so it's easy to fold open flat without worrying about covers flopping around while I'm writing.
I'm currently loving these spiral notebooks (I also have the grid dot version). The paper is surprisingly thick and nice, and the covers are durable, too.
Walk away from your brain dump list
Sometimes writing down all of your thoughts can feel like a lot all at once and organizing them can seem insurmountable. So instead of feeling like you have to do it all at once, know that you can walk away from it and come back later. It will still be there.
Use sticky notes to organize your brain dump
I'm an avid sticky note user. You can say that I'm kind of obsessed with them. The great thing about using sticky notes is that you can move them around.
If you're like me, you probably have lots of the same thoughts or things that you want to get out of your brain. Instead of having to reorganize or write them over again, move the sticky note.
If you don't have sticky notes, you can cut colorful squares of paper and use push pins or magnetic push pins to organize them on a cork board or your fridge. Don't forget to write yourself an inspirational note, too. =)
Free printable brain dump templates
I'm so excited to share these free printable brain dump worksheets with you!
As usual for free printables here on The Artisan Life, I got very into making them and ended up creating four pages instead of just one.
There is a lined brain dump worksheet so you don't have to buy a new journal (if you don't want to) and a page to organize your thoughts on with categories for "do, plan, delegate, eliminate." (This page is a modified version of an Eisenhower Matrix.)
Both pages have an ink-saving version and a pretty, colorful version. They are sized to print on 8.5×11 notebook paper, but can be scaled down to fit your planner of choice. I use the Happy Planner system. To make letter pages fit your Happy Planner Classic, print at 84%, trim away the excess, then punch holes with your Happy Planner hole punch.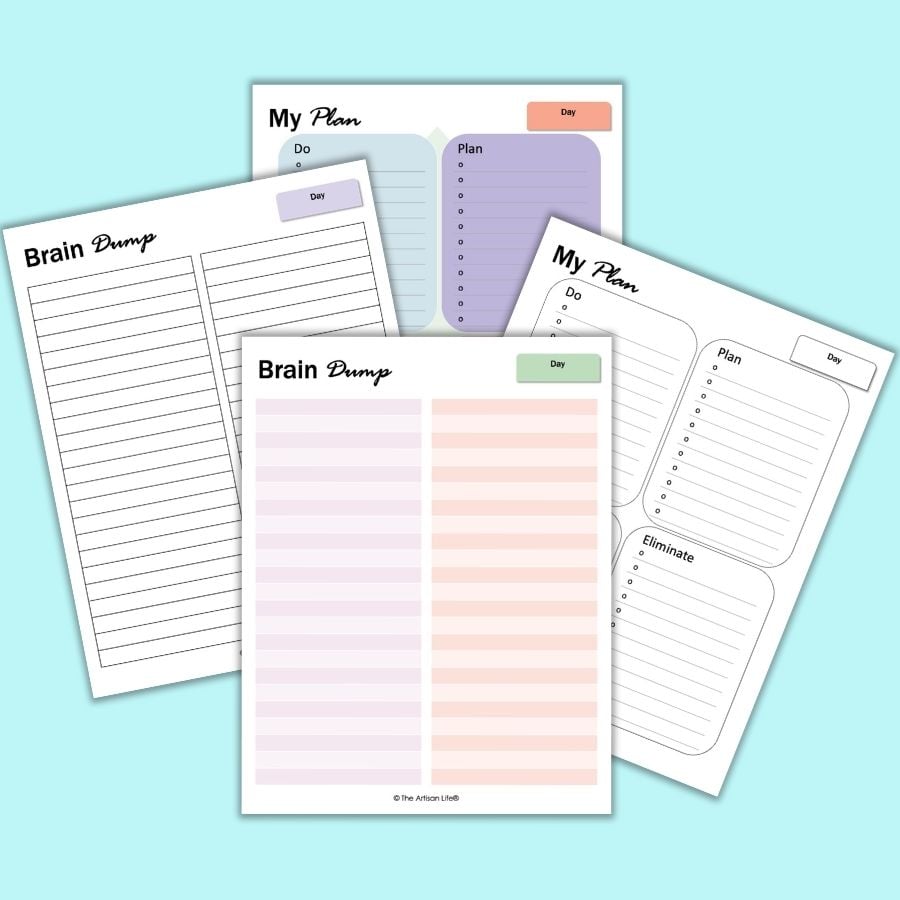 These brain dump planner pages are free – just use the box below to let me know where to email the PDF and they will zip their way across the internet and into your inbox:
So what is brain dumping? It is simply putting pen to paper (or fingers to keyboard) and letting out all of the thoughts that are on your mind. It's a way for you to calm your anxiety, ease your mind, and relieve stress.
Do you feel lighter already? I know I do.
I hope you enjoyed this post and remember to grab your brain dumping printable worksheet. 
Planner & Journal Printables
Looking for more planner and journal printables? Check out these freebies on The Artisan Life!