These printable January Happy Planner Classic inserts and US letter planner pages are a great way to start your new year!
The watercolor illustrations have a variety of foxes, owls, deer, and winter greenery to brighten the dark days of winter. The art is thoughtfully placed so you don't lose anything to hole punching or margins.
The gratitude journal page first introduced in the November planner pages is here to stay. The gratitude journal page included in both the free printable planner insert set and the (very affordable) January planner kit.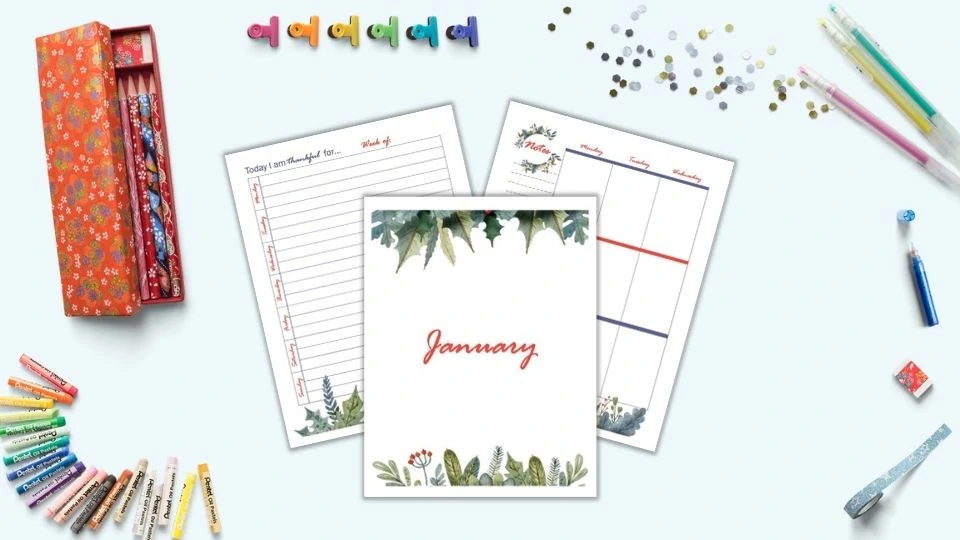 This post may include affiliate links which means I may earn a commission on qualifying purchases at no additional cost to you.
How to print your own planner pages at home
Printing your own planner pages at home is easy. Just keep these two important things in mind:
Always use a nicer, "premium" printer paper instead of your cheapest copy paper. I'm currently using HP 32# bright white paper for my printables for bright, professional looking results. To see this paper in action, visit this post on the best paper for planner inserts. I used a bunch of my printer ink to test the same floral planner printable pages on five different types of paper so you can see which paper brings you the best results.
HP Paper Printer | 8.5 x 11 Paper | Premium 32 lb | 1 Ream - 500 Sheets |...
Made in USA: HP Papers is sourced from renewable forest resources and has achieved production with 0% deforestation in North America.
Heavyweight premium printing: HP Premium32 is a heavyweight (32 pounds), brighter (100 bright) and whiter (163 whiteness) paper with a super-smooth...
Certified sustainable: HP Premium32 presentation paper is Forest Stewardship Council (FSC) certified and contributes toward satisfying credit MR1...
2. Make sure the pages print at 100% size for the Happy Planner Classic and US letter sizes, unless you're intentionally scaling them down.
Some programs default to scaling the Happy Planner pages up to fill the entire page. Double check before hitting print to make sure sure you're printing at actual size or 100% size.
All design elements on the US letter sized pages should fit within standard printer margins, but double check to make sure you're printing at actual/100% size for best results in case your printer has defaulted to some other print scaling.
Your print dialogue box should look something like the screenshot below. Note that "actual size" is selected. (The planner page in the image is from the December planner printable set.)
How to print and use Happy Planner Classic inserts
Trim your printed pages along the light grey dotted line. This line is exactly the right size for HPC inserts, so cut directly on the line. I recommend using a paper cutter for quick, clean results. I use a Fiskar's paper trimmer with a guide wire, as seen in the video below featuring the October planner pages:
Hole punch your Happy Planner pages using your Happy Planner punch. This punch can be difficult to track down. Sometimes it's on Amazon, but sometimes it's in stock with Michael's at a lower price. It tends to go in and out of stock frequently everywhere I've ever looked for it, so snag one if you see it available.
Sale
How to use letter sized planner printables
It's easy to use letter sized planner pages in a 3 ring binder or Happy Planner Big. Just print, punch, and enjoy. Please note that the letter pages are not an exact match for the big Happy Planner box sizes.
You can print the letter pages to scale and trim them to fit other planner sizes. Use the planner sizing chart below as your guide. (Make sure to Pin the image so you can find it again later for easy reference!)
January printable planner inserts
Like all journal and planner printables on The Artisan Life, these pages are for personal and classroom use. This includes use with your own students, therapy clients, homeschool co-op group, etc. as long as you are personally organizing the activity and not charging specifically to journal along with you. You are not licensed to alter, redistribute, or sell the digital files or printed pages.
If you want to share these printable planner pages with someone else, please send them the link to this page so they can download their own copy even if you have the free version. I rely on your support and views to keep The Artisan Life up and running!
The Happy Planner insert pages are not scaled down versions of the letter size. I am personally a Happy Planner Classic user. That's why the Happy Planner boxes are the correct size for your HPC stickers.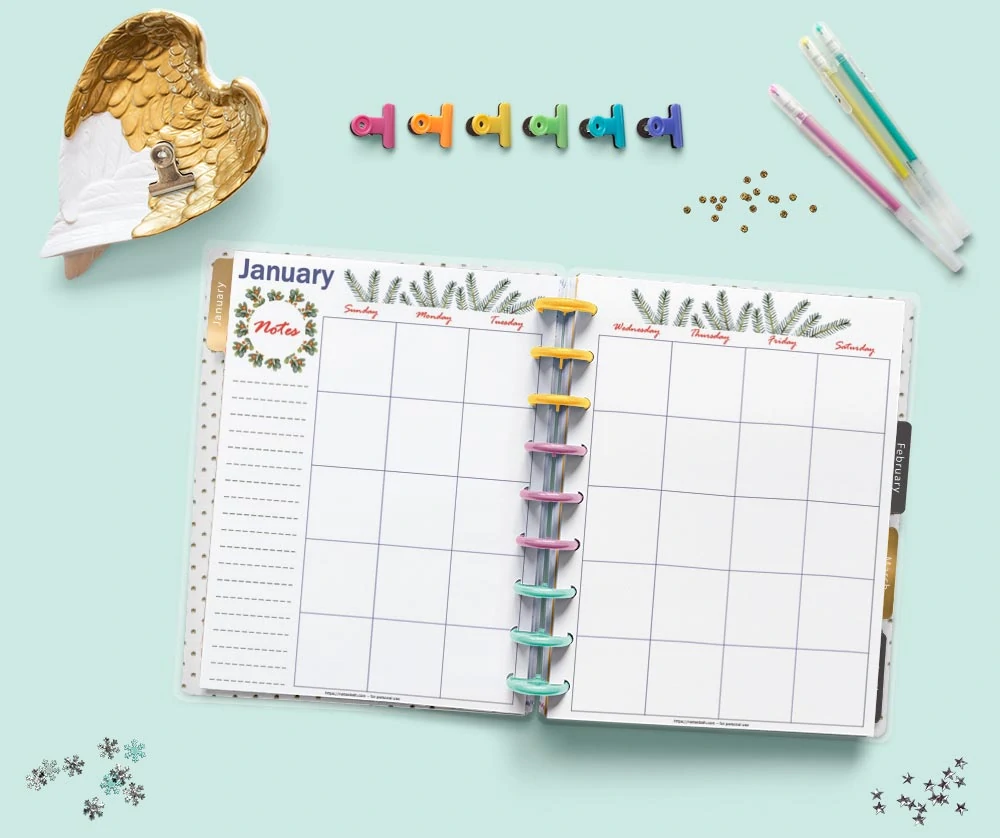 There are two versions of the printables: the set of free planner pages and the January planner kit with 23 pages (in each size) plus printable stickers for one very low price. Please keep scrolling past the paid version to reach the free version lower down on the page.
January printable planner kit
First let's take a look at the January planner printables kit. (Just keep scrolling a bit more for the freebie pack. Look for the row of purple arrows lower down in the post.)
The Happy Planner Classic and US letter sized versions have the same 23 pages. Here's what's you'll receive:
"This planner belongs to" page
January cover page
Notes page
Gratitude journal page
2 page spread calendar
2 weekly goals planners (left and right margins)
2 daily goals planners (left and right margins)
5 weeks of vertical weekly pages with three different designs
Habit tracker for January
Large watercolor book tracker
Smaller book tracker
5 sheets of printable stickers

3 sheets of printable stickers sized perfectly for HPC (not too short EC sticker boxes – yay!)
1 sheet of stickers sized specially just for these letter-sized planner pages
1 bonus sticker page with date flags in extra colors
Printable stickers are a fun way to add variety and functionality to your planner. You don't even need to own a cutting machine or sticker maker to use printable stickers. Discover more about the benefits of printable stickers and how to print your own in this post.
The goals pages are my own creation and don't have a direct correlation to any official Happy Planner page. They are such a fun and simple way to stay organized and on track on a weekly and daily basis. If setting and achieving goals is challenging for you, be sure to visit this post on how to set weekly goals that work.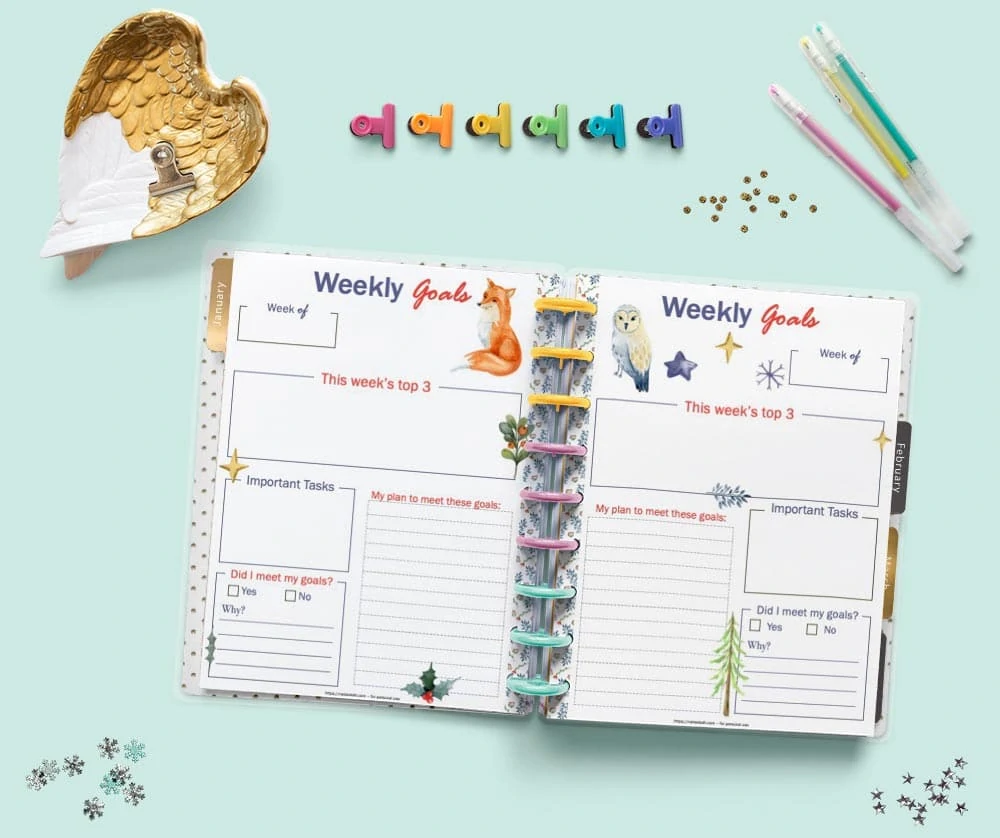 See a preview of each planner page by watching the quick video below. The pages shown are from the letter-sized planner printables. The Happy Planner pages are very similar.
Here are the sticker sheets. Three pages are sized for Happy Planner Classic. You could use these in your letter-sized pages, but you'll have some white space left in each box. Planner sticker are lots of fun, so I made a sheet of printable stickers that are exactly the right width for the vertical weekly columns in these letter-sized printables. If you're scaling the letter printables down for another size, you can print this sheet at scale, too, for perfectly fitting stickers.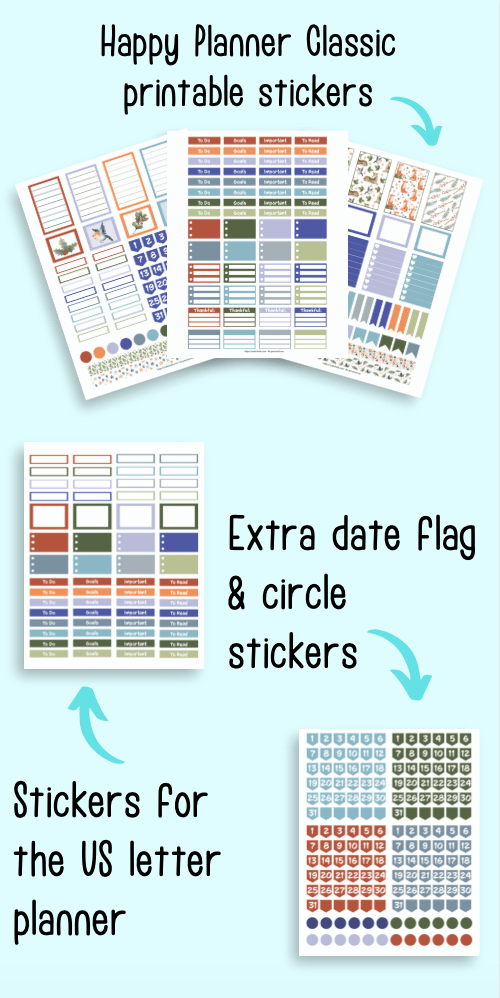 In previous months, I've written that you need an archive tool to decompress your planner files. I am very excited to announce I've found a new add-on in Shopify that allows me to attach multiple files to each digital item! You can download each PDF separately after your purchase with no need to unzip it. Hooray!
Snag your January planner kit today for the very low price of $2.99.
Free January planner page printables
Alright, let's get to the free January planner inserts!
The free version has 6 pages:
January cover page with watercolor illustrations
Monthly calendar pages for January (undated)
Vertical weekly layout pages (undated)
Gratitude journal page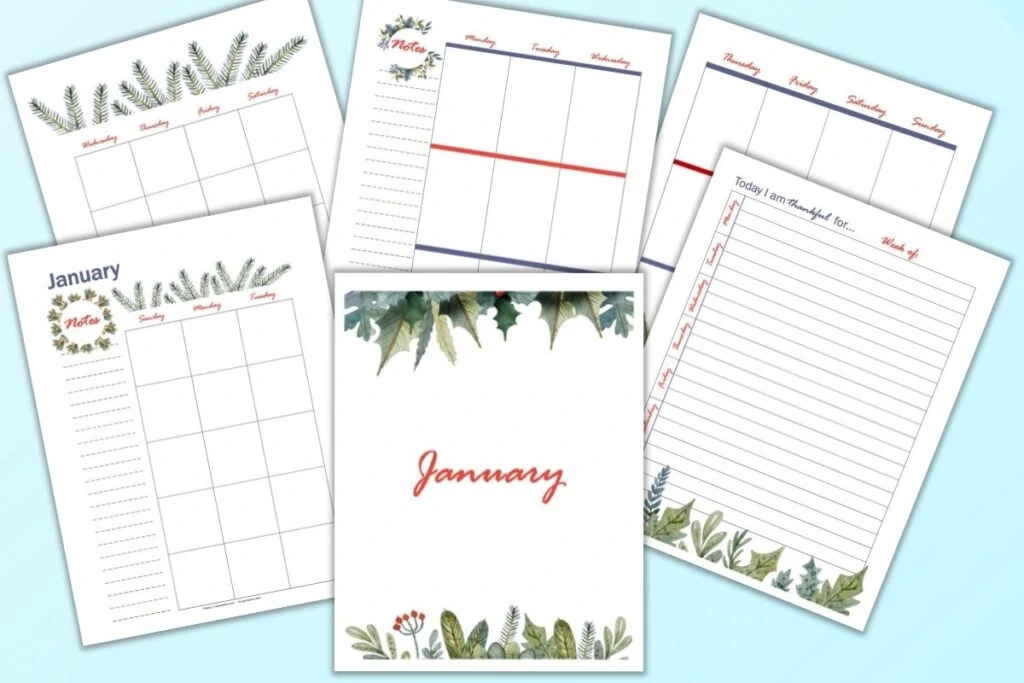 You will need to unzip the compressed file to access your freebies. Many computers already have a file extraction tool installed. For Windows, you can download the program 7zip for free you don't already have an archive tool installed. You can also decompress your file online at ezyzip.com. If you need help, check out this blog post from an Etsy seller detailing how to extract/unzip any file. I am always happy to help. Please email me if you have trouble accessing the files.
I hope you enjoy your January planner insets! If you like journaling and planning on paper, be sure to check out this additional free planner and journal printable here on The Artisan Life:
Planner & Journal Printables
Looking for more planner and journal printables? Check out these freebies on The Artisan Life!