These free mood tracker printables are perfect for tracking your emotions, moods, and feelings throughout the month. Print them on a full sheet and place them in a binder or print them out on sticker paper for your bullet journal or favorite planner!
If you already have my free planner printables for 2020, you know I'm all about making planning and journaling easy. (Grab your 2021 planner printables here.)
Not feeling confident in your drawing skills, being too busy to spend an afternoon creating the "perfect" bullet journal theme, or not having the budget for a jillion different markers, paints, and pens should not keep you from enjoying the benefits of journaling and planning!
That's why I created these free printable monthly mood trackers with cute illustrations. When you use these printables, you can quickly and easily get to doing what matters – tracking your moods and writing in your journal! I hope you enjoy and please leave a comment with requests for future tracker themes!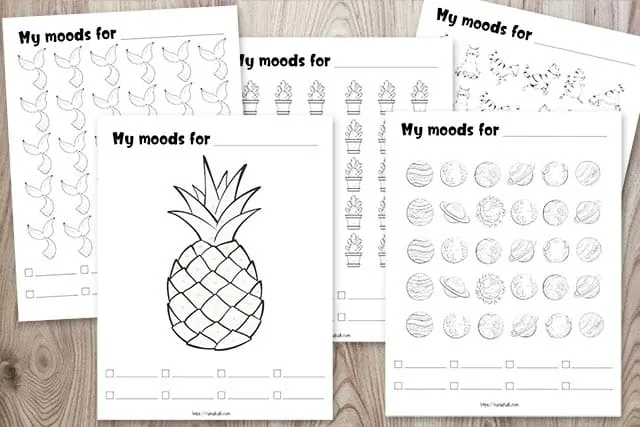 What are the benefits of mood trackers?
Maybe you've seen lovely bullet journal mood trackers on Instagram or Pinterest. Maybe a doctor, therapist, or friend has told you about mood trackers.
Mood trackers aren't just pretty doodles to fill your journal with – they can serve a valuable function! They're frequently used by therapists to help people discover their triggers and see how well therapy is working. A few of the benefits of mood trackers include:
They help you notice patterns in your life. For example, maybe you're always cranky on Sundays because you dread going back to work on Monday. Maybe you're always excited on Wednesday because you go out to trivia on Wednesday nights.
They allow you to connect your feelings with the day's events.
They can help you connect more deeply with yourself and your feelings. We grow up being told things like "big girls don't cry." This can leave us believing it's not okay to have feelings. Connecting with and embracing your emotions is key to working through them.
How to use a mood tracker printable
This post may include affiliate links which means I may earn a commission on qualifying purchases at no additional cost to you.
First, download your printables! Keep scrolling to see previews of 11+ different styles and download your favorites.
Next, print your mood trackers. If you're using a binder, you can print them at full size on letter-sized paper.
To use these mood trackers with a Happy Planner, scale to 83%. Make sure "scale to fit" is selected. Then trim your page to size. You an also print slightly larger, if you'd like, since tracker doesn't extend all the way to the edges of the page.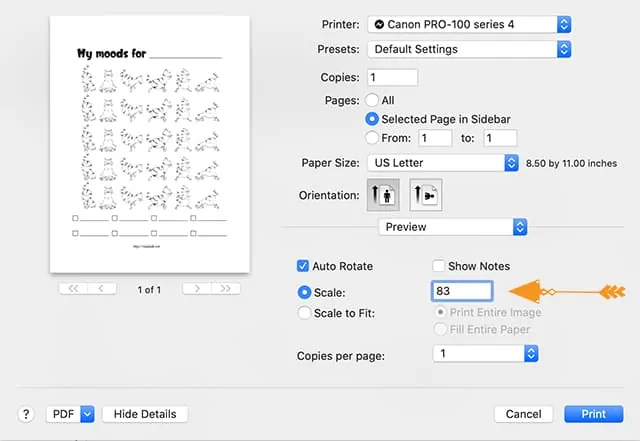 Do you use the Happy Planner system? These free printable floral weekly planner & goal setting pages come in Happy Planner size!
To use with a half letter or A5 planner, scale to 50%. A5 isn't quite the same as half letter, but it's close. Make sure you select "scale to fit."
Use the correct hole punch for your planner or follow these instructions on how to add pages to your coil bound planner.
You can also scale the printables to fit whatever size notebook you personally use as a bullet journal. Print them on a sheet of sticker paper and stick them in place!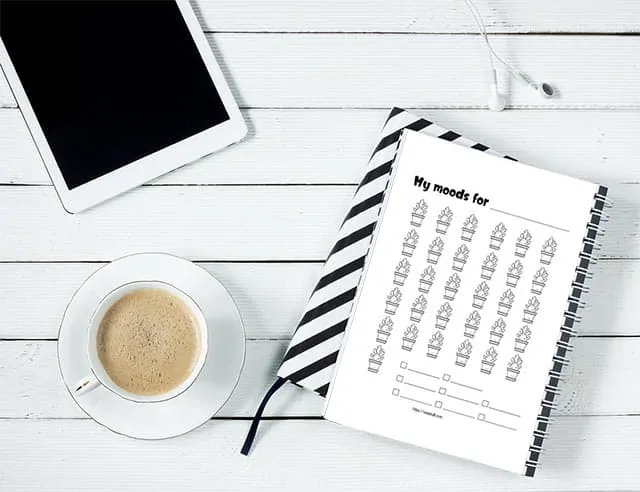 Finally, use your mood tracker! Fill out the key with colors to correspond to moods or feelings, then color each day with your dominate feeling.
Some ideas of moods to track are:
Excited
Happy
Grateful
Calm
Angry
Stressed
Bored
Exhausted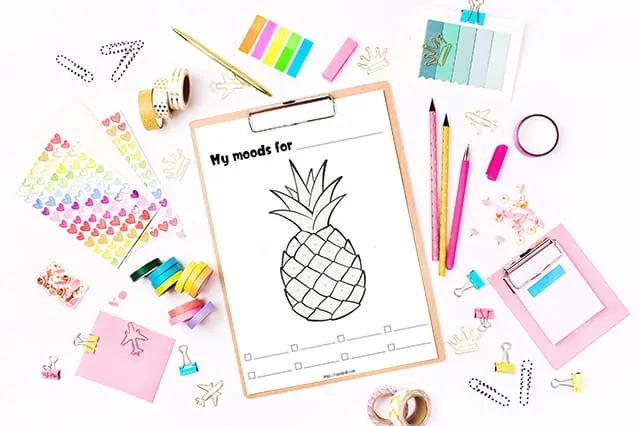 Free mood tracker printables
Okay, let's check out the monthly mood tracker printables!
These printables are all free for your personal use. You are also welcome to use them in your own personal classroom, with coaching clients, in therapy sessions, etc. As long as you are personally involved with using them non-commercially (you're not charging people for the printables), then it's fine!
Please do not share the digital or printout files with others for their personal use. Instead, send them a link to this post so they can download their own copies.
The download links are located below each preview image. I've highlighted them with a grey box to make them easier to find. Make sure to use the links for the high resolution PDF printables – the preview images are low resolution files that will look horrible if printed.
These are all monthly mood trackers. Please leave a comment elating me know if you'd like weekly or yearly mood trackers, too! Most trackers are available in both 30 and 31 day version.
Your time is valuable – save time by purchasing the whole bundle of mood trackers in one handy file for just $3!
If you have time to burn clicking each link, keep on scrolling to get the files individually.
Cat mood trackers
First there's a cat drawing to color in over the course of the month. The cat is all cozy in a coat with a steaming mug of coffee or tea! This would be a great mood tracker for winter.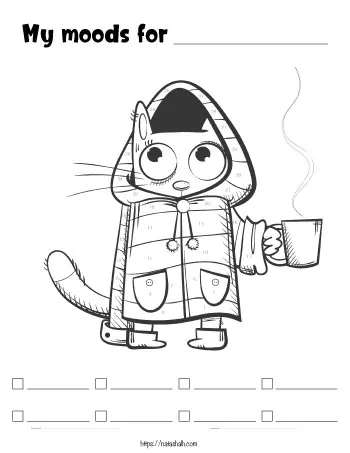 Download the cozy cat tracker here
Next there are cats doing yoga. This monthly mood tracker has 30 and 31 day versions.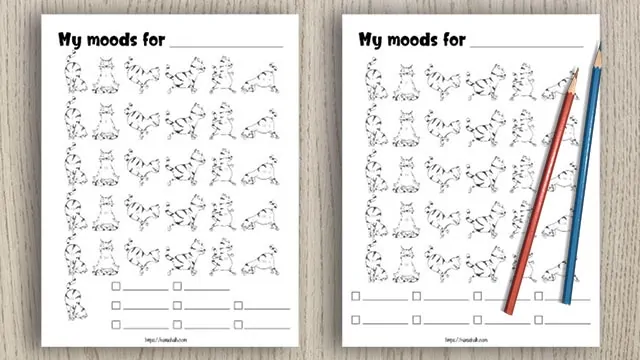 Download the yoga cats mood trackers here
Avocado mood tracker
This avocado is too cute! It's also available in 30 and 31 day versions. The 30 day option is shown, but both are included in the download.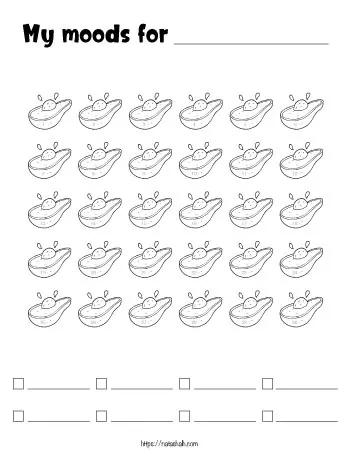 Download the avocado mood trackers here
Feather mood tracker
These feathers to color are perfect for a boho bullet journal theme. Both 30 and 31 day versions are in the download.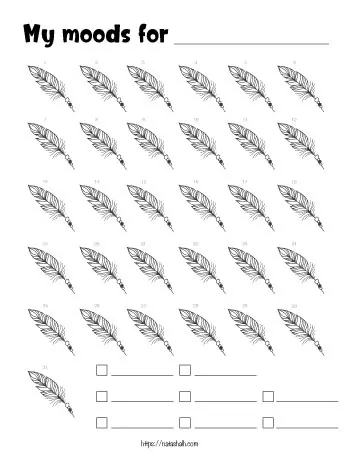 Download the mood tracker feathers here
Cactus mood tracker
I think you're either a cactus and succulent person or your not. I've noticed people either think they're the cutest, most awesome things ever or hate them! I'm in camp loves cacti, so here are two monthly cactus mood trackers for you to enjoy!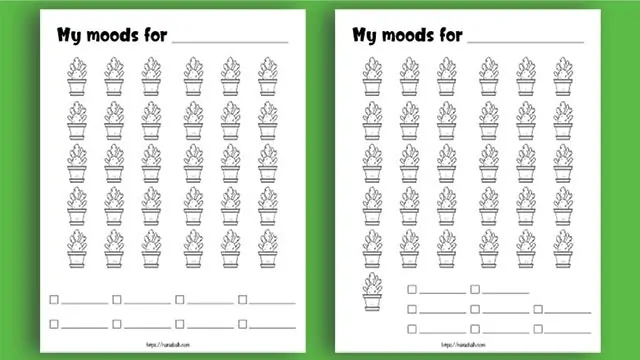 Download the cacti mood trackers here
Tea/Coffee mug mood tracker
I couldn't make mood trackers without including a nice, hot mug of tea or coffee! This coffee mood tracker is also available in 30 and 31 day versions.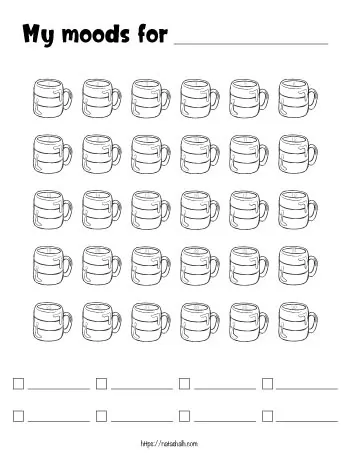 Download the coffee/tea mugs here
Mood tracker pineapple
Download the mood tracker pineapple here
Mermaid tail mood tracker
I love the mermaid tail trackers! (If you love mermaids, too, be sure to check out these free printable mermaid coloring pages and mermaid bingo!). Don't worry – this tracker comes in 30 and 31 day versions.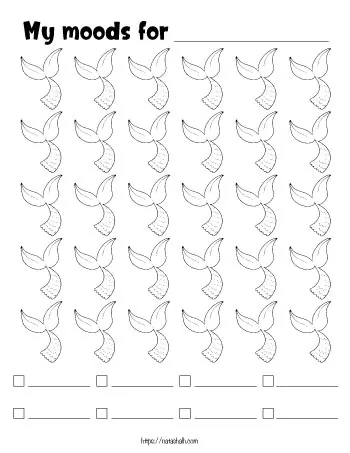 Download the mermaid tail mood trackers here
Planet mood trackers
Planets and a super popular bullet journal tracker theme. Download this planet mood trackers for 30 and 31 day months!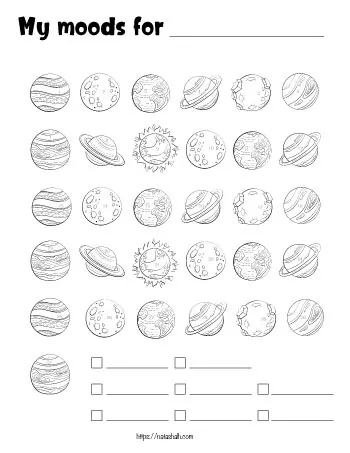 Download the mood trackers with planets here
Monthly mood trackers
Okay, so technically all of the trackers on this page are monthly. This section is for themed mood trackers for each month of the year. It will be updated throughout the year as I make new trackers. Make sure to Pin this post and check back in or buy the whole set to receive automatic updates with new trackers.
January mood tracker
The mood tracker for January has snowflakes (and, of course, 31 days!).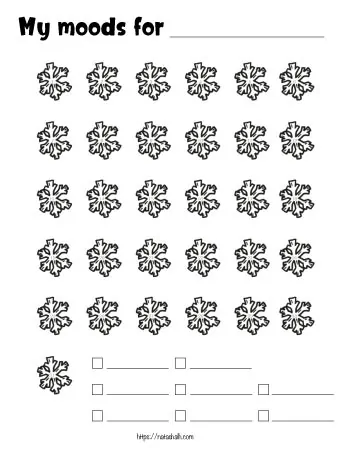 Download the January mood tracker here
February mood tracker
The mood tracker for February features hearts and comes in a 28 day and a 29 day version for leap years.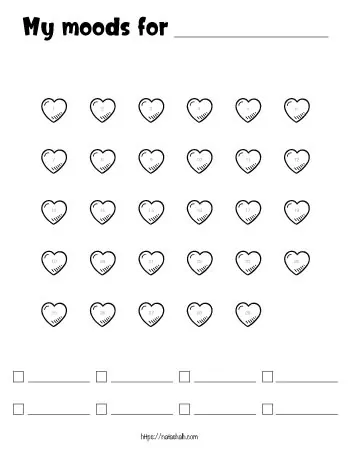 Download the mood tracker for February here (leap year and regular year included)
March mood tracker
The mood tracker printable for March has lucky clovers! (Looking for more shamrock printables? Check out these free printable four leaf clover outlines)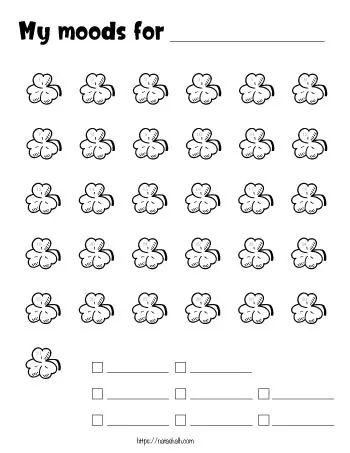 Download the shamrock mood tracker for March here
April mood tracker
The mood tracker for April features a rain cloud and raindrops to color: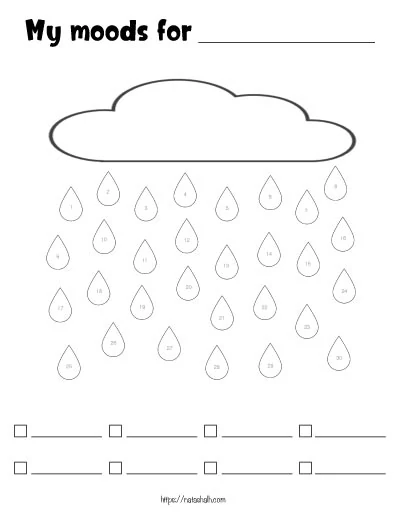 Download the April showers mood tracker here
May mood tracker with ice cream cones
The May mood tracker features ice cream cones!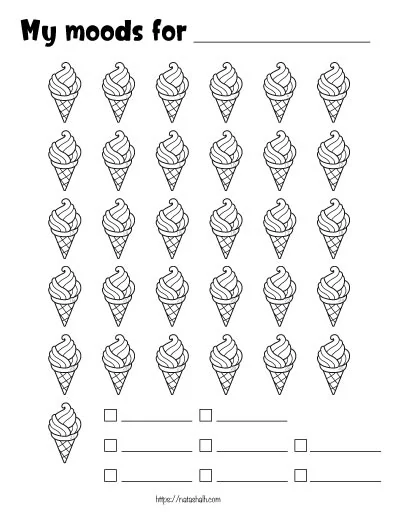 Download the May mood tracker here
June mood tracker
June marks the official start of summer so I made this mood tracker with palm trees!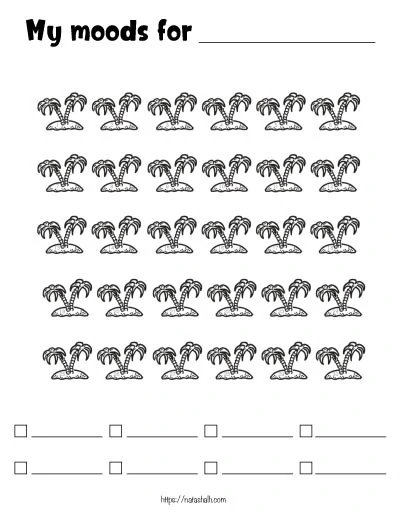 Download the June mood tracker with palm trees here
July mood tracker printable
The July mood tracker features 31 simple shells to color in: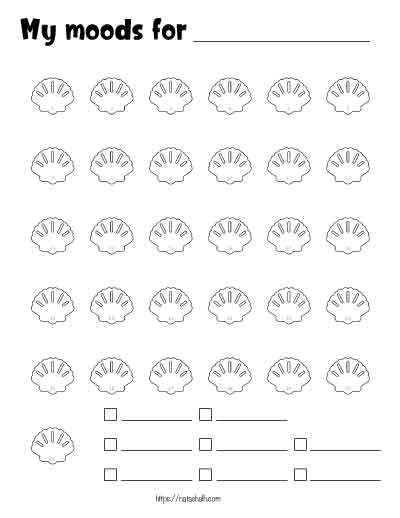 August mood tracker
In many places, August is associated with back to school. The August mood tracker features 31 books to color:
Book mood tracker printable for August
September mood tracker
International Talk Like a Pirate Day is September 19 so the September mood tracker is pirate themed!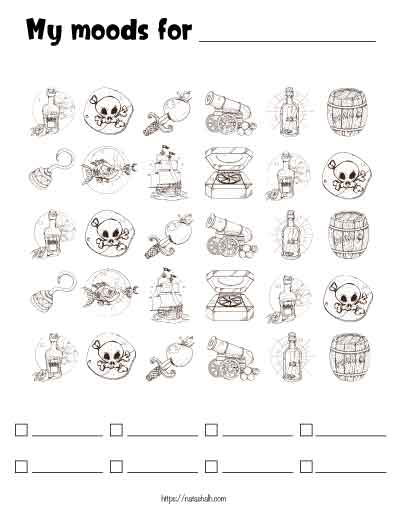 Pirate mood tracker printable for September
October mood tracker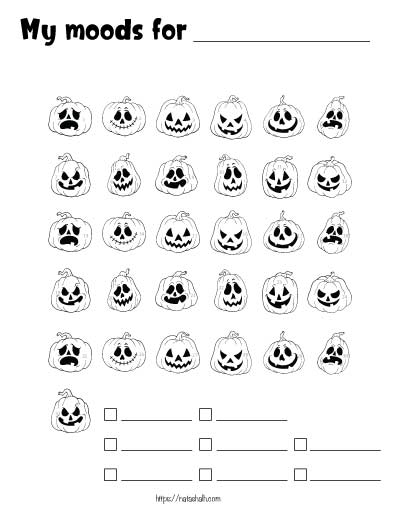 Jack o'lantern mood tracker for October
November mood tracker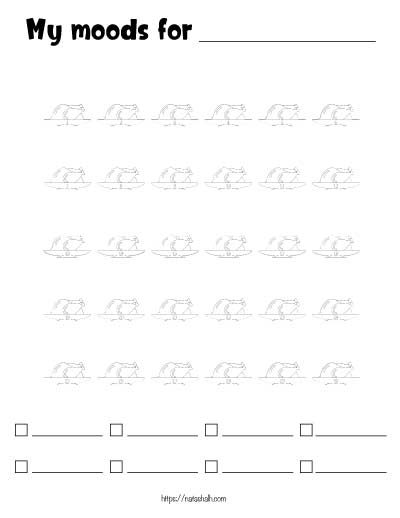 Turkey mood tracker for November
December mood tracker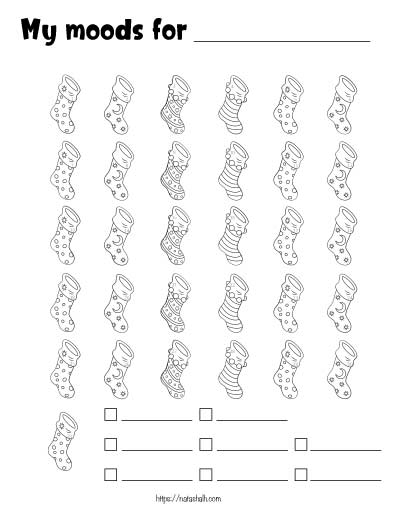 Christmas stocking mood tracker for December
Remember that you can snag the whole set for just $3.
If you're not ready to buy, be sure to Pin this post now to your planner or bujo board so you can check back again later.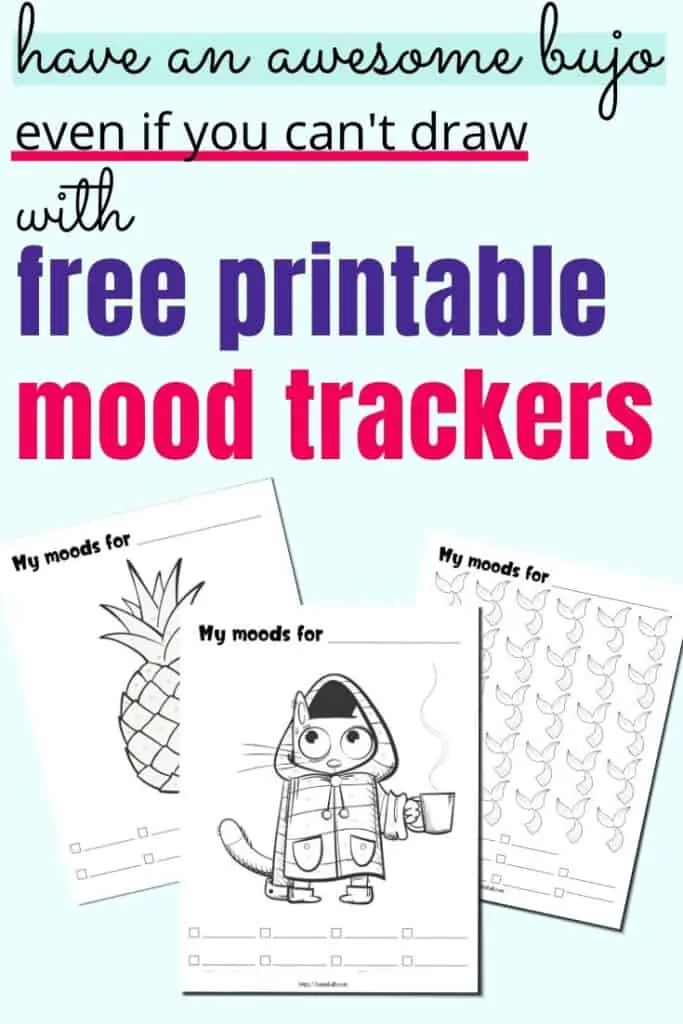 Planner & Journal Printables
Looking for more planner and journal printables? Check out these freebies on The Artisan Life!