If you want to start journaling, or pick the habit up again, but aren't sure what to write, this post is for you! Rejuvenate your journaling practice with these journal prompts for November and free printable November journal pages.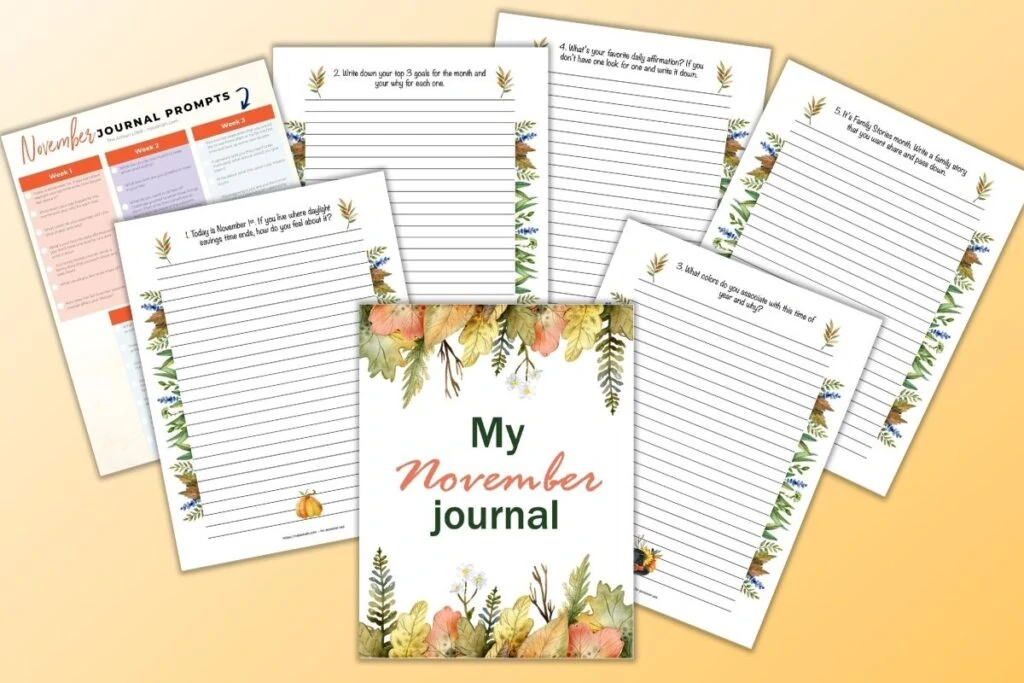 This post may include affiliate links which means I may earn a commission on qualifying purchases at no additional cost to you.
These journal writing prompts will help you get past "not knowing" what to write and allow you to start journaling instead of spending all your time wondering what to write about.
Make sure to keep scrolling to the end to get your free printable journal prompts cheatsheet and November journal pages in US letter and Happy Planner sizes.
Grab your free printable November journal pages and start your journaling practice today!
Are journaling prompts cheating?
I've seen some people worried that using journal prompts is somehow "cheating" and that they wouldn't "really" be journaling if they use prompts.
This simply isn't true!
You follow recipes and it's still cooking, right?
These journaling prompts for November remove the "blank page fear" that keeps too many people from journaling. Just respond to the prompt however you'd like. Maybe you want to write simple bullet points, or maybe you want to write complete sentences. It's up to you.
You can even decide to put your own spin on the prompt or write about something else, entirely, if there's anything you really want to write about. For example, if you're feeling particularly stressed one day, you may want to do a brain dump instead of, or in addition to, the regular daily journal prompt.
You don't even need a fancy name brand notebook to get started – grab the free printable November journal pages at the bottom of the post, print them out, and get writing today!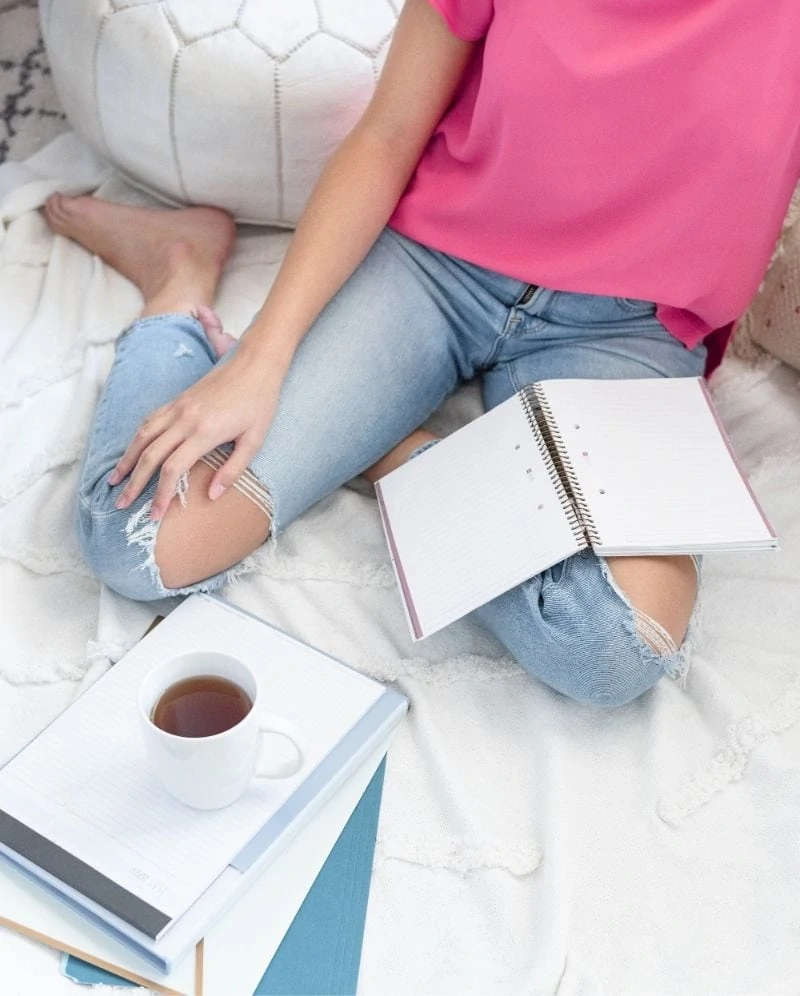 I do recommend printing on nicer paper, not your cheapest copy paper. I like 32 lb paper for planning and journaling. The images look nice when printed and the paper is enjoyable to write on without a bunch of feathering.
If you like the designs on these journal pages, be sure to check out these free printable planner pages for November because they have the same watercolor elements.
If you're new to journaling, you may want to hold yourself accountable by grabbing a free printable habit tracker.
Daily writing prompts for November
You can journal on these prompts in your favorite notebook or keep scrolling to download free printable journal pages for November with a prompt already written on each daily page.
Grab a mug of your favorite coffee or tea and get ready to journal!
Daily November journal writing prompts
Today is November 1st.. If you live where daylight savings time ends, how do you feel about it?
Write down your top 3 goals for the month and your why for each one.
What colors do you associate with this time of year and why?
What's your favorite daily affirmation? If you don't have one look for one and write it down.
It's Family Stories month. Write a family story that you want share and pass down.
What would you like to do more of?
How does the fall to winter weather change affect your lifestyle?
What can you do this month to keep active and healthy?
What one item are you grateful to have in your life?
What do you want to do less of? Challenge yourself to write these things down, then write them positively as wanting to do more of the opposite.
It's Remembrance Day & Veteran's Day – write about what this means for you and your family.
What hobby would you like to start this winter?
It's World Kindness Week – what act of kindness have you seen or done recently?
Where would you like your business, career, or personal/family life to be in then next year?
Pick two fall vegetables that you would like to use more often or try for the first time and look up some new recipes.
If someone told you they need to be motivated, what advice would you give them?
Write about what the word 'cozy' means to you.
Thanksgiving is just around the corner. How are you planning on celebrating this year?
What was the best thing that happened to you today?
What do you love about where you live?
What do you do to get focused on a new project?
What are you most proud of accomplishing this month?
Make a list of all the things you are grateful for.
What one thing currently inspires you the most? Why?
What challenges have you dealt with this year? What "silver linings" can you find in these challenges?
Happy Thanksgiving! What does this day mean to you?
What are you shopping for on Black Friday, or what would you love to get if you were shopping?
What puts a smile on your face?
What plans do you have for December?
Write one sentence that describes how this month was for you overall.
Keep scrolling for your free printable journal prompts cheatsheet and journal pages!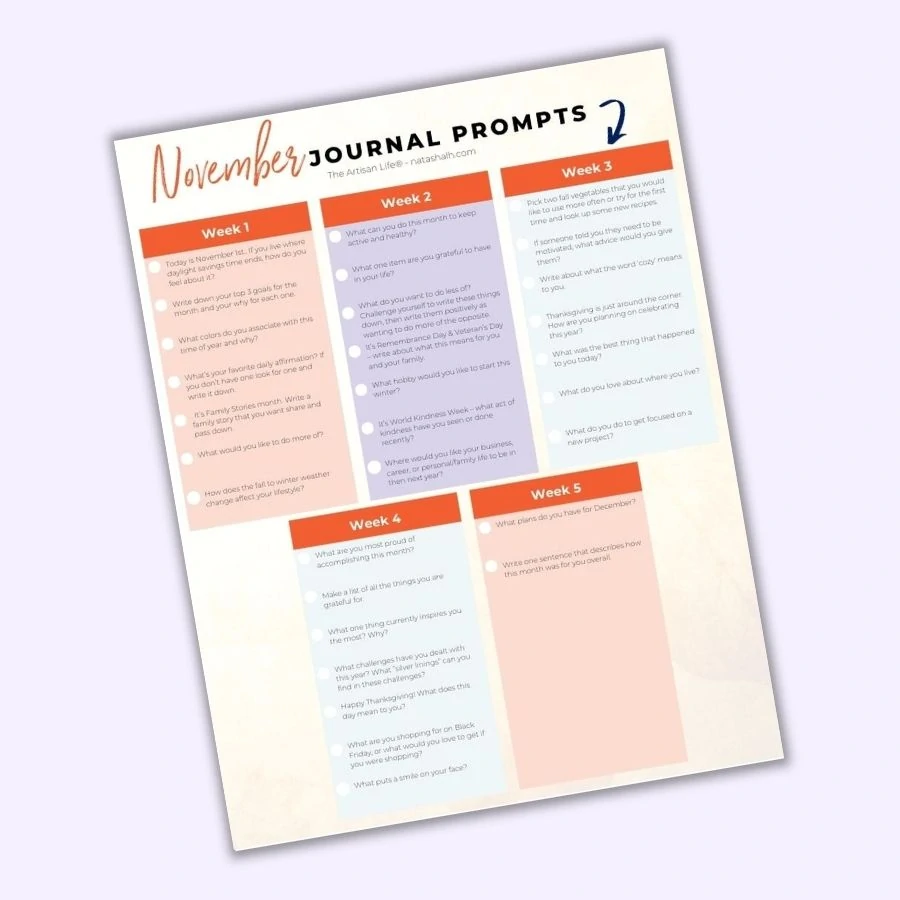 November events and holidays
You may also want to journal on special November events, especially if something related has impacted your life. Here are some of the events that take place in November:
Aviation History Month
International Drum Month
Lung Cancer Awareness Month
Movember (my cousin's husband always does this one!)
National Adoption Awareness Month
National Alzheimer's Disease Month
National Caregivers Appreciation Month
National Diabetes Awareness Month
National Epilepsy Month
National Model Railroad Month
Native American Heritage Month
Peanut Butter Lovers Month
National Sleep Comfort Month
National Homeless Youth Awareness Month
National Veteran and Military Families Month
Pancreatic Cancer Awareness Month
World Vegan Month
Weekly November events include:
November 3 – 9: National Animal Shelter and Rescue Appreciation Week
9 – 17 – National Hunger and Homeless Awareness Week
11 – 15 – American Education Week
11 – 17 – Geography Awareness Week
11 – 17 – Sugar Awareness Week (UK)
11 – 17 – Anti-Bullying Week (UK)
17 – 23 – International Fraud Awareness Week
24 -30 – National Family Week
Free printable November journal pages
The journal is available in both US letter and Happy Planner Classic size.
A cover page (it matches these free printable November planner pages)
30 days of lined journal pages with a writing prompt for each day
3 lined pages with no prompt for extra writing space
A "cheatsheet" with all 30 journal prompts at a glance
Make sure to print your Happy Planner pages at actual/100% size. Some printers will try to automatically scale it up to "fit" the page. Use your paper cutter to trim the pages to size. Happy Planner Classic pages are 7.25″x9″.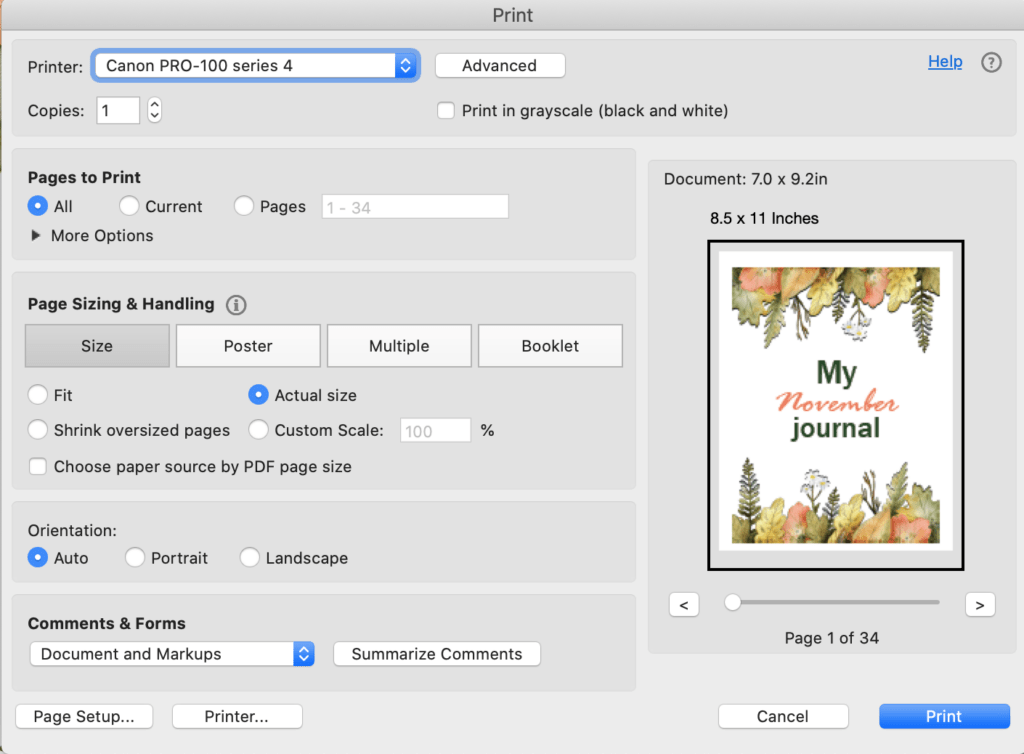 The Happy Planner journal pages have been carefully created to ensure the lines are big enough to write in and the journal prompt font is large and easy to read.
I recommend printing journal pages on premium printer paper so your ink doesn't easily feather and bleed. And, of course, you'll need a paper trimmer and Happy Planner hole punch for the HPC sized printables.
You can catch a glimpse inside the November journal the video below. Letter sized pages are shown.
Please be aware that these printables are for personal use. You are welcome to print and use them as many times as you'd like for yourself. You are also welcome to use them with your own personal students, life coaching clients, therapy clients, etc. as long as you are not charging specifically to use the pages or prompts.
You are not licensed to share the printouts or files with others for their personal use. Please just refer friends and coworkers to this page so they can download their own copies.
You will need to unzip the compressed file to access your PDFs. Many computers already have a file extraction tool installed (it's free on every Mac out of the box). For Windows, you can download the program 7zip for free or or use EzyZip to decompress files online for free. I recently found this article from an Etsy seller on how to extract any file on any device. It's very helpful!
Both sizes of November journal pages are free for Artisan Life family members. Just use the box below to let me know where to email your files and they'll fly across the internet and into your inbox! (If you're already a member, just sign up again using the same email address as before.)
Make sure to check out these additional planner and journal printables on The Artisan Life to help you stay organized and meet your goals:
Planner & Journal Printables
Looking for more planner and journal printables? Check out these freebies on The Artisan Life!