These free Easter tracing printables are a great way for preschoolers and kindergarteners to practice their fine motor skills while having Easter themed fun! Each page features an Easter image to trace, an Easter vocabulary word to trace, and a line for independent writing.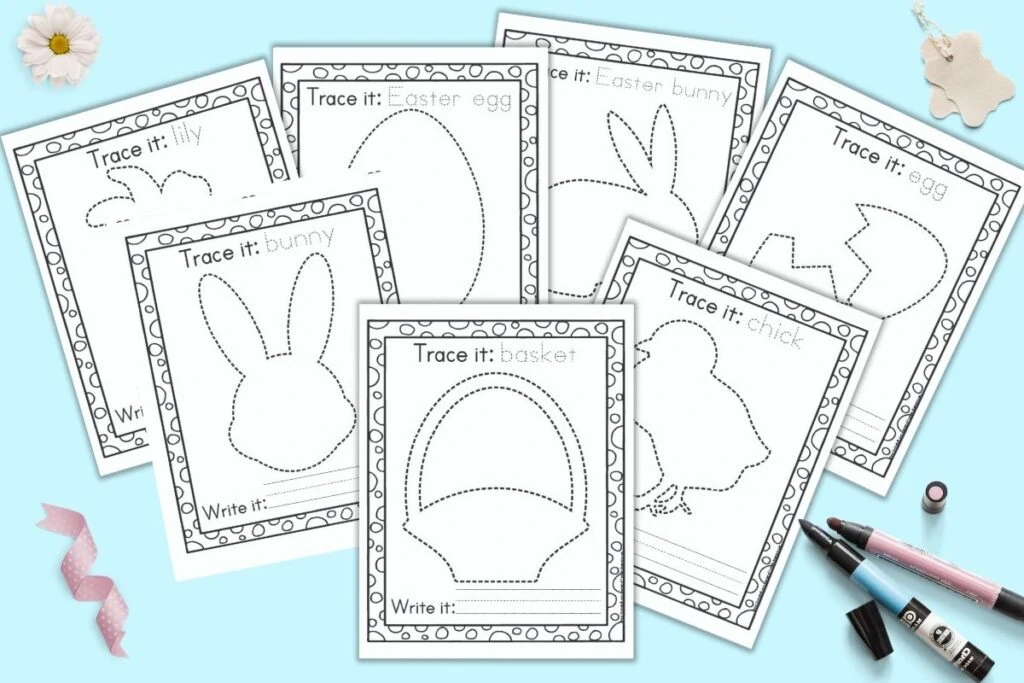 This post may include affiliate links which means I may earn a commission on qualifying purchases at no additional cost to you.
These pages are free and licensed for both personal and single classroom use. This means your can print and use them for no-prep fun at home, as part of your homeschool preschool Easter theme, or in your classroom or Sunday school class.
For more fine motor Easter fun, be sure to grab these free printable Easter do a dot marker pages, too!
How to use preschool tracing pages
These Easter trace, write, and color pages can be used several ways:
The pages are easy to use as a no-prep indoor activity for preschoolers and kindergarteners. They're great to have in your toolkit for rainy spring days or as part of your regularly planned Easter theme. Simply download the free printables below, print, and hand them to your little learner with their favorite markers, pencils, or crayons.
Your child can trace and color the page, trace the word, and write the word on the line provided if they're working on independent writing. Then, of course, they can color the picture! We love Honeysticks natural beeswax crayons. They are completely safe for little hands and mouths that are still tasting crayons.
Sale
Honeysticks Natural Beeswax Crayons - Classic Crayon Size and Shape for a...
100% PURE BEESWAX AND FOOD GRADE COLORS FOR PEACE OF MIND: Handmade in New Zealand using 100% Beeswax and Food Grade Pigments for Color. Free from the...
CLASSIC SIZE THAT IS DURABLE AND ERGONOMIC - At Honeysticks, we understand that children develop pencil grip at their own pace. We have developed a...
8 EXCITING COLORS TO STIMULATE CREATIVITY - Your child will love expressing their inner artist with an exciting range of 8 Colors. These handmade...
Another favorite are these Stabilo Woody 3-in-1 colored pencils. They're basically a large wax crayon in a wood casing like a pencil. The awesome thing about these is that they can color on laminated pages, which means you can make reusable coloring pages.
Sale
Unlike markers, which erase themselves on laminated sheets, you can truly color with the Stabilo Woody pencils, even on glass and laminated sheets. I know it sounds too good to be true, but you can see them in action in this short video clip (below) I filmed for these free printable dinosaur coloring pages:
Markers are the easiest to use for tracing. Markers glide easily across the page, whether or not it's laminated. Crayons and colored pencils both provide more friction, which means they're a greater fine motor challenge for little hands.
To make the tracing pages reusable, laminate the sheets or place them in page protectors. Laminated pages are better for coloring – sheet protectors tend to wrinkle when they're colored enthusiastically. We laminate reusable coloring pages and place them in an expanding file folder for easy storage.
The tracing pages can also be used as a Montessori pin punching activity. Montessori pin punching/push pin work involves using a pen or stylus to punch holes along a shape. A piece of felt, cork board, or foam core board is used as a backing behind the shape being punched.
If you're unfamiliar with Montessori work, this activity may sound strange and dangerous to you. That's completely understandable! However, it's very beneficial for your child's fine motor development. It's a frequently used activity in Montessori Primary classrooms with ages 3-6.
To make pin punching work safer, use a pencil-sized stylus with a dull end. (Not an affiliate link, just a company I personally shop with.) Of course, you want to always supervise your child closely while they're engaged in pin punching.
If you want to see a step-by-step view of pin punching, this post from Montessori Album has great photos.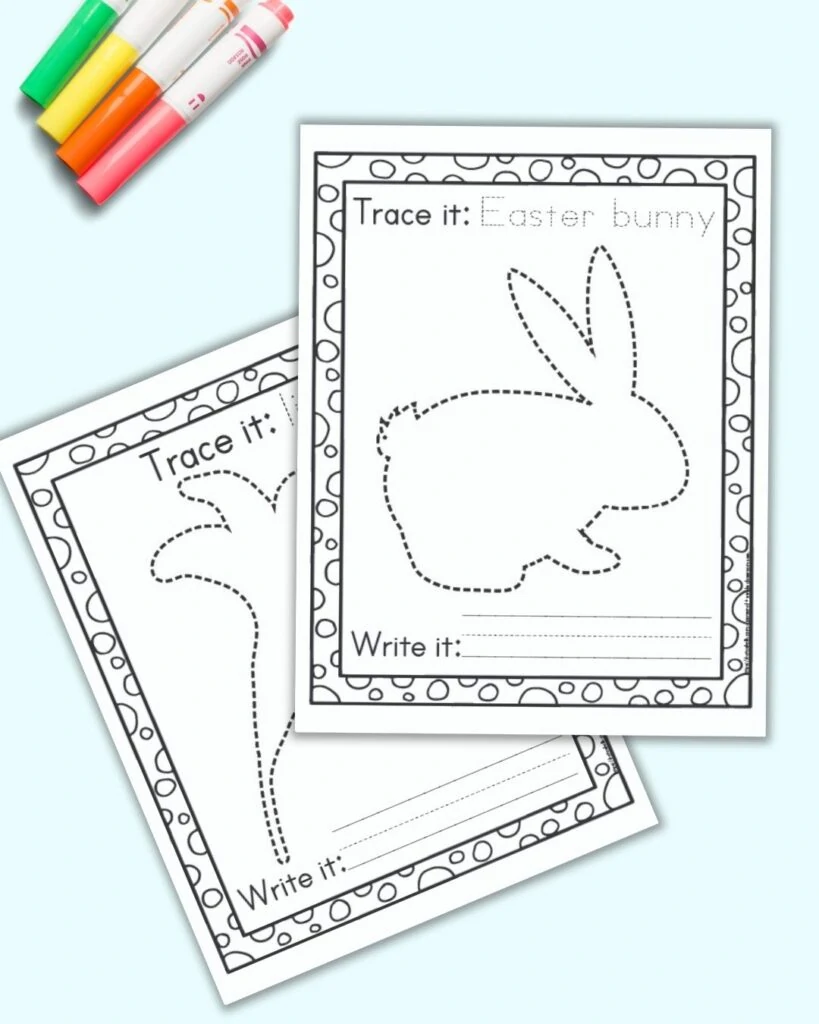 Free printable Easter tracing worksheets for preschoolers download
All eight tracing images are included in one handy file. Don't worry – they each have their own page in the PDF!

Like all free preschool printables here on The Artisan Life, these are for personal and single classroom use. This includes use with your homeschool co-op and therapy clients as long as you are not charging specifically to do the activity.
You are not licensed to redistribute the files or printouts to others. Please, if at all possible, send parents in virtual classrooms to this page to download their own copies instead of uploading the file to a virtual drive for sharing.
If you agree to this license, click below:

I hope your little learner enjoys using these Easter tracing worksheets! Make sure to discover these additional free printables and activities for Easter while you're here on The Artisan Life:
Easter Printables & Crafts
Looking for free Easter printables or easy Easter crafts for kids? You've come to the right place!