These free printable Halloween I-Spy count and graph worksheets are perfect for preschooler and pre-k students. They're a no-prep, fun way to help your child practice their numbers 1-5 and 1-10 as well as their graphing skills.
These pages are officially preschooler-approved. My daughter asks to do the same set of graphing pages multiple times in a row. She's challenged by the pages, even when she just completed the exact same one literally minutes earlier. It's a joy to watch her working towards mastery and becoming more confident in her counting skills!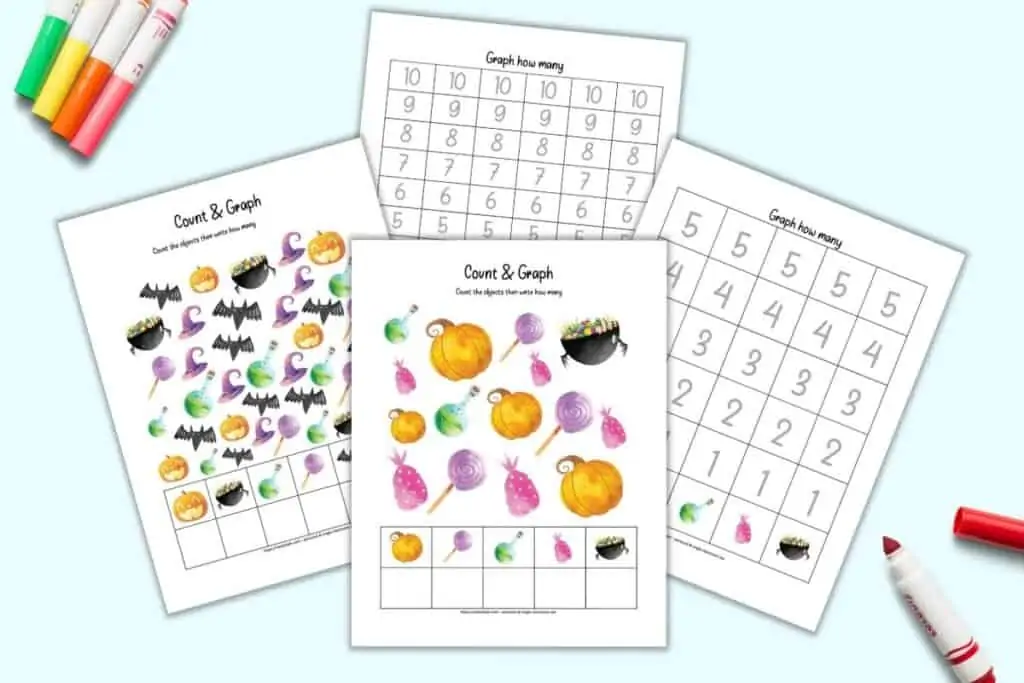 Last year I created a different set of Halloween count and graph printables. The format is the same, but the older set features different clipart and the option to buy a very low cost package with 8 total pairs of pages, including printer-friendly black and white designs. This year's set has 4 pairs of pages, but the entire package is available for free. (Last year's post does also include a couple of free pages.) Make sure to stop by the older post for even more Halloween math learning fun.
If you like the cute watercolor clip art in this set, be sure to grab this matching free printable Halloween board game for preschoolers!
This post may include affiliate links which means I may earn a commission on qualifying purchases at no additional cost to you.
Benefits of I Spy and graphing worksheets
I-spy and count & graph worksheets seem so simple to adults, but they provide many valuable benefits for preschool, pre-k, and kindergarten children.
Count and graph printables develop a variety of skills:
Counting 1-5 and 1-10
Tracing numbers 1-5 and 1-10
Visual discrimination
Image matching
Attention to detail
Graphing numbers 1-5 and 1-10 in a bar graph
Fine motor skills
Data analysis
Emotional regulation and persistence
How to use count & graph worksheets
Materials needed
I place the pages so the I-Spy and graphing page pairs are facing one another, like this photo from last year. We didn't know about Stabilo Woody dry erase crayons then. She uses them instead of markers now becuase there's no ink, no stink, and they wash off easily.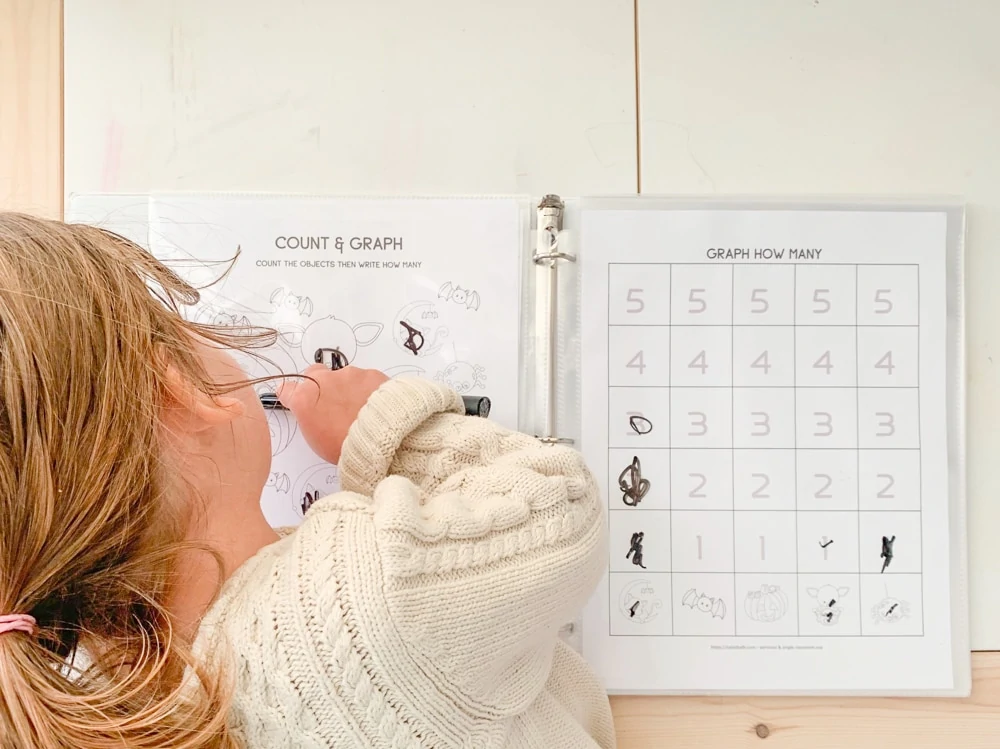 How to print and use your PDF
First, download and print your printables. Look for the purple arrows lower down in the post. (Sorry about the dark photos – it's been cloudy and raining for the last week but I really wanted some real life images for this post, anyway.)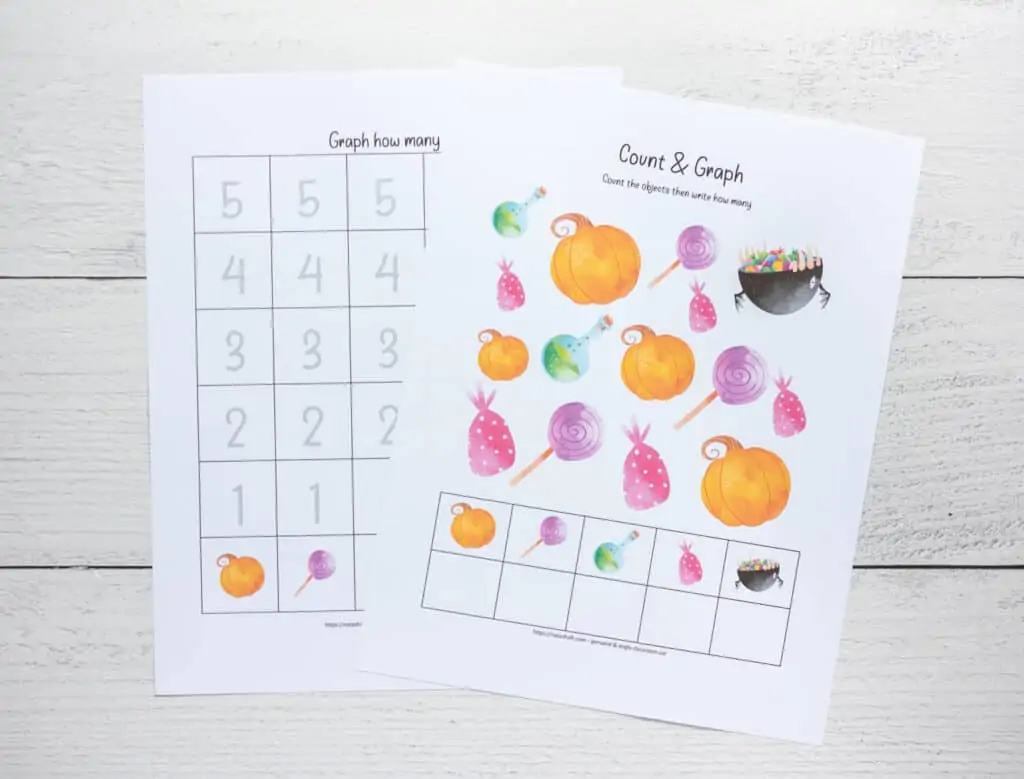 To make your worksheets reusable, laminate them or slip them in a dry erase pocket or page protector.
Have your child count the items on the I-Spy page and record the quantities. You may want to follow the "I do, we do, you do" method to demonstrate if they're new to this type of activity.
Transfer these numbers over to the graphing page. There are numbers to trace or your child can color in the squares.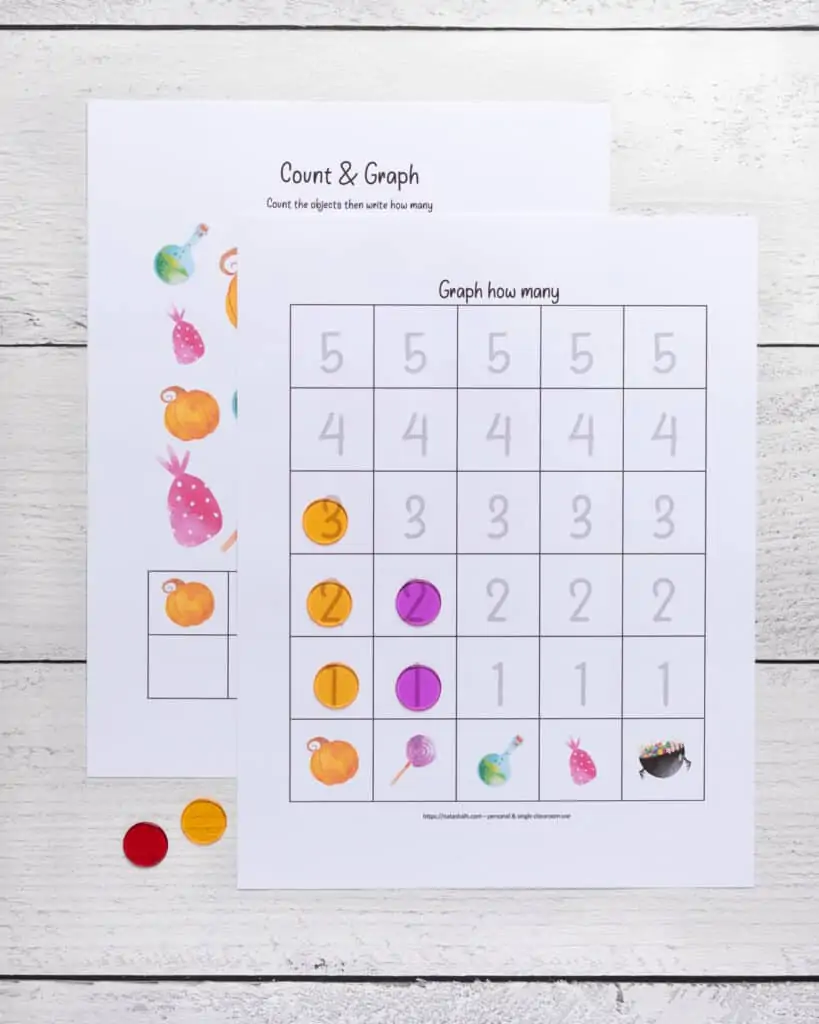 There are many ways to count and graph. Here are a few ideas:
For the youngest learners:

Have your child use a dot marker to mark an image on the I-Spy card, then immediately mark a square in the corresponding graphing page. This is how I introduced the pages to my daughter last year.
For a greater challenge, have them use a "regular" marker or pencil to each item and place a dot in the corresponding record square as they go. Work with them to count the dots after each image has been marked, then transfer this number to the graph paper. This version works well with laminated pages so the activity is reusable.

Older children can make tally marks or write the number in the record square.
Children can also cover each counted picture with a small manipulative like an eraser or pompom to keep track of which items they've already counted.
The graph can be colored in, covered with manipulatives, or your child can trace the numbers.
For a more challenging game, do not provide manipulatives to assist with counting and don't have your child mark each image. This can be pretty challenging, especially on the count to 10 pages!
Printable Halloween I-Spy count & graph worksheets
The Halloween clipart in these printables is copyright by DigitalArtsi and is used under license. Thank you, Jane, for your beautiful artwork and generous licensing.
Please note that, like all preschool printables on The Artisan Life, these worksheets are for personal and single classroom use. You are welcome to print and use them as many times as you'd like as long as you are personally organizing the activity (or leaving it for a sub in your own classroom). This includes with homeschool co-ops and therapy clients.
You are not licensed to redistribute the printables to other adults for use with their students/children. Please just send your friends and coworkers to this page so they can download their own copies.
I hope your family loves these I-Spy/count and graph printables as much as mine does. Make sure to grab these additional freebies for Halloween while you're her:
Halloween Printables
If you're looking for Halloween printables, you've come to the right place! Get crafting templates, printable games, Halloween bingo, coloring pages, and more.