These free printable Halloween matching cards help toddlers, preschoolers, and even older children practice their visual discrimination skills and working memory.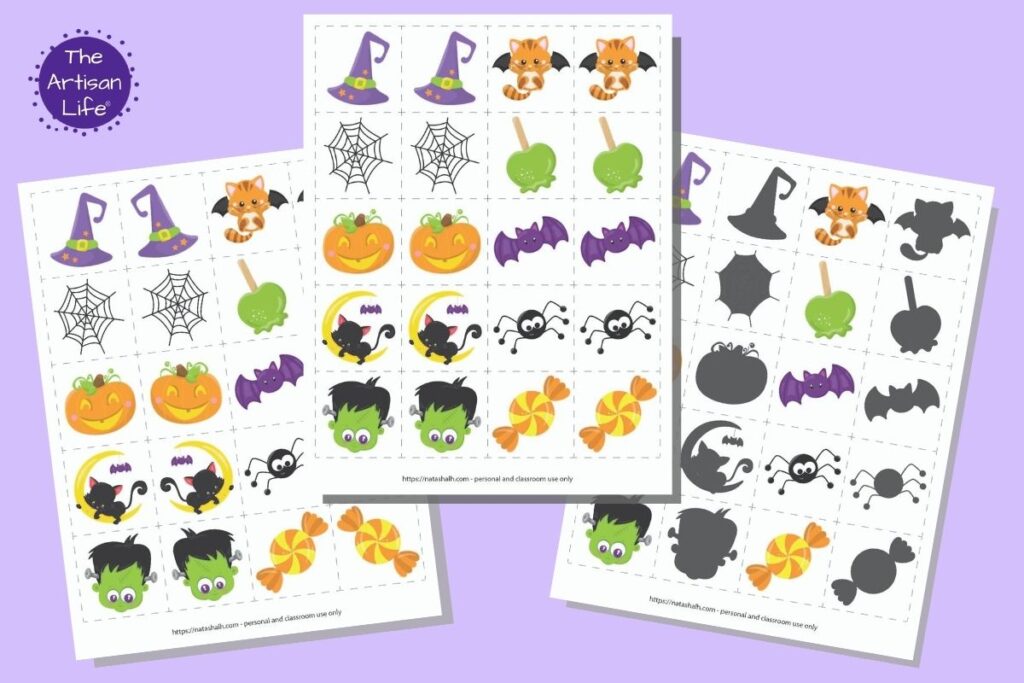 This post may include affiliate links which means I may earn a commission on qualifying purchases at no additional cost to you.
Pick from a classic matching game, shadow matching, or mirror image matching cards for your Halloween theme! All three options are available to download for free in the post.
Don't worry, Mom – these Halloween images are much more sweet than spooky so your little one won't be scared.
Benefits of matching games for toddlers
We all need a few low-prep, quiet activities in our toolkit. These Halloween matching cards are an easy at-home activity for your young children that you can feel good about. You can even store them in a zippered pouch or pencil case for an easy go bag activity!
Matching and memory games are beneficial for children, and adults of all ages. Matching and sorting are vital pre-math skills that toddlers and preschoolers need to master before learning how to count.
Match-up and memory games can improve:
Sorting and grouping
Critical thinking
Awareness of patterns and relationships
Concentration
Visual discrimination
Fine motor control
Vocabulary
Matching and memory games also give your toddler or preschooler the chance to demonstrate their knowledge and a sense of pride and accomplishment.
Adults of all ages, especially older adults, can benefit from these matching and memory games, too. Virtually every week a reader emails to tell me about using printable games with their elderly parents or in an extended care setting.
Related: Free printable Halloween bingo
How to print and use your Halloween matching game
Please note that these are Halloween theme match up cards. If you'd prefer a general fall theme, please see this fall matching game.
Materials needed:
Printable Halloween themed matching cards (Download links are lower in the post. No email address is required.)
Printer & paper or cardstock

I always use presentation paper, a type of premium paper with a special coating for nice looking images. If you don't have presentation paper, use white cardstock or bright white printer paper. Cardstock will be more durable, but the bright white printer paper will have brighter images.

Scissors or paper cutter. I've used this paper trimmer for years and it's still going strong.
Laminator & laminating pouches. These are optional, but highly recommended (especially for younger children). If you don't have a laminator, you can "laminate" the individual cards with 2″ wide clear packing tape.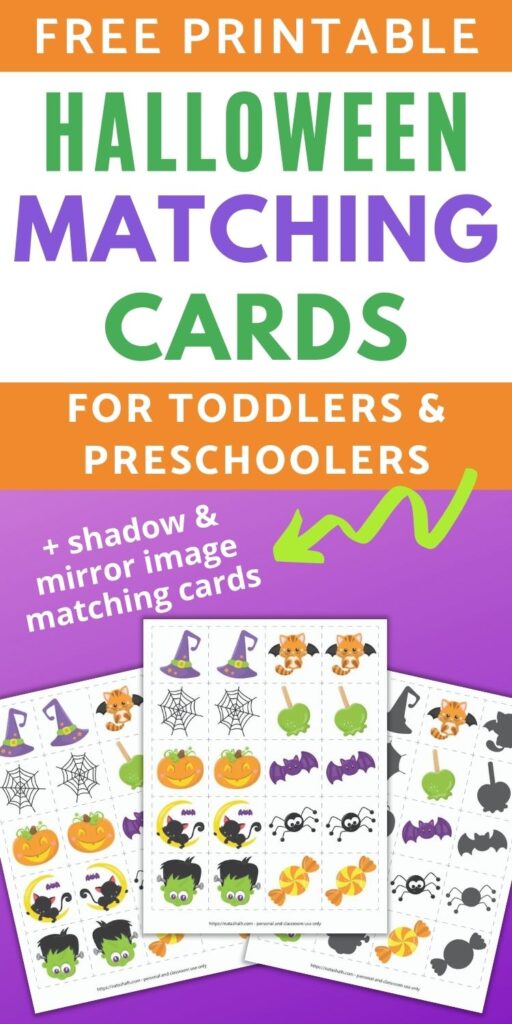 How to use your matching card printables:
First, download your printables (lower down on the page). You can pick from a classic matching game, shadow matching, or mirror image matching. You can also combine multiple sets for a more challenging game.
Print the pages As stated above I recommend using presentation paper, cardstock, or bright white printer paper. Non-laminated paper does not hold up well for repeated use, but will have more vibrant images than cardstock.
Related: Printable Halloween counting clip cards
Laminate your pages before cutting them. If you don't have a laminator, you can "laminate" them with clear packing tape. It isn't the same, but it's better than nothing.
Cut out the cards along the dotted lines. This is easiest with a paper trimmer, but scissors work, too. If you have an older child, they can practice their scissors skills by cutting the matching tiles out themselves.
Play! If your child is new to matching activities, start by demonstrating with 2-4 pairs instead of using the whole set. Add in more pairs as they become more confident in their matching skills.
My daughter started playing with classic matching games at around 18 months, so even younger toddlers can enjoy these Halloween matching cards.
Below is a picture of my daughter playing with this set of dinosaur matching cards at around 24 months: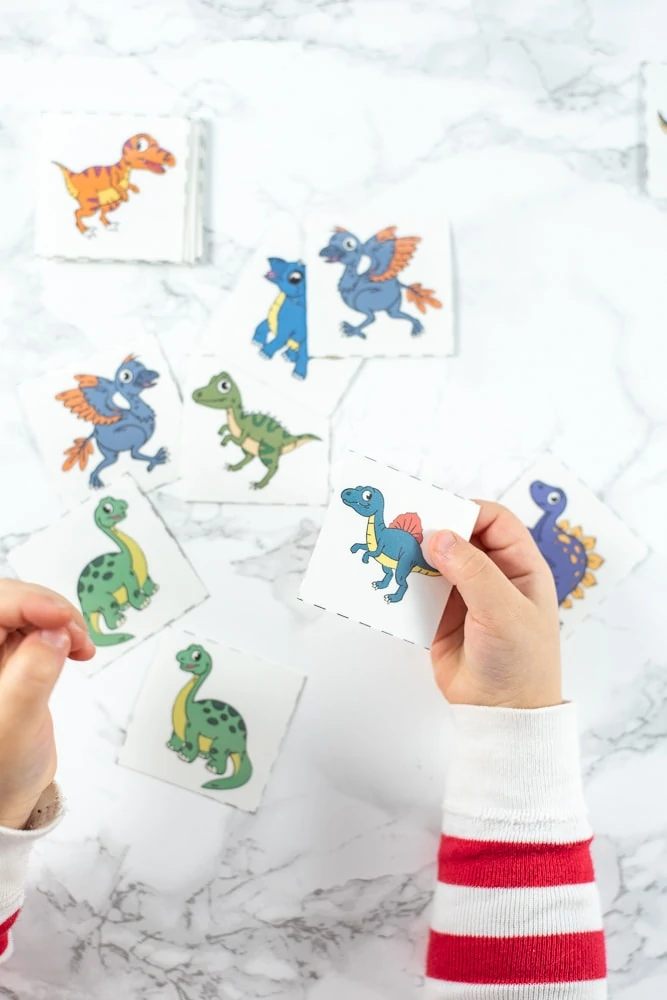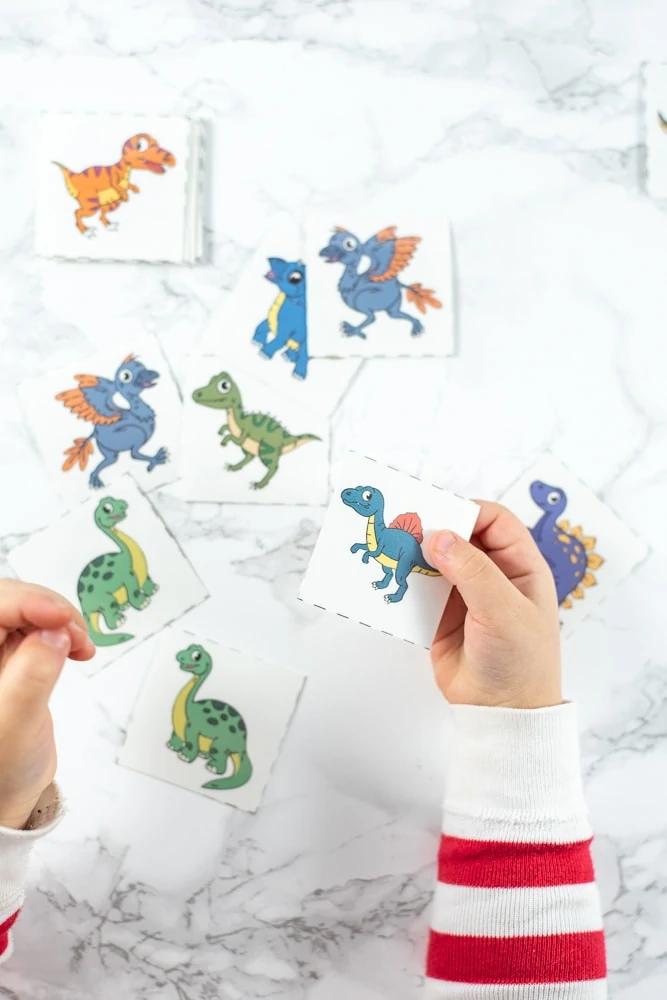 Older children can use these cards to play memory/concentration.
Place the cards face down. They are usually placed in a grid, but they don't have to be.
Have your child flip over two cards so they are face up. If they match, the cards are matched up and removed from the board. If they don't match, the cards are flipped face down again. Play continues until all pairs have been made.
Memory can be played with multiple players or as a solitaire game.
Free printable Halloween matching game
Alright, let's get to the free printables!
Like all toddler printables and preschool printables here on The Artisan Life, this matching game is intended for personal and single classroom use.
You are welcome to print and use it as many times as you'd like with your own children, students, therapy clients, etc.
You are not licensed to sell, alter, or redistribute the files to others for their personal use.
If you're teaching virtually, please send parents a link to this page so they can download their own copies of the game instead of sharing the PDF. The Artisan Life is a user supported site and your views help me make more free printables!
Individual download links are located below each preview image.
Your time is valuable. Save precious time when you download all three matching games in one handy PDF for the very low price of $1!
Mirror image matching game
The mirror image matching game features 10 cute Halloween images with their mirror image pairs. These cards are more of a brain teaser for older toddlers and preschoolers because they do not provide an exact match.
Halloween shadow matching game
Next we have the shadow matching game for Halloween. The images are not mirrored, but the second picture is greyed out as a "shadow." Your child must use the shape in order to determine a match. Because all the shapes in this set are very distinct, these Halloween shadow matching cards are the perfect introduction to shadow matching!
Halloween matching game printable
Finally, we have the classic Halloween match-up game. The tiles feature exact match images. This set is the easiest and perfect for children who are just learning, or who are still working on, their matching skills.
Halloween Printables
If you're looking for Halloween printables, you've come to the right place! Get crafting templates, printable games, Halloween bingo, coloring pages, and more.