These bat templates are available as plain outlines, filled in black bats, and cute bats with eyes. With several sizes to choose from, there's a printable bat outline for all your decorating and crafting needs this Halloween season!
A friend of ours hates bats with a passion. I'd love to attract more bats at our place since they eat insects. I keep thinking about installing a bat house…maybe I'll actually even get around to it one of these days. It's funny how polarizing such a small creature can be!
No matter how you feel about bats in general, I hope you enjoy these free printable bat outline templates. They're great for preschool and kindergarten crafts, easy Halloween decorations on a budget, and more.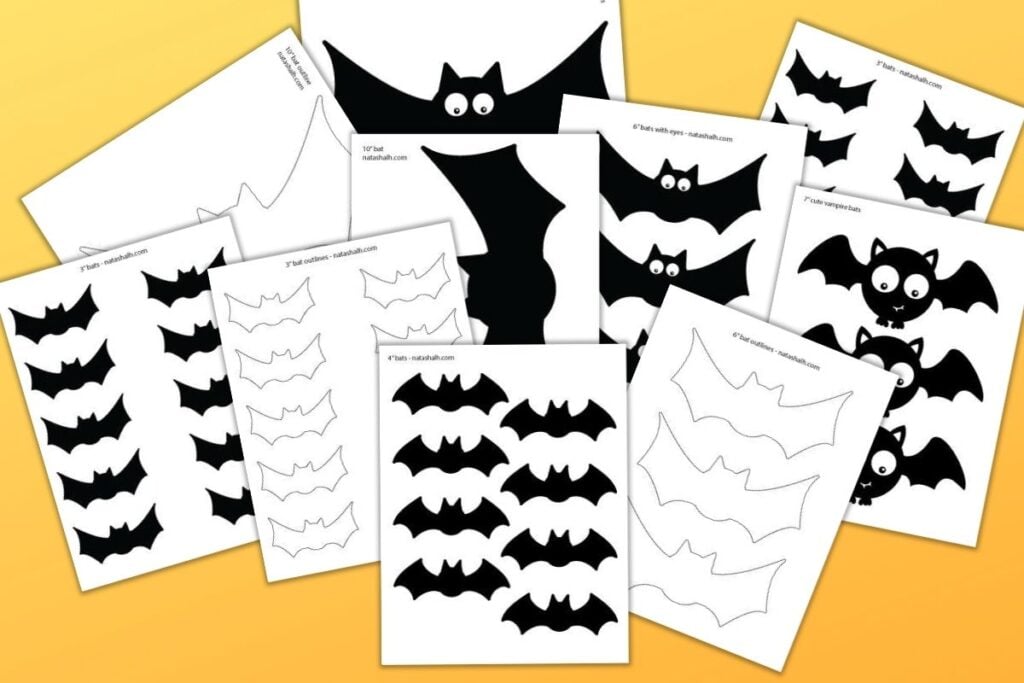 This post includes affiliate links, which means I may earn a small commission on purchases made through links at no additional cost to you.
If you don't like bats and think they're only for Halloween, I hope you read a bit more about how important bats are. Did you know that they're pollinators for a lot of favorite crops like avocados, mangos, and peaches?
Plus bats eat mosquitoes! If that's not a good reason to install a bat house, I don't know what is.
Alright, enough about bats – let's get to some bat craft ideas and the free printables!
Halloween bat template craft ideas
There are so many things you can do with these bat outlines! Here are a few ideas to get you started:
Use them as stencils or templates and trace them onto construction paper for craft projects.
Print the blank outlines and use them as coloring pages or let your little ones embellish them with fun things like googly eyes.
Cut out the filled in bat templates and use them do decorate a no carve pumpkin, a wreath, or your mantle.
Turn them into ornaments for a Halloween tree.
Use a bat as a template for a thumbprint painting.
Trace around a bat to use it instead of a cookie cutter for bat-shaped Halloween cookies or to make salt dough ornaments.
Trace bats onto craft foam to make outdoor decorations for your porch or trees.
Use shrink film to make keychains or bag charms.
Make felt bats for your felt story board.
Tip: If you're going to print a template and then trace it, it's best to print on cardstock!
Related: Free printable pumpkin templates
Printable bat outline templates
Y'all know me – I have to create all the versions of any template I decide to make! There are so many different bats to pick from!
There are several styles and shapes, including an extra large 10″ bat template. If there's a missing size you'd like to see, please leave a comment and let me know.
As a reminder – like all free printable templates on The Artisan Life, these bats are available free for personal use and classroom use. This means with your family, in your own classroom, with your scout troop, etc.
You are not licensed to redistribute the digital file or the printables to others – please just refer folks to this post so they can download their own copy!
The images are just low resolution previews. Please use the download links to get the PDFs from Google Drive. You will not see a preview on G Drive because the files are compressed as a .zip. Download and decompress the PDF on your computer. This feature is included on Mac and available with several programs on Windows (such as WinZip). You can also unzip files online for free with Ezyzip.
Your time is valuable and limited. Save time and effort when you purchase all 11 bat templates in one handy PDF for the very low price of $1.
Free printable bat outlines & patterns
Download links are located below the applicable preview image. Each link is highlighted with a grey box to make it easier to find.
It's not too late to snag the whole set in one convenient PDF for just $1.
Please take a moment to Pin this post so you don't lose track of it!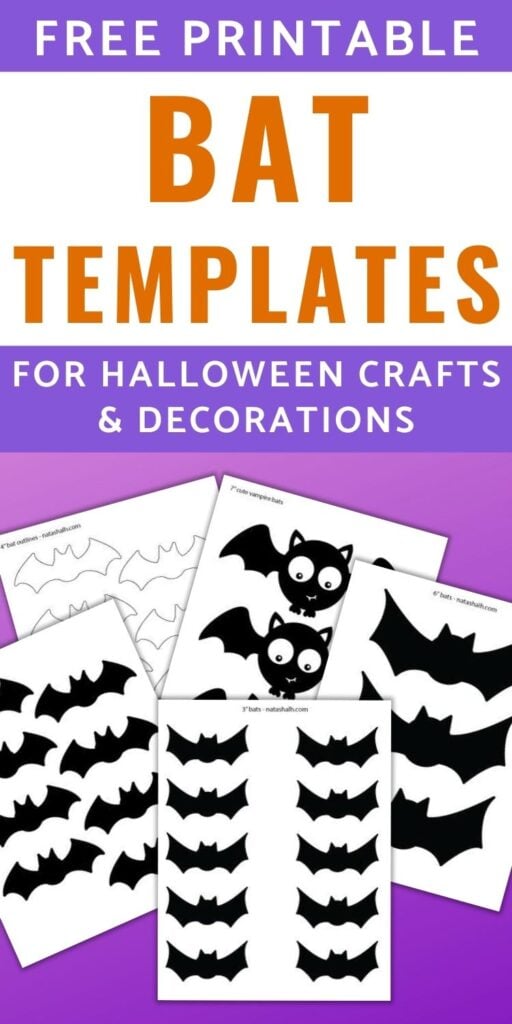 More free Halloween printables
Halloween Printables
If you're looking for Halloween printables, you've come to the right place! Get crafting templates, printable games, Halloween bingo, coloring pages, and more.