These free printable spring count and graph worksheets are a fun preschool and kindergarten math activity! Differentiate instruction with two different styles with numbers 1-5 or 1-10 to suit your child's current level.
These counting and graphing worksheets have two pages each for double the fun and learning – a spring I Spy game and a graphing page for an early education STEAM activity. Even young preschoolers can practice graphing with a bit of adult help. Keep scrolling for ideas on how even your preschooler can practice graphing!
If you like the sweet watercolor spring clip art, be sure to grab these matching free printable spring count and clip cards while you're here on The Artisan Life.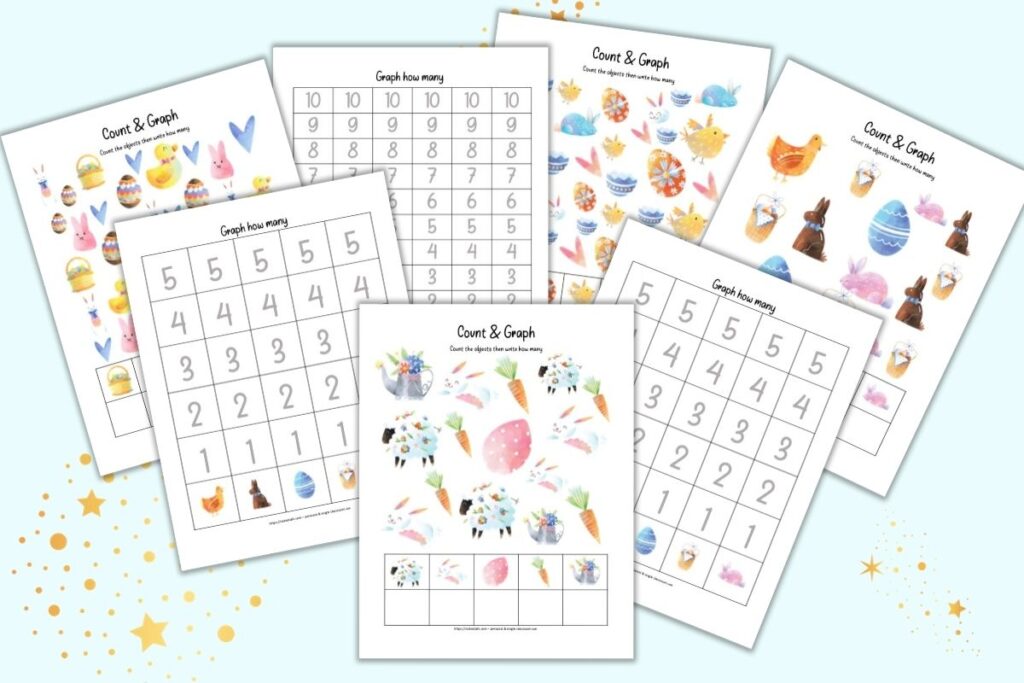 This post includes affiliate links, which means I may earn a commission on purchases made through links at no additional cost to you.
Benefits of count and graph worksheets
These graphing worksheets may seem simple to you as an adult, but they're challenging for young children.
These spring count and graph printables help your child develop and improve many skills, including:
Counting 1-5 and 1-10
Tracing numbers 1-5 and 1-10
Visual discrimination
Attention to detail
Graphing numbers 1-5 and 1-10 in a bar graph
Fine motor skills
Data analysis
Emotional regulation and persistence
Best of all, their virtually no-prep! Fun, easy, educational, and doesn't take all of your time to prepare is a winning combination, isn't it?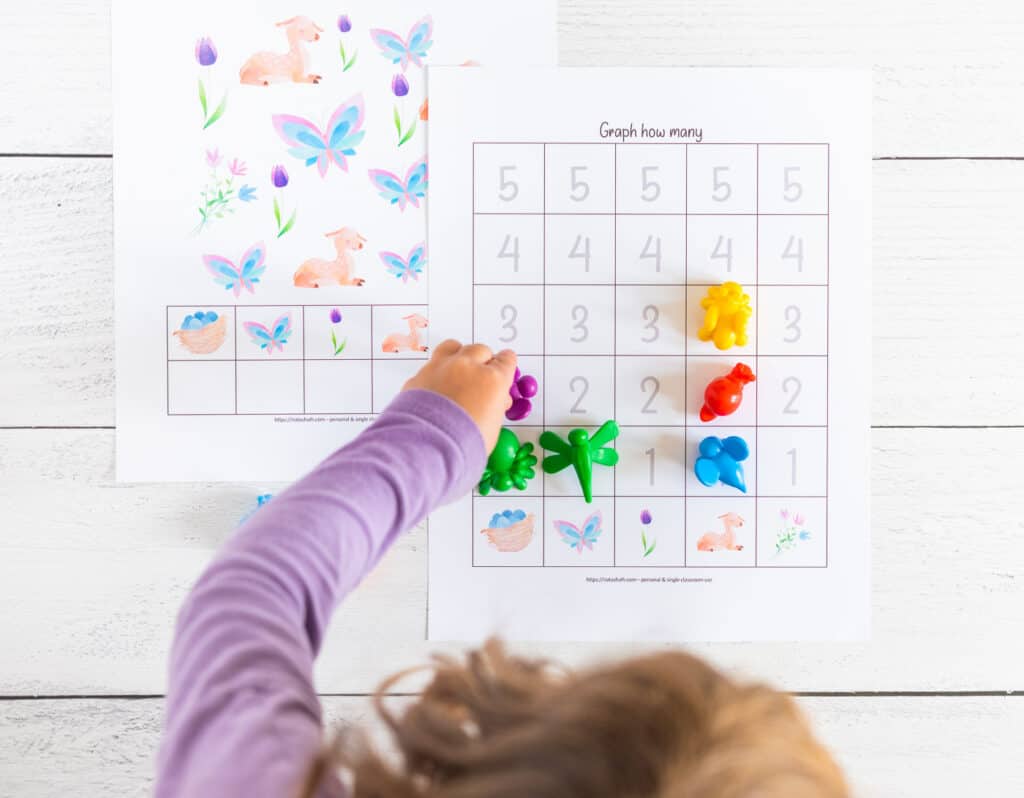 How to print and use count and graph worksheets
Materials needed
Printer and paper

I always use this bright white 32 lb paper. It's thicker and sturdier than normal paper. It also makes images look better. Crisper, brighter pictures make it easier for your child to see the images and differentiate between similar ones.

Something to write with

Crayon, pencil, or marker
You can also use manipulatives to graph, but your child will still need something to write with on the I spy page

Laminator, dry erase pockets, or page protectors (optional)

We love page protectors for count and graph activities. The pages can be easily contained in a 3-ring binder to reduce mess and time spent looking for missing sheets.
How to prepare I Spy and graphing worksheets
First, download and print your printables. The download links for the free worksheets are lower down in the post.
2. To make your worksheets reusable, laminate them or slip them in a dry erase pocket or page protector.
We use these secure page protectors with a flap to keep the paper inside. They're cheaper than laminating and they're reusable, too.
Sale
Avery Diamond Clear Secure Top Sheet Protectors, Super Heavyweight, 25 Page...
Keep contents secure in the protective sleeve with convenient top flap; perfect for holding nonstandard size papers and important items
Get a crisp, clear view of the contents of your documents with diamond clear page protectors featuring a polished finish for high clarity
Ensure your documents stay protected with long-lasting super heavyweight sheet protectors for all of your frequently referenced items
My daughter can use a wax crayon on her page protectors and I don't have to worry about the page accidentally slipping out. It's also easy for me to keep her worksheets organized in a 3 ring binder.
I place the pages so the I-Spy and graphing page pairs are facing one another in a three ring binder, like this picture showing the free printable Easter count and graph worksheets.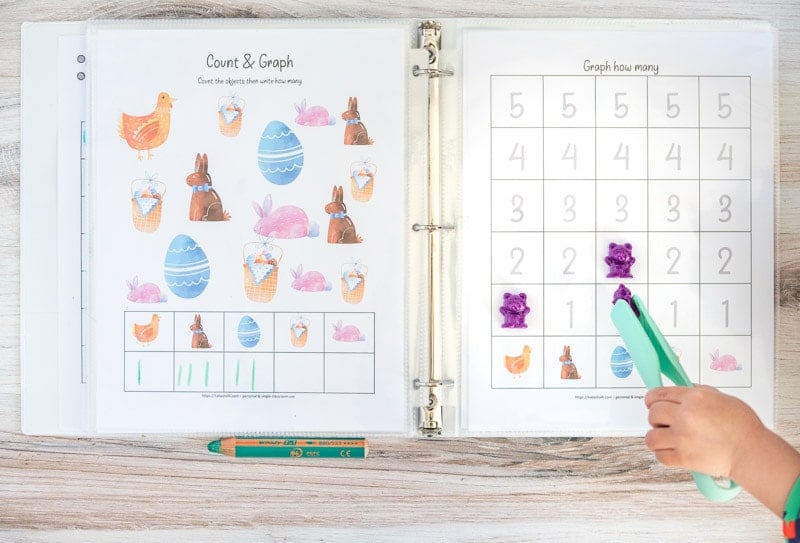 We recently discovered Stabilo Woody 3-in-1 pencils and love using them instead of dry erase markers. Woodies are basically a large wax crayon in a wood pencil casing. They work for coloring on paper and can be used instead of a dry erase marker. Unlike markers, they don't smell and don't have ink that stains. They wipe off very easily with a tiny bit of water. My daughter accidentally colored on the painted white fireplace surround and it wiped right off!
You can see a video of the Stabilo Woody pencils in action in this post with free printable dinosaur coloring pages.
Stabilo Woody Coloring Pencils with Sharpener , Multicolored
PERFECT FOR KIDS - The STABILO woody 3 in 1 is perfect for kids to draw and paint and ideal for parents too – it washes off windows and is suitable...
UNIQUE MULTI-TALENT - STABILO woody 3 in 1 coloring pencils also function as wax crayons and watercolors, making them ideal for aquarelle work. They...
LONG LASTING - STABILO woody 3 in1 pencils are long lasting as their thick shaft contains as much color as eight standard colored pencils.
3. Count the items on the I-Spy page and record the quantities. My daughter makes tally marks and counts them as she draws since she can't write numbers yet.
4. Transfer these numbers over to the graphing page. There are numbers to trace or your child can color in the squares.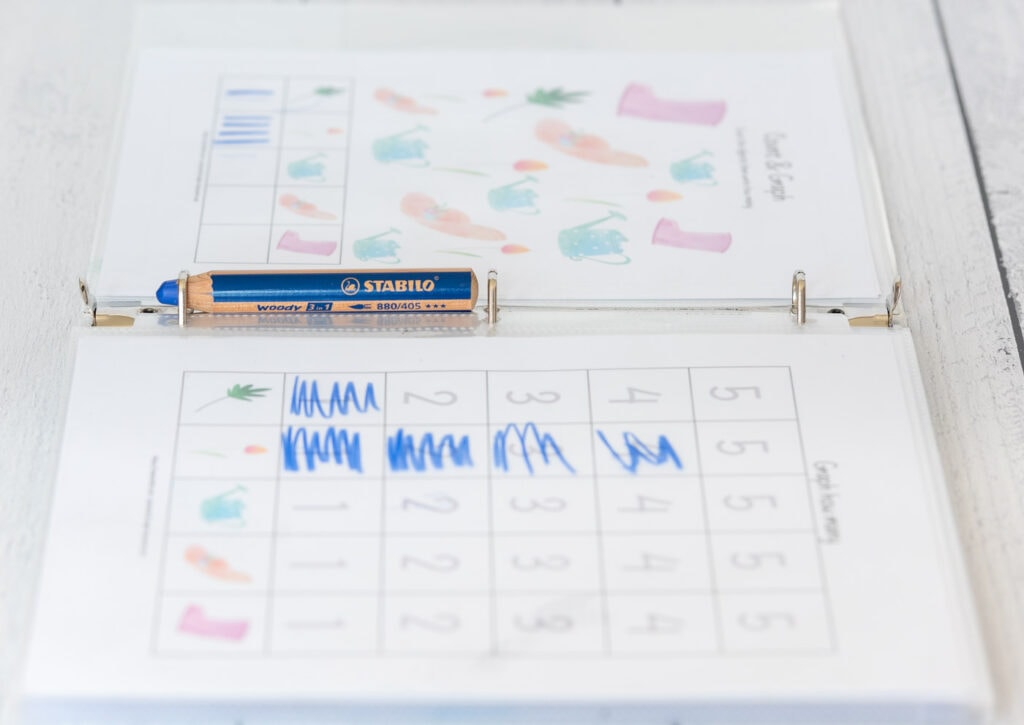 There are many ways to count and graph. Here are a few ideas:
For the youngest learners:

Have your child use a do a dot marker to mark an image on the I-Spy card then immediately mark a square in the corresponding graphing page.
For a greater challenge, have them use a "regular" marker or pencil, count each item, and place a dot in the corresponding record square as they go. Work with them to count the dots after each image has been marked, then transfer this number to the graph paper. This version works well with laminated pages so the activity is reusable.

Children can make tally marks or write the number in the record square.
Children can also cover each counted picture with a small manipulative like an eraser or pompom to keep track of which items they've already counted.
The graph can be colored in, covered with manipulatives. or your child can trace the numbers.
For a more challenging game, do not provide manipulatives to assist with counting and don't have your child mark each image. This can be pretty challenging, especially on the count to 10 pages!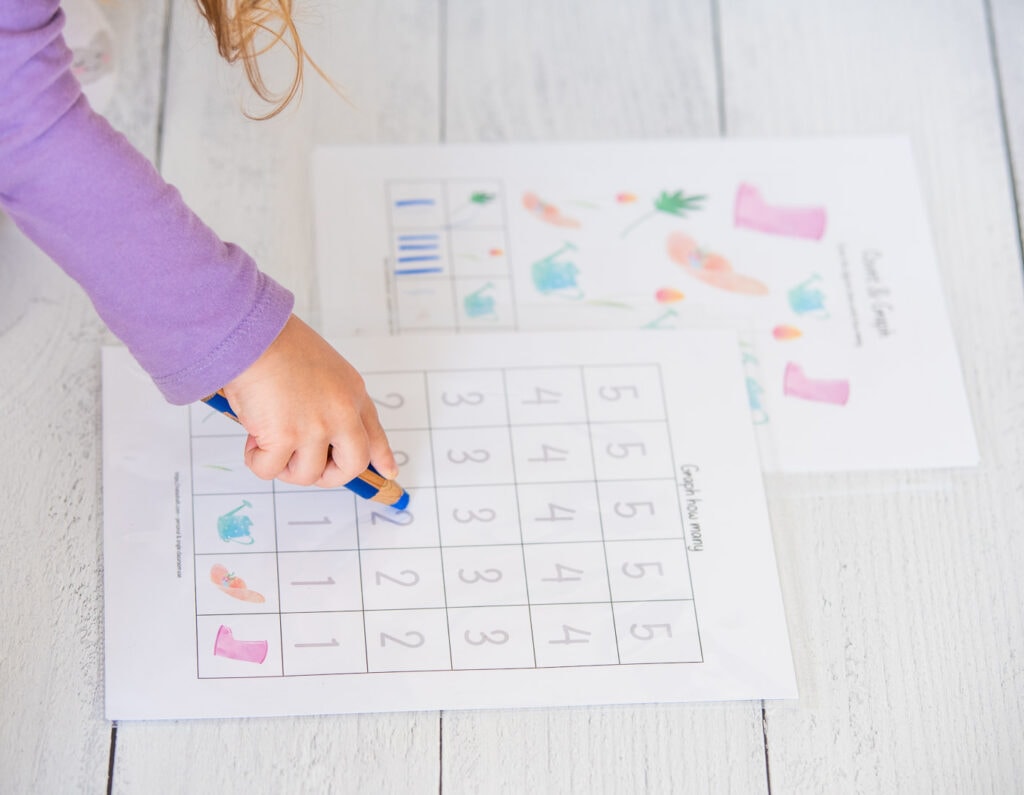 Free printable spring theme count and graph worksheets download
The lovely spring clipart on these printables is copyright by DigitalArtsi. Thank you, Jane, for your beautiful artwork and generous licensing.
Like all preschool printables on The Artisan Life, these worksheets are for personal and single classroom use. You are welcome to print and use them as many times as you'd like as long as you are personally organizing the activity (or leaving it for a sub in your own classroom). This includes with homeschool co-ops and therapy clients.
You are not licensed to redistribute the printables to other adults for use with their students/children. Please just send the link to this post to your friends and coworkers if they want to use the page with their children or students.
If you agree to this license, click below:

I hope your preschooler enjoys these graphing worksheets as much as mine does!
Be sure to discover these additional free printables and spring activities while you're here on The Artisan Life: