This printable summer bingo game is fun for the whole family! It's a low-prep way to entertain your kids on a car ride or a rainy day or an inexpensive family fun night idea. I hope you enjoy these summer bingo board printables as much as we do.
How to play summer picture bingo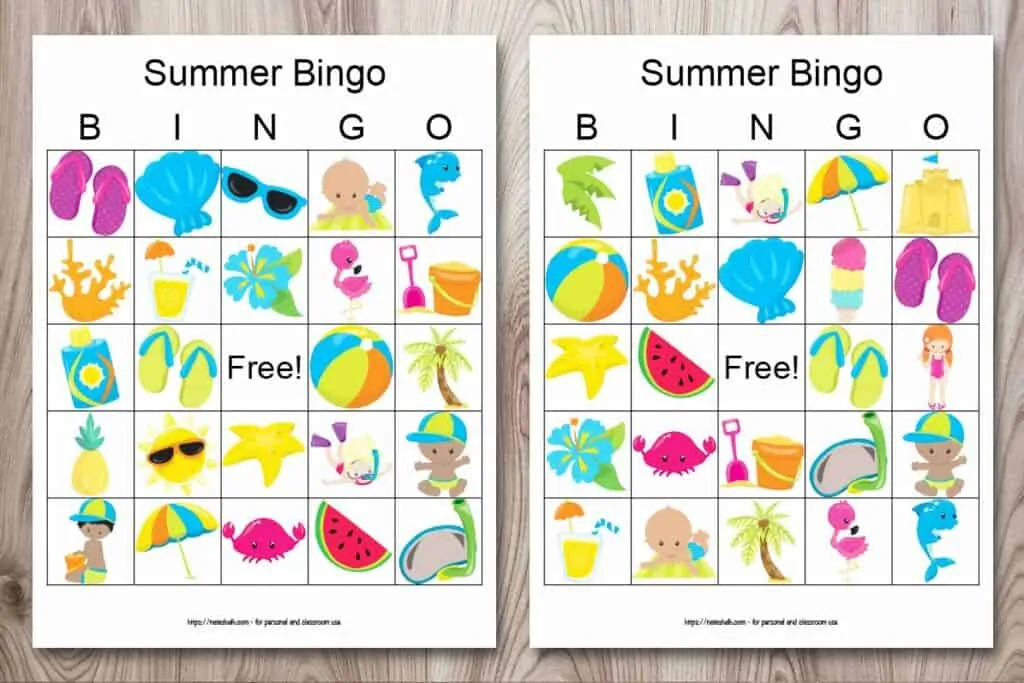 Picture bingo is great for children (and adults) of all ages. Because it uses pictures, children don't have to know their numbers or how to read in order to play. They will need to pay careful attention to detail, though, so it's a great way to encourage your kids to step up their attention-paying skills!
How to print and use printable bingo boards
Print your bingo cards and call cards. It's important to print the call card at the back because every image is not on every card. There are a total of 29 different summer images, but each card has 24 images.

Download links for your summer bingo cards are located lower on the page.

Cut the call cards into tiles and place them into a bowl. Again, please make sure to print the call cards instead of cutting up an extra playing card.
Draw cards one at a time and show them around. Players mark off the image if there's an exact match on their card. For repeated play using the same boards, use tokens instead of bingo dauber markers.

Some images are similar (for example, purple flip flops and green flip flops), so make sure players have an exact match. This encourages attention to detail and visual discrimination skills.

The first player to make five matches in a straight line or on the diagonal calls "Bingo!" to win. You can also play variants like making an X, needing all four corners, or making a specific shape (like a U or a square).
Don't be surprised if your kids want to trade cards and play again!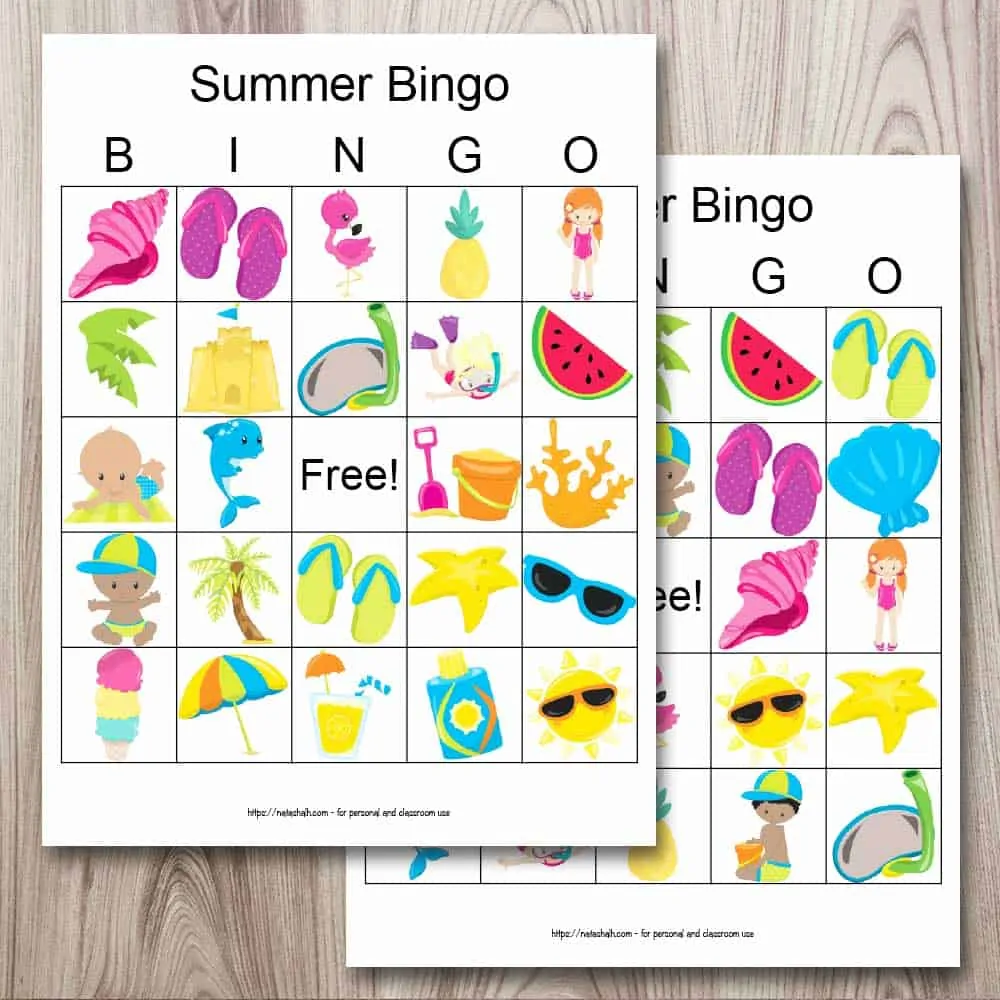 Related: Free printable summer word search
This post may include affiliate links which means I may earn a commission on qualifying purchases at no additional cost to you.
I always print colorful printables like bingo boards on presentation paper and laminate them. Presentation paper is a heavyweight paper with a special coating for crisp, vibrant images. Laminating the boards makes them reusable time after time, year after year.
The difference isn't as obvious in this photo as it is in real life, but the mermaid bingo board on the left was printed on presentation paper. The one on the right was printed on plain cardstock. The ink sinks into the cardstock, making the images less vibrant.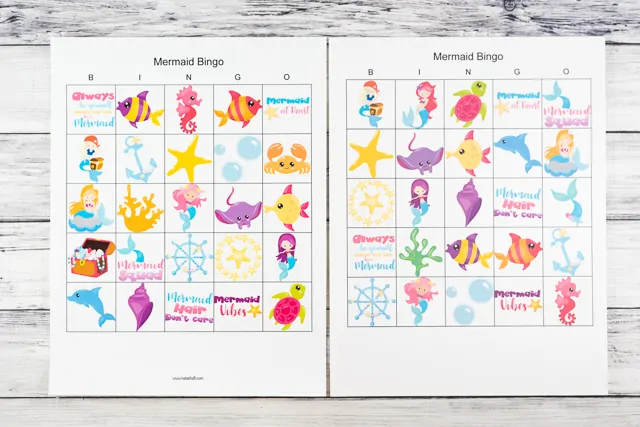 Laminating bingo boards makes them more durable so you can use them over and over again. As a teacher and a parent, a home laminator was one of my best purchases ever.
You can also use page protectors or dry erase pockets if you don't have a laminator. Because the page can be removed (accidentally or on purpose), dry erase pockets aren't quite as foolproof as lamination. They are affordable and reusable, though, so they're an easy way to make printables more durable.
Sale
Clipco Dry Erase Pocket Sleeves Assorted Colors (12-Pack)
Versatility - This bulk value pack of 12 dry erase pocket sleeves or worksheet sleeves are perfect for protecting and reusing student worksheets....
Colors - In this pack you will receive 2 blue, 2 yellow, 2 orange, 2 green, 2 red and 2 pink sleeve
High Quality- Made with high grade plastic and double sewn edges these worksheet sleeves are made to last. Features a convenient marker pen holder and...
Printable summer bingo game
Like all Artisan Life printables, these bingo cards are available for personal and classroom use. This includes use with Scouting groups, homeschool co-ops, and nursing homes. (Yes, this picture bingo game is fun for older adults, too!)
You are not licensed to redistribute the files or printouts to other adults for use with activities they are organizing. Instead, please send your friends or coworkers to this page so they can download their own copies.
Considerate readers have emailed to ask if they can use these bingo boards with therapy clients. Yes, that's absolutely okay as long as they're your own clients and you're not charging anything extra to play the game. Thank you so much to the folks who've doubled checked before sharing the printables. You rock!
There are four different sets of summer bingo boards to pick from.
Summer bingo for a large group with 50 cards
Classroom set of 25 summer bingo boards
10 free printable summer bingo boards
4 free printable summer bingo cards
The sets of 10 and 4 are free, so keep scrolling to grab your free printables if you're only looking for a few bingo boards!
All cards are unique so you can combine multiple sets. For example, you can use both free sets together for 14 unique cards or add a freebie set onto a larger paid set for even more players.
Looking for more picture bingo themes? Be sure to check out this page of free printable bingo cards for mermaids, unicorns, holidays, and more!
Summer bingo for a group
This large set of summer bingo cards is perfect for cookouts, parties, family reunions, or any time you need a lot of bingo cards. This set is popular with nursing homes and assisted living communities, too! You can get 50 unique summer-themed picture bingo cards for one very low price.
Classroom set of 25 summer bingo cards
Up next is what I call the "classroom set" of bingo boards. This set has 25 unique cards and is perfect for most pool parties, summer camps, and Scouting groups.
If you need a few more cards, but don't want the whole set of 50, you can combine this set of 25 boards with the freebies. (Keep scrolling just a tiny bit more for the free printable sets!)
Free printable summer bingo – 10 cards
Alright, here we are at the free printable picture bingo for summer! The set of 10 is ideal for larger families and smaller groups. Many smaller families also like this set because children can get a new card and play again. This set is free – just fill out the form below the preview image and let me know where to send your bingo cards.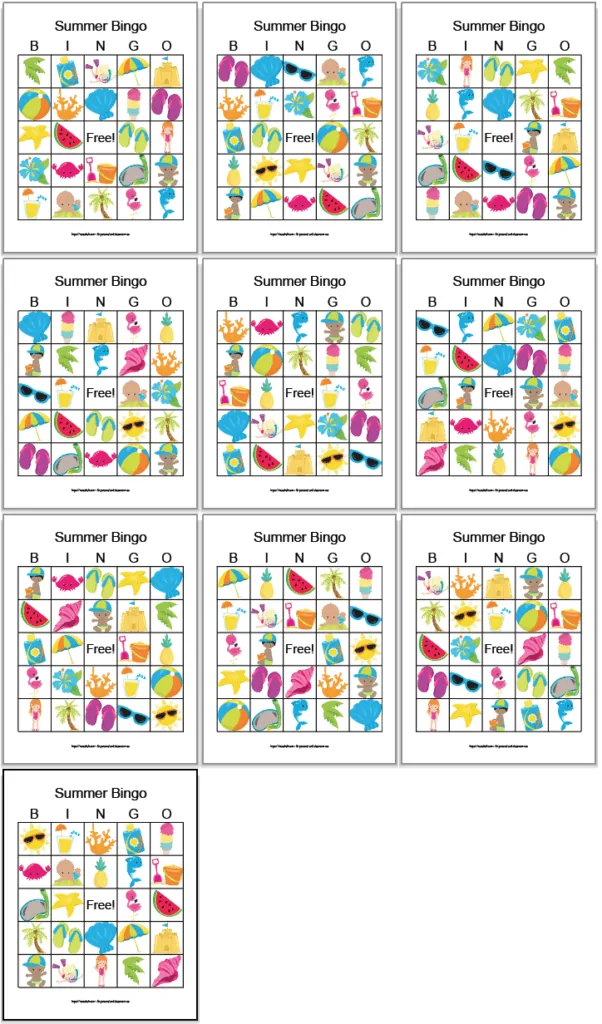 Set of four free printable summer bingo cards
Last but not least, there's a set of four free printable summer bingo boards for kids. You can download this set directly using the download link below the preview image. It's highlighted with a grey box to make it easier to find.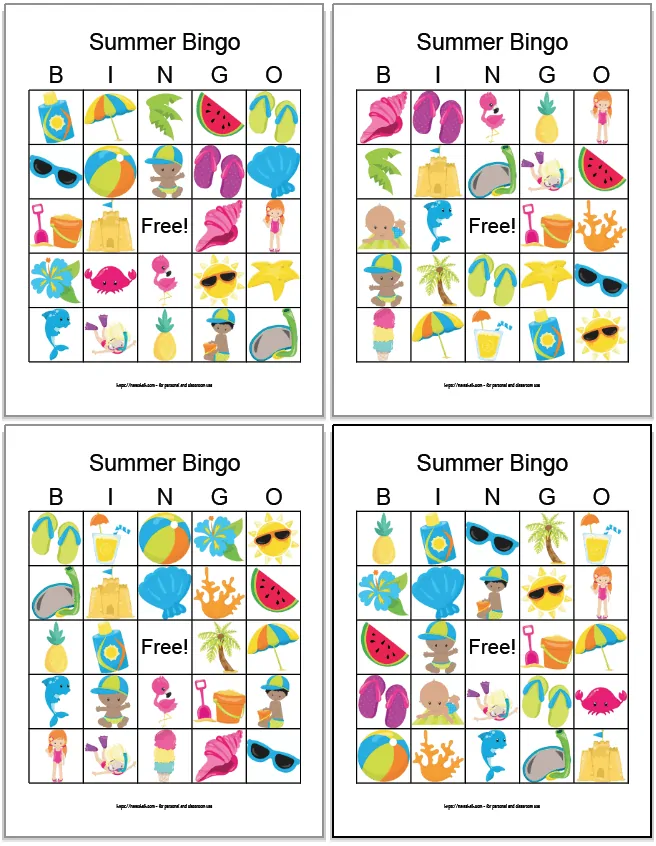 Download a set of four free printable summer bingo cards here
I hope your family enjoys this summer bingo game as much as ours does! Make sure to Pin the image below so you don't lose track of this post for later.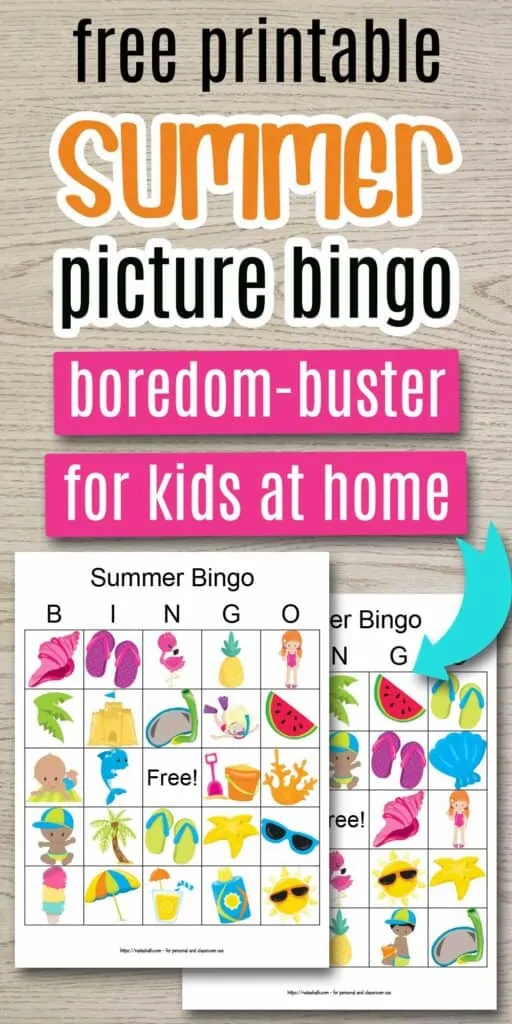 Free summer printables
If you're looking for budget-friendly ways to keep your kids happy, busy, and learning without screen time, you've come to the right place! Be sure to check out some of the most popular free printables for kids here on The Artisan Life: