Do you want to start digital planning but also don't want to break the bank? Keep reading to snag your free digital planner with hyperlinks!
This post will grow with time as I have the opportunity to write more about what digital planning is, how to pick a digital planning app, and how to use your digital planner. (Don't worry – it does include some basics on getting started so you won't be completely in the dark!)
I wanted to get this free digital planner out into the world as quickly as possible so you can start enjoying the benefits of digital planning today, even if you don't feel comfortable purchasing a digital planner yet.
Once you become comfortable with your digital planner and see how fun and easy digital planning can be, you can "upgrade" to a fancier planner without feeling guilty.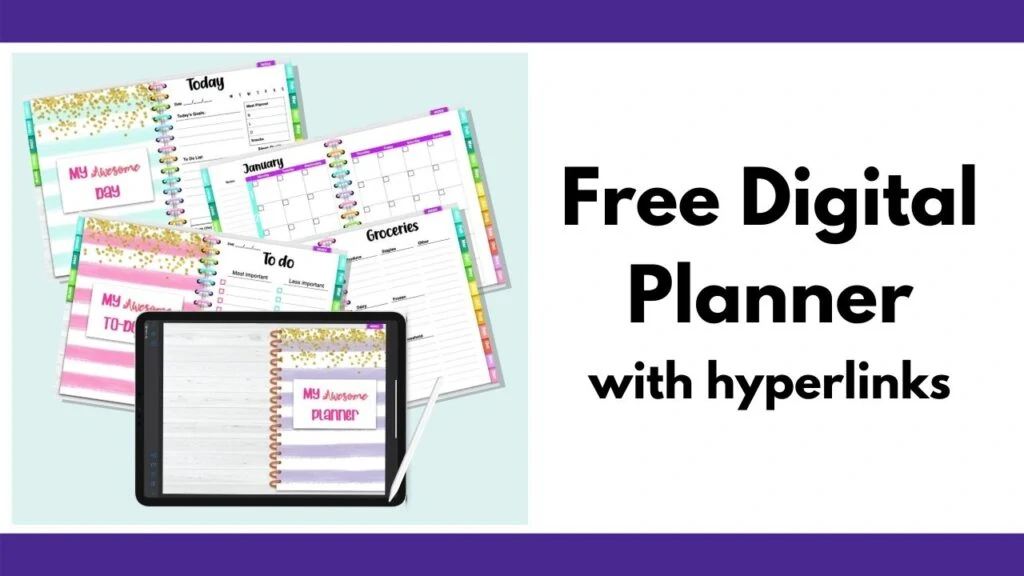 How to use a digital planner
As evidenced by all my printable planner pages, I love digital planning. I just don't like typing things into my notes or reminders app on my phone.
However, carrying my favorite Happy Planner around in my purse is pretty awkward. That's why I started looking into digital planning. Digital planning is not typing notes on your tablet – it's more more similar to a "real life" planning experience with colorful planners, digital stickers, and the ability to doodle and write on your planner.
Digital planning isn't difficult, but there are a couple of steps to get your planner onto your tablet.
You will need:
A compatible tablet
A stylus (such as the Apple Pencil)
A planning App. Goodnotes and Noteshelf are the most popular
Your digital planner!
How to import a digital planner into Goodnotes
After downloading the PDF file, the planner will open in the Safari browser of your iPad.
Click on the Share button on the top right corner.
You might have to scroll and select copy to Goodnotes.
In Goodnotes, choose a location and click the import as a new document button.
How to use the Goodnotes app
Sometimes people have trouble and aren't able to get the hyperlinked tabs to click when they use Goodnotes.
How to use hyperlinked tabs in Goodnotes
For the tabs to work, you need to be in the Read-Only Mode in Goodnotes. You should see an icon of a pencil with a line through it.
This mode lets you navigate through your pages easily.
All other inputs, like the pen/stylus, are blocked when this mode is active.
How to write on your digital panner in Goodnotes
To be able to write on your planner, you need to deselect the Read-Only Mode in Goodnotes. You should see an icon that looks like a pencil drawing a loop.
You can use the writing tools like the pen and highlighter in this mode.
Pin this infographic to your planner board now to make sure you remember how to use your digital planner: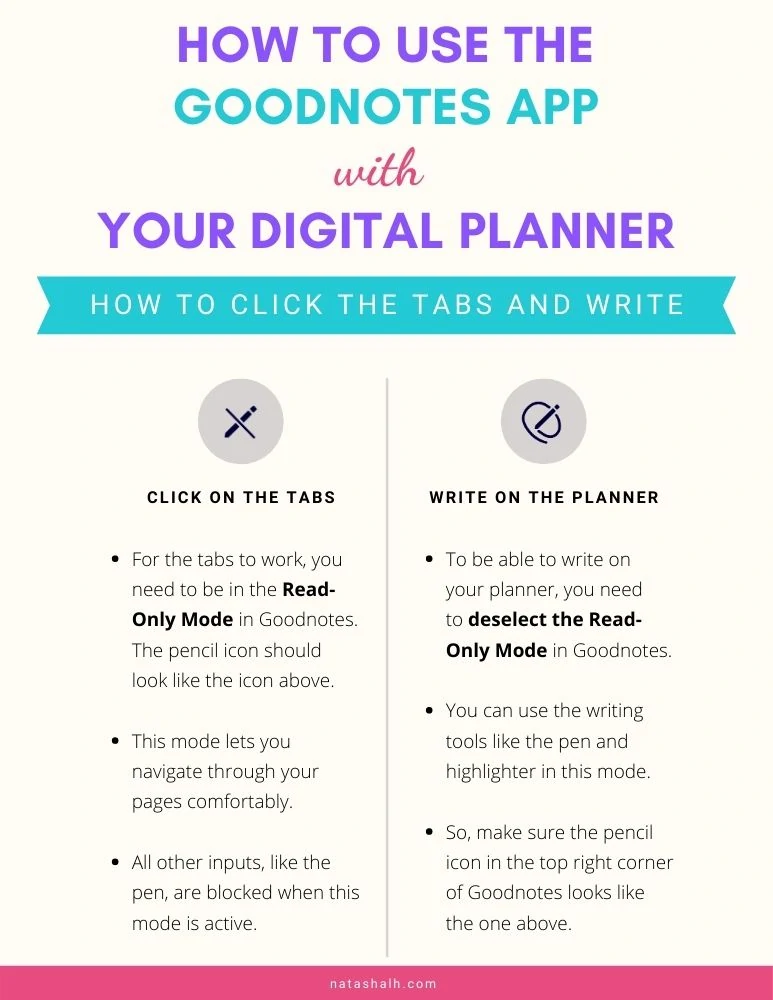 A video is worth a zillion words when it comes to importing and using your digital planner.
In the video below, my mentor Michelle from Secret Owl Society shows you how to use a digital planner, including how to import the PDF into your app:
Free digital planner with hyperlinks
Alright, let's check out your new digital planner!
This planner is for personal use only. Even though you're getting it for free, you are not licensed to share the file with others. Instead of sending them the PDF, please send your friends to this blog post so they can download their own copy. The Artisan Life is a user supported site and digital planners are a lot of work to make so your support and cooperation are deeply appreciated.
The free planner is in landscape mode and features bright, cheerful colors. Many people find two page landscape style digital planners to be the more "realistic" and true to paper planner experience. You can easily see an entire month or week at the same time.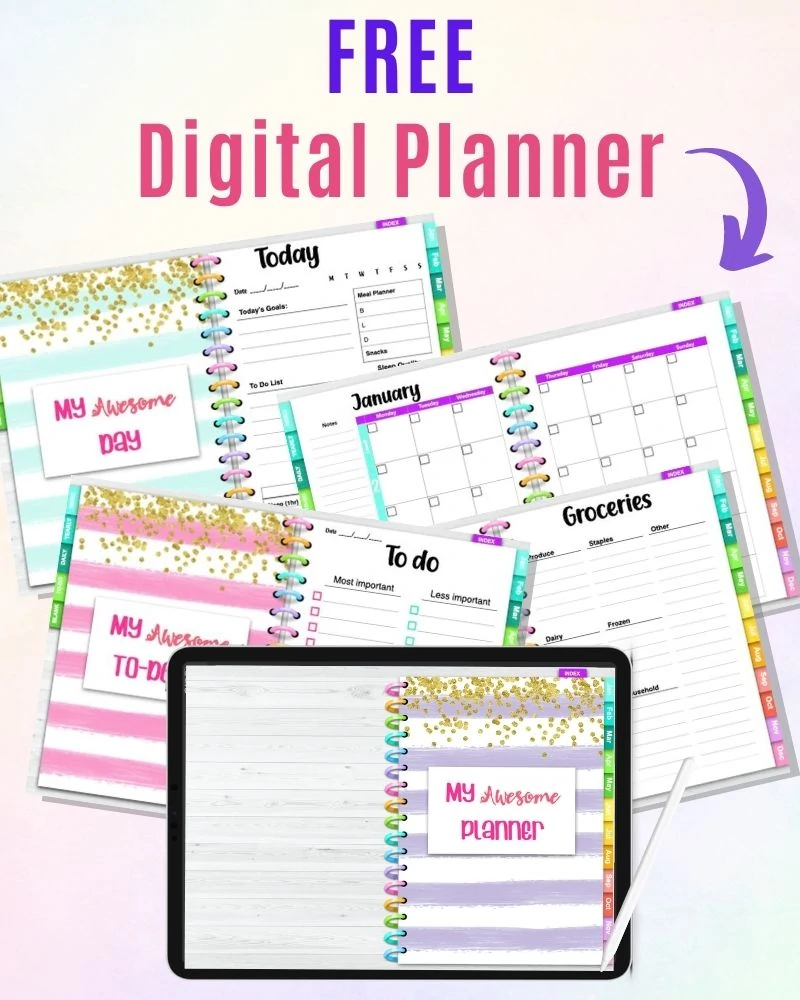 The planner includes monthly, weekly, and daily pages as well as a to-do list and a blank page for your doodles, notes, and virtual sticker album. The planner has a 2021 calendar on the index page, but the months/weeks are undated and can be used for any year. Just write in the date or add stickers!
You can catch a glimpse inside in the preview video below:
Note: in the video, the first two pages have a boring coil instead of the pretty rainbow coil. #facepalm. The planner download has all matching rainbow coils.
The hyperlinked digital planer is available free to Artisan Life family members. Just let me know where to send your planner and it will fly across the internet into your inbox:
(Current Artisan Life subscribers – please use the same email address you've previously submitted. No need to drag out your old hotmail account to get your freebie!)
Awesome bonus: I give away planner printables and digital planner goodies to Artisan Life family members all. the. time. Make sure you're getting these valuable downloads, too!
Although the planner printables linked below are not hyperlinked PDF documents, you can import them into your digital planner to personalize your digital planning experience:
Planner & Journal Printables
Looking for more planner and journal printables? Check out these freebies on The Artisan Life!