Have you ever poured your heart into a bullet journal or planner page…only to have the ink smear, ghost, or bleed through the page onto the page behind?
Finding the perfect pen is an important part of bullet journaling and planning. It can feel intimidating, especially if you're new to bullet journaling or on a budget.
Luckily, there are a variety affordably priced, high-quality bullet bullet journal pens available. Discover this guide to the best bullet journal pens so you can bujo with confidence.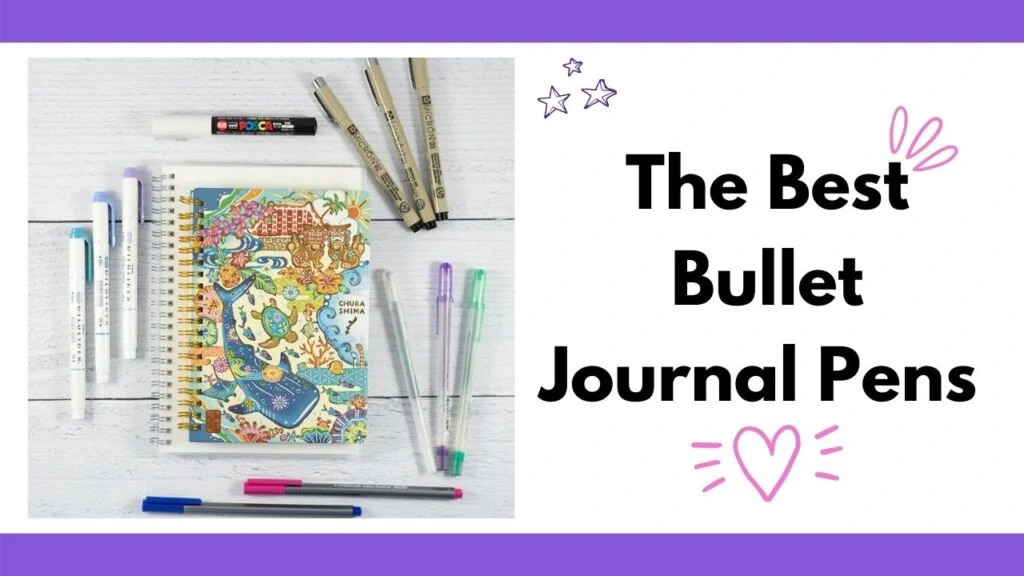 What to look for in a pen for bullet journaling
This post may include affiliate links which means I may earn a commission on qualifying purchases at no additional cost to you.
To a certain extent, the best bullet pens for your bullet journal depend on what you're looking for in a bullet pen.
Do you want to doodle? Color code your entries? Practice your calligraphy? The best pen for doodling isn't necessarily the best pen for hand lettering (in fact, it most likely would be a poor choice for most lettering).
That having been said, there are some questions to keep in mind when selecting a pen for journaling or planning:
Is the ink archival? Archival ink resists fading, so it's a good choice if you want to hang onto your bullet journal to look back on in the future.
Is the pen brand known for being high quality and reliable? Or is it prone to leaks, splotches, and scratches?
Are the pens known to feather and bleed? Although your choice of paper has a big influence on whether a pen feathers or bleeds, certain pens are more prone to feathering than others.
Does the ink dry quickly? Fast-drying ink isn't always the best choice, but most people prefer ink that dries quickly because you're less likely to accidentally smudge it while writing. If you're doing a lot of coloring or drawing, you might want a pen that doesn't dry quickly so you can intentionally blend your colors. If you don't want to practice your color blending, go with a fast-drying pen.
Classic bullet journal pens are black, but you can also get white bullet journal pens (for writing on black paper and highlights on your doodles) and colorful pens.
And, of course, there are plenty of art pens and calligraphy pens for special decorations and hand lettering!
This post primarily looks at the best pens for writing and doodling in your bullet journal or planner. We will not be going into depth with calligraphy pens or brush markers (I have individual posts planned for these topics in the future).
The best pens for bullet journaling and planning
The Sakura Micron pen is the classic bullet journal pen. They will probably be at the top of the page for any journaling or planning pen list you come across.
If you're new to bullet journaling and don't want to spend a lot on supplies, make your first purchase a Sakura Micron. Microns are an excellent beginner bullet journal pen because they are reliable, consistent, and deliver high-quality results that help your designs look great.
The Sakura Pigma is a fantastic basic black pen for bullet journaling. Like a little black dress is fashionable for any occasion, black pens are the backbone of the journal scene and should be a staple in any writer's supplies. Sakura art supplies (including Gelly Roll pens, brush pens, watercolor paints, and more) are manufactured in Japan and have an outstanding reputation for quality. I've been satisfied with every Sakura purchase I've ever made.
Micron pens were some of the first bullet journal supplies I purchased, and they're still my favorite. Below are my three favorite sizes: 003, 02, and 05 pictured with a lovely notebook my sister brought me from Okinawa. (I'm lucky to have a Japanese and Okinawan brother-in-law who's an outstanding calligrapher with the best stationary recommendations.)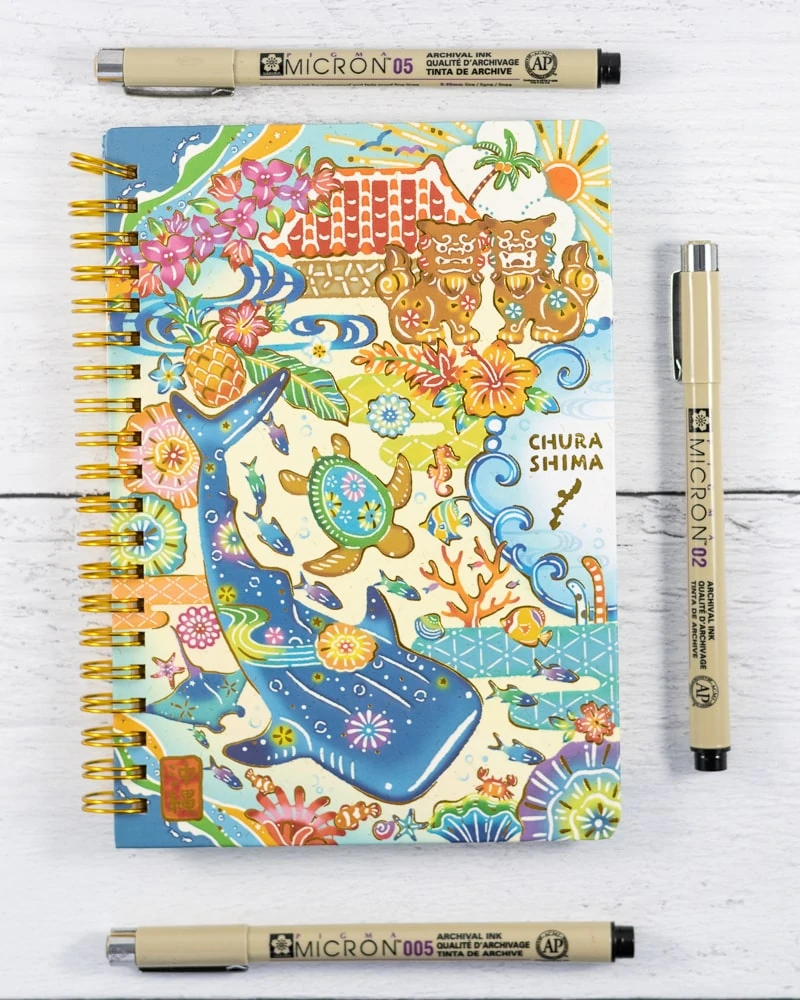 Here are some of the reasons Sakura Pigma Micron Pens are awesome:
Pigment-based ink: Pigment-based ink is considered superior to dye-based ink for archival purposes because it is much less inclined to bleed through the paper. The chemicals in pigment-based ink are also more resistant to ultraviolet damage, chemical deterioration, and environmental pollutants. PIGMA ink is both fade resistant and resistant to smearing.

Different tip sizes: You can pick from a variety of tip sizes for lettering, intricate details, and bold designs. I like the multi-pack because you get 6 different sizes!
No bleeding: Once dried, these pens don't bleed through to the other side of the paper. Sakura Pigma Micron pens won't smear even if something is spilled on them as long as they're allowed to dry for around a minute after writing.

Can be used on fabric: These Micron pens can be used on fabric and paper, which is perfect if you like to incorporate swatches or other types of multimedia into your journals. These pens can also write on many other surfaces, such as washi tape.

Great for borders and detail work: In bullet journals, the small details such as hand-lettering, doodles, quotes, and other marginalia are one of the things that make this form of journaling so endearing. Outlining colored sections in black can help them pop off the page, adding visual interest and a cool aesthetic to the bullet journal.
Available in colors: All these awesome features are also available in colors! Microns are available in brown, red, pink, purple, hunter green,, blue, orange, sepia, and more.
Although you can damage the nibs if you write too hard, I've never had a problem with the nibs becoming overly damaged.
SAKURA Pigma Micron Fineliner Pens - Archival Black Ink Pens - Pens for...
The Go-To Tool for Art, Work & Play: Black pens create precise marks that stand the test of time
Point Sizes: Contains 6 of the 03 (0.35 mm) Micron pen; provides precise lines with no bleed
Archival Quality: Sakura Micron Pen ink is waterproof, fade resistant, bleed free, quick drying, and pH neutral
Sharpie has long been associated with pens (especially permanent markers), but in recent years this company has turned their attention toward finer marker types, including these colored art pens.
Sharpie art pens are a great way to add some bright color to the borders of your bullet journal or to use as the basis for a color-coded organizational system.
I own several Sharpie art pens and enjoy using them. Here are some of the great things about them:
Variety of colors: There are two dozen different colors available (including black), which gives you plenty of options. You don't have to get the set of 24 – there are also smaller sets of Sharpie pens available.

Stand-up hard case: These art pens come with a stand-up hard case to keep the pens in the best long-term storage position. This helps the pens last longer and keeps bullet journal writers from having to replace them as often.

Bleed-proof ink: These permanent ink pens are constructed with ink that won't bleed through to the back of the page, allowing your to keep a continuous bullet journal that takes full advantage of each page in the journal while also avoiding ugly bleed-through in their bullet journal designs.

Precise fine-point: The fine-point tip on these art pens can make a very thin mark, making them suitable even for the smallest bullet journals. This is a great pen choice for people who want a bullet journal compact enough to carry around with them everywhere.

Don't require a heavy hand: Some fine-tip pens need more pressure on the nib to create a dark and consistent line, but the pigment in Sharpie pens is stark and shows up well against the page without having to apply pressure to the paper or prematurely wear the nib of the pen.
Fairly inexpensive. Sharpie pens tend to cost less per pen than Sakura Microns. However, in my experience, the Sharpie pens don't last as long so the cost doesn't always turn out less in the long run.
Sharpie art pens are a great way to add color to your journal without spending a ton of money on pens. Adding color to a bullet journal helps with organization and adds personal flair, so having at least one or two sets of colored pens on hand is best when you're setting up a bullet journal.
Sale
If you want to do a dark or blackout-themed bullet journal, these "moonlight" variety of Gelly Roll gel pens from Sakura are perfect for adding vibrant color to black or dark-colored journal pages.
I had a black notebook in eighth grade and took notes in milk pens. Do you remember those? I thought I was the coolest thing around. With the popularity of "dark mode" on apps, this look is making a comeback. I have to admit that I'm pretty excited about the trend!
Here are some of the best features of Sakura Gelly Roll Moonlight Gel Pens for bullet journals:
Luminous ink: Sakura Moonlight gel pens come with a unique glowing fluorescent ink that is opaque on the paper (with no scratchiness) and rarely requires a retrace. These inks also come in a wide range of colors for any bullet journal design scheme.

Fluorescent colors look great on black paper: If you want to go night mode with your journal, moonlight gel pens look great in black-papered bullet journals.

Glow under blacklight: These fluorescent gel pens glow under blacklight, which is pretty cool. They're also a good writing utensil for if you prefer to keep lights turned down at night.

Works on vellum: Along with regular paper, these gel pens can also write smoothly on vellum and parchment, making them an excellent choice for journaling with more traditional stationery materials.
Even in white papered bullet journals, these neon pens can add some colorful margins and designs to brighten the page. Sakura Gelly Rolls are some of the best gel pens available. They're not the only ones, though. If you want to know more about gel pens (plus tips for how to revive a gel pen), please see this post on the best gel pens for coloring.
Although the Moonlight pens are highlighted in this post, you truly can't go wrong with a Gelly Roll if you want a gel pen. I love Gelly Roll pens and have found them to deliver consistent high quality without the frequent air bubbles and scratching nibs that plague cheap gel pens. My current favorite are the glitter metallic Gelly Rolls.
For more colors than the Microns and a more economical grip than virtually any other bullet journal pen, the Staedtler Fineliners.
Here are so reasons why you need Staedtler fineliners, even if you already have other fine tip colored markers:
They don't roll away from you. If you have a problem with pets or children bumping your table, causing your pens to roll around, you need Staedtler fineliners. They have a triangular body that's easy to hold and prevents rolling!
Their size is compatible with Microns. The fineliners have a .30 mm tip, which is equivalent to the popular 02 Micron size so your designs will go well together if you switch back and forth.
They don't dry up quickly. Their "dry safe" ink means your markers don't dry up if left open. These fineliners can be left open for hours, or even a couple of days, without drying up.
They don't smell! Sharpie is frequently synonymous with stinky. Staedtler pens don't smell, so they're perfect if you have a sensitive nose or don't wan to expose your family to marker fumes.
The case is awesome. The case is sturdy, phthalate free, and snaps into place to form a stand to hold your pens while you work. This case is, by far, the best packaging I've encountered with a set of pens or markers. You can see an image of the case open and ready for use in the image below: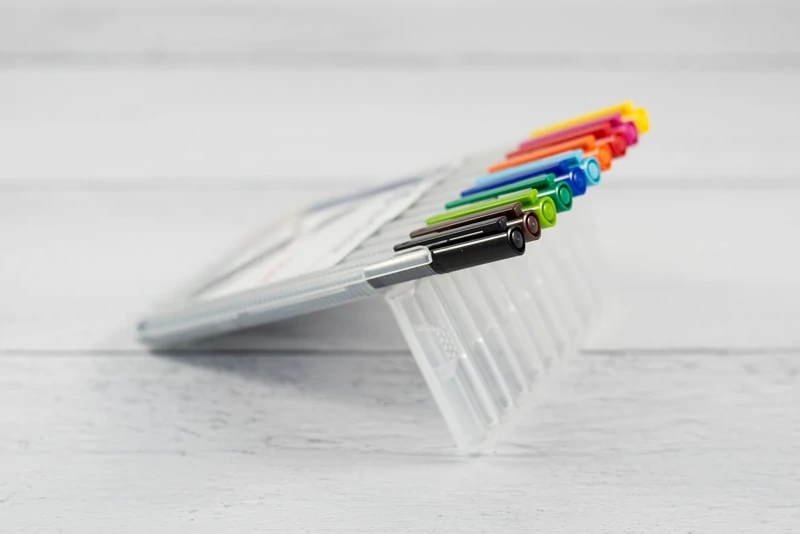 Sale
STAEDTLER gel Triplus Fineliner 0.3 mm Porous Point Pen 334 - SB10, 10 pack
Fineliner with super fine metal-clad clip. Ergonomic triangular barrel for fatigue-free working. Dry-safe can be left uncapped up to 2 days without...
With iso 11540. Barrel and cap made from pp for long service life and low environmental impact. Water-based ink. No toxic heavy metals such as cadmium...
Use xylene and toluene as ink ingredients. Dry safe ink increases product life span. Environmentally friendly manufacturing process. Reusable box,...
If you're a writer and an artist these Faber-Castel Manga Drawing Pens are a great choice. They allow you to add intricate drawings and sketches to your bullet journal.
These pens can be used for writing and illustration work, such as outlining comics, illustrations, and sketches. They're also a great multimedia tool for use with colored pigment pens and watercolor pens.
Here are some other features of Faber-Castle Manga Drawing Pens that make them a good option for bullet journals:
Multiple tip sizes are perfect for lettering and calligraphy: These pens come in four different sizes from extra fine to brush tip, making it easy for you to add depth and emphasis to specific lines in your writing and illustrations.

Smooth application: Unlike some other Indian ink pens, these pens are effective at not creating smudges or blobs on your bullet journal. The ink also dries quickly to help avoid smearing mistakes.

Budget-friendly: These pens are comparable in writing quality to more expensive art pens like Copic, but at a lower price point.

Variety of nibs: Each of the pens in this set has a slightly different mark, making it easy to switch up mid-sketch. This adds fine texture and visual interest to otherwise flat-looking illustrations and sketches. This also makes it easy to add nuance to a bullet journal entirely done in black and white.

Intense saturation: These pens leave a consistent, dramatic black line that is vivid on the paper without bleeding through to the other side. This is useful for bullet journal pages with thinner paper that may be vulnerable to bleed-through from cheaper pens.
These black pens are a good choice if you like to include lots of symbols, illustrations, and embellishments in your journals. Along with being useful for bullet journals, these pens are great for sketch journals and hand-lettering practice.
Many of the artists who use Faber-Castel pens swear by them, so if you're looking for a workhorse of a black pen to fill out your bullet journal supplies, Faber-Castel is a strong brand to look at.
Sale
Faber-Castel 167132 PITT Artist Manga Drawing Pens, Black, 4-Pack
Faber-Castell-Pitt artist pens: manga drawing set
Bring your manga characters to life with the help of these high quality drawing pens featuring waterproof maximum light-fastness Indian ink
This package contains four pens: brush fine super fine and extra super fine
Every bullet journal writer needs a good white pen. Whether you use white paper journals and use the white pen as a correcting element to clean up mistakes or use white ink on black paper, these white gel pens from Uni-Ball are a solid choice. These pens can also add a pastel element to more primary gel pen colors by coloring white over a colored section. 
Here are some other reasons why a white gel pen can be a great addition when you're designing a bullet journal:
White pens add variety to illustrations and calligraphy: White gel pens can be useful for adding reflective sections or highlighted surfaces in a sketch or drawing and can also add a headline effect to darker colors for a three-dimensional look.

A neater version of white-out: Traditional white-out corrector dries thick and can turn an unsightly beige color, while white gel ink can be used to correct mistakes without drawing more attention to them.

Comfortable grip: If you like to set up your spreads in a long , the soft comfort grip on these pens makes them more ergonomic to work with than some harsher plastic pens without a grip.

Perfect for writing on darker surfaces: A set of white gel pens is useful to have around for card signing. It's hard to make signatures and season's greetings show up on many darker-colored cardstocks, especially in holiday cards that come in darker fall and winter colors.

Covers well over waterproof inks: Unlike many archival inks, this white gel ink layers well over darker inks that are waterproof. This lets writers make notes even on top of sketches in their bullet journals. 
You may not immediately think of getting a white bullet journal pen if you're new to journaling, but many people consider them indispensable. Even if you don't plan to write on black or colored paper, a white pen can add highlights to your lettering and doodles. These highlights make your designs pop off the page and can take your bullet journal spreads to the next level!
If you want to add colorful highlights to your bullet journal without adding fluorescent highlights to your pages, these "mildliner" highlighters from the Japanese company Zebra are a great choice. These highlighters are bright but easy on the eyes and come in a broad range of pleasing and unique colors like teal and silver.
I personally own this set of 15 Zebra midliners. Here are some of the reasons I like these markers:
More muted colors: These highlighters come in dialed-down colors that make them great for adding color to a bullet journal without being visually distracting.

No bleed-through: One major problem with using thick bands of highlighter or using a highlighter for blocking color is that some highlighters tend to bleed. The Zebra midliners tend not to bleed or feather.

Wide color variety: Bullet journals are meant to be a catch-all notebook to organize your entire life. Zebras come in many colors, which makes it possible to highlight, organize, and categorize to your hearts content! These highlighters come in a much wider variety than most American highlighters (which tend to only come in fluorescent shades).

Long-lasting: Some highlighters dry up quickly under heavy use, but these highlighters can go for ages. The set of 15 is usually less than $1 per marker, so this makes them a great deal compared to other highlighters that cost more and need to be replaced more frequently.
One downside is that, in my experience, the cap color isn't always a perfect match for the actual color on paper. I recommend swatching your markers out so you know how they look in real life so you don't encounter any unpleasant surprises.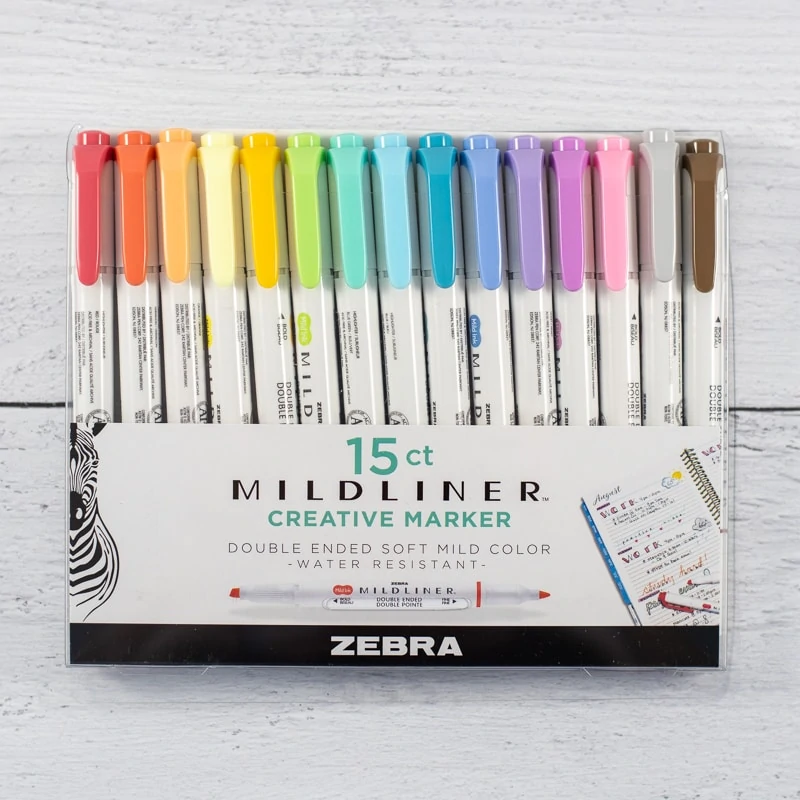 Colored highlighters are a great way to add color to your bullet journal without using an art pen. They're also useful for keeping your bullet journal color-coded and well-organized. A great thing about bullet journals is the ability to cross-index all the different areas of your life. A color code with art pens or highlighters is a great way to keep everything straight.
Zebra Pen Mildliner Double Ended Highlighter Set, Broad and Fine Point...
Versatile creative tool! With a broad chisel tip at one end and fine bullet point at the other, these creative markers are great for highlighting,...
Bring your bullet journal or Bible study to life! Zebra Pen Mildliner Highlighters have a unique, mild color that makes any creative work a little...
Layer ink for extra creativity! Translucent, water-resistant ink in soft colors layers beautifully and won't bleed through the page; Double ended...
Bullet journal pens are so much fun
Yes, I said it. Buying and having bullet journal pens is fun!
Before getting into journaling, you may have wondered how someone could possible need more than a basic black (or blue) pen. But now that you're journaling and planning, you can see how important it is to have a good bullet journal pen. (and how much fun it is to embellish your pages!)
Using different pens in your bullet journal makes it more fun to use and also lets you set up different organizational systems in the journal based on various colors and markings.
Make sure to pick up some of the great pens listed above to get a jumpstart on your next bullet journal! 
Planner & Journal Printables
Looking for more planner and journal printables? Check out these freebies on The Artisan Life!