These free printable missing number worksheets are a great way for your students or children to practice their math skills, knowledge of numbers, number formation, and fine motor skills.
These free printable worksheets feature a fun mermaid theme and four different pages for use with kindergarten, 1st grade, or even 2nd grade. Pick from missing numbers 1-10, 1-20, 1-50, and 1-100 to suit your classroom needs!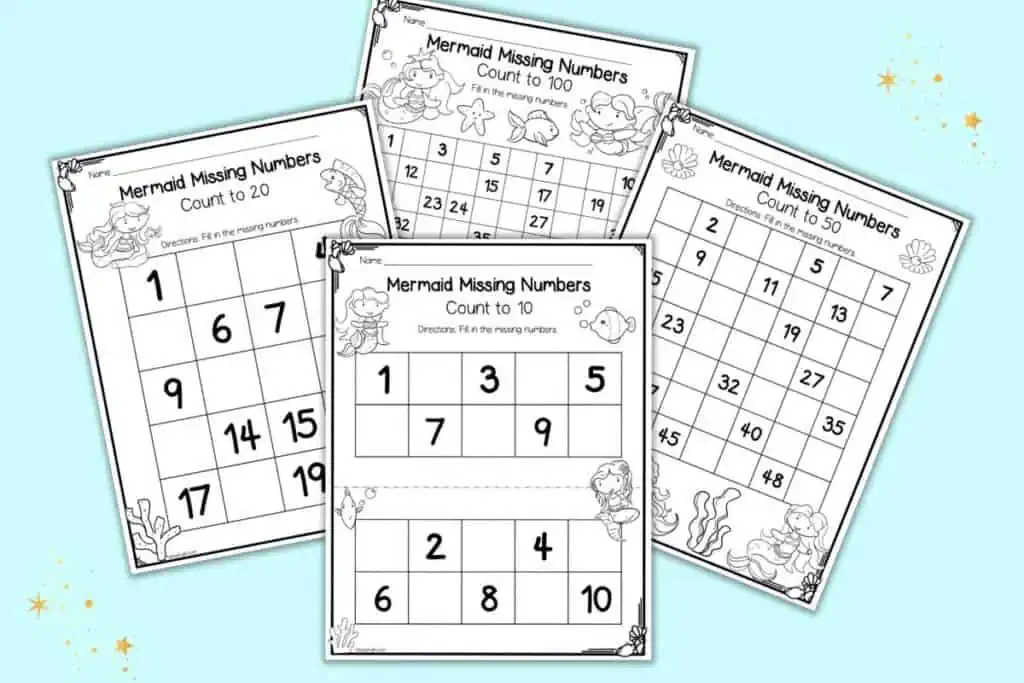 This post may include affiliate links which means I may earn a commission on qualifying purchases at no additional cost to you.
These free printable missing numbers worksheets feature partially completed charts with blank spaces for your child or students to fill in the correct number. Younger learners may benefit from referencing a free printable number line or a number chart as they complete their worksheet. For more practice with number formation, be sure to grab these free printable number tracing pages.
These worksheets are best suited for Pre-K, Kindergarten, first grade, and beginning of the year review for second grade.
For more missing number activities, be sure to check out these additional themed printables:
What numbers should preschoolers know?
Most 3-4 year olds should be able to count to 10 and they may be able to count higher. Generally speaking, schools expect children to understand numbers up to 20 and write numbers up to 10 by the time they enter kindergarten. It is normal for kids to mix up the teen numbers for a while.
What numbers do kindergarteners know?
In general, kindergarteners are expected to write numbers up to 20 and count/understand numbers up to 100 by the end of the school year. In some places, counting to 100 is considered a first grade skill.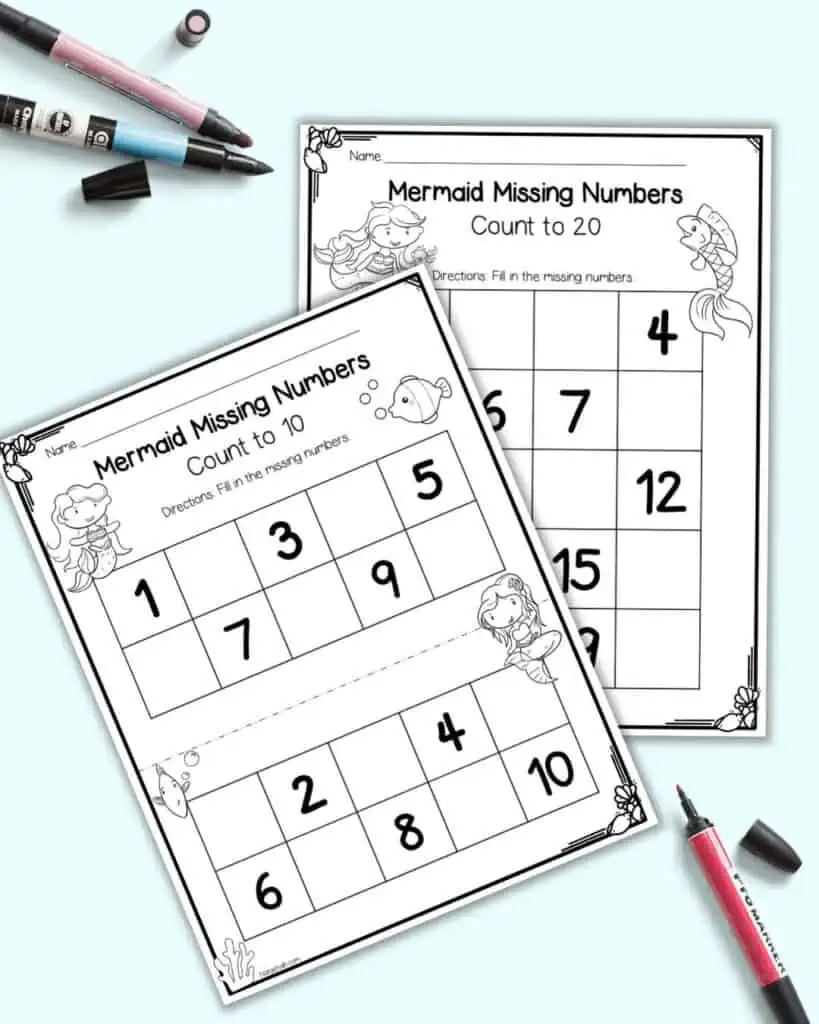 What numbers should first and second graders know?
First graders are typically expected to be able to count to 100 and skip count by 2s, 5s, and 10s. By the end of the year, second graders can count higher than 100, but students may need a review at the start of the school year before launching into double digit addition and subtraction.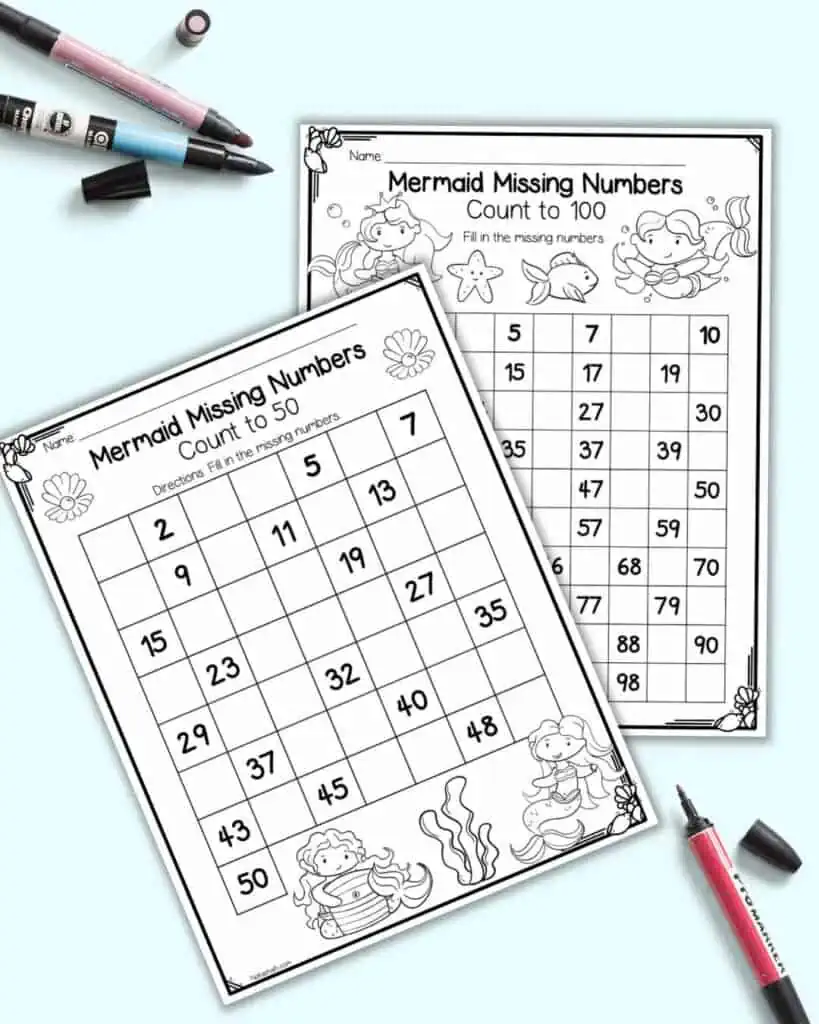 How to make math worksheets reusable
These number sequence math worksheets with mermaids are a fun way to help your little learner practice counting and writing their numbers.
Don't be surprised if your child loves the pages so much that they want to do them multiple times! We like making worksheets reusable by sliding them into a secure page protector. This is faster and easier than laminating, plus you can reuse the sheet protectors for other worksheets in the future. 
Sale
Avery 76000 Secure Top Sheet Protectors, Super Heavy Gauge, Letter, Diamond...
Keep contents secure in the protective sleeve with convenient top flap; perfect for holding nonstandard size papers and important items
Get a crisp, clear view of the contents of your documents with diamond clear page protectors featuring a polished finish for high clarity
Ensure your documents stay protected with long-lasting super heavyweight sheet protectors for all of your frequently referenced items
Dry erase pockets are highly durable and perfect for classroom centers.
Whether you laminate or use a page protector, it's easy for your child to use these pages again and again. You can use a dry erase marker or a Stabilo Woody 3-in-1 colored pencil. We love our Woody pencils and even use them for reusable coloring pages! Stop by this post with free printable dinosaur coloring pages to see Stabilo Woody pencils in action. They color really well on laminated pages and they don't have ink to stain or stink.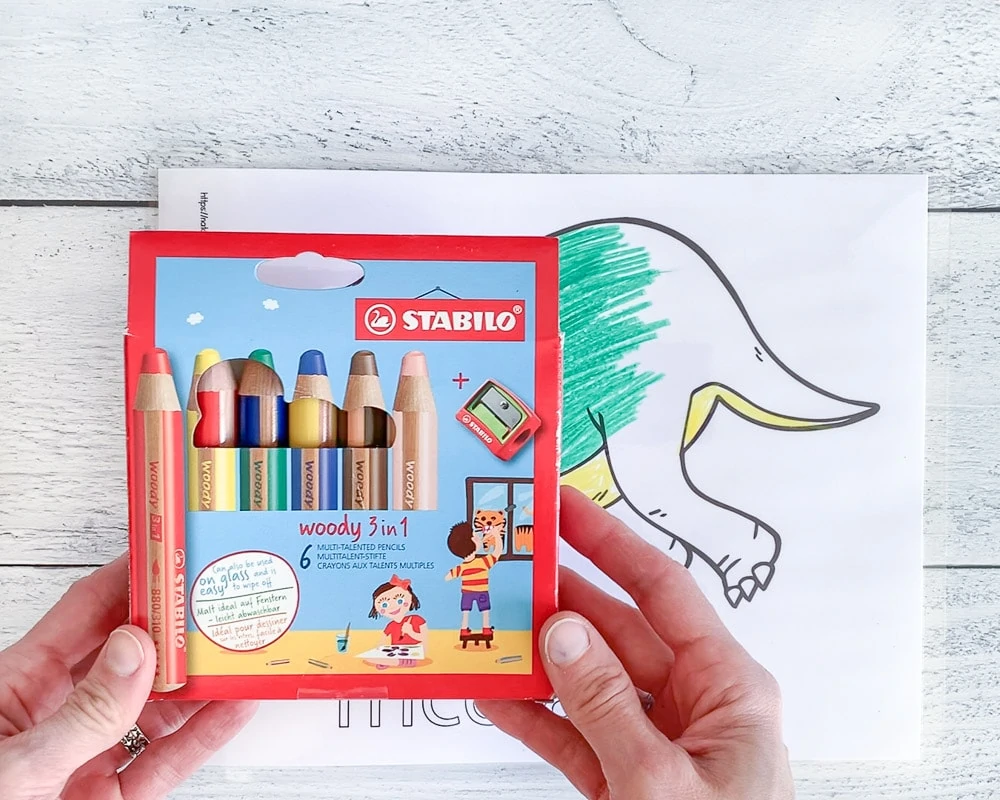 Sale
Printable mermaid theme fill in the number pages
As mentioned above, there are four free worksheets so you can differentiate instruction. Here's what you're getting: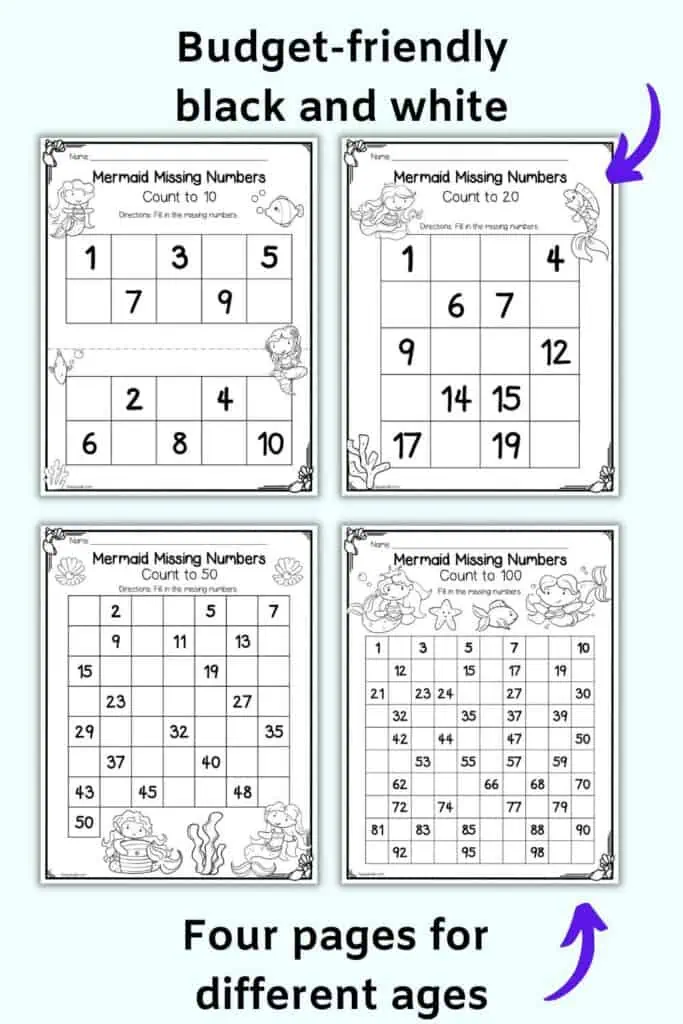 These free missing number worksheets are available in PDF format. They are licensed for personal and single classroom use. You are not licensed to redistribute or sell the files or printouts to other adults for use with their children or students. 
I hope your little learner enjoys these fill in the number pages! For more learning fun, be sure to grab these additional mermaid & ocean themed printables while you're here:
Mermaids, Fish, and the Ocean
Does your little learner love fish, mermaids, and the ocean? You've come to the right place!