Make journaling easy and enjoyable with these daily writing prompts for October.
These journal prompts for October will get your creative juices flowing and help you keep up with your journaling practice. Make sure to keep scrolling to the end to get your free printable journal prompts cheatsheet and October journal pages for US letter and Happy Planner sizes!
These journal writing prompts will help you get past "not knowing" what to say and allow you to start journaling right away instead of spending all your time wondering what to write about.
Grab your free printable October journal pages and start your journaling practice today!
This post may include affiliate links which means I may earn a commission on qualifying purchases at no additional cost to you.
Why you should use journaling prompts
These journaling prompts for October remove the "blank page fear" that keeps too many people from journaling. Just respond to the prompt however you'd like. Maybe you want to write simple bullet points, or maybe you want to write complete sentences. The choice is yours!
If you scroll Instagram, you may feel like you can't journal if you're not an incredible artist with beautiful handwriting.
I'm here to tell you that isn't true.
Plus I'm going to let you in on a secret: those beautiful, perfect photos took a lot of work, and possibly several drafts. How do I know this? My brother-in-law has amazing calligraphy, but he does a draft and recopies things when he wants them to look nice. He literally even recopies his own journal entries sometimes so they look their best!
You don't even need a fancy name brand notebook to get started – grab the free printable October journal pages at the bottom of the post, print them out, and get writing today!
If you like the designs, be sure to check out these free printable planner pages for October because they match. =)
If you're new to journaling, you may want to hold yourself accountable by grabbing a free printable habit tracker.
Daily writing prompts for October
You can journal on these prompts in your favorite notebook or keep scrolling to download free printable journal pages for October with a prompt already written on each day's page.
Grab a mug of something warm to drink, light a candle, and get ready to journal!
Daily October journal writing prompts
Close your eyes and say the word October out loud. Open your eyes and down the thoughts that come into your head.
What color do you associate with October and why?
As the weather grows cooler, what's your favorite way to stay warm?
Do you have, or had, a favorite blanket? Write about where it came from and any memories it gives you.
This time of year, people start to think about being Grateful, who or what are you grateful for?
October is a great time for picking apples (and enjoying fresh apples). What's your favorite apple-related memory?
What's your favorite outfit for the fall season?
Have you ever been on a hayride? Write about it or what you think it would be like.
Record your best summer memory of the year and make a note to revisit this entry next year to compare your new memories.
Pick a hobby you would like to start (or pick up again) this fall or winter.
How can you make a difference to someone you know today?
In honor of Canadian Thanksgiving, write a list of things that you know about Canada.
What does the word 'Thankful' mean to you?
Write about a cause that is important to you. List 3 things you could do to support that cause.
Will you be celebrating Halloween this year? Write down your thoughts on how you will address Halloween this year with the current situation.
What's your favorite place to go to see fall foliage?
Write a detailed description of what Fall means to you, paint a picture with words.
Pumpkins are out! Do you cook with pumpkin? Or think they're just for carving?
Write about the best pumpkin you have ever seen. (Maybe it was huge or maybe it was carved in some elaborate way?)
Write a description of how you would decorate your home for fall if you could decorate any way and have anything you wanted.
Is there a teacher that you still appreciate today? Write about who it is and why.
Write notes to 2 people you are grateful to have in your life.
Write your favorite memory about drinking hot chocolate.
Are you thinking about Christmas yet? Does this make you feel happy or stressful?
It's Mother in Law Day. Write a note to your mother in law, or to someone close to you if you don't have one.
Start creating a book list for the winter. What books would you love to read?
List three things you could do to improve your business, job, or a relationship.
There are less than there months left in 2020. What are your goals and plans for the rest of the year?
What would you do if you knew you could make a huge impact in the world?
It's Checklist Day! Create some fun checklists or write down a to do list of things you've been neglecting.
It's Trick or Treat Day! What are your favorite Halloween memories?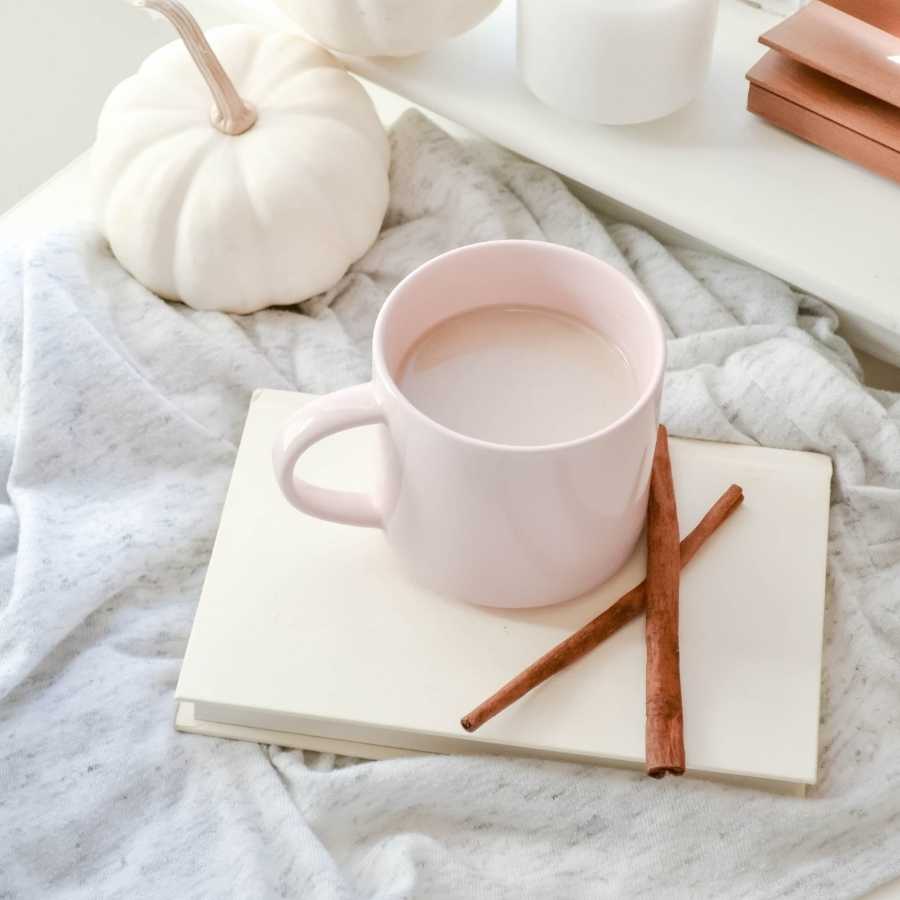 Related: November journal prompts
Free printable October journal pages
Let's take a look at the free October journal page printables.
The journal includes:
A cover page (it matches these free printable October planner pages)
31 days of lined journal pages with a writing prompt for each day
3 lined pages with no prompt for extra writing space
A "cheatsheet" with all 31 prompts at a glance
The journal is available in both US letter and Happy Planner size. The cheatsheet is only in letter size, but it can be printed at 83% and trimmed down to fit in your Happy Planner (the font will be pretty small, though!)
The Happy Planner journal pages have been carefully scaled to ensure the design fills the pages, the lines are big enough to write in, and the journal prompt font is large and easy to read. Make sure to print your Happy Planner pages at actual/100% size. Some printers will try to automatically scale it up to "fit" the page.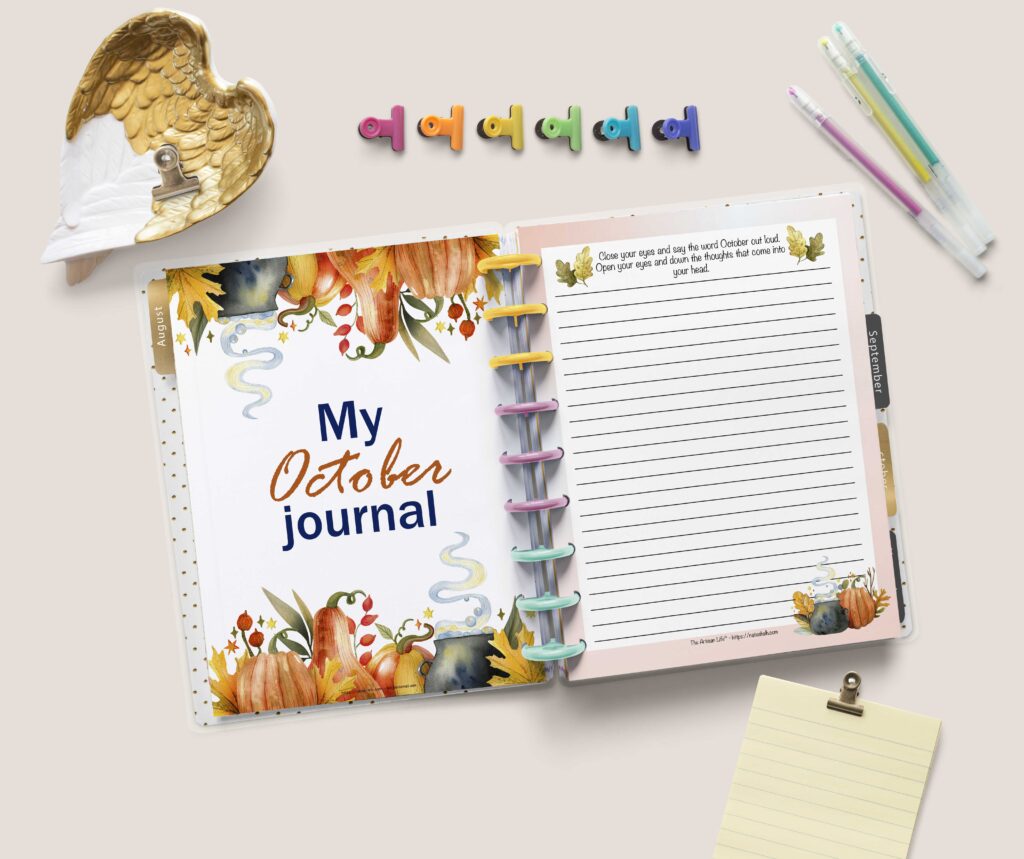 I recommend printing journal pages on premium printer paper so your ink doesn't easily feather and bleed. And, of course, you'll need a paper trimmer and Happy Planner hole punch for the HPC sized printables.
You can catch a glimpse inside the October journal this video:
These pages are for personal and classroom use. This includes use with Scout groups, therapy clients, homeschool co-ops, etc. You are welcome to print and use them as many times as you'd personally like, but please do not share the files or printouts with others for their own use outside of activities you're organizing.
You will need to unzip the compressed file to access your PDFs. Many computers already have a file extraction tool installed (it's free on every Mac out of the box). For Windows, you can download the program 7zip for free or or use EzyZip to decompress files online for free.
Both sizes of October journal pages are free for Artisan Life family members. Just use the box below to let me know where to email your files and they'll fly across the internet and into your inbox! (If you're already a member, just sign up again using the same email address as before.)
Planner & Journal Printables
Looking for more planner and journal printables? Check out these freebies on The Artisan Life!