This free Valentine's Day I spy printable is available in two different difficulties to keep your children happy and busy! Grab them for free – no email address or login required.
Playing a game of printable I Spy helps your child develop their concentration and visual discrimination skills. It's also great for helping younger children practice counting and writing their numbers.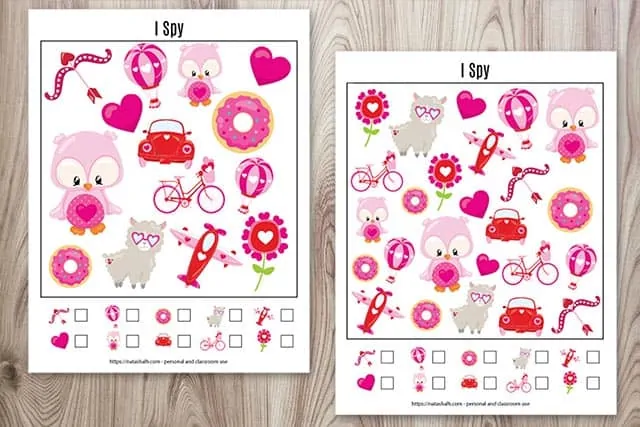 How to play printable I spy
This post may include affiliate links which means I may earn a commission on qualifying purchases at no additional cost to you.
You don't need much to use these printable I spy games!
You need:
To play, have your child count how many of each picture appears in the frame.
Crossing off each image as it's counted can help you child keep track of their progress.
Encouraging them to not cross pictures off can make the game more challenging for older children.
Printable I Spy game for Valentine's Day
These printables are available free for personal and classroom use as long as it's your own classroom. (Yes, leaving them for a substitute teacher to use is fine!) You're also welcome to use them with your church group, scout troop, etc. Basically as long as you are personally organizing the event, it's fine!
Please do not share the printouts or digital files with others for their use. Instead, send your friends and coworkers to this page do download their own copies!
This I Spy printable is available in two difficulties.
Both puzzles have the same cute Valentine's Day images. If you like the images, be sure to check out these free printable Valentine's Day coloring pages for kids! You'll find some of the same images, like the llama with heart glasses, as coloring pages.
The first is easier with each picture used only once or twice. It's perfect for children who are just learning their numbers. Older toddlers can even do this one with some help! (My daughter is so pleased with her ability to count two objects and loves this game.)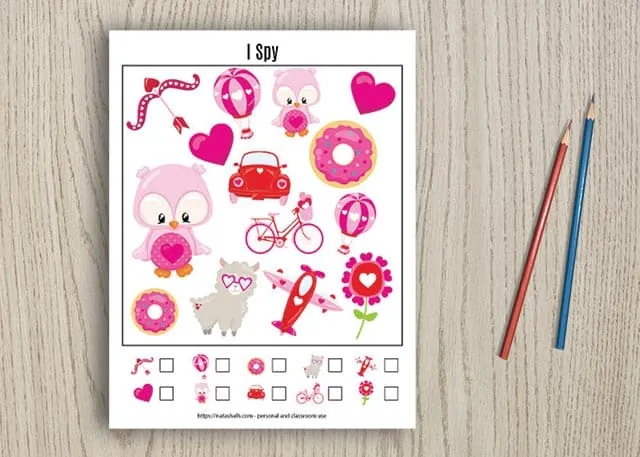 Download the easy Valentine's Day I Spy game here
The second I Spy Valentines printable is slightly more difficult and better for children who are more advanced with the counting skills. Each image is included 2-4 times.
Download the more advanced Valentine I Spy printable here
If you want even more low-prep activities, to keep your little one busy and learning grab both of these I Spy printables and over a dozen more activities in the Valentine's Day activity bundle for just $3.99! You'll receive activities for children from ages 2-12 with fine motor practice sheets, mazes, sudoku, and more!
Stop scrolling Pinterest for Valentine's Day printables and crafts - check out these Valentine's posts right here on The Artisan Life!