This free printable moon phase calendar for 2023 will help you keep track of the phases of the moon. Whether you want to keep up with new moon intentions or set up a full moon self care practice, this free printable phases of the moon calendar can help! I hope you enjoy.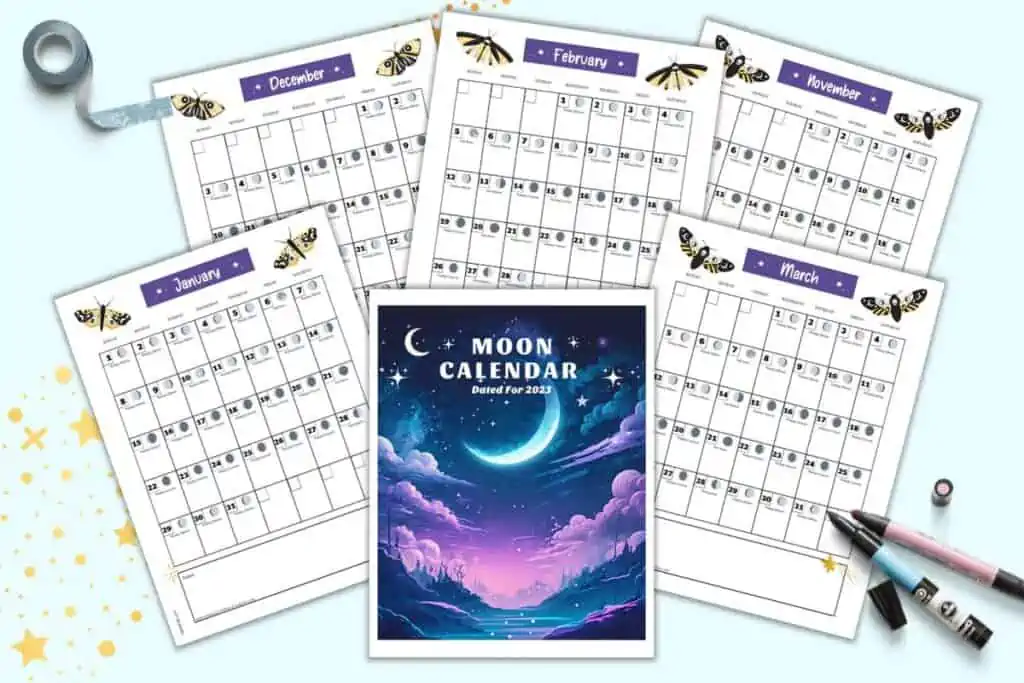 This post may include affiliate links which means I may earn a commission on qualifying purchases at no additional cost to you.
These moon phases printables are easy to use. Simply print them out and start using them! I prefer to use my favorite bright white, heavy duty paper for planner printables. For a complete look at various papers, and how they affect your planner printables, visit this post about the best paper for planner printables. It includes side by side photos and a video of actual print outs. You can also watch the video below:
You can keep these pages letter sized, or you can scale and trim them to fit into your favorite planner system. Find your planner or notebook size in the chart below, print to scale, then trim away the extra paper.
For a more in-depth look at inserting printable into various planner types and sizes, please see this post with free printable sacred geometry bujo planner pages.
Free printable moon phases monthly calendar printable
This set of moon phase calendar printables for 2023 has 13 pages: a cover page and a page for each month. Here's a look at six of the pages: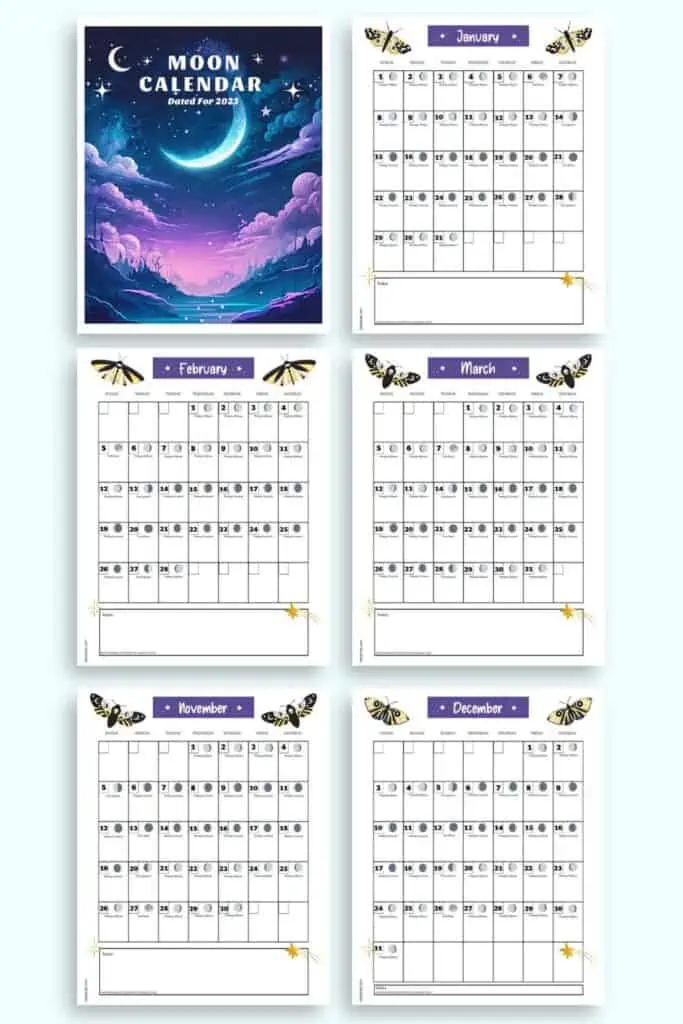 Like other planner printables on The Artisan Life, these are licensed for personal and single classroom use. This includes use with therapy clients. You are not licensed to redistribute the files or print outs to others for use with their family/students/clients. Please just refer friends and colleagues to this post to download their own copies!
You obviously can't make lengthy notes on your 1 page per month moon calendar. It's designed for keeping tack of appointments and family obligations so you can quickly and easily see everyone's schedule at a glance. For more in-depth planner pages, be sure to see the full collection of planner and journal printables available on The Artisan Life.
Planner & Journal Printables
Looking for more planner and journal printables? Check out these freebies on The Artisan Life!