These free printable 24 hour weekly planner pages are perfect for organizing your busy life at a glance. Pick from a 24 hour weekly schedule with 12 hour time or a 24/7 planner printable with 24 hour time. Both versions are available in color and black and white – free!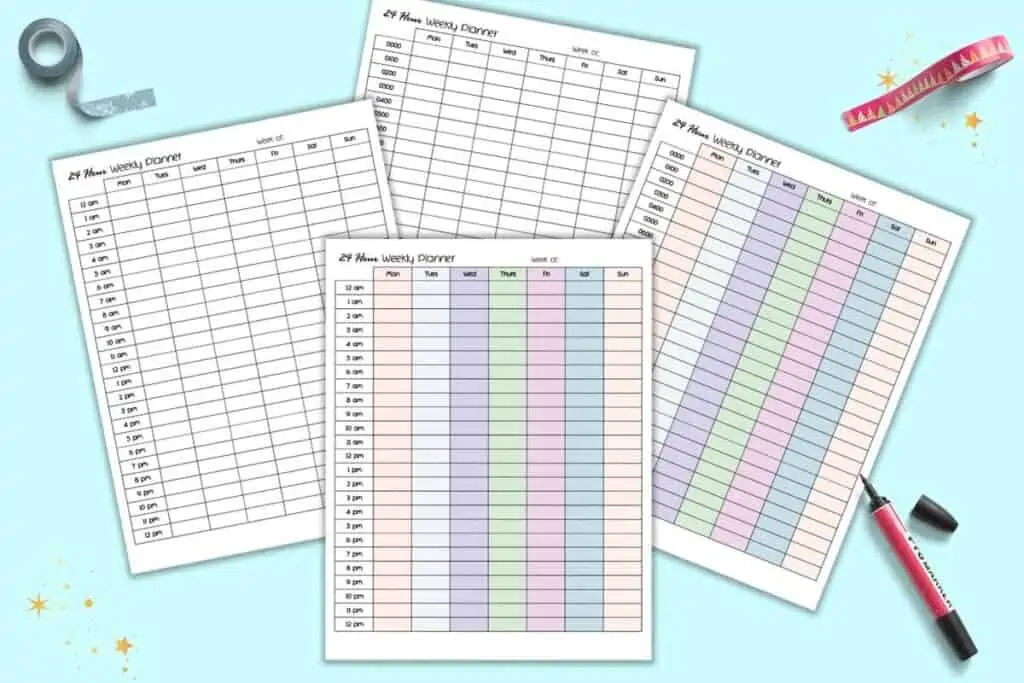 This post may include affiliate links which means I may earn a commission on qualifying purchases at no additional cost to you.
These week at a glance one page 24 hour calendar template printables are easy to use. Simply print them out and start using them! I prefer to use my favorite bright white, heavy duty paper for planner printables. For a complete look at various papers, and how they affect your planner printables, visit this post about the best paper for planner printables. It includes side by side photos and a video of actual print outs. You can also watch the video below:
Free printable 24/7 weekly planner printable
As mentioned above, this set of 24 hour weekly planner printables includes two versions: 12 hour time and 24 hour time. Both versions are available in color and black and white. Here's what you're getting: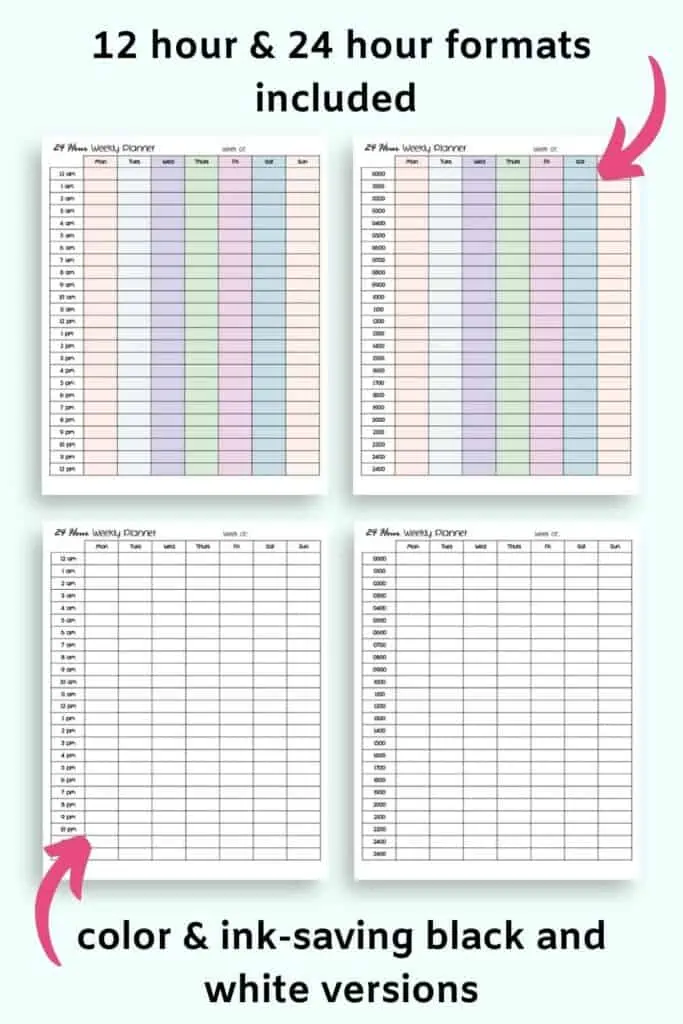 Like other planner printables on The Artisan Life, these are licensed for personal and single classroom use. This includes use with therapy clients. You are not licensed to redistribute the files or print outs to others for use with their family/students/clients. Please just refer friends and colleagues to this post to download their own copies!
Questions people ask about 24/7 planner printables
What is a 24 hour weekly calendar?
A 24 hour weekly calendar printable shows each day of the week and has 24 boxes for each day to jot down appointments and notes.
What is a 24 hour weekly planner printable used for?
You obviously can't make lengthy notes in your 1 page 24 hour planner. It's designed for keeping tack of appointments and family obligations so you can quickly and easily see everyone's schedule at a glance. For more in-depth planner pages, be sure to see the full collection of planner and journal printables available on The Artisan Life.
Planner & Journal Printables
Looking for more planner and journal printables? Check out these freebies on The Artisan Life!