Have you tried printing your own planner inserts only to be disappointed by dull colors, blurry images, and ink that shows through on the opposite side?
You need better paper!
Despite what people may think, not all paper is made the same. There is a stark difference between the letter paper and presentation paper, for example, which is why it's important to use the right type of paper when printing inserts for your planner!
This post will empower you to make an informed decision so you can select the best paper for planner printables and create your own beautiful planner at home (even if you've never worked at a copy center like I have).
I even used up tons of my ink printing the same page from this set of floral planner printables on five different types of paper so I could make a side by side comparison video for you and demonstrate which paper is truly the best for planner printables.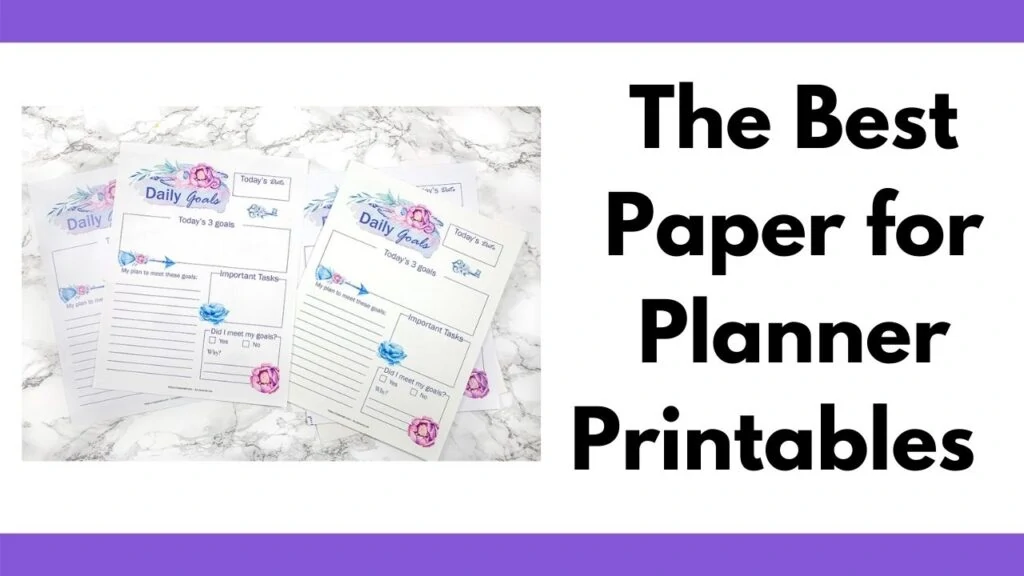 This post may include affiliate links which means I may earn a commission on qualifying purchases at no additional cost to you.
Why thickness & brightness matter for planner insert printables
As I mentioned above, I used to work at a copy center. I'm a bit of a paper nerd! In this section, I'm distilling all the important stats and facts about various printer papers so you understand what you need for great looking planner printables instead of dull, dingy ones.
You do not want thin paper when printing planner pages. You want paper as similar as possible to what you find in a high-quality, commercially-produced planner or journal.
One of the reasons why you need thicker paper for producing printables is that you need a paper that can withstand a fair amount of ink.
You don't want to use normal letter paper because the ink from planner insert printables will show through to the other side. It's unavoidable: you need thicker, more durable paper for printing planner inserts.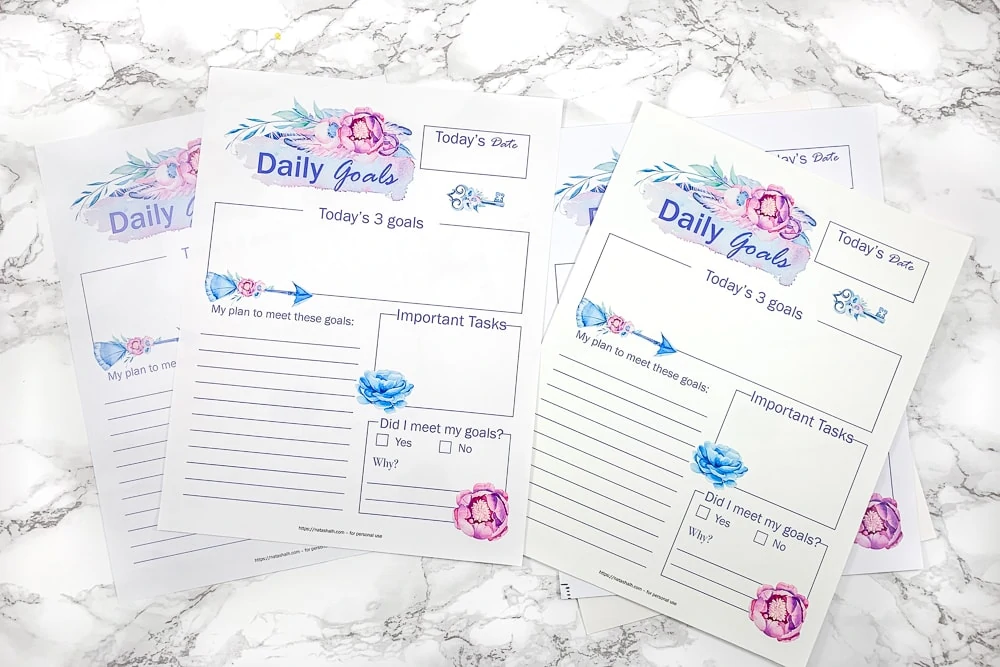 Additionally, thin letter paper tears easily. Tearing is likely to happen when handling a planner or notebook often. The thin paper also does not yield vibrant colors. If you are hoping to print out inserts with vivid imagery or colors, the thin paper will simply not produce the desired results.
Standard letter paper is 20lb. However, for printing out planner inserts, you need at minimum presentation paper (typically 27lb) or 28lb-32lb paper, the latter being the most ideal you will find. However, sourcing 32lb paper at your local office supply store may prove challenging, which is why I've included links for my favorite 32lb paper below.
In the image below, you can see regular printer paper contrasted with 32 lb premium printer paper. If you look closely, you'll notice you can see the marble background image through the printer paper on the left. Yikes! In your planner, that would be the next page showing through to detract from the design: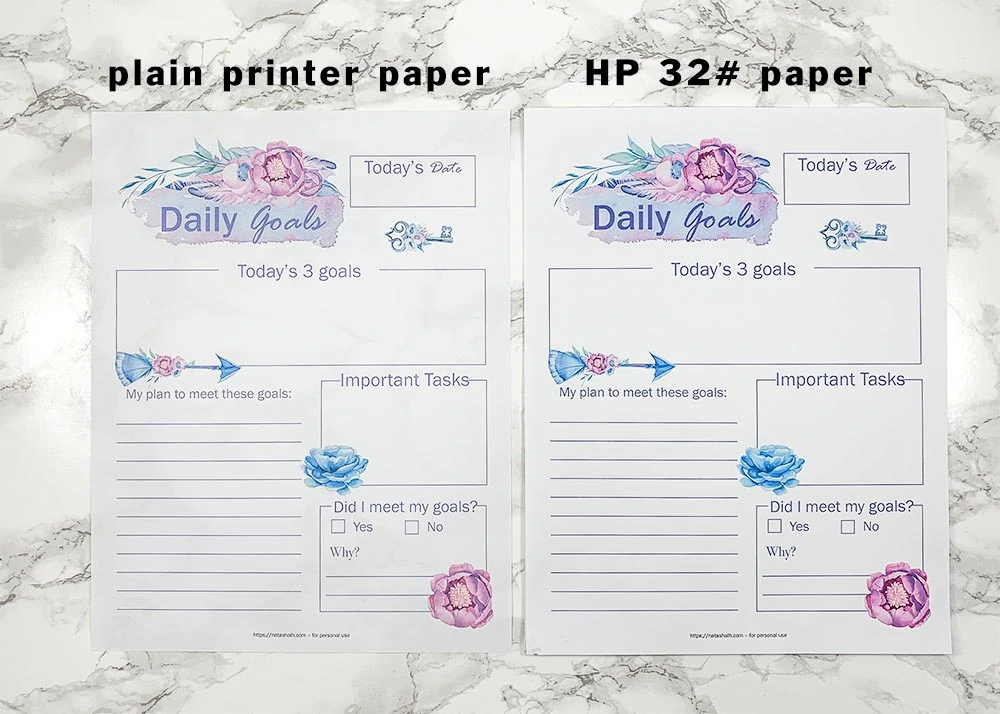 When printing images, color, or lots of text, you want to find the paper with the highest possible brightness. Brightness is rated on a scale of 1-100, so 100 is the brightest you can get.
You also need to pay attention to the "whiteness" scale of the paper. People frequently confuse the brightness and whiteness. Brightness refers to how much light the paper reflects.
Whiteness is a measurement of light reflected across all wavelengths of light in the visible spectrum. You might guess that the whiteness scale only goes to 100, but paper with additives like Optical Brightening Agents can measure above 100 on this scale. (If you want to know more about all the match and science behind the whiteness scale, you can read about it here.)
Additionally, look out for acid-free paper if you want your planner or journal to last. Like a cheap paperback book, non acid-free paper will yellow and turn brittle with time. Acid-free paper will stay bright and clean looking.
I put together this video showing you the best paper for printables. My top picks are demonstrated in the video and compared to plain printer paper. You'll immediately see why premium paper and presentation paper are my favorites!
The best 32lb paper for planner printables
Premium 32# printer paper is my current favorite for planner printables. Images on it aren't *quite* as crisp as on coated presentation paper, but the paper, itself, is a bit thicker and tends to be brighter white. Here are my top picks:
I am currently using HP Premium 32# for my planner printables.
I love how bright white and crisp the paper is, plus it's a brand I feel good about purchasing. It's made in the USA, is sourced from renewable forests, and is made without deforestation.
HP specializes in high-performance papers. Their heavyweight premium printing papers are top of the line. This reem is 32lb, 100 brightness, and an incredible 163 whiteness! It is silky smooth on the surface and provides the perfect quality of paper for high definition color, photos, and text.
HP Premium32 is also certified sustainable. It has received the Forest Stewardship Council (FSC) certification, as well as receiving credits for MR1 status under the Leadership in Energy and Environmental Design (LEED).
Additionally, this HP 32lb paper uses color lock technology that provides more vivid color and much bolder blacks. I know that sounds like a bunch of marketing mumbo-jumbo, but it really is lovely paper and produces the best quality prints I've seen outside of specially coated photo papers.
It's also acid-free to prevent yellowing and discoloration.
HP Paper Printer | 8.5 x 11 Paper | Premium 32 lb | 1 Ream - 500 Sheets |...
Made in USA: HP Papers is sourced from renewable forest resources and has achieved production with 0% deforestation in North America.
Heavyweight premium printing: HP Premium32 is a heavyweight (32 pounds), brighter (100 bright) and whiter (163 whiteness) paper with a super-smooth...
Certified sustainable: HP Premium32 presentation paper is Forest Stewardship Council (FSC) certified and contributes toward satisfying credit MR1...
This Hammermill Premium Paper is top of the line. It is 32lb, and its brightness rating is 100. This printer paper is thick and acid-free, which will prevent discoloration over time. It's also super convenient to order online and have shipped for free!
Hammermill is a U.S. company, and 100% of its products are made in the USA. They employ over 2.4 million sustainable forestry jobs in America, including families of tree farmers! Buying Hammermill products also helps stimulate American families and jobs, which is a bonus!
Not only does Hammermill help foster job opportunities for Americans, but they also help to replant forests. Way to go, Hammermill! Another plus? This paper is almost always under $15.
Hammermill Printer Paper, Premium Color 32 Lb Copy Paper, 8.5 x 11 - 1 Ream...
PREMIUM COLOR COPY PAPER – Hammermill Premium Color Copy 32lb Paper provides a high-tech sheet that's designed to show your work at its best so...
SUPER BRIGHT FINISH – At 100 brightness, this copying paper is super bright for excellent image contrast and true color reproduction. The super...
OTHER PAPER OPTIONS – There's a Hammermill print and copy paper for every purpose including premium presentation-quality color copy paper,...
The Best 28lb Paper
If you aren't looking for super thick, heavy-duty paper, 28lb paper might be the happy medium you're looking for. It is still thicker than letter paper (which is the only 20lb) but more flexible than a 32lb heavyweight paper. Check out our favorites below!
HP makes an excellent 28lb paper. This Premium Printer Paper is a high performance, top quality, and works for printers and copier equipment. It comes with a 100% satisfaction guarantee and has been seen to outperform most of its competition.
As previously mentioned, HP is an American company, and all HP papers are made in the United States of America. Additionally, this company sources its paper from renewable forest resources, achieving 0% deforestation in North America. It's a stunning fact worth reiterating.
28lb paper is still classified as a heavyweight paper, and this H.P. premium paper is just as white and bright as its 32lb counterpart (100 bright, 163 white.) This high-quality paper ensures the most vivid color prints imaginable and thicker, more mold blacks. It also ensures a faster drying ink process.
This thick, bright paper also comes acid-free to maintain the print's integrity and only costs around $13 for one reem! Super affordable.
Sale
HP Printer Paper | 8.5 x 11 Paper | Premium 28 lb | 1 Ream - 500 Sheets |...
MADE IN USA - HP Papers is sourced from renewable forest resources and has achieved production with 0% deforestation in North America. See images.
A HEAVYWEIGHT, BRIGHT, WHITE PAPER WHEN YOU NEED FULL-COLOR PREMIUM PRINTING RESULTS - HP Premium28 is a heavyweight (28lb), brighter (100 bright) and...
CERTIFIED SUSTAINABLE - HP Premium28 presentation paper is Forest Stewardship Council (FSC) certified and contributes toward satisfying credit MR1...
Best Presentation Paper
Presentation paper is an excellent alternative to normal printing paper when it comes to printing planner inserts.
Presentation paper is a heavyweight paper with a special coating for crisp, vibrant images. I use presentation paper for virtually all of my printable bingo boards because it produces gorgeous images.
Presentation paper is frequently a little lighter weight and it isn't always double sided. It also usually isn't quite as bright and white as non-coated papers like the HP 32# paper.
For planner pages with lots of images, I prefer presentation paper to premium printer paper because the pictures are just so darn gorgeous.
The lighter weight does make ink show through more, though, so I tend to print single sided when using presentation paper. It also usually cost a bit more than "regular" printer paper.
Here's an image contrasting the "regular" presentation with the premium presentation paper. Both papers are linked below: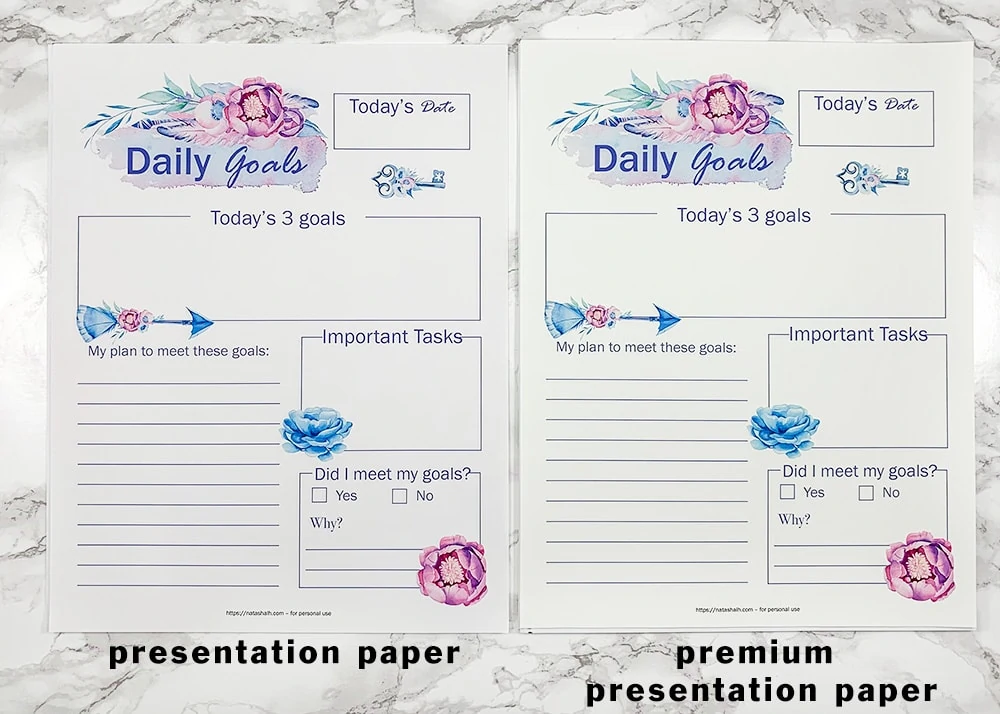 The picture really doesn't do these papers justice. I had to take photos on a cloudy day and had trouble getting them to capture the true vibrance and crispness of the images.
The Epsom ULTRA double-sided presentation paper is my absolute favorite paper to print on.
Epson has made its mark on the printing industry with its sturdy picture and presentation papers alike. This Ultra-Premium Presentation Paper is so thick you can print double-sided without any ink bleeds occurring.
Epson's presentation paper yields impressive color reproduction thanks to the high color gamut it yields. Additionally, this thick double-sided paper gives instant drying capabilities and easy handling.
This product is made and manufactured in Japan and is on a slightly higher cost bracket, but it's worth it for your covers, dividers, and most beautiful, image-filled pages.
You'll notice in images and the video that this paper is slightly less white/bright, but the images are gorgeous. This is my favorite paper for ink-heavy pages and dividers.
Sale
This HP brochure paper is a solid choice. It is as heavyweight as you can get, at 48lb! This paper comes in matte and is a professional brochure paper. It is coated for printing on both sides, ensuring 0% bleeds for full-purpose double-sided printing.
This paper comes from responsibly managed forests and comes with a 100% customer satisfaction guarantee. This paper is heavy-duty, so it's not ideal for things soon to be thrown away (like calendars). This paper is best utilized for divider pages or print outs that utilize vivid colors, images, or graphics.
The quality of this paper is so remarkable you won't want to throw it away, so utilize it for something special or important that you'll keep in your planner for a while!
The Epsom matte presentation paper is the best budget presentation paper.
This paper is only 27# (which is still sturdier than standard printer paper) and single-sided. It's not ideal for double-sided printing, but the font face offers great images at an affordable price point.
If you have some colorful pages to print and can't quite bring yourself to buy one of the more expensive papers, this is a good choice.
Sale
The best card stock
Some planner inserts simply must be printed on the thickest paper around to ensure the integrity of the planner's divider pages and overall layout. For this, cardstock is the way to go.
When printing on uncoated cardstock, be aware that your images will not be as bright and crisp because the ink sinks into the page instead of sitting on top.
Astrobright is the leader in ultra-premium cardstock. This Premium Smooth Astrobright Cardstock is perfect for inkjet and laser printers, as well as copiers. The surface is silky smooth and offers superior printing, especially when it comes to images and high-color yielding graphics.
This cardstock is 65lb, which is significantly more than standard papers. It comes acid and lignin-free so that your high quality, vivid images do not deteriorate or yellow over time. This reem comes with 75 sheets is surprisingly affordable, too.
Sale
Accent Opaque makes an even more heavy-duty cardstock with these super bright sheets. This cardstock is 80lb and made with high performing bright-whites and super smooth finish. This cardstock boasts accuracy and customer satisfaction.
The heavyweight paper ensures zero bleed throughs as well as reliable, vibrant prints. It is ideal for heavy ink printing, like pages that are mostly images or high-color graphic designs. The paper has been treated to make the color stand out and look more realistic. It is superior in strength and can withstand die-cutting, scoring, and folding.
Additionally, this Accent Opaque cardstock is sustainably sourced. Accent papers are made in the USA and are FSC certified. For such high-quality paper, we are amazed by the price: under $15 for one heavyweight reem!
Accent Opaque White 80lb, 8.5" x 11" Cardstock Paper, 216gsm, 250...
THICK, WHITE CARDSTOCK PAPER – Accent Opaque heavy card stock paper offers a high bright-white shade and super smooth near matte finish. It's...
SUSTAINABLY SOURCED – Accent papers are 100% made in the USA and Forest Stewardship Council (FSC) certified. When you buy Accent card stock paper,...
PRINTABLE CARDSTOCK PAPER – This thick cardstock paper is guaranteed to run on personal/professional copiers, inkjet/laser printers and offset...
Now presenting the heaviest heavyweight paper: the Neenah Heavyweight Cardstock. This cardstock is 110lb! You can feel the weight in your hands when you hold a single sheet. This paper is serious.
I have personally used this heavyweight cardstock on many occasions. It's very heavy, but your ink will sink in a bit and appear less bright and crisp than on coated papers. My cardstock is a little yellow looking compared to other papers like the HP with optical brighteners. This is the final option I cover in the video accompanying this post.
This Neenah Cardstock comes with more sheets than its leading competition, at 300 sheets per reem, and is premium heavyweight cardstock made with smooth surfaces that yield stunning printing results.
This cardstock is traditionally used for brochures, flyers, report covers, and crafting, which is why it is perfect for those important, long-lasting planner inserts. This cardstock is bleed-free, capable of double-sided printing documents, and is acid-free to prevent yellowing over time.
This is my favorite paper for covers and divider pages that will see a lot of use. The paper is less bright and white than others tested, but the images are still far better than on basic printer paper and the cardstock's weight is important for some printables.
Neenah White Index Cardstock, 300 Sheets, 110 lb/199 gsm, 94 Brightness,...
WHITE INDEX CARDSTOCK: Providing sturdy and strong results, this 110 lb. Index cardstock is heavier than standard 65 lb. cardstock, yet lighter than...
VERSATILE AND DURABLE INDEX CARDSTOCK: This white index cardstock features our smoothest texture for stunning and professional everyday projects. As...
IDEAL FOR EVERYDAY PROJECTS: This smooth index cardstock is ideal for documents flyers brochures calligraphy hand lettering and crafting
The best printable sticker paper
To print stickers for your planner, you need a very specific kind of paper: sticker paper.
(I'm sorry, but I didn't make a video for this one. I just can't bring myself to print the same sheet of stickers multiple times because it would use so much ink!)
There are two kinds of sticker paper on the market: writable and non-writable. What's the difference?
Writable sticker paper
Writable sticker paper is best used with stickers that allow you to write notes, jot down appointment times, or draw doodles. This type of paper comes in a matte finish.
Non-writable sticker paper
Non-writable sticker paper should be used only for decorative stickers that the user does not plan to write upon. This type of paper comes in a glossy finish.
Unfortunately, most sticker paper does not advertise whether it is writable or non-writable. Instead, you can tell which is which by the time of finish the paper is coated with. Matte paper is writable. Glossy paper is non-writable.
This iLabel sticker paper comes with an abundance of positive customer reviews. Each reem comes with 100 sheets and 100 matte labels (meaning it is writable). This is a slit-free sheet, so you can cut the stickers how you like without encounter sticker intrusions.
iLabel also boasts jam-free sticker paper, made with the highest-quality production design to ensure each label sticks to any surface tightly. Each design is tested prior to entering production to ensure the ultimate stick!
iLabel also provides free printing templates and instructions sent after purchase! They really go the extra mile.
8.5" x 11" Full Sheet Label Sticker Paper for Laser & Inkjet Printers [100...
★【SPECIFICATIONS】Each Label Size:8.5" x 11",1 UP Labels,100 Sheets,100 matte white labels
★【NO SLITS ON LINER】no slits on backing for use with electronic cutting machines (Silhouette, Cricut, Brother) - perfect for cutting mats
★【JAM FREE】Sticker Paper are powerful adhesive that are used to make it sticky and long lasting. High quality raw materials enable each label to...
Avery is probably the most popular sticker paper brand. It's known for being top of the line, and this sticker paper is no exception. It comes in full printable sheets, with no slits or indentations, so you can design your stickers at the size and shape of your liking.
This textured, white sticker paper is ideal for journaling, scrapbooking, and planners. It comes in matte, so it is a writable sticker paper. This Avery sticker paper promises an ultra-hold adhesive that can stay on surfaces like glass, plastic, metal, and paper. Avery also provides free templates and design ideas on their website.
This adhesive paper is compatible with most electric die-cutting machines but is also optimized for inkjet and laser printers.
Avery Printable Sticker Paper, Matte White, 8.5" x 11", Inkjet, 20 Sheets...
This full sheet printable sticker paper gives you the freedom to design stickers at the size and shape of your choosing
Avery textured, white sticker paper is great to use for scrapbooking, journaling, school activities, DIY projects, personalized thank you gifts,...
The premium white finish project sticker paper is compatible with most electric die-cutting machines, and is optimized for both laser and inkjet...
This non-writable Milcoast Sticker Paper is stunning. Its glossy sheen is perfect for stickers you don't plan to write on. It is made to resist water and light spills, though it will not endure being submerged fully underwater (sticker paper can only do so much after all.)
This pack of sticker paper comes with 100 sheets. Each sheet is premium quality, no-smear, strong-bonded adhesive paper. It is made compatible with inkjet and laser printers. This type of paper is ideal for planner insert sticker printing! The only downside? This paper is a little more costly than its other counterparts, ranging around $20 a reem.
How to resize planner insert printables
Now that you've sourced all the paper ideal for printing your planner inserts, you need to know how to print and size your planner inserts. Below is a quick guide to making this process as easy and seamless as possible.
Fortunately, many planner inserts come sized for popular planner sizes. All the planner printables I create come in US letter and many are available in Happy Planner Classic, too.
Fortunately, resizing planner printables to fit other sizes from US letter is easy. The pages won't be a perfect match, but everything will fit inside the bounds of the required page size.
There are two ways to do this: selecting a custom page size or just printing your letter sized printable to scale.
The exact method for selecting a different page size varies depending on your operating system and software program, but printing at a % size is always pretty much the same.
Simply input the appropriate percentage in the print to scale area of your print dialogue box. Below is a screenshot from Adobe Acrobat Reader showing this free printable planner and calendar for 2021 at 82% for Happy Planner Classic: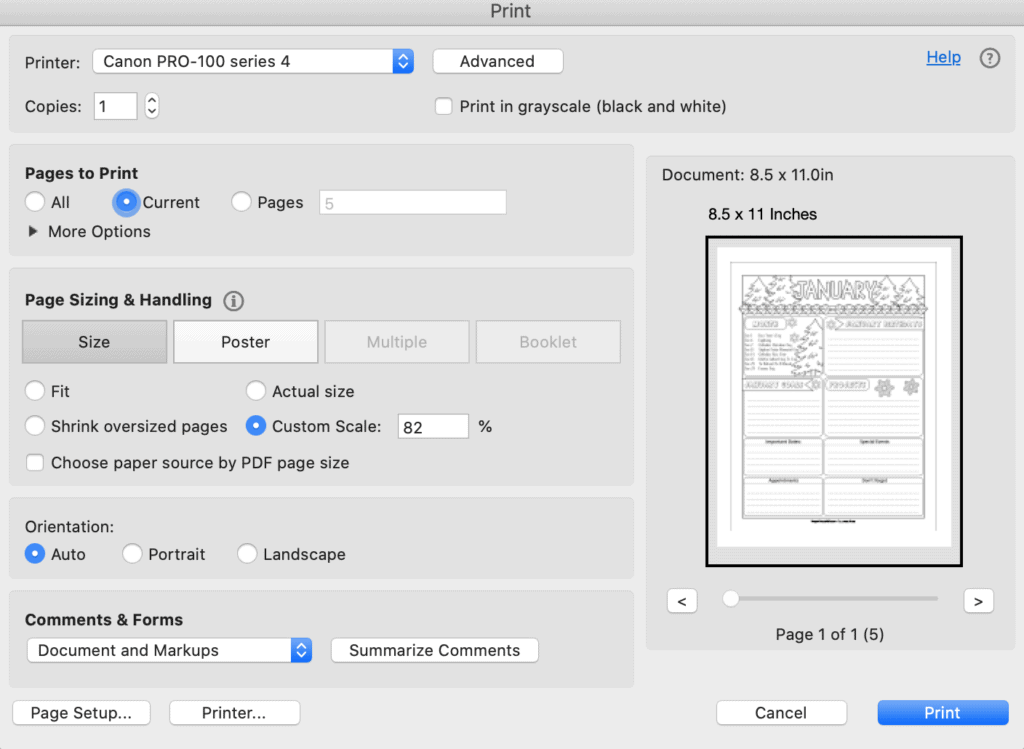 Here are some common planner sizes and the percentage you need to scale to from US Letter size. Make sure to Pin this now so you can find it again later!
Trimming & shaping your insert pages
All that will be required after printing your inserts are cutting the insert from the 8×11.5 paper.
I personally like using my paper trimmer with a guide wire to trim up planner pages. (You can see this demonstrated in the video for these free printable October planner pages.)
If you have a lot of cuts to make, you can get cuts made at a copy center or office supply store for just a dollar or two a cut. They stack all the pages up, clamp them down, and use a motorized cutter.
Once the pages are trimmed down to size, you'll need to hole punch them to fit into your planner.
Different planner systems require different hole placement and hole shape/size, so make sure to use the correct hole punch for your planner. I'm a Happy Planner Classic user, so I have the 9 hole Happy Planner hole punch. For other planner sizes, like A5, A4, and A6, you may need an adjustable 6 hole punch.
Picking the best paper for printables
There are so many kinds of paper available for printing, but only the highest quality paper of a thicker variety will do for printing planner inserts. It's worth the investment to purchase 28lb-32lb paper, presentation-quality paper, or heavy-duty cardstock (depending on your insert.)
Assess your individual needs prior to buying the paper. If you want to print disposable calendar pages, use a 28lb paper. However, if you are printing new divider inserts, go with a heavy-duty cardstock or brochure paper.
Planner & Journal Printables
Looking for more planner and journal printables? Check out these freebies on The Artisan Life!