Want to try digital planning without dropping a lot of cash? Grab your free 2024 hyperlinked digital planner! This fully featured digital planner for 2024 is dated and liked to Google Calendar so you can easily keep track of your busy life.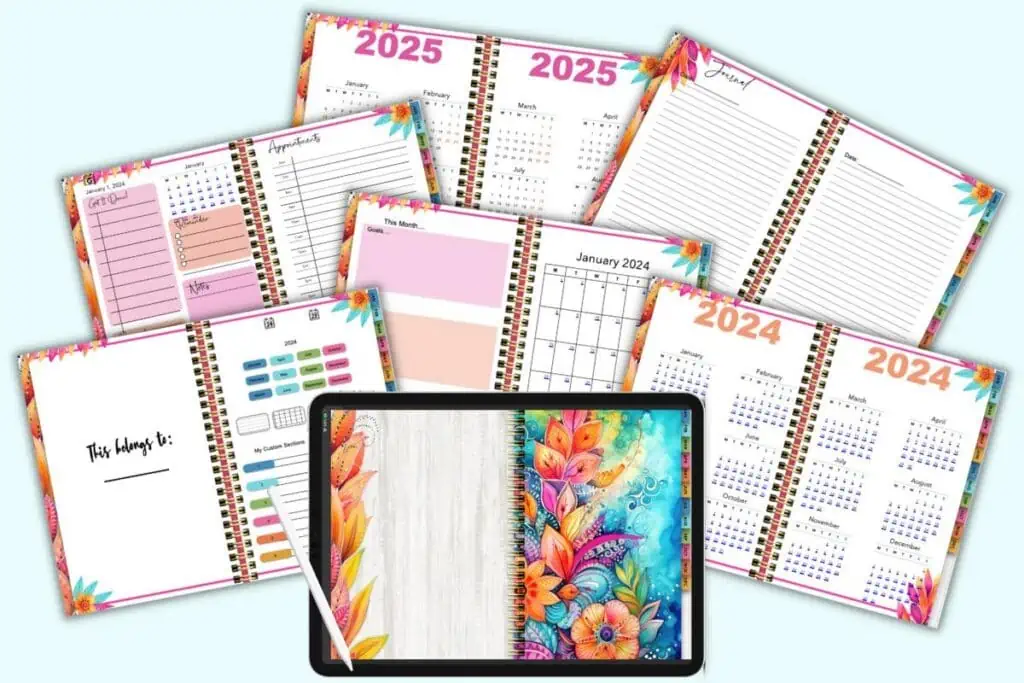 This post may include affiliate links which means I may earn a commission on qualifying purchases at no additional cost to you.
How to use a digital planner
As you can tell from all the free printable planner pages, I love planning. Carrying around my "normal" planner (I love Happy Planner Classic!) isn't practical, but I don't like typing notes and reminders into the text app on my phone.
Digital planning combines the "look and feel" of paper planning without cramming your paper planner into a bag (and risking damaging it).
Digital planners can cost a lot (they're a lot of work to make!), so I decided to make this dated 2024 digital planner available to you for free so you can give digital planning a try.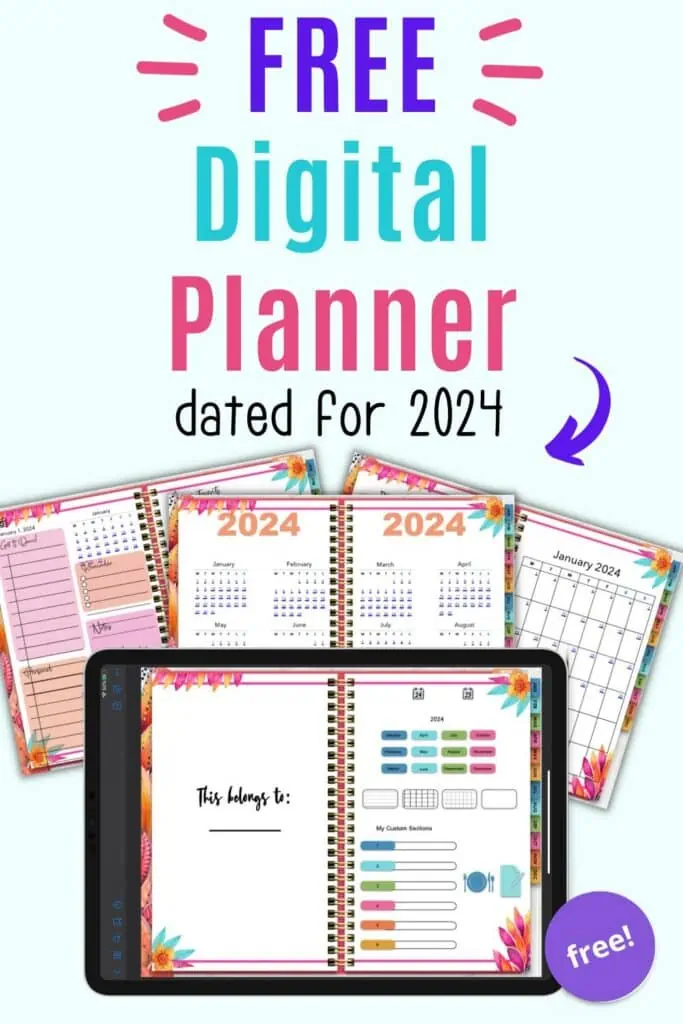 Digital planning isn't difficult, but there are a couple of steps to get your planner onto your tablet.
You will need:
A compatible tablet
A stylus (such as the Apple Pencil)
A planning App. Goodnotes and Noteshelf are the most popular
Your digital planner!
How to import a digital planner into Goodnotes
After downloading the PDF file, the planner will open in the Safari browser of your iPad.
Click on the Share button on the top right corner.
You might have to scroll and select copy to Goodnotes.
In Goodnotes, choose a location and click the import as a new document button.
How to use the Goodnotes app
Sometimes people have trouble and aren't able to get the hyperlinked tabs to click when they use Goodnotes.
How to use hyperlinked tabs in Goodnotes
For the tabs to work, you need to be in the Read-Only Mode in Goodnotes. You should see an icon of a pencil with a line through it.
This mode lets you navigate through your pages easily.
All other inputs, like the pen/stylus, are blocked when this mode is active.
How to write on your digital panner in Goodnotes
To be able to write on your planner, you need to deselect the Read-Only Mode in Goodnotes. You should see an icon that looks like a pencil drawing a loop.
You can use the writing tools like the pen and highlighter in this mode.
Pin this infographic to your planner board now to make sure you remember how to use your digital planner: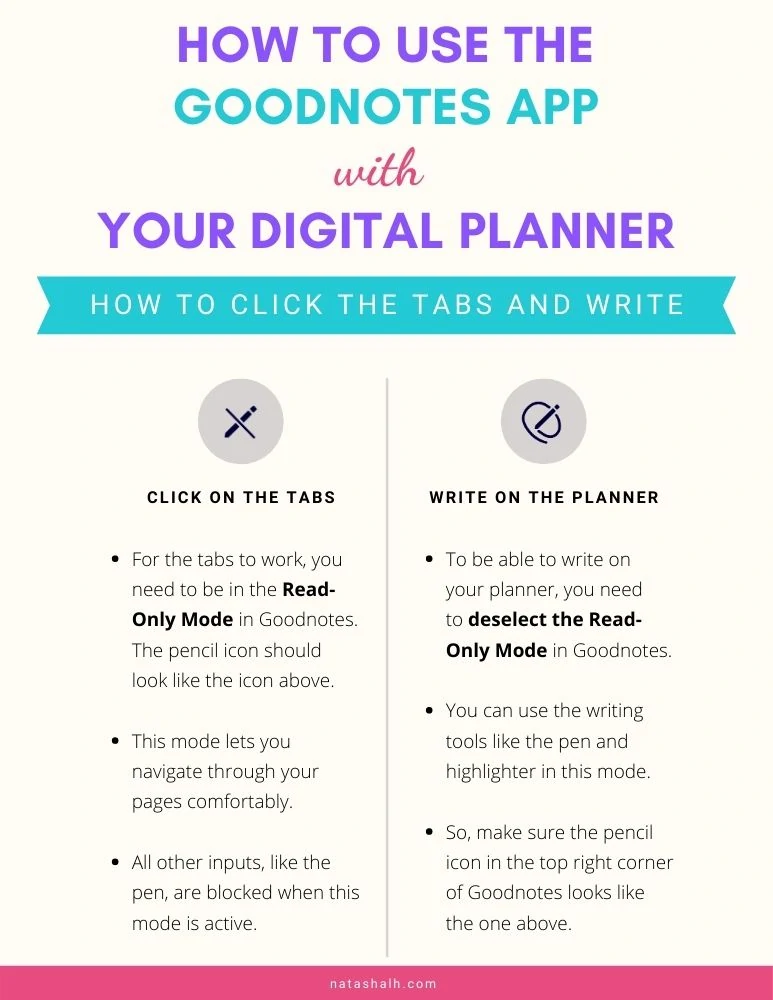 A video is worth a million words when it comes to importing and using your digital planner.
In the video below, my digital planner mentor Michelle from Secret Owl Society shows you how to use a digital planner, including how to import the PDF into your app:
Free digital planner for 2024 with hyperlinks
Alright, let's check out your new digital planner! It has hyperlinked dated calendars for 2024 and a dated 2025 calendar for reference.
Unlike many digital calendars that only provide you with a week of daily pages, this 2024 digital planner has a planner page for every single day of the year. Wow!
There are bonus journal and grid dot pages at the back, too, as well as five customizable sections linked at the front of the planner.
This digital planner is linked to Google Calendar so you and quickly and easily reference your schedule. Just click on the calendar icon with a "G" in the upper left corner of each daily planner page. (You do not need to use G Calendar in order to use the hyperlinked planner on your tablet – it's a bonus feature.)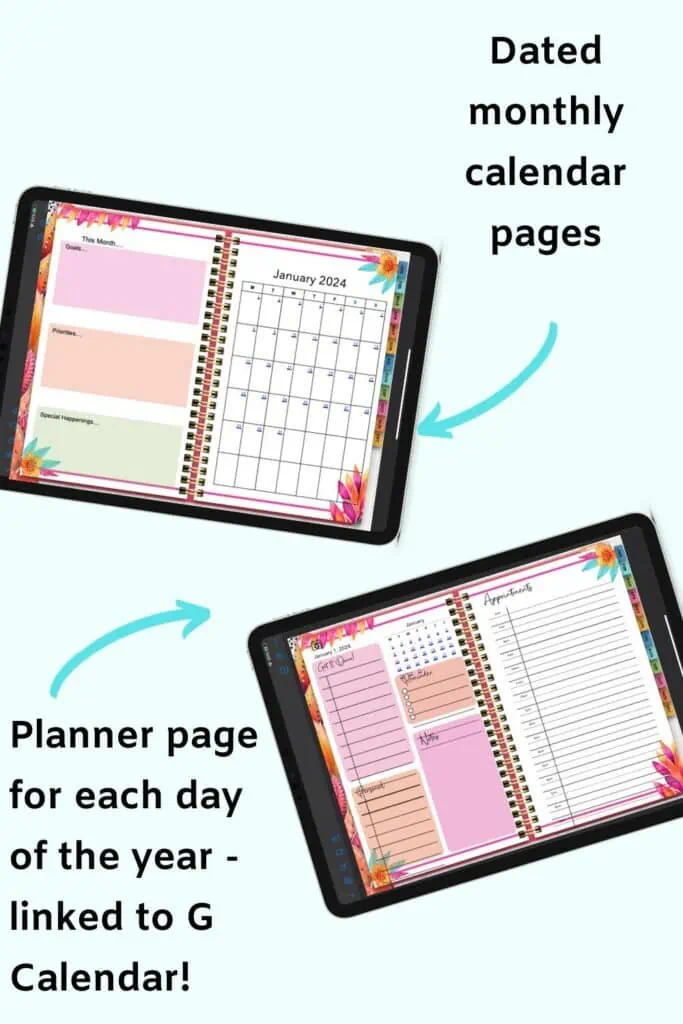 The free planner is in landscape mode and features vibrant, topical colors.
Although the planner printables linked below are not hyperlinked PDF documents, you can import them into your digital planner to personalize your digital planning experience:
Planner & Journal Printables
Looking for more planner and journal printables? Check out these freebies on The Artisan Life!