Printable banners are such a fun, inexpensive way to decorate for a holiday!
Today I'm sharing two free printable Happy Halloween banners that are sure to add holiday fun to your home or classroom.
These banners are super easy to use and look great together so you can mix and match if you'd like. There's also an option to get the full alphabet for a personalized message!
This post includes affiliate links, which mean I may earn a commission on qualifying purchases at no additional cost to you.
How to use printable banners
Picking the best paper for the job is super important for nice looking results. Plain printer paper just won't look good or hold up well!
Cardstock is more durable, but it can make colors look dull and images kind of blurry. It's a better choice than printing on plain paper, though.
For best results, print your banner on presentation paper.
Presentation paper is a light cardstock with a special coating so the ink doesn't just sink into the paper. It gives bright, vibrant colors and crisp images. It's also sturdier than printer paper, which means your banner will last longer!
Sale
These are my free printable mermaid bingo cards. The card on the left was printed on presentation paper while the card on the right was printed on cardstock using the exact same printer and settings. The the difference is more pronounced in real life than in the photo, but I think you can still tell that the presentation paper creates more crisp, vibrant images.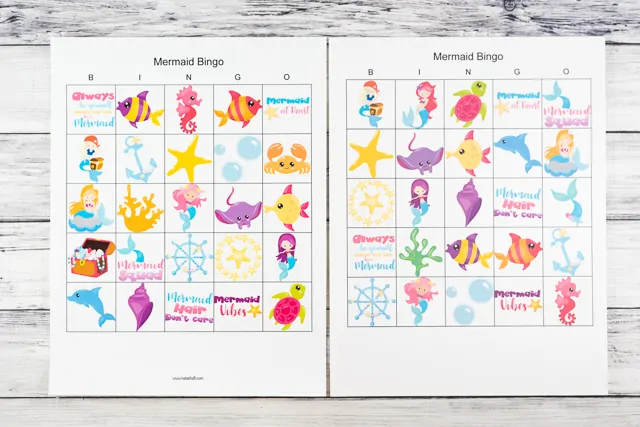 I like to cut the long, straight cuts with a paper cutter then only use scissors for the two angled cuts. I've used this paper cutter for years and love the wire guide that helps you make super accurate cuts!
The pendants are two per page and approximately 4.75″ x 7.5″. (They're 4.7964″ x 7.5294″ when printed at 100% if you want to get really exact.)
To hang your banner use a small hole punch to punch two holes per pendant. Thread them onto ribbon, hang, and enjoy! Using ribbon that is just slightly wider, or pretty much exactly the same size, as your hole punch helps the pendants stay in place. You can also use a piece of tape on the back of each pendant to keep the letters in the right place.
A "normal" hole punch usually makes a 1/4″ hole. I like to use a 1/8″ punch for banners.
Black and orange Happy Halloween banner
This banner is available for personal use. Please do not redistribute the digital file – just refer your friends to this post so they can download their own copy!
The banner features a black and orange argyle pattern that's so perfect for Halloween! There are also two pendants – one with a black cat and the other with a bubbling cauldron.
If you'd like to customize your banner with a custom message, you can also get all the letters of the alphabet with the same design!
This version of the banner includes the entire alphabet, the word "or" in smaller letters on a separate banner, and three bonus designs (a black cat, a cauldron, and a witch's boot).
The full alphabet version of the banner is just $1.99! You can buy this Halloween banner on Gumroad here.
Purple Halloween banner
This Halloween banner features a purple background with black dots. It also has two decorative bonus pendants – one with a cute bat and the other with a black cat wearing a witch hat.
As with all printables here on The Artisan Life, this banner is free for personal use. This means you can use it in your home, personal classroom, with your scout troop, etc., but please do not redistribute the digital files. Instead, just refer your friends/family/corkers to this post so they can download their own copy!
This purple Halloween banner is available with the full alphabet for just $1.99. It also includes an extra banner with the word "or" in smaller letters so you can write "Trick or treat" and have it look fabulous! 
Check out the purple and black Halloween banner (full alphabet) on Gumroad.
If you'd like both the orange and purple banners, you can get a special bundle discount for $2.99.
Printables for Halloween
If you're looking for Halloween printables, you've come to the right place!
Snag your Halloween shape templates, printable games, Halloween bingo, free coloring pages, and more.