These cute Halloween ten frames are the perfect way to help your little learner practice their numbers, fine motor skills, and one to one correspondence.
These free Halloween ten frames feature the numbers 1-10 with correct number formation graphics, words to trace, and colorful Halloween images. Even better – there are both English and Spanish language versions available.
Because we are a bilingual household, I enjoy creating Spanish language resources for preschoolers. If your child is learning Spanish, please stop by this post for your free printable Spanish alphabet tracing pages.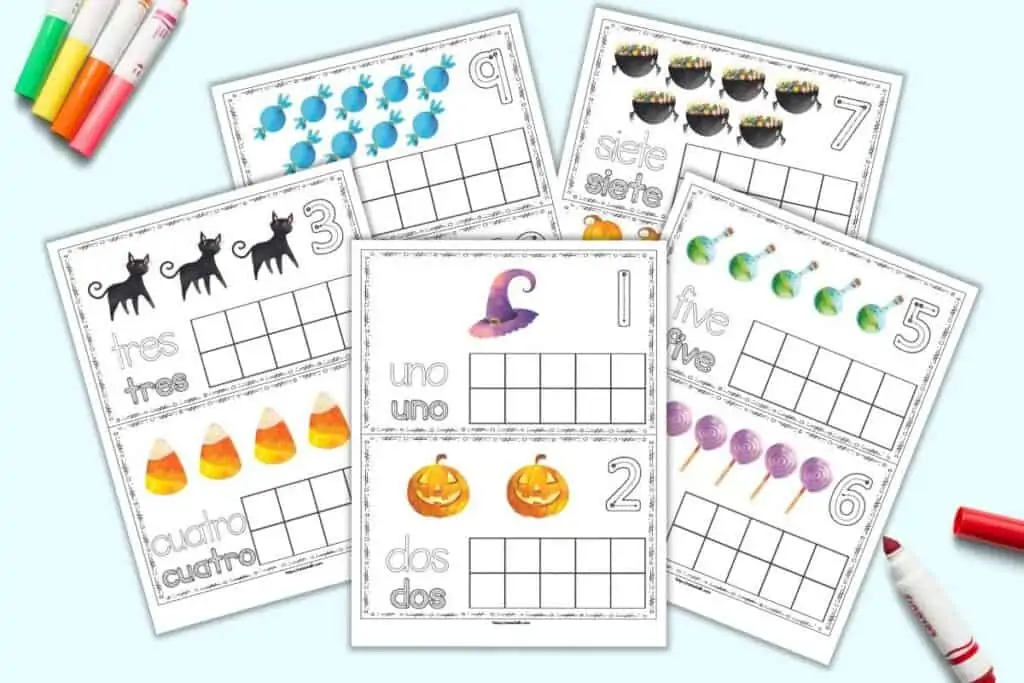 You can still use these ten frame cards if your child isn't learning Spanish. The sets in English and Spanish can be used independently. If you want to use the Spanish cards, but aren't sure how to pronounce the words, Spanish Dict has a fantastic resource for pronouncing numbers.
If you're planning a Halloween theme for your homeschool preschool or kindergarten, be sure to grab these other free resources while you're here on The Artisan Life:
How to print and use ten frames
These cards are simple to prepare and an easy to use, but powerful, learning tool.
How to use ten frames
Although ten frames are frequently used with kindergarteners, preschool and pre-k learners can use them to practice counting and numbers, too. (Especially with some adult help.) They may not be ready to trace the written words with a pencil, but can trace them with a finger, color them in, or "write" them with play-dough snakes.
What are ten frames?
Ten frames are a 5×2 grid of 10 equally sized squares.
Working with ten frames can help your child understand numbers better and truly learn how to count, not just recite numbers in order.
Ten frames can also help your child with subitizing, the ability to quickly recognize quantities without counting each one individually. (If you see two apples, you don't think "one, two" to yourself – you just know there are two. This is subitizing.)
Ten frames are also helpful for teaching addition and subtraction. It's easy to point at the frame and demonstrate that 6 is 4 less than 10, for example.
There are several ways to fill in a ten frame with counters. One of the most common, and easiest for young learners to master, is filling in the top row of five boxes in order before moving on to the bottom row. This page from the University of Cambridge has several helpful suggestions on ways to use a ten frame and different methods of filling one in.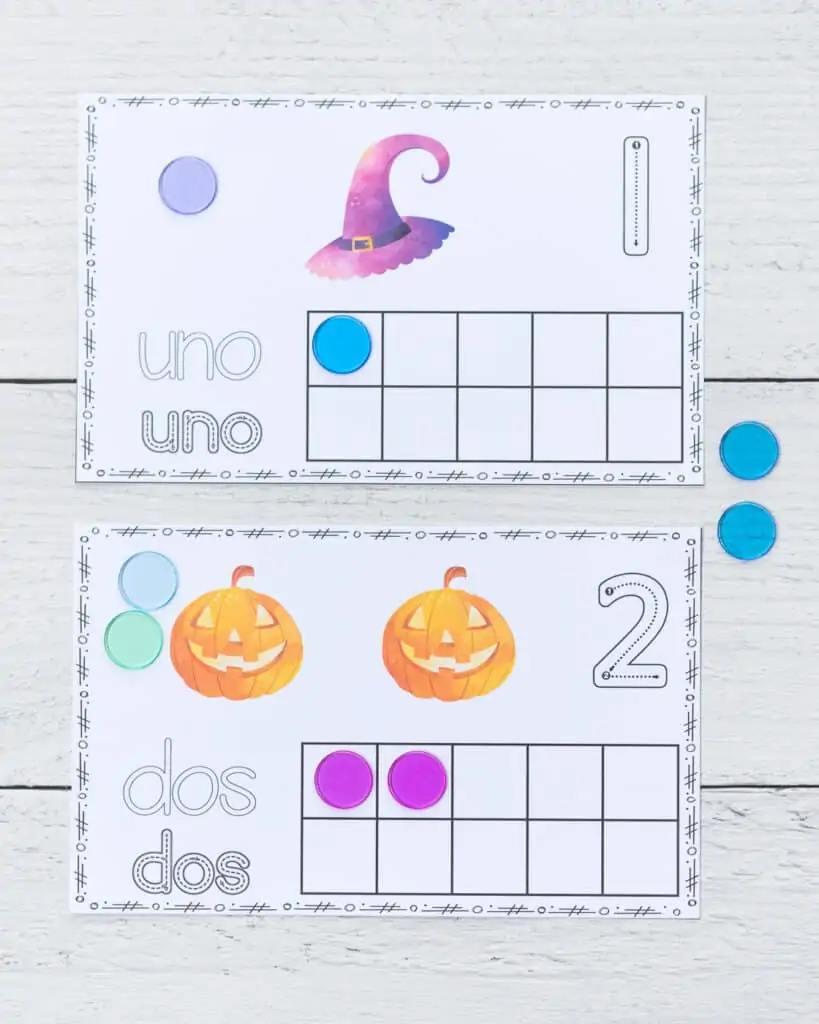 Using these ten frame cards to improve number sense with one-to-one correspondence is easy. Have your child place a manipulative on each image on the card, then immediately cover a box in the ten frame. Covering each image as they work can help young children remember which pictures they've counted and which they haven't counted yet.
When I demonstrate counting and using a ten frame with my daughter, I always work from the upper left corner and go left to right. This is the same as reading order for both English and Spanish, so it helps reinforce literacy skills, too.
Sorry about the low quality photo – it was taken on my phone in the evening. I wanted to show the pages in use with an actual, real life preschooler. My daughter loves using her "new Halloween math game."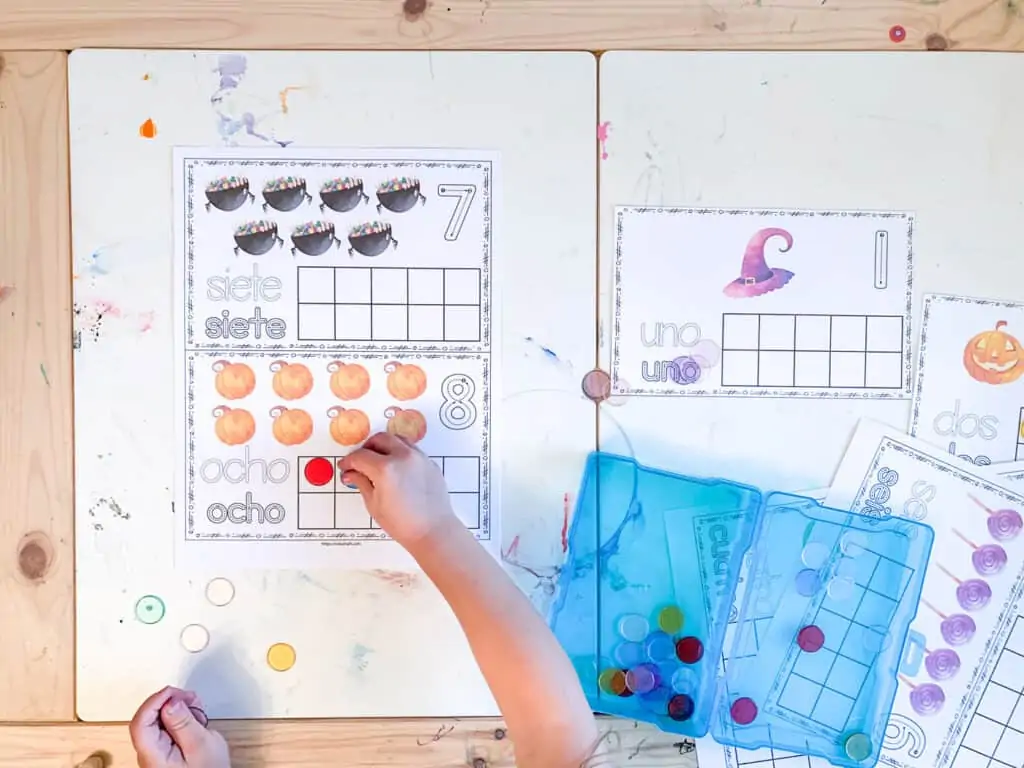 Materials needed
How to print and prepare Halloween ten frames
First, download your printables. Look for the link further down in the post – there's an image that says "click here to download."
Print the pages you want. The English pages are all together, followed by the Spanish cards. The Spanish cards are shown in the post images, but both versions are included in the free PDF.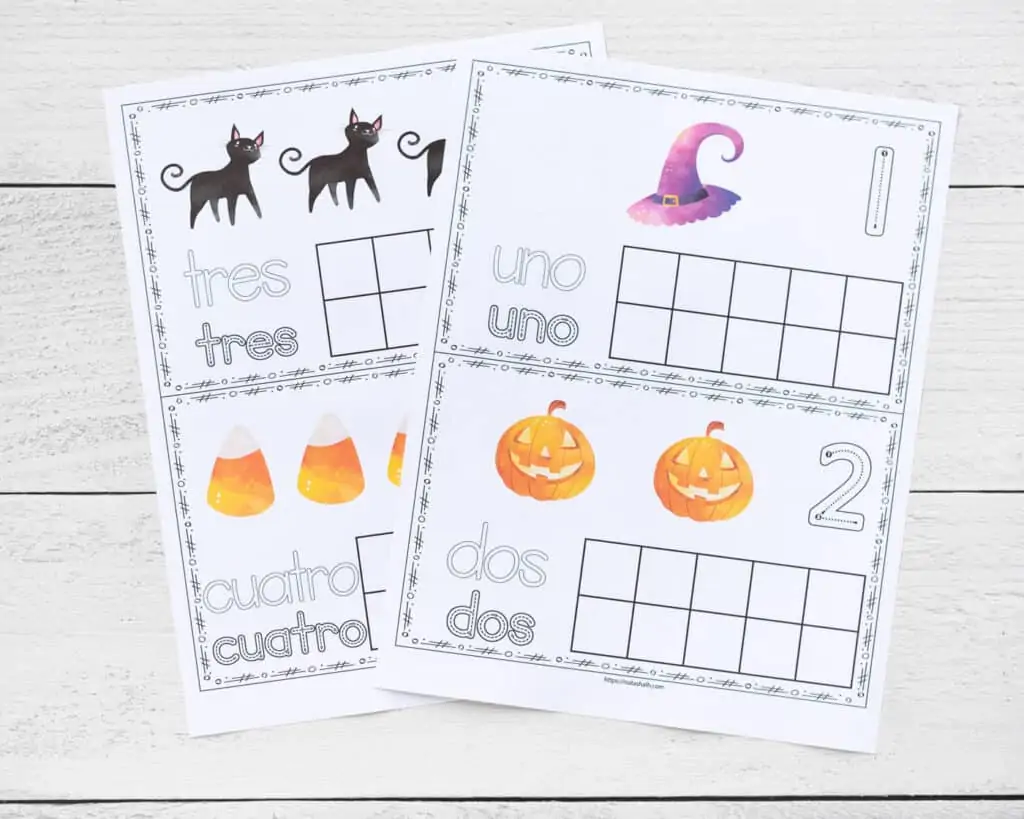 Laminate the pages, if you're using a laminator. I recommend laminating the pages for durability. I don't show laminated pages in this post because it makes taking photos more difficult. Laminating first means you only cut once.
Cut out the cards along the lines. You can skip this step if you don't have time to cut them out.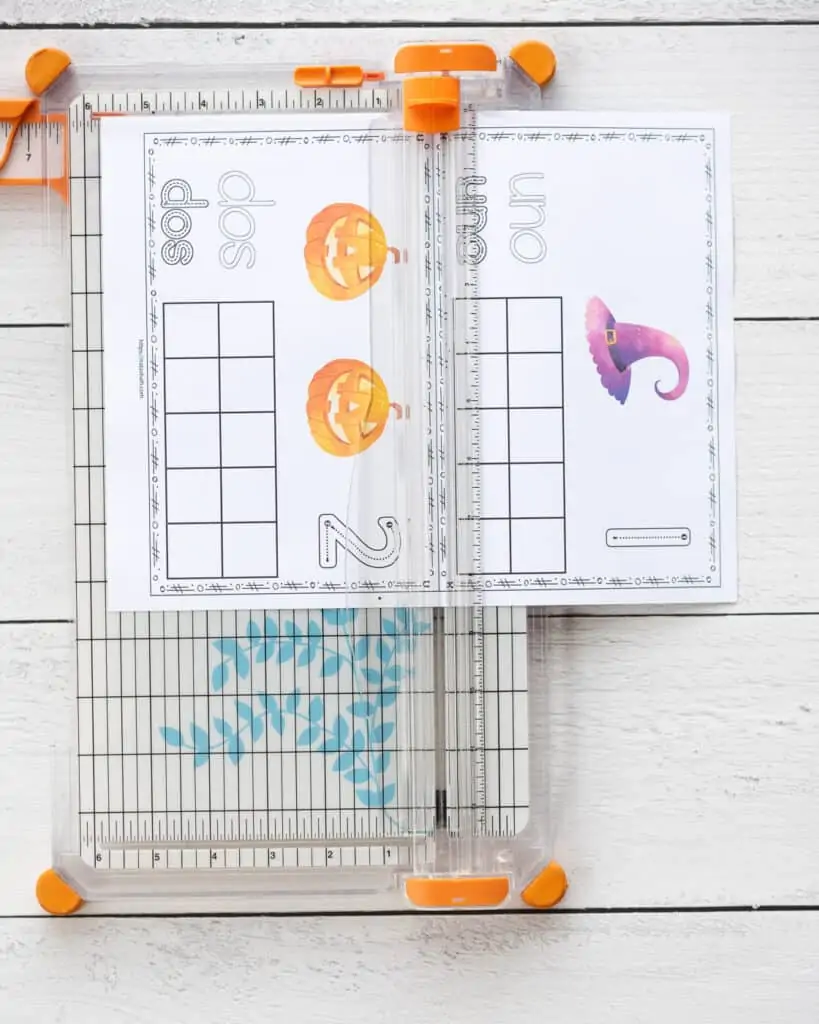 Use and enjoy!
Free Halloween ten frame printable download
Like all preschool printables on The Artisan Life, these are for personal and single classroom use (including use with scouts groups, therapy clients, homeschool co-ops, etc.).
I hope your little learner enjoys these ten frames! Be sure to discover these additional free printables for Halloween:
Halloween Printables
If you're looking for Halloween printables, you've come to the right place! Get crafting templates, printable games, Halloween bingo, coloring pages, and more.